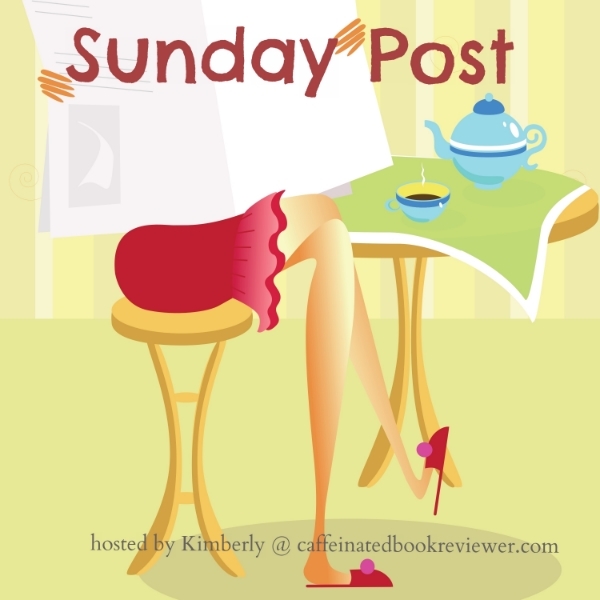 The Sunday Post
is a weekly meme hosted by
Kimba the Caffeinated Book Reviewer
~ It's a chance to share news ~ A post to recap the past week on your blog, showcase books and things we have received and share new about what is coming up on our blog for the week ahead.
It's been...months. Wow. It has. I'm sorry about that. Things have taken off and haven't stopped for the holidays. I didn't even do NaNoWriMo this year! Crazy! I don't even know what to say I was doing. It just seemed each weekend was packed full of something.
Happy New Year! I don't have any real resolutions, per say. But I do plan on budgeting my time a little better so I can do all I love. I took lots of photos and went to different places. I saw great bands, did day drinking to help an animal shelter, and so much more! Yes, day drinking to help homeless pets. The best thing ever! The money to pay for the pass to join the witch brigade and bar hop for the day is what helps the pets. It's so much fun!
I saw the post at the Renaissance Festival page of the photo winners. Mine was not one of them. Bummer. But it's all good. I wanted to share my entries with you though!
We decorated for Christmas, which seems to take me forever anymore. The tree fell three times... Ugh. Yep, three times. The third time it involved the cat, the dog, and me. And a few ornaments were broken along with pulling down all the mantle items too. It would have been a great video, if someone was watching. lol.
So it's been eventful and full of time with family. I'm hoping you life has been full of love.
~~~~~~~~~~~~~~~
Goal: Workout in any form of exercise (or on Wii Fit) 2x's a week. (to feel better and hope to drop a few pants sizes)
How did I do last week... Not...really...


What's Happening in Books:
Finished, and will find the next book.
Editing work.
Current Audiobook:
Wild Hawk
by xxxx
Current Podcast Book Listen:
Nothing new.
Books:
She Dreams of Fire
by M.K. Gibson
Audiobooks :
Trial by Magic
- Dragon's Gift: The Protector series by Linsey Hall
Solomon Key
by David Wood
Origin of Magic
by Linsey Hall
Enemy of Magic
by Linsey Hall
Forged in Magic
by Linsey Hall
Archenemies
by Marissa Meyer
Storm Watcher
by Lilith Saintcrow
Nobody Gets the Girl
by James Maxey
Finished Podcast Book Listen:
Nothing new yet.
Last Two Weeks on the Blog:
Cover Reveals:
(click titles to go to post & learn more)
Posts:
Around the Internet...
Reviews:
GIVEAWAYS:
I will finished up two reviews for you this week.
For Review Consideration:
Shadow Captain by Alastair Reynolds
PICK UP AT AMAZON
Goodreads Synopsis:
The gripping sequel to the Locus award winning science fiction adventure, Revenger, tells a story of obsession and betrayal as two sisters hunt for the greatest treasure in the universe.
Adrana and Fura Ness have finally been reunited, but both have changed beyond recognition. Once desperate for adventure, now Adrana is haunted by her enslavement on the feared pirate Bosa Sennen's ship. And rumors of Bosa Sennen's hidden cache of treasure have ensnared her sister, Fura, into single-minded obsession.
Neither is safe; because the galaxy wants Bosa Sennen dead and they don't care if she's already been killed. They'll happily take whoever is flying her ship.
Shadow Captain
is a desperate story of cursed ships, vengeful corporations, and alien artifacts, of daring escapes and wealth beyond imagining ... and of betrayal.
Audio Books Requested for Review:
Archenemies by Marissa Meyer
PICK UP AT AMAZON
Goodreads Synopsis:
The Renegades Trilogy continues, in this fiercely awaited second installment after the New York Times-bestselling Renegades by Marissa Meyer, author of the Lunar Chronicles.

Time is running out.
Together, they can save the world.
But they each other's worst nightmare.

In Renegades, Nova and Adrian (aka Insomnia and Sketch) fought the battle of their lives against the Anarchist known as the Detonator. It was a short-lived victory.

The Anarchists still have a secret weapon, one that Nova believes will protect her. The Renegades also have a strategy for overpowering the Anarchists, but both Nova and Adrian understand that it could mean the end of Gatlon City - and the world - as they know it.
Storm Watcher by Lilith Saintcrow
PICK UP AT AMAZON
Goodreads Synopsis:
The Witch:
All Mariamne Niege wants is to finish her thesis and get a job. Unfortunately, she's a Guardian now, and her visions of the future have grown so intense she's blind to the world while in their grip. Her Watcher, Hanson, is sleeping on her couch and scaring her roommates when he's not shepherding her through the visions and calming her worsening nightmares. Then the earthquakes start, warning of an even bigger disaster--a cataclysm that could level her beloved city and claim countless innocent lives. A disaster her visions say are triggered by Hanson, even though he's sworn to protect her . . .
The Watcher:
Hanson joined the Watchers to atone for a life of lies, but the only way he can stay close enough to Mari to protect her is to use some of his less-than-honest talents. She is the only witch who can ease the agony of being a Watcher, and the only woman in the world he wants. Then Mari's house is broken into and her roommates slaughtered, and in order to save his witch, Hanson is going to have to become more vicious than the Dark--even though it might mean losing her forever.
Bounced around the world as a military brat, Lilith Saintcrow fell in love with writing in second grade and never looked back. She currently resides in Vancouver, Washington, with two children, a menagerie, and books. Find her on the web at lilithsaintcrow.com.
Wild Hawk by Justine Davis
PICK UP AT AMAZON
Goodreads Synopsis:
Jason Hawk is the sole heir to a fortune he refuses to inherit, left by a wealthy father whom he always despised. Kendall Chase, his father's assistant, is determined to show Jason his rightful destiny by way of a mysterious book. Yet, as their mutual attraction grows, they remain unaware of the danger that threatens to tear them apart.
Soulbinder by Sebastien de Castell
PICK UP AT AMAZON
Goodreads Synopsis:
A Big Ship at the Edge of the Universe by Alex White
PICK UP AT AMAZON
Goodreads Synopsis:
Boots Elsworth was a famous treasure hunter in another life, but now she's washed up. She makes her meager living faking salvage legends and selling them to the highest bidder, but this time she might have stumbled on something real–the story of the Harrow, a famous warship, capable of untold destruction.
Nilah Brio is the top driver in the Pan Galactic Racing Federation and the darling of the racing world–until she witnesses the murder of a fellow racer. Framed for the murder and on the hunt to clear her name, Nilah only has one lead: the killer also hunts a woman named Boots.
On the wrong side of the law, the two women board a smuggler's ship that will take them on a quest for fame, for riches, and for justice.
Nobody Gets the Girl by James Maxey
PICK UP AT AMAZON
Goodreads Synopsis:
Richard Rogers was an ordinary man until the super-genius Dr. Nicolas Knowbokov built his time machine. On the machine's maiden voyage, Dr. Knowbokov accidentally changes history so that Richard is never born. Now trapped in a world that has no memory of him, Richard is an invisible, intangible ghost to everyone but Dr. Knowbokov and the scientist's two superheroine daughters, Rail Blade and the Thrill.
Assigned the codename Nobody, Richard becomes the world's ultimate spy, invisibly battling the super-powered terrorist army run by the mysterious mastermind Rex Monday. The fate of the free world is at stake as the superhuman battles escalate, wiping entire cities from the map, threatening the survival of all mankind.
Who can save us from the looming apocalypse? Nobody!
Witchbreaker by James Maxey
PICK UP AT AMAZON
Goodreads Synopsis:
Book Three in the stunning
Dragon Apocalypse Trilogy
Five hundred years ago, the famed Witchbreaker,
Lord Stark Tower
, launched a war against the cult of witches, nearly wiping them out. Today, only a handful of women still practice the craft in secret. A young witch named
Sorrow
has dedicated her life to changing this reality, vowing to wipe out the Church of the Book and launch a new golden age of witchcraft. In pursuit of her goals, she bonds her soul with Rott, the primal dragon of decay, giving her nearly limitless powers of destruction. Unfortunately, tapping this power comes at the cost of her humanity, leading her into a desperate quest to find the greatest witch of all time, Avaris, in hopes of mastering her dark magic before it destroys her. But she's not alone in hunting Avaris, as fate throws her into an uneasy partnership with a man who wants to be the new Witchbreaker. Can either of them survive their mutual quests when their journey leads them into battle with Tempest, the primal dragon of storms?
Cinder by James Maxey
PICK UP AT AMAZON
Goodreads Synopsis:
The stunning conclusion to the Dragon Apocalypse saga! Cinder is the daughter of Infidel and Stagger, a child conceived in the land of the dead by a living mother and a phantom father. Now an adult, Cinder possesses the power to travel freely between the realms of the living and the dead. Due to her unique talent, she's recruited by the ghost of Father Ver to journey to Hell to rescue Sorrow, Slate, and the Romers, friends of her mother who've become trapped in Hell after their escape from Limbo. But when the primal dragons turn their wrath against mankind, will there be a living world left to come home to?
Darkmage by M.L. Spencer
PICK UP AT AMAZON
Goodreads Synopsis:
The hope of the world rests in the hands of a Darkmage.
The Well of Tears is open and the terror of the night has been unleashed. Now, the last Sentinel left alive with the power to defend his world against the minions of the Netherworld is a man destined to be corrupted into the image of what he hates. In the name of duty, Darien Lauchlin will see oaths forsaken, crowns toppled, friends sacrificed and the land he loves desecrated. For there is a very thin line between duty… and brutal inhumanity.
The Tower of Zhaal by C.T. Phipps
PICK UP AT AMAZON
Goodreads Synopsis:
It has been a year since John Henry Booth's exile from New America and the fall of the Black Cathedral. Cursed with a slow transformation into a monster, he has begun a doomed relationship with fellow escapee Mercury Halsey as they seek some way to arrest his transformation.

Dubious hope arrives in the form of the University, the deranged scientists and cultists descended from the staff of Miskatonic University. Except, their offer of help comes at a price. Having sold themselves to ancient aliens called the Yith, they wish John and Mercury to join a group of rogues in hunting down a wayward member of their faculty: a man who intends to release the last of the sleeping Great Old Ones on an already ravaged planet. If they're telling the truth, John and Mercury will be heroes. If.

The Tower of Zhaal is the second novel of the Cthulhu Armageddon series, a post-apocalypse continuation of H.P. Lovecraft's popular Cthulhu Mythos.
Agent G: Saboteur by C.T. Phipps
PICK UP AT AMAZON
Goodreads Synopsis:
The sequel to Agent G picks up a year after the first novel with our antihero cybernetic assassin now working for the United States government. So much better than being a private contractor, right? Wrong. Hunting down his former associates only makes things worse and he soon finds himself discovering even more dirt about his convoluted past. What is an amnesiac cyborg to do?
Purchased/Winnings/Gifts:
Book:
Audio:
Free Ebooks:
(On my Kindle and Nook App)
Links to books under title. They may or may not be free at this time.
Witch Ways by Kristy Tate
PICK UP AT AMAZON
Goodreads Synopsis:
Evelynn Marston didn't mean to burn down the science room. A little anger, some flames, and an expulsion later, Evie finds herself destined to spend the rest of her high school years at Despaign Academy—named for Connecticut's last convicted witch. Despite its shadowy past, Despaign has the same cliques as other schools, and Evie struggles to fit in and to be noticed by the handsome and mysterious Dylan Fox—that is, until she casts her first spell. But even in a magical place, evil lurks. When Evie's friend, Laurie Silver, turns up dead, Evie must rely on all her newfound powers and friends to find the truth. But bringing a killer to justice may require stronger magic and true love, the kind that can't be found in a potion.
Where Lore Resides (Anthology)
PICK UP AT AMAZON
Goodreads Synopsis:
Do you have what it takes to survive the adventure?
Enter into hidden realms and journey across fantastic lands where dragons devour, kingdoms rule, and magic goes awry.
Dive into Where Lore Resides
, an incredible collection of 10 short fantasy stories by USA TODAY Bestsellers and award-winning authors, all of which feature coming-of-age characters.
Zombies devour, witches cast spells, psychics consult with the dead, and djinn grant wishes gone wrong. In this suspenseful, action-packed collection, heroes battle darkness in epic fights against evil. Romance ignites, heroes battle, and love
conquers all. But be careful— there's danger around every corner, and betrayal is lurking in the shadows.
Includes exclusive content never released before! This bonus content can't be found anywhere else! Features both young adult and new adult characters, perfect for teens or college-age readers.
Don't wait! Find your courage and summon
Where Lore Resides
today!
Count the Roses by Jackie Weger
PICK UP AT AMAZON
Goodreads Synopsis:
Betrayed and jilted, Jennifer Dewitt finds solace in a new job and new city. Men and marriage are not on her radar. Adrien Merrill's divorce leaves him bitter and jaded. In Cajun custom, pride rules. Yet Adrien aches for a woman to fill his days with laughter, his nights with passion, and his house with children. He sets his sights on Jennifer and runs right into stubborn, mouthy and independent. He soon discovers the line between pride and love is as whisper thin as a fine silk thread.
Watchers of the Night by Matthew Keith
PICK UP AT AMAZON
Goodreads Synopsis:
From the outside, Paul Bennett appears to be an ordinary high school senior from small-town Kentucky. But Paul has a secret. He possesses an extraordinary gift which allows him to leave his body during the night and go anywhere, see anything—unseen, undetected.
Unbeknownst to Paul, he is not alone in his ability--there are others who can do what he can, and they belong to Astralis, a government agency funded by the United Nations who train people like Paul to become spies. When one of their scouts recognizes Paul for what he is, he is offered a place in the agency.
Paul makes a new life at Astralis, forging new friendships and inadvertently creating new enemies. Through the mentoring of the agency's director, Dr. Abrams, Paul finds a place where he finally feels he belongs.
Unfortunately, Astralis is an organization under siege from within. Not everyone feels Dr. Abrams is a fit director, and some are willing to do anything to make a change of leadership--even murder.
Watchers of the Night is the first novel of the Watchers Trilogy, and ends with a cliff-hanger. You WILL be left with questions at the conclusion of this novel.
Sleeping Dragon Prince by Rinelle Grey
PICK UP AT AMAZON
Goodreads Synopsis:
Sleeping Beauty never looked this hot!
It's finally Lisa's turn to wake her very own dragon prince with a kiss (and more). She's been waiting for her chance to sleep with one of the hot shifters since she first saw them. What she didn't need was the added pressure of a battle raging outside at the time.
Prince Verrian wakes to the shocking news that he's been asleep for three hundred years. In that time everything he's ever known has changed. Some of the changes, like the gorgeous human woman who woke him, are good. Others, not so much.
When they step outside his chamber, they find that friend and enemy alike have disappeared, leaving them alone in the middle of the Australian outback, with no vehicle and no phone reception.
And no idea who won the battle.
Rebel Dragon by Anna Lowe
PICK UP AT AMAZON
Goodreads Synopsis:
Can this rebel dragon learn to play by the rules when his destined mate's life is at stake?
Off to Maui for a relaxing vacation? Surfer Jenna Monroe can only wish. Instead, she's on the run from a stalker who lusts after her blood. She'd rather comb the beach for lost treasures than venture any deeper into the terrifying world of shapeshifters. There, even the good guys are hard to trust — except for the hot-blooded rebel she can't get out of her head.
Connor Hoving and his band of Special Forces shifters were planning to leave trouble behind by moving to Maui, but destiny has other ideas. His whole future — and that of his brothers — depends on acing his new job as head of security at an exclusive seaside estate. But Connor can barely get his inner dragon to focus with alluring, off-limits Jenna around. Can this rebel dragon learn to play by the rules when his fated mate's life is at stake?
The closer Connor and Jenna become, the higher forbidden passions blaze. The more they give in to simmering desire, the more impossible love seems. And the more secrets they uncover, the closer their enemies creep. Vampires and ruthless dragons lurk in the shadows, and it's impossible to tell whose side fate will take. Only one thing is certain: great heroes don't get to pick their destinies — only the choices they make.
Maui just got hotter with this exciting new series of steamy, suspenseful paranormal romance!
Of Ice and Snow by Amber Argyle
PICK UP AT AMAZON
Goodreads Synopsis:
The only shepherd in a family of warriors, Otec returns to his clan to find all the men gone to war. They didn't bother to tell him, let alone ask him to fight beside them. When his mother sends him on a trifling errand in the high mountains, he looks back to find his village burning and his people taken captive.
Cut off from the help of the other clans and dodging raiders, he must become the warrior he was never meant to be. By his side is a foreign woman stalked by a dark, mysterious magic. Together, they race to save his family from a life of slavery. Worse, what he thought was a mere raid is actually a full-scale invasion.
In the end, he must choose between saving his family or his kingdom.
Losing Logan by Sherry Ficklin
PICK UP AT AMAZON
Goodreads Synopsis:
What if the one thing you never meant to hold on to, is the one thing you can't let go of?

Normally finding a hot guy in her bedroom wouldn't irritate Zoe so badly, but finding her childhood friend Logan there is a big problem. Mostly because he's dead.

As the only person he can make contact with, he talks Zoe into helping him put together the pieces surrounding his mysterious death so he can move on.

Thrust into his world of ultra popular rich kids, Zoe is out of her element and caught in the cross-hairs of Logan's suspicious ex-girlfriend and the friends he left behind, each of whom had a reason to want him dead. The deeper they dig to find the truth, the closer Zoe gets to a killer who would do anything to protect his secrets. And that's just the start of her problems because Zoe is falling for a dead guy.
The Complete Maya Series by Paul Emery
PICK UP AT AMAZON
Goodreads Synopsis:
Please note, this novel will be coming out of Kindle Unlimited on 13 January 2019.
All my novels will be unpublished on 27 January 2019.
As Third Princess Maya watches her family take part in a parade to celebrate peace, a vile attack changes her life in an instant. Suddenly thrust from the comfort of her books to the throne of the moon of Laran, Maya must find the strength to lead her people. Follow her as she battles those who she thought to be friends, aliens and a mighty force in the galaxy.
All five books in the Maya Series available in one convenient, discounted bundle.
"Queen Maya! Wow, this story is quite an adventure. I enjoyed going along for the ride. I was lost in the action and how the story unfolds. I think this series is one to enjoy."
Aly, What is Life without Books
"Maya is easily a likable heroine. Abandoning her preference for obscurity due to her family tragedy clearly isn't an easy feat, but her sense of duty gives her the strength she needs to ascend the throne. Despite the theme of loss, heavy responsibility and the daunting journey of a young princess becoming a worthy ruler, everything is mostly straight forward, making a clean read for younger readers... It does the job and lays some important groundwork for the plot and the characters until the end of the novel. On the whole, it's a good read."
Lit Amri, Readers' Favorite on Book One in the Maya Series
Prelude to Fire by D.K. Holmberg
PICK UP AT AMAZON
Goodreads Synopsis:
A warrior to a dying king discovers a destiny he never imagined.
Part 1 - First Warrior
Lacertin has served his king faithfully for decades, but has failed on his final mission for him. When he returns to the kingdoms, he discovers a dark secret to the king's illness, and the only person who can truly help him hides a secret of her own. Lacertin must decide how much he will sacrifice for the people he cares most about.
Part 2 - Servant
Trapped in Incendin and tormented while searching for answers, Lacertin is rescued by a mysterious priest of Issa. Released from his torture, the priest reveals secrets of Incendin that challenge everything Lacertin thought he knew, and gives him a chance to be something more than the warrior he had been… if only he's willing to believe in his calling to serve fire.
Love Under the Mistletoe by Krista Lakes
PICK UP AT AMAZON
Goodreads Synopsis:
Can a kiss under the mistletoe save Christmas?
Holly has always loved Christmas, but this year is different. As a school teacher, she's worried about her students, her dad, and her entire town. All of them are poised for a terrible Christmas, and there's nothing she can do about it. The only bright spot in her life is the mysterious man she meets at the holiday party.
Nathan has always hated Christmas, but this year is different. As a billionaire, he's excited about his new plans for his company, but as always, it's all about the money. When he meets the bubbly woman who doesn't care about his wealth, love blossoms under the mistletoe.
It almost seems like magic.
But their lives are more intertwined than either of them originally thought. It turns out that Nathan's plan for the future of his company is the very thing that's destroying Holly's community.
Holly begins to understand why everyone refers to Nathan as a Scrooge, and she thinks that the wonderful man she shared a passionate weekend with was nothing more than a lie. Will Nathan be able to prove that she saw the real him?
Will Christmas magic prevail, or will their love vanish like a kiss under the mistletoe?
NYT Bestseller Krista Lakes brings you this brand new heartwarming holiday romance. This standalone novel will convince you that love can make the magic of Christmas real.
My Clarity by M. Clarke
PICK UP AT AMAZON
Goodreads Synopsis:
Still reeling from the death of her father, Alexandria hopes to find both independence and reprieve from her grief by heading off to college. However, life throws her a serious curveball when she discovers that her roommate isn't quite the person she had imagined.
Smoking, tattoos, and street racing for fast cash are Elijah's only interests. A harsh life has made him apathetic and indifferent, until Alexandria enters his life. When their paths cross, turmoil abounds.
An inevitable encounter, an undeniable attraction, and an unexpected chance at love—will it be enough?
** This is a New Adult romance novel recommended for ages 18+
due to sexual content and mature subject matter.**
Something Great by M. Clarke
PICK UP AT AMAZON
Goodreads Synopsis:
* This is a New Adult romance novel recommended for ages 18+ due to sexual content and mature subject matter.
She didn't know what she was missing…until he found her.
Maxwell Knight was positively trouble, dangerously good-looking, and seductively charming. He was everything Jeanella didn't need in her life. Only Maxwell didn't see it that way. His pursuit was relentless, making her even more determined to push him away.
Fresh out of college, life was simple and plain for Jeanella Mefferd. Every part of her life was smooth sailing; her friends, her job, and even the guy she'd started dating. Then one night, while at dinner, she spotted someone who made her feel things she'd never felt before—dangerous, heart pounding and breathless heat. Thinking she would never see him again, she brushed it off, but when she started to run into him unexpectedly, all she could think of was how he made her feel with his sweet flirtations. Everything about Maxwell Knight screamed trouble, especially when she found out he was her new boss's son. Now, heading to a New York fashion show, would she be able to focus on her career instead of Maxwell, who had been scheduled to attend with her? As much as she tried to forget their encounters, his good looks, smooth words and determination to win her over gravitated her toward him. The next thing she knew, her mind was utterly consumed by him. Would she be willing to ignore all the dangerous signs and jump into his arms? Or would she miss out on the chance of finding something great?
Under the Magnolia by Fleur Smith
PICK UP AT AMAZON
Goodreads Synopsis:
A paranoid father.
A mysterious boy.
A secret that might burn them all.
~~~
Evie has never been able to have friends. Each time she tries, her father's paranoia sends them fleeing to another state.
When a mysterious boy at her most recent school takes an interest in her, she longs for some kind of human connection.
Even if it needs to remain a secret.
Can Evie discover her true self when everyone she cares about is hiding a deadly truth?
Through the Fire by Fleur Smith
PICK UP AT AMAZON
Goodreads Synopsis:
Their love might stand a chance if he wasn't bound by duty to kill her.
Clay has sworn to destroy any nonhumans.
And Evie isn't human.
~~~
Evie's father has protected her ever since her mother died in childbirth. For as long as she can remember, he would uproot their lives and move across the country at whim.
Two years ago, Clay, a student at the latest in a long line of schools, changed her life forever. Through Clay, she discovered the truth about herself, and the reason behind her father's fears.
Now, Clay is back--battle-scarred and mysterious. Despite being as attracted to each other as ever, they are trapped on opposite sides of a war with no end in sight.
Caught between what her heart wants and what her head knows, something has to give. What will Evie choose? And what price will she have to pay to claim it?
Rise from Ash by Fleur Smith
PICK UP AT AMAZON
Goodreads Synopsis:
Wounded and alone, Evie has no choice but to learn how to survive on her own.
When she discovers a cryptic message from Clay, she is thrown into turmoil. It's second nature to run, but there is no escaping the memories of their time together. While she is certain it's a trap, she longs to discover the true meaning in his words. Her choices send her on a collision course with what she thought was lost.
Can Evie rise from the ashes of her charred dreams, or will she burn in the attempt?
Into the Rain by Fleur Smith
PICK UP AT AMAZON
Goodreads Synopsis:
Paradise doesn't last forever, no matter how perfect it is.
Sometimes safety is only an illusion.
The past has a way of catching up to everyone.
~
Evie and Clay have found pace in a remote refuge. Their paradise is shattered when a fae from Evie's past comes to call.
The tension caused by the arrival escalates when Evie and Clay discover the reason for his visit. Aiden needs Clay's help rescuing someone dear to the fae court. The mission will take them all into the heart of Rain. The path is a dangerous one, filled with dark secrets and old lies.
With the past surrounding them and a shadowed threat lurking nearby, Evie and Clay must put their faith in an enemy. Is it even possible to reconcile their prejudices and make it out alive?
Igniting the Spark by Fleur Smith
PICK UP AT AMAZON
Goodreads Synopsis:
Death beckons.
Love must find a way.
But what if life is no longer worth living?
~
When death calls Evie Myers to the darkness, she isn't ready to leave and Clay can't let her go.
After fighting back from the brink, Evie is ready to put the heartache behind her. Only, she discovered her trip into the Rain kicked off a revolution and Clay is called back into the fold. Just as Evie needs him the most, one mission could risk it all.
When her happy ending hangs in the balance, and everything looks lost, how will Evie find the strength to fight for the most important things?
Besieged by Rain by Fleur Smith
PICK UP AT AMAZON
Goodreads Synopsis:
Their love might stand a chance if he wasn't bound by duty to kill her.
~
Clay has been a proud member of the Rain since childhood. He understands the truth of the world and the danger all paranormal creatures pose.
Two years ago, Evie, the stunning new girl at his latest school, crashed into his life and left a brand on his heart.
Now, Clay is haunted by the memory of her standing beneath the magnolia. It hold him captive and assaults him nightly. To bring an end to his torment, Clay must find her.
When he does, will he kill the woman he can't forget or run with one he can't let go?
Among the Debris by Fleur Smith
PICK UP AT AMAZON
Goodreads Synopsis:
When their reunion ends in death, Clay can't avoid the truth of what Evie is.
A monster.
And every monster deserves to die.
Only weeks after their reunion, Clay is torn from his lover's side by a tragic fire.
Left alone to deal with the loss of his love while mourning the death of a family member, Clay's certainty in Evie's innocence falters. Was he caught in a web of enchantment laid by the beautiful woman? His obsession with finding the truth sends him on a hunt across the globe. All the way to places where people will go to any length to keep the truth hidden.
Will the answers he finds bring him closer to freedom, or destroy the remnants of his shattered heart?
Court the Fire by Fleur Smith
PICK UP AT AMAZON
Goodreads Synopsis:
Paradise doesn't last forever, no matter how perfect it is.
Sometimes safety is only an illusion.
The past has a way of catching up with everyone.
With all he has learned about Evie's heritage drawing him in, Clay is willing to fight anything to stay with his lover. Only, she still tops the Rain's most-wanted list and keeping her safe means leaving everything behind.
When lies are revealed and old wounds are opened, it will challenge Clay to the core. Deadly decisions and deep-seated prejudice will threaten the things he holds dear.
How will he and Evie survive the fallout when his journey will take him back into the heart of the Rain?
Living with Embers by Fleur Smith
PICK UP AT AMAZON
Goodreads Synopsis:
Love can be a river of memories.
Sometimes it can't find a way.
What happens when the water runs dry?
After all they've fought for, Clay Jacobs and Evie Meyers are finally able to find peace and a joy they never expected to experience. There is only one problem—the changes they've helped initiate in the Rain are under threat.
In order to protect the new order, and his family, Clay must take one final mission.
When things go wrong, Clay must trust his instincts. They are all he has left to guide him as he's sent on a hunt for the creature responsible—a stunning redhead who beckons him with some kind of spell.
Will he recognize the phoenix in time to save her life, or will their love end in tragedy as prophesized?
Christmas in Evergreen by Nancy Naigle
PICK UP AT AMAZON
Goodreads Synopsis:
A snowy small town.

A snow globe that grants wishes.

A love that's meant to be.

Evergreen, Vermont is about to be in the rearview mirror of Allie Shaw's vintage red pickup truck. It's hard to say goodbye to her small town and her veterinarian practice, but she's moving to Washington D.C., where her big-city-loving boyfriend lives.

Ever since Ryan Bellamy's wife died, he hardly knows how to celebrate Christmas. He's decided to take his daughter Zoe to Florida, and Evergreen is just a quick stop on the way to the airport. While they're there, Zoe partakes in a local tradition, making a Christmas wish on the snow globe at the town diner.

But neither Allie's nor Ryan's Christmas goes as planned. They've checked their wish lists twice, and they didn't say anything about meeting someone new…or about a fresh chance at love.

This magical, feel-good romance includes a free Hallmark recipe for Vermont Christmas Card Cookies.
The Best Little Whorehouse in Space by Erin Hayes
PICK UP AT AMAZON
Goodreads Synopsis:
Part robot, part slave, and all human, Felicity has been working as a prostitute to pay off her debt to the person who saved her life.
But when four men from her past come to her, she may find another way out.
This is a novella set in The Rogue's Galaxy.
Child of the Flames by D.W. Hawkins
PICK UP AT AMAZON
Goodreads Synopsis:
The Red Swords came with the sunrise, and took everything Shawna Llewan held dear.
She alone escapes the slaughter, spiriting away the secret which brought them down on her family. Revenge is all she has to keep her alive. Dormael Harlun just wants to find a place to sleep off the drink, but he decides to help her--though he wonders why something in her possession makes his magic react so violently, and what it's trying to tell him.
Some secrets, though, are better left where they lie.
Will they escape, avenge the deaths of Shawna's family, or drown in a tide of blood?

This novel is book one of a dark sword and sorcery series that takes the reader on an adventure steeped in fire and blood. If you like your books with action, witty dialogue, magic, blood, and fire, Child of the Flames is for you. Embark on the adventure with this first of many dark epic fantasy novels from author D.W. Hawkins.
Northern Bites by Nikki Jefford
PICK UP AT AMAZON
Goodreads Synopsis:
Love bites . . .
Big time. And probation sucks, especially when it means I'm forced to partner up with a redheaded, backstabbing vixen. I can thank Dante for that fun little treat.
Speaking of my reckless "mentor", he's in full flirt mode. Fane's tactics are far more ruthless, but what can you expect from a boy who bites?
Something carnal has awakened in me and neither boy is helping tame my cravings.
A member of our unit's team has been murdered and now Valerie and I are being sent after a suspicious vampire in Sitka, along with our psycho chaperone, Jared.
I suspect the killer's much closer to home…
And I could be the next target, which leads me back to how my discovery all started: LOVE BITES!
The Chronicles of Kerrigan Box set Books 1-6 by W.J. May
PICK UP AT AMAZON
Goodreads Synopsis:
The Chronicles of Kerrigan Box Set - Books #1-6 by USA Today WJ May
Book 1 - Rae of Hope
How hard do you have to shake the family tree to find the truth about the past?
Fifteen year-old Rae Kerrigan never really knew her family's history. Her mother & father died when she was young; it is only when she accepts a scholarship to the prestigious Guilder Boarding School in England that a mysterious family secret is revealed.
Will the sins of the father be the sins of the daughter?
As Rae struggles with new friends, a new school and a star-struck forbidden love, she must also face the ultimate challenge: receive a tattoo on her sixteenth birthday with specific powers that may bind her to an unspeakable darkness. It's up to Rae to undo the dark evil in her family's past and have a ray of hope for her future.
Book 2 - Dark Nebula
Nothing is as it seems anymore.
Leery from the horrifying incident at the end of her first year at Guilder Boarding School, Rae Kerrigan is determined to learn more about her new tattoo. Her expectations are high, an easy senior year and a happy reunion with Devon, the boy she's not supposed to date. All hopes of happiness turn into shattered dreams the moment she steps back on campus.
Lies and secrets are everywhere, and a betrayal cuts Rae deeply. Among her conflicts and enemies, it appears as if her father is reaching out from beyond the grave to ruin her life. With no one to trust, Rae doesn't know where or who to turn to for help.
Has her destiny been written? Or will she become the one thing she hates the most—her father's prodigy.
Book 3 - House of Cards
Rae Kerrigan is three months away from graduating from Guilder Boarding school. She is now moonlighting as an operative for the Privy Council, a black ops division for British Intelligence. She's given a mentor, Jennifer, who fights like a demon –fast, tough, and incredibly strong-willed. Rae finds a strange maternal bond with her. At the same time, she finds a new friend when Devon disappoints her once again.
Childhood memories surface and evoke hidden secrets she is determined to solve. When the Privy Council ask for her help, she finds a friend, and a link, to the Xavier Knights – another agency similar to the Privy Council. Through the mystery and secrets, she begins to question what the PC represents and where she stands.
Will she lose herself in the confusions of the past and present? What will it mean for her future?
Book 4 - Royal Tea
The Queen of England has requested the help of the Privy Council. Someone is trying to kill her son's fiancé. The HRH Prince plans to marry a commoner, and his bride has a secret no one knows but the Privy Council. She has a tatù. When the Privy Council turns to Rae for help, she can't possibly say no; not even when they make Devon her partner for this assignment. They are to pose as a couple and work undercover, as bodyguards, to protect the soon to be Princess of Wales.
Rae would rather be anywhere but with Devon, especially since she believes her mother to be alive, despite the Privy Council's assurances to the contrary. The question is, how can Rae find proof of life for her mother, come to terms with her feelings for Devon, and manage to save the Princess, all while dressed for tea?
When the enigma, the secrets and the skeletons in the closet begin to be exposed, can Rae handle the truth?
Book 5 - Under Fire
Rae Kerrigan is determined to find her mother. No amount of convincing from Devon, or the Privy Council, is going to make her believe her mother is not alive, and Rae will stop at nothing to find her.
Torn between friendship and loyalty, Rae must also choose between Luke and Devon. She can't continue to deny, or fool herself, any longer. The heart wants what the heart wants.
Book 6 - End in Sight
When life couldn't get anymore confusing, fate steps in and throws a curveball.
Christmas with the Sheriff by Victoria James
PICK UP AT AMAZON
Goodreads Synopsis:
After fleeing her beloved small town five years ago, Julia Bailey is back to spend Christmas with her family. Returning is hard, but keeping the devastating secret about her late husband is even harder. Her place isn't in Big Sky Country any longer...but the more time she spends with the irresistible Sheriff who saved her once before, and his adorable little daughter, the more Julia starts wishing she could let go of the past and start a new life.

Single dad and county Sheriff Chase Donovan had been secretly in love with his best friend's wife for years. But after her traumatic loss he knew Julia needed to get away from Shadow Creek, even though helping her leave was the last thing he wanted to do. Now she's home and he doesn't intend to lose her a second time. Chase is going to prove to Julia just how good they can be together this Christmas...and forever.
The Emperor's Edge (Books 1, 2, and 3) by Lindsay Buroker
PICK UP AT AMAZON
Goodreads Synopsis:
An enforcer wanted dead for crimes she didn't commit...
An assassin wanted dead for crimes he
did
commit…
Normally, they would be enemies, but they both seek the same thing: exoneration.
Unfortunately, a nefarious underground organization is attempting to kill the one man who could grant it to them, the emperor. If they want to win their freedom, they'll have to battle powerful wizards, outscheme master schemers, and defeat bloodthirsty monsters, all while dodging friendly fire and evading the law. Exoneration isn't easy.
This boxed set includes the first three novels in this high fantasy adventure series:
The Emperor's Edge
Dark Currents
Deadly Games
Angels & Magic: Bonus Collection
PICK UP AT AMAZON
Goodreads Synopsis:
Seven bestselling and award-winning authors give you a look at what it means to be a hero, wings or not. Enjoy this bonus collection of urban and epic fantasy short stories, available for a limited time!
Crystalline Space by A.K. DuBoff
PICK UP AT AMAZON
Goodreads Synopsis:
A Space Fantasy Sci-Fi Adventure
"Do-overs" are possible.
The crystalline network allows reality to be reset to past moments in time…
After a routine reset on her homeworld, Elle Hartmut instead awakens on a spaceship. Her body is different, she has new magical abilities, and she's told that the fate of known civilization is in her hands.
An alien Darkness is corrupting entire worlds.
Elle and a team of magically enhanced companions embark on an interstellar quest to seal the Master Archive—the only hope of restoring the infected planets.
Ancient relics may hold the key to salvation.
With only vague clues to guide them, Elle and her new friends must gather legendary artifacts to protect the Archive. But if they can't unravel the ancient secrets in time, their worlds and loved ones will be lost in shadow forever.
Crystalline Space
offers a fun blend of sci-fi and fantasy adventure with a sleek high-tech skin on traditional magic, perfect for fans of
Final Fantasy
,
Kingdom Hearts
, and
Xenosaga
. Begin reading the complete Dark Stars trilogy today and be transported to a universe where second chances are real. Start?
Into the Yellow Zone by Lynda Engler
PICK UP AT AMAZON
Goodreads Synopsis:
After leaving her underground shelter with a passing mutant tribe, 16-year-old Isabella, her new husband Malcolm, two young tribe members and two little children, seek the old scientist Telemark village's priestess saw in her visions. Is he looking for a vaccine to keep humans from suffering the ravages of their poisoned world? Or are Araddea's visions merely hallucinations born of her mutated mind?
Meanwhile Isabella's brother, Luke, is desperately trying to find them to deliver medication that can save them from a disease they don't even know they have. But Luke isn't just delivering meds… he has escaped the military base with knowledge of a government plan that will help clean up their toxic and irradiated world, but at what cost to mutants?
Alien Intention by Cara Bristol
PICK UP AT AMAZON
Goodreads Synopsis:
Our attraction unleashes a perfect storm…
I'm Stormy Weathers. My love life on Earth is one natural disaster after the other. I'm attracted to bad boys, rebels, commitment-phobes. In a crowd of choirboys, I'll manage to find the jerk. All I want is a man who'll love me and my young son, so I'm going to an icy planet to become an alien's mail order bride. This time will be different! The chemistry I feel with Romando is electric. It doesn't matter what my sister or her mate or their tribe says, mutual attraction this strong can't be wrong, so I'll do anything to get him…
I'm Romando, an outcast in my own tribe. One rash, angry act turned me into a pariah and almost got me banished. But, what everyone resents the most is that I'm one of the lucky few who'll be getting a mate. The instant Stormy Weathers blows into Dakon with the other Earth females, my horns tingle. She is meant for me, but I resist the instinct to claim her. You see, she's related to my nemesis responsible for my outcast state. Honor and pride dictate that I reject her as a suitable mate. If only I could get her out of my mind…
Undercover Magic by Linsey Hall
PICK UP AT AMAZON
Goodreads Synopsis:
I've got two choices. Join the Undercover Protectorate. Or die.

In a world of controlled magic, I'm an Unknown. Deadly power, little control. I'm only alive because I pay a Blood Sorcerer to keep me hidden. But when he comes to collect on the debt I can't pay, one of his goons slams me with a deadly curse. Suddenly, I'm out of options and out of time.

When I'm given a rare chance to join the elite Undercover Protectorate and train at their academy to become an investigator, I have a way to hunt the cure for the curse. They have resources I don't. Easy, since I'm broke.

Seems like a good plan, right? At least, until they tell me Cade will be joining me on my hunt for the Blood Sorcerer. He's an actual Celtic war god--and the hottest guy I've ever seen. The catch? I can't let him know that I'm an Unknown, or I'm out on my ass and deader than Hades.

Undercover Magic is a fast-paced urban fantasy with a kick-butt heroine, a tough hero, and magic that will knock your socks off.
Beauty Never Dies by J.L. Weil
PICK UP AT AMAZON
Goodreads Synopsis:
A power-hungry father, terrible secrets, and laiders await you.
Back at the Institute, Dash and Charlotte wonder if they have made the right choice in returning to Diamond Towers. Toxic zombies, called the Forsaken, emerge out of the mist. And Charlotte's powers are on the fritz. Charlotte knows evil walks with them in the new world, and she's ready to take action. With Dash by her side, no one stands a chance.
But learning humans can be as malevolent as the monsters in the Heights makes Charlotte question everything.
The only way they can protect their future is to destroy the Institute brick by white brick. It will take more than mere strength and an act of God. It will take trust and a kind of love that is not easily broken.
A change of power needs to happen. A war is on their doorstep. And it is up to the Slayer and the girl with rainbow eyes to fight it.
The gleaming white city must fall.
This is the conclusion to the series you've been waiting for. Scroll up & click the buy button now to find out why readers all over the world have fallen in love with the Beauty Never Dies series! For fans of Hunger Games, The 100, and Divergent.
Immortal Plunder by Kelly St. Clare
PICK UP AT AMAZON
Goodreads Synopsis:
There are three types of people in the Exosian Realm—males, females, and pirates.
I'm a pirate. One with six overprotective fathers for a crew. And if I'm telling the
honest
truth, not just the pirate truth, having so many fathers is working pretty well for me so far.
When I'm caught eavesdropping on the pirates of
Malice
, they retaliate with violence, and my fathers become set on revenge. But simple payback cascades into shattering misfortune.
Unexplainable magical happenings and impossible creatures propel me toward a fate much darker than stealing plunder. A terrible beast drags forth horrible truths of my fathers' pasts which call my entire life into question. Now, my sheltered upbringing is swelling into a furious storm that I must, for the first time in seventeen years, navigate without my crew.
An intense russet-haired landlubber seeks to help me. A savvy silver-eyed
Malice
pirate strives to hinder me. But the further I drift, the more I wonder—am I helping or hindering myself?
Can I stand on my own two feet to claim victory?
And if so. . .what will that victory cost?
Prepare to sail into a realm of gritty high-stakes adventure, swashbuckling characters, forgotten magic, and slow-burn romance. A story full of heart, with a large twist of humor, scroll up and one-click to discover this exciting new tale by USA Today Bestselling author, Kelly St Clare, today!
Infernal Magic by C.N. Crawford
PICK UP AT AMAZON
Goodreads Synopsis:
She's forgotten her past. Too bad her past won't return the favor.
Ursula can't remember a single thing from before three years ago, so she has to keep her life simple. All she wants is to earn enough money for rent--and maybe a bit left over for a new pair of boots.
But on her eighteenth birthday, all hell breaks loose... quite literally... when a hellhound shifter shows up in her kitchen. Kester's lethally gorgeous, and he's come with a terrifying message: Ursula owes her soul to a demon.
No one seems to care that she doesn't remember striking that deal.
Thrust in the middle of a demonic war, Ursula fights her way across New York--and through the fae realm to survive. Along the way, she must reclaim her magical knowledge and her long-forgotten skills with the blade if she wants to escape eternal damnation.
How to Save an Undead Life by Hailey Edwards
PICK UP AT AMAZON
Goodreads Synopsis:
Grier Woolworth spends her nights weaving spooky tales of lost souls and tragedies for tourists on the streets of downtown Savannah. Hoop skirt and parasol aside, it's not a bad gig. The pay is crap, but the tips keep the lights on in her personal haunted mansion and her pantry stocked with ramen.
Life is about as normal as it gets for an ex-necromancer hiding among humans. Until the society that excommunicated Grier offers her a second chance at being more than ordinary. Too bad no one warned her the trouble with being extraordinary is it can get you killed.
Warning: This book contains one ex-con/ex-heiress with a pet zombie parakeet who lives next door to her ex-army/ex-crush. Brace yourselves, we're talking more exes than a pirate treasure map here.
Insidious by Victoria Evers
PICK UP AT AMAZON
Goodreads Synopsis:
All Kat Montgomery wanted was a fun night out on the town. What she got was a death warrant. As it turns out, the quaint little hamlet of Mystic Harbor, Maine houses more than sandy beaches and adorable B&B's. Beneath the New England charm rests a deadly world where shifters, demons, vampires, and angelic hunters all vie for power.
A world where magic is the greatest weapon.
Magic that Kat now possesses.
After that one fateful night, she can feel the changes beginning to take hold of her. Only problem, she doesn't even know what she's turning into. With threats hiding in plain sight, deciphering the lines between friend and foe is nearly impossible. As if things couldn't get any worse, Kat learns her only real ally rests in the one person she can't stand: Reese Blackburn, an insufferably handsome magician whom the town fears most.
Kat's very soul is at stake, and destiny doesn't seem to be playing out in her favor. Can these two unlikely partners challenge fate itself before it's too late?
The Gladiator Queen: Complete Trilogy by Auryn Hadley
PICK UP AT AMAZON
Goodreads Synopsis:
In this epic low fantasy trilogy, one pampered little princess will discover that coming of age means a lot more than simply growing up. Fighting against the temptation of forbidden love, striving to survive the horrors of combat, and determined to save her country, the delicate girl in the fancy pink dress will become more than anyone expected.
She is the Gladiator Queen.
When We Were Kings:
Tossed into the gladiator arena, everyone expected the delicate girl in the fancy pink dress to be the first to die. Leyli had other plans. Surviving was at the top of her list. Revenge was a close second.
In the cell beside her, the Lion of Lenlochlien was impressed. The first day, they all cried. But this one was different. Her tears didn't slow her down, they just made her stronger, and when he looked in her eyes, he saw it. Her desperation was feral. This girl might be cornered, but the bitch was the kind that would bite.
He had no idea that he was about to become her best weapon. Leyli didn't just want to live through the games, she wanted to protect her father's throne, but to do that, she had to become someone else. She couldn't be the Princess of Norihame. The Lion had to make her a Wolf.
Chained side by side, he'll show her how to be a killer. She'll give him a reason to keep fighting. Together, they'll learn that it takes a friend to survive.
When We Were Dancing:
Leyli never wanted power, but her cousin's scheming left no other option. He'd killed her brother, trying to claim the throne for himself, and sold her off to be a gladiator, hoping to get rid of her. It didn't work. Now, she'll do whatever it takes to make sure Palino can't destroy the country her family fought so hard to keep safe.
On the sands of the arena, death was honest. In the palace, everything is different. The threats are veiled in fancy clothes and whispered rumors. Spies lay in wait around every corner, bribed with promises of power and wealth. To win, she has to keep her cousin far from succession. The best way is an heir of her own. That means a noble husband who won't kill her in her sleep and -- hopefully -- one who will ignore the hulking shadow of her best friend turned bodyguard.
The game is King of the Hill. The music for their dance is made of politics. Fate gave her a chance to change everything, but he's a fickle god. Leyli has to get this right. She may not be on the sands of the arena, but she's still fighting, and the Wolf of Oberhame will not be defeated.
When We Were Crowned:
With the crown safely on Leyli's head, her problems should've been over. Her country is safe. Her family is together. What more could a new Queen ask for?
Unfortunately, spending her mornings purging her stomach isn't it. Evidently, not even the Queen of Norihame is immune to morning sickness. Even worse, women in her country were expected to produce the next generation, not rule it. As soon as the men in court realize she's pregnant with the heir, they'll try to take away all the power she fought so hard to gain.
If that was all she had to worry about, things would be great.
But Rhia is closing in. The expansionist nation to the west has been seeking a trade alliance in violation of her father's peace treaty. Is this merely a misunderstanding between politicians, or is it the first hint of things to come? And why is one of the Senators saying the exact same thing her cousin cited as his reason for rebellion?
When all the pieces come together, Leyli realizes it's worse than she feared.
Enter the Witch by Andris Bear
PICK UP AT AMAZON
Goodreads Synopsis:
Evangeline Winther is just a normal gal living a normal life. She has a new job in a new town, and nothing can stand in her way.
Except the new job. And the new town. Oh, and the fact that she's the heir to a centuries old coven of witches, which apparently comes with a familiar—the stereotypical black cat—that spends more time licking himself than helping her learn magic.
Mechanic Shane Carlson has heard the tales of witches in the small town of Whisper Grove his whole life. Did he believe them? Uh, no. Not until he was rear-ended by a beautiful girl who seems to unlock abilities in both of them.
When her gifts make themselves known, Evangeline realizes Whisper Grove isn't the sleepy little town she thought it to be.
There are secrets buried beneath the picturesque surface, but even the deepest secrets have a way of rising.
Especially when the new witch in town can hear them whispering.
Under the Mountain by Lynda Engler
PICK UP AT AMAZON
Goodreads Synopsis:
Isabella and her new family have been captured and imprisoned in the underground city of Mt. Weather. They and other captive mutants face certain death cleaning lethal radiation zones Outside unless Dr. Rosario's cure can save them.
But can Isabella's brother Luke and the Mt. Weather rebels convince enough of the army that the mutants are worth saving? Without their help, the mutants are doomed.
Mistletoe & Magic (Anthology)
PICK UP AT AMAZON
Goodreads Synopsis:
YA Books Central presents 12 heartwarming, bone-chilling, and magically enchanting stories from the award-winning, New York Times & USA Today Bestselling authors of the YABC Staff.
YABooksCentral.com is one of the leading children's and adolescent literature sites on the web today. With much love, our staff of volunteers bring our readers this collection of YA stories representing the genres we love at the most wonderful time of the year.
From Contemporary Romance to Horror, Sci-Fi, Dragons and Fantasy, this exclusive collection of complete Holiday stories offers something for every YA book lover this holiday season.
One click now to get into the holiday spirit!
The K Word: Peyton
A Contemporary Romance by Award Winning and Amazon Bestselling author, Melissa A. Craven (YABC Indie Manager & Staff Reviewer)
A Christmas Eve party just might be the night Peyton and Cameron find themselves under the mistletoe and out of excuses.
The K Word: Cameron
A Contemporary Romance by USA Today and Amazon Bestselling author, Michelle MacQueen (YABC Assistant Indie Manager & Staff Reviewer)

A Christmas Eve party could ruin everything when a cruel joke crushes Peyton. And the only way to make her see just how beautiful she is might be to reveal the feelings Cam has tried so hard to hide.

Skywatchers
A Sci-Fi Story by L.J. Higgins (YABC Staff Reviewer)
With airships descending from the heavens, can Kylah survive Christmas Eve?
The Uninvited Guest: A Ravenspire short story
A fairytale retelling by NY Times Bestseller, C.J. Redwine (YABC Director & Staff Reviewer)
An old enemy. A new curse. And one chance to save her kingdom.
After Checkmate
A Contemporary Romance by Award winning, USA Today & Amazon Bestselling author, Amalie Jahn (YABC Staff Reviewer)
Sometimes you find love where you least expect it.
In the Valley of Stars
A Magical Realism Story by Kayla King (YABC Blog Manager & Staff Reviewer)
Begin with a wish: For family. For love. For light.
Unexpected Christmas
An Urban Fantasy by USA Today and Amazon Bestselling author, Bethany Wicker
What happens when vampires invite werewolves over for Christmas?
Young Saint Nick
A Sci-Fi story by Award Winning and Amazon Bestselling author, Angela Blount (YABC Staff Reviewer)
A futuristic retelling of a story credited to the Greek historical figure of Saint Nicholas (who was the basis for the traditional model of Santa Claus.)
Hearts & Homes
A Contemporary Romance by Beth Rodgers (YABC Staff Reviewer)
Join Cassie as she learns that home is where the heart is through experiences with holiday fun, new friends, and rewarding work.
Choices: A Joshua's Island Christmas
A Middle Grade contemporary fiction by Award Winning author, Patrick Hodges (YABC Staff Reviewer)
What do you get the perfect girl for Christmas?
Krampusnacht
A HolidayHorror Story by Stephanie Augustine (YABC Staff Reviewer)
"Have you been naughty? Or have you been nice? Let Krampus be the judge!"
A Shot of Christmas Magic
An Urban Fantasy by Award Winning author, Kim Baccellia (YABC Staff Reviewer)
A mysterious stranger makes wishes come true and injects some magic into an otherwise dreary holiday.
Sanctuary by Rye Brewer
PICK UP AT AMAZON
Goodreads Synopsis:
Book Two in the League of Vampires Series. This series is best read in order.
A half-blood by birth.
Anissa Garnet is half-fae, half-vampire. And she's not the daughter of just any fae, she's the daughter of Gregor, the leader of the fae. Except now she's made the mistake of walking away from her fae kind.
As if that wasn't bad enough, she left her mother's kind--vampires--behind.
Now this half-breed has gone rogue, but she hasn't done it alone.
Vampire clan leader no more.
Jonah Bourke not only stepped down from being a clan leader, he also left behind his entire clan, the one he was destined to rule. All to merge his fate with Anissa, the slayer that had been sent to kill him.
New Alliances, old foes.
The Sanctum provides more than sanctuary. It provides answers, which sometimes leads to more questions, and then even more threats.
A Steampunk Christmas Carol by Steven Hunt, Charles Dickens
PICK UP AT AMAZON
Goodreads Synopsis:
So, dear reader, you thought Spiderman and Iron Man was the ultimate team-up? Or Captain America and the Hulk, perhaps? No!
Such paltry partnerships were long before authors Charles Dickens and Stephen Hunt teamed up together to bring the world the steampunk adaptation of A Christmas Carol. This tome imaginatively entitled 'A STEAMPUNK Christmas Carol ... the fantastical adaptation no-one asked for, yet everyone somehow desperately needed.
Yes, this - spoilers - classic tale of a grumpy miser's Xmas-related redemption has been recast in the Jackelian Kingdom, a far-future steampunk Earth where Great Britain has rejoined the European mainland through continental drift (Brexiteer trigger warning).
The original tale has surely been vastly improved by the addition of airships, steam-driven computers and a robot called Boffin.
Forget the Muppet version. Forget that TV one with Captain Picard as Scrooge. 'A Steampunk Christmas Carol' is surely the comical and light-hearted definitive version that will be remembered millions of years in the future, after humanity has risen and fallen countless times across the endless cycle of history.
And if it isn't?
Well, failing some great technological advancements in immortality treatments or cryogenic suspension, you, dear reader are not going to be around to know about it.
Or, are you...?
Now with extra cogs and a SHOCK!!! ending thrown in for no extra cost.
Bitter Rivalry by Heather Hildenbrand & SM Reine
PICK UP AT AMAZON
Goodreads Synopsis:
There's been a murder in Paradise ...
As daughter of the late pack alpha, Regan Vuk is certain the title and responsibility is hers now. She is fast, smart, determined and has trained for this future her whole life. There's just one person standing in her way.
Charlie has never lived in one place long enough to call it home. All she's ever wanted is a place to belong in the world, but Charlie's hope for safety and security vanishes when she's kidnapped and taken against her will to meet the man who abandoned her mother seventeen years ago.
When Charlie finds out the only way to fit in with her new relatives is to defeat her long-lost sister for the role of alpha, she refuses. That is, until she meets Owen. Alluring and mysterious, Owen, is the "prize" in this twisted battle for power.
Regan has no doubt that, although she loathes vampires, she will be the one who "wins" Owen.
Only problem: Charlie's already fallen for him.
Silver Bells Slaying by Madison Kent
PICK UP AT AMAZON
Goodreads Synopsis:
It's Christmas in Chicago in 1889, and amateur sleuth, Madeline Donovan, is looking forward to a joyous holiday. Since the tragedy, it has always been a difficult time for her, but she is determined this year will be different, perhaps even Jonathan will be here.
But that all changes abruptly when the mysterious red box with the dangling silvery bells attached arrives on Erie Street. The contents will shock her and the police, and set her on a path to stop a murderer.
All novels are unique and do not require reading the series in any order.
Edge of Duty by Ryan Kirk
PICK UP AT AMAZON
Goodreads Synopsis:
The spark of revolution has been lit.

Jian is a powerful monk, sent by his masters to investigate rumors of a conspiracy that threatens the foundations of the empire. The Order of the Serpent wants to start a fire that will burn the old empire down, but Jian can't let that happen.

A peaceful man living in violent times, Jian knows the monasteries have never faced a threat as organized as this before.

But he doesn't know how much completing this assignment will cost him.

Edge of Duty is a new novella, setting up the events in the standalone novel Relentless Souls.
Ashes of Retribution by LJ Andrews
PICK UP AT AMAZON
Goodreads Synopsis:
Keep your enemies close...
In a world where imperfections mean death, an enemy might save her life.
Adira survived the unthinkable. Now, an assassin from her past returns with a vengeance.
Kidnapped by Dominus Kage, the feared leader of the shadow assassins, Adira must fight to stay alive.
But dangerous secrets could kill them all.
When the oppressive laws of the land seek to destroy everything she knows, Adira will be forced to choose a side. But how can she trust Kage when all she's heard are the brutal stories of his blood lust?
Is he really a villain, or is he the only person who can keep her alive?
Fans of Hunger Games, Maze Runner, and An Ember in the Ashes, will crave this dystopian world of dark secrets, hope, and a fight for a better tomorrow.
Siren's Lure by Frost Kay
PICK UP AT AMAZON
Goodreads Synopsis:
Vengeance never looked so beautiful...
Hayjen never believed in myths and nightmares until he came face to face with one. Captured and trapped on a slaver ship, life looks utterly grim. But when mutiny and danger arise, Hayjen is tossed into the ocean's watery depths, where death stalks.
Vengeance is Lilja's middle name. As pirate captain of the Sirenidae, she's made it her life goal to destroy Scythia after what they've stolen from her. After one miscalculation, she finds herself cast into the sea with a man's life in her hands. Despite her laws ringing in her mind, she saves him, exposing a secret she's kept for years.
A secret that could destroy an entire race.
The Fourth Element trilogy by Kat Ross
PICK UP AT AMAZON
Goodreads Synopsis:
Gladiator meets Romeo and Juliet in this "spellbinding fantasy" trilogy (Kirkus Reviews) set in ancient Persia!
They are the light against the darkness.
The steel against the necromancy of the Druj.
And they use demons to hunt demons….
Nazafareen lives for revenge. A girl of the isolated Four-Legs Clan, all she knows about the King's elite Water Dogs is that they leash wicked creatures called daevas to protect the empire from the Undead. But when scouts arrive to recruit young people with the gift, she leaps at the chance to join their ranks. To hunt the monsters that killed her sister.
Scarred by grief, she's willing to pay any price, even if it requires linking with a daeva named Darius. Human in body, he's possessed of a terrifying power, one that Nazafareen controls. But the golden cuffs that join them have an unwanted side effect. Each experiences the other's emotions, and human and daeva start to grow dangerously close.
As they pursue a deadly foe across the arid waste of the Great Salt Plain to the glittering capital of Persepolae, unearthing the secrets of Darius's past along the way, Nazafareen is forced to question his slavery—and her own loyalty to the empire. But with an ancient evil stirring in the north, and a young conqueror sweeping in from the west, the fate of an entire civilization may be at stake…
So begins an epic story of adventure, romance and betrayal that leads to undiscovered magical realms and a final confrontation with a demon queen bent on destroying them all.
Redemption by Rye Brewer
PICK UP AT AMAZON
Goodreads Synopsis:
A vampire slayer by necessity.
Anissa Garnet is a vampire. She's also a slayer. Anissa is no stranger to taking out the enemies of her clan leader. Her assignment is simple. Jonah Bourke is not to attend the League of Vampires. Ever. It should have been an easy kill. It should have been one and done. It would have been, if Jonah Bourke hadn't saved her life.
An assignment like no other.
Vampire clan leader Jonah Bourke is that one. He didn't plan to be a hero. He didn't want to save the life of the slayer that was sent to kill him. Maybe he wouldn't have, if he'd known.
Too late now.
Anissa just compounded his problems. Not that he didn't have plenty: A rebellious twin who wants to claim leadership of their clan and a litany of supernaturals that want him dead.
So what's a vampire to do when he saves the life of the vampire girl sent to kill him?
Power of Five: Reverse Harlem Fantasy by Alex Lidell
PICK UP AT AMAZON
Goodreads Synopsis:
Four elite fae warriors. One mortal female. A magical bond they can't allow--or resist.
Orphaned and sold to a harsh master, Lera's life is about mucking stalls, avoiding her master's advances, and steering clear of the mystical forest separating the mortal and fae worlds. Only fools venture into the immortal realms, and only dark rumors come out... Until four powerful fae warriors appear at Lera's barn.
River, Coal, Tye, and Shade have waited a decade for their new fifth to be chosen, the wounds from their quint brother's loss still raw. But the magic has played a cruel trick, bonding the four immortal warriors to... a female. A mortal female.
Distractingly beautiful and dangerously frail, Lera can only be one thing--a mistake. Yet as the males bring Lera back to the fae lands to sever the bond, they discover that she holds more power over their souls than is safe for anyone... especially for Lera herself.
Winter Fae by Melissa Turner Lee & Pauline Creeden
PICK UP AT AMAZON
Goodreads Synopsis:
~The Short Story Prequel to ARMORED HEARTS (Steampunk Fantasy)~
Once upon a time, a fairy princess gave up her home, her family, and her birthright for the love of a human lord. But life outside has made her sick. When she returns to the land of fae with her son, she discovers things are not as they should be. Will she find the healing she so desperately seeks for herself and invalid son? Or will she be received with the coldness of winter?
Free Audio Books/Stories: