So, thanks to many for showing me the error of my ways and introducing me into reading this AMAZING series (yes, I still don't know why it took me so long, but I'm here and LOOOOVING it.)
I'm sure many shared this cover yesterday, as it's outstanding! But I'm sharing it today, a day late because I got sidetracked with real life yesterday.
Ready?
Here we go...
Magic Rises
By: Ilona Andrews
This cover is mind-blowing to me! All that fire! Oh my. Something is seriously going down...or up in flames? But dang. Amazing. Curran, there in the upper corner, looks peeved to the T. Spells fight for me. And Kate. Oh Kate. To me this model fits the image for me, I've liked all the models as they have that pull in their eyes that screams Kate. I just keep thinking of the outfit Saiman sent to Kate for their 'not-a-date' to the Midnight Games. I seem to have something in mind in way of a description from Saiman. I don't think he said it, but I just think that outfit fits her wondrously. I can see that description in this model easily, I think it's in the eyebrows. And Kate looks ready to cut her way through a lot of mess.
Also... Did you see the
new look to Ilona & Gordon's site
? W-O-W. Really! Kate looks like one tough chick and she has gone through hell. Flames, blood, and one ticked off strong Kate. Damn do I want this book!!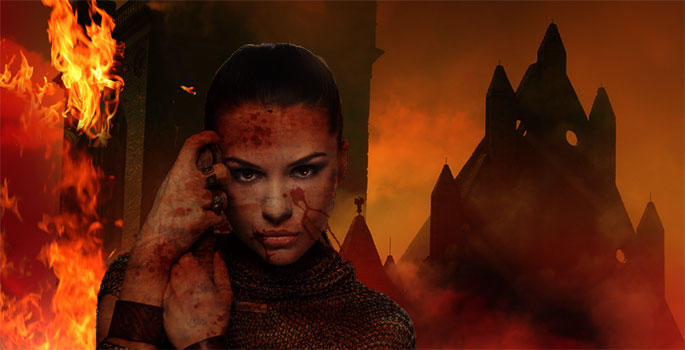 What do you think? Screams action! And Fight!!! LOL. (I do loOove a great fight) Oh, and side note, if you aren't happy, I'm sorry but please don't ruin my wonder and love of this cover. I'm totally syked about the series as I'm thrilled to have been shown the light. I'm loving the cover and the new look of the site. So much to look forward to!