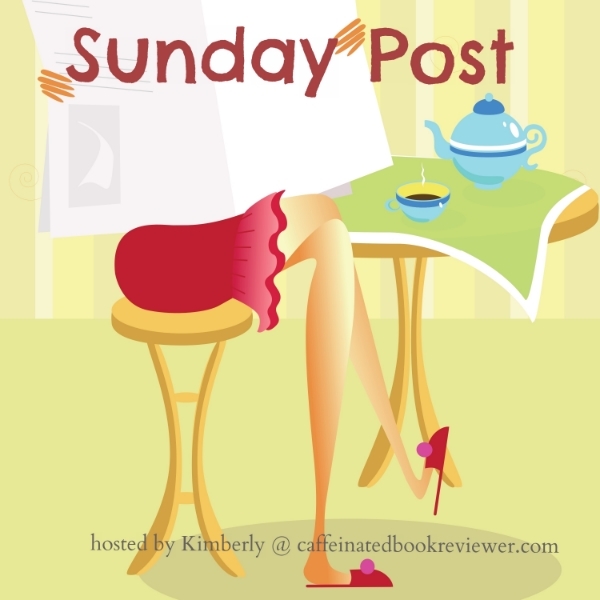 The Sunday Post
is a weekly meme hosted by
Kimba the Caffeinated Book Reviewer
~ It's a chance to share news ~ A post to recap the past week on your blog, showcase books and things we have received and share new about what is coming up on our blog for the week ahead.

It's been several months since I've done a Sunday post. And this one is missing some books and post links.

It's been a few months. I had two photos selected and displayed at a local historical site in their gallery. We've been busy with events on weekends. And learned my father-in-law's not doing well. So we've had a lot going on family wise and more. I don't even know where to start to share it all. So I figured I'd do a post and start clean next week.

Life just feels like it's been throwing us loops this year, every time I think I have a schedule it all gets blown out of the water and I have to start over.


~~~~~~~~~~~~~~~
Goal: Workout in any form of exercise (or on Wii Fit) 2x's a week. (to feel better and hope to drop a few pants sizes)
How did I do last week... I really need to get back to working out!


What's Happening in Books:
Gunsmoke & Dragonfire
edited by Diane Morrison
Current Audiobook:
Will start a new book Monday.
Current Podcast Book Listen:
Nothing new.
Books:
No reads this week.
Audiobooks :
The Wrath of Lords
by Kyle Alexander Romines
Shadows on Snow
by Starla Huchton
Villains Deception
by M.K. Gibson
Child of the Ghosts
by Jonathan Moeller
Assassin's Honor
by Gail Z. Martin
Hook: Dead to Rights
by Melissa Snark
Dead God's Due
by Matthew P. Gilbert
Tangled Web
by Gail Z. Martin
Three O'Clock Seance
by Joanne Pence
Finished Podcast Book Listen:
Nothing new yet.
Last Week on the Blog:
Cover Reveals:
(click titles to go to post & learn more)
Posts:
Around the Internet...
Reviews:
GIVEAWAYS:
I have two reviews scheduled for you this week.
For Review Consideration:
The Bone Ships by R.J. Barker
PICK UP AT AMAZON
Goodreads Synopsis:
A crew of condemned criminals embark on a suicide mission to hunt the first sea dragon seen in centuries in the first book of this adventure fantasy trilogy.
Violent raids plague the divided isles of the Scattered Archipelago. Fleets constantly battle for dominance and glory, and no commander stands higher among them than "Lucky" Meas Gilbryn.
But betrayed and condemned to command a ship of criminals, Meas is forced on suicide mission to hunt the first living sea-dragon in generations. Everyone wants it, but Meas Gilbryn has her own ideas about the great beast. In the Scattered Archipelago, a dragon's life, like all lives, is bound in blood, death and treachery
Audio Books Requested for Review:
Magic for Liars by Sarah Gailey
PICK UP AT AMAZON
Goodreads Synopsis:
Ivy Gamble has never wanted to be magic. She is perfectly happy with her life—she has an almost-sustainable career as a private investigator, and an empty apartment, and a slight drinking problem. It's a great life and she doesn't wish she was like her estranged sister, the magically gifted professor Tabitha.
But when Ivy is hired to investigate the gruesome murder of a faculty member at Tabitha's private academy, the stalwart detective starts to lose herself in the case, the life she could have had, and the answer to the mystery that seems just out of her reach.
The Sol Majestic by Ferrett Steinmetz
PICK UP AT AMAZON
Goodreads Synopsis:
The Sol Majestic is a big-hearted intergalactic adventure for fans of Becky Chambers and The Good Place
"A feast of a book." --Hugo Award-winning author Seanan McGuire
Kenna, an aspirational teen guru, wanders destitute across the stars as he tries to achieve his parents' ambition to advise the celestial elite.
Everything changes when Kenna wins a free dinner at The Sol Majestic, the galaxy's most renown restaurant, giving him access to the cosmos's one-percent. His dream is jeopardized, however, when he learns his highly-publicized "free meal" risks putting The Sol Majestic into financial ruin. Kenna and a motley gang of newfound friends -- including a teleporting celebrity chef, a trust-fund adrenaline junkie, an inept apprentice, and a brilliant mistress of disguise -- must concoct an extravagant scheme to save everything they cherish. In doing so, Kenna may sacrifice his ideals -- or learn even greater lessons about wisdom, friendship, and love.
Utterly charming and out of this world,
The Sol Majestic
is will satisfy the appetites of sci-fi aficionados and newcomers alike.
Spine of the Dragon: Wake the Dragon #1 by Kevin J. Anderson
PICK UP AT AMAZON
Goodreads Synopsis:
Bestselling author Kevin J. Anderson's triumphant return to epic fantasy,
Spine of the Dragon
, is a politically charged adventure of swords, sorcery, venegeance, and the rise of sleeping giants.
Two continents at war, the Three Kingdoms and Ishara, are divided by past bloodshed. When an outside threat arises—the reawakening of a powerful ancient race that wants to remake the world—the two warring nations must somehow set aside generational hatreds and form an alliance to fight their true enemy.
Permafrost by Alastair Reynolds
PICK UP AT AMAZON
Goodreads Synopsis:
Fix the past. Save the present. Stop the future. Alastair Reynolds unfolds a time-traveling climate fiction adventure in Permafrost.
2080: at a remote site on the edge of the Arctic Circle, a group of scientists, engineers and physicians gather to gamble humanity's future on one last-ditch experiment. Their goal: to make a tiny alteration to the past, averting a global catastrophe while at the same time leaving recorded history intact. To make the experiment work, they just need one last recruit: an ageing schoolteacher whose late mother was the foremost expert on the mathematics of paradox.
2028: a young woman goes into surgery for routine brain surgery. In the days following her operation, she begins to hear another voice in her head... an unwanted presence which seems to have a will, and a purpose, all of its own – one that will disrupt her life entirely. The only choice left to her is a simple one.
Does she resist... or become a collaborator?
The Others by Jeremy Robinson
PICK UP AT AMAZON
Goodreads Synopsis:
UFOs and alien abductions remain one of the most hotly debated and mysterious subjects of the twenty-first century. In the decades since 1960, with reports of strange encounters on the rise, thirteen million people have gone missing worldwide and never been found. The Others takes a fast-paced, unique, and moving look at the phenomenon that has fueled Jeremy Robinson's imagination since several sightings, strange happenings, and visits with renowned UFO investigator, and family friend, Raymond Fowler.
TO SAVE A MISSING GIRL...
Dan Delgado is a private investigator. When it comes to finding cheating spouses, corporate thieves, or runaway teenagers, he's unenthusiastic, and unmatched. As a former San Francisco detective, he misses more meaningful work, but he hasn't had the heart for it since his wife's death five years prior. That is, until a phone call from a distraught mother. An illegal immigrant who can't go to the police puts him on the hunt for a missing little girl.
By the time he reaches the mother's small home, she's missing, too. The circumstances are strange, but when a team of heavily armed mercenaries arrive, Delgado is convinced there is more going on than a simple kidnapping.
Joined by his elderly assistant, a gun-toting pastor, and a UFO enthusiast Uber driver, Delgado follows the clues west, to Colorado City, a town cleaved in two by the 37th parallel, also known as the UFO Highway. In a town infamous for fundamentalist Mormon cult activity, they uncover evidence of a massive child-trafficking ring, whose ringleaders might not be human.
Delgado and crew are plunged into a dangerous world of corporate competition, UFO lore, and government cover-ups. While they hunt for answers, they're pursued across the Southwest by high-tech mercs, brainwashed cults, and beings whose true identity has been concealed since 1947.
...HE MUST RISK THE WORLD
Flux by Jeremy Robinson
PICK UP AT AMAZON
Goodreads Synopsis:
For Owen McCoy, a typical day on the job as head of security for Synergy, a research company conducting mysterious experiments, is boring at best. And that's the way he likes it. Patrolling the Appalachian mountainside, where his now deceased father taught him how to hunt, is relaxing and connects him to the past.
But today is not a typical day on the job. It begins with asking a thief to join him for breakfast. Seeking to set the young man on a better path, Owen invites him to walk the perimeter with him and consider a more honest living. Before their patrol can begin, they discover evidence that the facility has been breached. When Owen's truck explodes, he's confused, but ready for whatever might come his way.
At least, he thinks he is.
A wave of light-bending energy--the Flux--rolls down the mountainside, transporting Owen, and everyone in the nearby town of Black Creek, to October 14, 1985, the day before his father died. Two hours later, the second Flux hits, and then a third, and a fourth, each time collecting Black Creek residents from various times. They're carried through eras filled with wild animals, monsters of myth, and ancient beasts...and then beyond.
Joined by a ragtag group of temporal stowaways, including family members, Owen fights to restore order, stop the Flux, and return home, facing off against futuristic tech, primal killers, and the fear of losing his father...again.
International bestselling author of The Others and Infinite, Jeremy Robinson combines science, action, and strong characters to create an ever-changing landscape that explores the past, the human condition, and the lengths people will go to save those they love.
Child of the Ghosts by Jonathan Moeller
PICK UP AT AMAZON
Goodreads Synopsis:
When her life is torn apart by sorcery and murder, young Caina Amalas joins the mysterious Ghosts, the legendary spies and assassins of the Emperor of Nighmar. She learns the secrets of disguise and stealth, of assassination and infiltration.
But even that might not be enough to save her.
For the evil that destroyed her family seeks to devour the entire world...
Dead God's Due by Matthew P. Gilbert
PICK UP AT AMAZON
Goodreads Synopsis:
The end of the world approaches. The people don't believe. They don't even remember.
Yazid Valerion is alone with the truth, but his warnings fall on deaf ears. His people are far more concerned about the wars of today and tomorrow than those of the past.
Eons ago, the Dead God promised a world of ash, and the time of that prophecy is now at hand. His only hope is to cross the sea with his few followers in search of ancient enemies, the Meites, and pray he can sway them to his cause. But the Meites are no mere mortals; they are powerful sorcerers prone to outbursts of destructive terror. Even if he can find them, there's no guarantee they won't slaughter him and his men upon first sight.
Perhaps there is no way to change the prophesy of a god. If not, then Yazid will die well. For a warrior knows, it is better to die fighting than trembling in fear of the final blow.
The Tainted Crown by Meg Cowley
PICK UP AT AMAZON
Goodreads Synopsis:
What is the price of kingship?
The kingdom of Caledan is thrown into turmoil by the queen's murder. Her heir, Soren, flees with a price on his head after being framed for the killing by his uncle Zaki, who seizes the legendary throne of the Dragon Kings and rules with an iron fist to crush dissent. However, suspicion is rife following Zaki's ill-omened coronation and a crime ill-fitting the beloved Prince Soren.
Now a fugitive roaming the wild, Soren has lost everything. He tries to reconcile his grief and determine how he can reclaim his throne when fate has left him with just one old man, but the odds are greatly against him. If no-one follows him, or believes his innocence, is he worthy to rule?
Across the kingdom, Soren's cousin Eve takes matters into her own hands and journeys to the ethereal Eldarkind on his behalf, however this reveals her own inescapable fate. As she comes to terms with the gift and the curse of magic, Eve risks her life to help Soren.
Before the fragile peace shatters, can Soren reclaim the throne - and should he?
The Brooding Crown by Meg Cowley
PICK UP AT AMAZON
Goodreads Synopsis:
What is the price of kingship?
Soren has defeated his usurping uncle and the semblance of peace has returned to Caledan, but surrounded by the twelve noble houses of Caledan, King Soren can trust few. In the shadows, treasonous thoughts grow. When news of Zaki's presence in Roher reaches Soren, can he ally all of Caledan to his cause – and keep them?
Zaki has not given up on his plans to regain Caledan's throne. First he must prove himself to Harad, the mighty king of Roher, but Zaki will stop at nothing to gain the support of Roher's army, march on Caledan's borders and take back the throne of the dragon kings.
War returns to Caledan, but a greater threat looms. The pact is broken. The Eldarkind are fading. The dragons war amongst themselves. A power too terrible to name grows in the North, and He seeks revenge. Only Eve stands in His way – but can she stop magic as old as time?
Return to Caledan for the thrilling, fast-paced sequel to The Tainted Crown.
Assassins Honor by Gail Z. Martin
PICK UP AT AMAZON
Goodreads Synopsis:
First in the new
Assassins of Landria
series from the award-winning, bestselling author of
Scourge: A Novel of Darkhurst
, and the
Chronicles Of The Necromancer
books!
Friends since their orphanage childhood, Joel "Ridge" Breckinridge and Garrett "Rett" Kennard rose through the ranks of the Landrian army together, from teenaged conscripts to seasoned fighters. Together, they became the most feared team of assassins in Landria, surviving longer that most in their profession by virtue of excellent fighting skills, legendary bravado, peerless strategy, and an uncanny synchronicity. Henri, their long-suffering squire, tends to the thankless jobs of provisioning and logistics, while Ridge and Rett fight and recover.
When wandering mystic Yefim Makary becomes the darling of disenchanted aristocrats, Rett and Ridge fear Makary—or the Witch Lord, as his followers call him—is a threat to the crown. As treasonous whispers spread, Ridge and Rett go rogue to stop the threat, save the kingdom and protect the king—while landing on the "Most Wanted" list themselves!
Tangled Web by Gail Z. Martin
PICK UP AT AMAZON
Goodreads Synopsis:
Cassidy Kincaide runs Trifles & Folly in modern-day Charleston, an antiques and curios shop with a dangerous secret. Cassidy can read the history of objects by touching them and along with her business partners Teag, who has Weaver magic and Sorren, a 600-year-old vampire, they get rid of cursed objects and keep Charleston and the world safe from supernatural threats.
When zombies rise in Charleston cemeteries, dead men fall from the sky, and the whole city succumbs to the "grouch flu," Cassidy, Teag, and Sorren suspect a vengeful dark witch who is gunning for Teag and planning to unleash an ancient horror. Cassidy, Teag, and Sorren—and all their supernatural allies—will need magic, cunning, and the help of a Viking demi-goddess to survive the battle with a malicious Weaver-witch and an ancient Norse warlock to keep Charleston—and the whole East Coast—from becoming the prey of the Master of the Hunt.
A Midsummer Night's Murder by Colleen Helme
PICK UP AT AMAZON
Goodreads Synopsis:
A Shelby Nichols Novella
Marked for Murder by Colleen Helme
PICK UP AT AMAZON
Goodreads Synopsis:
Trouble follows Shelby Nichols
Why wouldn't it?
She works for a mob boss.
And the police.
A desperate call from a friend in need turns Shelby's life upside down. Someone is out to prove that Shelby is a fake, marking her for murder. How far will they go?
As the clock ticks down, she realizes no one is safe, and it's up to her to stop them. Will she succeed? Let's hope so, because time is running out...
Three O'Clock Seance by Joanne Pence
PICK UP AT AMAZON
Goodreads Synopsis:
San Francisco Homicide Inspector Rebecca Mayfield has vowed to have nothing more to do with mystery man Richie Amalfi, but when he tells her about the strange deaths of clients of a local psychic medium, her decision changes. Rebecca has always been intrigued by the paranormal and, despite her logical and practical nature, she can't resist looking into the deaths.
A handsome medium, a tormented ghost, and the FBI lurking around because of their interest in Richie and some stolen ancient artifacts, show Rebecca that the dead don't always stay dead and buried. And her emotions can't be buried, no matter how hard she might try. But following both just might lead Rebecca straight to the Great Beyond ... permanently.
Purchased/Winnings/Gifts:
Book:
Age of Legend by Michael J. Sullivan
PICK UP AT AMAZON
Goodreads Synopsis:
Each culture has its own myths and legends, but only one is shared, and it is feared by all.
With
Age of Myth
,
Age of Swords
, and
Age of War
, fantasy master Michael J. Sullivan riveted readers with a tale of unlikely heroes locked in a desperate battle to save mankind. After years of warfare, humanity has gained the upper hand and has pushed the Fhrey to the edge of their homeland, but no farther. Now comes the pivotal moment. Persephone's plan to use the stalemate to seek peace is destroyed by an unexpected betrayal that threatens to hand victory to the Fhrey and leaves a dear friend in peril. Her only hope lies in the legend of a witch, a forgotten song, and a simple garden door.
Hymn by Ken Scholes
PICK UP AT AMAZON
Goodreads Synopsis:
Ken Scholes completes his five-book epic that began with his acclaimed first novel
Lamentation
. The battle for control of The Named Lands has captivated readers for ten years as both characters and readers have learned the true nature of world called Lasthome.
Now the struggle between the Andro-Francine Order of the Named Lands and the Y Zirite Empire has reached a terrible turning point. Believing that his son is dead, Rudolfo has pretended to join with the triumphant Y zirite forces but his plan is to destroy them all with a poison that is targeted only to the enemy.
In Y Zir, Rudolfo's wife Jin Li Tam is fighting a war with her own father which will bring that Empire to ruin.
And on the Moon, Neb, revealed as one of the Younger Gods, takes the power of the Last Home Temple for his own.
Audio:
The Way of Kings by Brandon Sanderson
PICK UP AT AMAZON
Goodreads Synopsis:
Roshar is a world of stone and storms. Uncanny tempests of incredible power sweep across the rocky terrain so frequently that they have shaped ecology and civilization alike. Animals hide in shells, trees pull in branches, and grass retracts into the soilless ground. Cities are built only where the topography offers shelter.
It has been centuries since the fall of the ten consecrated orders known as the Knights Radiant, but their Shardblades and Shardplate remain: mystical swords and suits of armor that transform ordinary men into near-invincible warriors. Men trade kingdoms for Shardblades. Wars were fought for them, and won by them.
One such war rages on a ruined landscape called the Shattered Plains. There, Kaladin, who traded his medical apprenticeship for a spear to protect his little brother, has been reduced to slavery. In a war that makes no sense, where ten armies fight separately against a single foe, he struggles to save his men and to fathom the leaders who consider them expendable.
Brightlord Dalinar Kholin commands one of those other armies. Like his brother, the late king, he is fascinated by an ancient text called
The Way of Kings
. Troubled by over-powering visions of ancient times and the Knights Radiant, he has begun to doubt his own sanity.
Across the ocean, an untried young woman named Shallan seeks to train under an eminent scholar and notorious heretic, Dalinar's niece, Jasnah. Though she genuinely loves learning, Shallan's motives are less than pure. As she plans a daring theft, her research for Jasnah hints at secrets of the Knights Radiant and the true cause of the war.
The result of over ten years of planning, writing, and world-building,
The Way of Kings
is but the opening movement of the Stormlight Archive, a bold masterpiece in the making.
Speak again the ancient oaths:
Life before death.
Strength before weakness.
Journey before Destination.
and return to men the Shards they once bore.
The Knights Radiant must stand again.
Free Ebooks:
(On my Kindle and Nook App)
Links to books under title. They may or may not be free at this time.
Catacombs by Avery Cross
PICK UP AT AMAZON
Goodreads Synopsis:
Mysterious necromancers. Wicked summoners. Fierce witches. Occasional familiars. Military experiments. Secret councils. Forbidden alliances. The Academy of Ancients will suck you in.
Briar Shroud has gone from foster child to full scholarship at the Academy of Ancients. Cool, right?
Not quite. Her upperclassman mentor Zachary sucks. He's hot, but he sucks at being a mentor. And a friend. And a person.
Her roommate's a paranormal, and the whole school is underground and a secret.
Know what else is bad? Briar learns she's a witch. And a rare type of witch, to boot.
It went from bad to worse—a picture of a sister she's never heard of appears at the school. A sister she knows nothing about.
And the rules seem hellbent on keeping Briar from learning the truth. And sometimes, it seems other forces would rather not see her alive.
Warning: This series will hook you! Violence can be found in this series of action-packed fantasy, with necromancers, summoners, and badass witches.
Rules of Stone by Alex Lidell
PICK UP AT AMAZON
Goodreads Synopsis:
One elite fae warrior. Four superior officers. A bond they can't remember—or resist.
Lera was once human. Now, with dark magic leaking into the mortal world, Lera and her four fae warriors must protect her home realm - even if that means going undercover to a human military academy. But when a sudden, terrible accident melds the males with their human disguise, everything changes. Now it's up to Lera to make her mates remember themselves, their mission, and her, before the entire mortal world pays the price.
River, Shade, Tye, and Coal can't overlook the gorgeous new cadet who's just arrived at Great Falls Academy, but when the tantalizing Lera starts breaking rules and ignoring orders, the four senior officers intend to put her in her place. Lera will learn or she will quit—that is just how Great Falls works.
Lucifer's Daughter by Kel Carpenter
PICK UP AT AMAZON
Goodreads Synopsis:
We've all heard the story of the Four Horsemen. Harbingers of the apocalypse. Destruction given form. Four of the sexiest—wait no—forget that. You get my point.
So imagine my surprise when I find out everything I've ever been told, is a lie.
But we're getting ahead of ourselves here. Let's start from the beginning.
My name is Ruby Morningstar. I run a tattoo parlor in Portland with my bestfriend, have a pet raccoon, a crazy ex that stalks me, not to mention this one little thing… I'm a demon. Half-succubus, to be exact. For the last twenty-three years of my life, that's the story I believed, but on the day a handsome stranger bails me out of jail my world is turned upside down, and suddenly I don't know who I am anymore.
Because the Four Horsemen aren't the bringers of the apocalypse.
I am.
Talk about never catching a break.
The Tarot Witches Complete Collection by SM Reine
PICK UP AT AMAZON
Goodreads Synopsis:
This is the complete four-book collection of The Tarot Witches, a New York Times bestselling paranormal romance series.
There are seventy-eight cards in a tarot deck, and each card has been appearing in the mailbox of a different witch. Each one bears a message for the unlucky recipient, and it brooks a warning: fix your life and earn power beyond imagining, or lose everything you care about.
Werewolves are drawn to the scent of these tarot witches, driven to bond and protect them. The desire to mate cannot be conquered. And entire packs will rise and fall for the love of the tarot witches...
Book One: Caged Wolf
Book Two: Forbidden Witches
Book Three: Winter Court
Book Four: Summer Court
Whom the Gods Love by M.M. Perry
PICK UP AT AMAZON
Goodreads Synopsis:
Harpy infested plains. Dark and foreboding forests. Beasts of myth and legend. All must be conquered by Cass and her small band before they can ask the favor of a God. From the Plains of the Dead Gods all the way to the Temple of Oshia, a mercurial God who promises to grant any wish to those who complete a harrowing pilgrimage, a tale unwinds that begins to unravel a great mystery—a story told only in the hazy atmospheres of forgotten pubs in the farthest reaches of the land… until now. The group quickly finds itself caught in a struggle between the gods that has spanned millennia. And everyone knows that nothing is easy when the gods have a hand in.
This is the first book in the Of Gods & Mortals trilogy.
Off the Edge by Carolyn Crane
PICK UP AT AMAZON
Goodreads Synopsis:
For deadly secret agent Peter Macmillan, language is a weapon-one he uses to hunt criminals, destroy plots, and charm enemies. Seducing information out of a beautiful singer in a Bangkok hotel should be easy...except this particular singer has the power to destroy his cool facade, and with it, his last defense against a dark past.
He may be her only hope...
He tricked her. He helped himself to her body and her secrets. He has enemies everywhere. Laney Lancaster should hate Peter, but when she discovers him shirtless, sweaty, and chained up in the hotel's dungeon, all she can think about is freeing him. Because she knows what it's like to be trapped and alone. And she could use a dangerous friend. They may be wrong for each other, but the instant they join forces, Laney and Peter are plunged into an odyssey of hot sex and dark danger. To survive, they must trust each other with their lives-and their hearts.
Athenian Steel by P.K. Lentz
PICK UP AT AMAZON
Goodreads Synopsis:
She is doom and madness. She is Thalassia.
In 425 BCE, the Athenian general Demosthenes comes into possession of a weapon from the stars. He fears to wield it against his city's bitter enemy Sparta, but he knows that he must, lest it be wielded by others. He knows, too, that it seeks to wield and possess him, for this weapon is human, or something like it, and as complex as the wider universe from which she fell. She is Thalassia. She is doom and madness. She has come for reasons all her own, and she did not come alone. Book II out 9/24!
ATHENIAN STEEL is bloody, twisted mayhem in the ancient world and Book I in a centuries-spanning epic that will appeal to readers of Gene Wolfe, David Gemmell, David Drake, Michael Moorcock, & other classic SF/Fantasy authors of the 1970's to 1990's. Fans of Bernard Cornwell, Michael Curtis Ford, Steven Pressfield and similar will also find plenty to enjoy if they don't mind touches of cosmic SF, dark humor, and sex in their military historical fiction.
Magma Girl by Claudia Silva
PICK UP AT AMAZON
Goodreads Synopsis:
A Short Story
Be careful who you trust.
The Witch in the Woods by Jessica Lynch
PICK UP AT AMAZON
Goodreads Synopsis:
Before she was the witch in the woods, before she was Cassandra, she was—
Poppy
It was supposed to be just another job. The stranger hired me to be his maid and, though something about him made me twitch, I couldn't pass up the money. So I traded Harlem for Manhattan, knowing that this decision might change my life.
I couldn't have been more right.
I should have listened when he warned me away from that mirror, but I didn't, and I somehow landed my fool self into a whole new world. I'm not alone, though.
He's there. He says his name is Apollo, like the theater. And he has the absolute nerve to expect me to believe that I'm meant to be here, in this place, with him. A city girl like me, living out in the woods with some golden-haired white boy?
He must've lost his damn mind.
But Apollo has a dark side, too. A temper. When I brush him off, desperate to get back to New York, he curses me. That's right. Curses me—with her name and her fate. He says I'm Cassandra. And so I am.
Because of his curse, I see the future. I know what's going to happen. I don't believe it.
And that, perhaps, is the worst part of the curse.
*The Witch in the Woods is a novella set in the Mirrorside world. It features the story of Cassandra, the witch in the woods who helps Noelle in the first Mirrorside novel, Stalk the Moon.
Shakespeare's Witch by Samantha Grosser
PICK UP AT AMAZON
Goodreads Synopsis:
Love, Witchcraft, Sorcery, Madness.
A fortune told …
When Sarah Stone foresees Will Shakespeare's latest play has opened doors to evil, she begs the playwright to abandon it. But Will refuses, aware the play is one of his best. And so rehearsals for Macbeth begin.
Forbidden desires …
After her vision, Sarah fears for her life – she has never known the shewstone to lie, and she turns to her brother Tom for comfort. A strange darkness seems to haunt the playhouse, and when Tom sets out to seduce John Upton, the boy actor who plays Lady Macbeth, the boy sees the hand of witchcraft in his own forbidden desires for men. Then Sarah weaves a spell to win the love of the new lead actor, and John, terrified for the safety of his soul, begins to make his accusations.
The Spirits have spoken …
As rehearsals continue, Sarah and Tom must struggle to convince John he is mistaken and that his sins are his own – their lives and the fortune of the play are at stake. But the Spirits have spoken – will the fate that Sarah foresaw come to pass or is their destiny their own to decide? Set against the first production of Macbeth in 1606, Shakespeare's Witch is a seductive tale of the origins of the curse of the Scottish Play.
A Shadow on the Glass by Ian Irvine
PICK UP AT AMAZON
Goodreads Synopsis:
In ancient times the Way Between the Worlds was shattered, leaving bands of Aachim, Faellem, and Charon trapped with the old humans of Santhenar. Now Llian, a Chronicler of the Great Tales, uncovers a 3,000-year-old secret too deadly to be revealed-while Karan, a young sensitive, is compelled by honor to undertake a perilous mission. Neither can imagine they will soon meet as hunted fugitives, snared in the machinations of immortals, the vengeance of warlords, and the magics of powerful mancers. For the swelling deluge of a millennial war is rising, terrible as a tsunami, ready to cast torrents of sorcery and devastation across the land....
Maxon by Christina Bauer
PICK UP AT AMAZON
Goodreads Synopsis:
Now a special edition with an all-new wedding epilogue!
Prince Maxon may be twenty-two years old now, but he's still haunted by his boyhood abduction and torture in Hell. To deal with his past, Maxon limits his present-day activities to killing demons and seducing women. No long-term relationships. No combat too dangerous. No problem, right?
Wrong.
Maxon's life has stalled out. The old thrills aren't there anymore, either on the battlefield or in the bedroom. While staking out his next fight, Maxon meets what seems like just another girl after a good time. What he gets is a close encounter with Lianna, a lady warrior with ties to the mysterious elemental rulers called the monarkki.
It's love at first fight.
Trouble is, Lianna's running from a dark history of her own, and her elemental enemies are closing in. When Lianna gets taken, Maxon realizes that after years of wrong choices and dead ends, the right woman is worth risking it all...
Psychic Undercover by Amie Gibbons
PICK UP AT AMAZON
Goodreads Synopsis:
Vampires aren't the only things that go bump in the night...
Singers are a dime a dozen in Nashville, so despite her mama's urging, psychic Ariana Ryder's working her way towards a career in law enforcement at the FBI, one tray of fetched coffee at a time, instead. She's got an extremely handsome boss, a dancing partner among the lab techs, and a solid year as the team rookie under her belt...
Right until the director gives her a big break, working undercover as a singer at a club to investigate why it's being targeted by a serial killer. This might have worked better if the club didn't happen to be a vampire nest.
Now, with the vampires' investigator, Quil, on her case, the sparks are flying and the jurisdictional battle isn't the only thing heating up as they race to solve the case before the killer strikes again!
Psychic Wanted (Un)Dead or Alive by Amie Gibbons
PICK UP AT AMAZON
Goodreads Synopsis:
When your exes come back to haunt you...

Halloween's here and psychic FBI agent Ariana Ryder is ready to party. But a psychic has a job to do, and when a curse of vengeance born from broken hearts starts killing men all over Nashville, Ariana has to psychic up and get her butt to work. Everything about these supposed suicides screams ghost, but it's doing things no mere specter can pull off.

The clock's tickin' before the ghost strikes again, and Ariana's going to have to face her own past to stop it...

Because it's just set its sights on Grant.