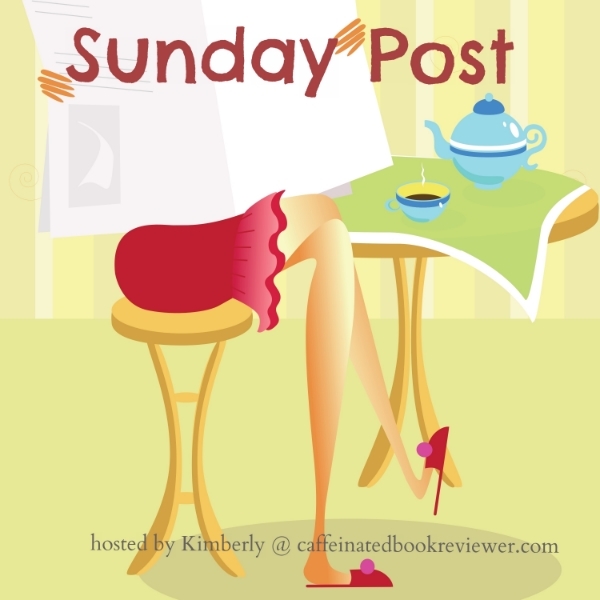 The Sunday Post
is a weekly meme hosted by
Kimba the Caffeinated Book Reviewer
~ It's a chance to share news ~ A post to recap the past week on your blog, showcase books and things we have received and share new about what is coming up on our blog for the week ahead.

I did a little better this week with blog visiting. Two days is a good start for me. :) While trying to do a few things at once, I'm dividing up time. I think I'm going to slow down on the photography thing. I don't have models or clients to take photos of, so that kind of makes it hard.

I picked up the monthly Audible program this month. I'm debating on if I want to keep it or not. Sounds like a great deal and I have been loving my audiobooks.

I do have a question with Audible monthly... Do you keep credits if you don't use it in the month it's given? Do they roll over month to month and collect?

Something I'm noticing this last week of blogs I follow....many of them have become inactive or slowed down like me. I'm curious if you have blogs in the Urban Fantasy and Fantasy world you follow that you enjoy. I'm looking for more blogs again. Maybe share one with me.

Do you remember when I did Mythical Monday? I would like to bring that back again. Do you know any authors that would like to do a post? I'm open to any and all.


~~~~~~~~~~~~~~~
Goal: Workout in any form of exercise (or on Wii Fit) 2x's a week. (to feel better and hope to drop a few pants sizes)
How did I do last week... I didn't get on the treadmill at all.


What's Happening in Books:
King of Ashes
by Raymond E. Feist
Editing work.
Current Audiobook:
Darkmage
by M.L. Spencer
Current Podcast Book Listen:
Nothing new.
Books:
Not yet.
Audiobooks :
Witchbreaker
by James Maxey
Rogue's Quest
by Sarah K.L. Wilson
Finished Podcast Book Listen:
Nothing new yet.
Last Week on the Blog:
Cover Reveals:
(click titles to go to post & learn more)
Posts:
Around the Internet...
Reviews:
Origin of Magic by Linsey Hall
"In this book we start to see a spark of dragon connection. I feel as though we are leading to more with the three girls as well. They are all key in something more, which we know of but we get the feel as we are getting closer to that 'something', what they are fated to do. This makes me even more excited to continue with the last two books with Nix!"
Enemy by Magic by Linsey Hall
"Okay. Wow. We learn a lot here! I love it! We learn about dragons and their history. Then about FireSouls. And, this leads to our ladies and their connection to things. Nix's journey feels like it's one of the most important, maybe because of who she is or maybe because she's the last of the three to come into her powers."
Mama Bitchstress Reviews:
GIVEAWAYS:
This Week to Come on the Blog:
I have two reviews scheduled for you this week.
~~~~~~~~~~
Received For the Last Week:
(Note: Links to Amazon are buy links where I could earn commission, in case you are interested.)
For Review Consideration:
Audio Books Requested for Review:
Purchased/Winnings/Gifts:
Book:
Audio:
Space Opera by Catherynne M. Valente
PICK UP AT AMAZON
Goodreads Synopsis:
IN SPACE EVERYONE CAN HEAR YOU SING
A century ago, the Sentience Wars tore the galaxy apart and nearly ended the entire concept of intelligent space-faring life. In the aftermath, a curious tradition was invented-something to cheer up everyone who was left and bring the shattered worlds together in the spirit of peace, unity, and understanding.
Once every cycle, the civilizations gather for the Metagalactic Grand Prix - part gladiatorial contest, part beauty pageant, part concert extravaganza, and part continuation of the wars of the past. Instead of competing in orbital combat, the powerful species that survived face off in a competition of song, dance, or whatever can be physically performed in an intergalactic talent show. The stakes are high for this new game, and everyone is forced to compete.
This year, though, humankind has discovered the enormous universe. And while they expected to discover a grand drama of diplomacy, gunships, wormholes, and stoic councils of aliens, they have instead found glitter, lipstick and electric guitars. Mankind will not get to fight for its destiny - they must sing.
A one-hit-wonder band of human musicians, dancers and roadies from London - Decibel Jones and the Absolute Zeroes - have been chosen to represent Earth on the greatest stage in the galaxy. And the fate of their species lies in their ability to rock.
Free Ebooks:
(On my Kindle and Nook App)
Links to books under title. They may or may not be free at this time.
Nocturne for a Widow by Amanda DeWees
PICK UP AT AMAZON
Goodreads Synopsis:
Vivacious actress Sybil Ingram looks forward to a life of security when she leaves the theater to marry a wealthy American. But when he dies on their wedding night, she finds herself a penniless widow. Her only legacy is Brooke House, a Gothic revival manor in the wilds of the Hudson River Valley. However, the eerie mansion comes with two tenants. One is a hostile ghost. The second, and far worse, is former violinist Roderick Brooke--the most insolent, dangerous, maddeningly gorgeous man she's ever met.
As Sybil and Roderick engage in a battle of wills--and wits--she finds herself increasingly drawn to him despite her growing suspicion that there is a connection between him and the spirit that haunts Brooke House. But soon an even greater threat arises: the mysterious queen of local society, Mrs. Lavinia Dove. For reasons that Sybil can't imagine, Mrs. Dove is determined to have Brooke House and Roderick for herself... if necessary, by deadly means.
Aurora Sky by Nikki Jefford
PICK UP AT AMAZON
Goodreads Synopsis:
My blood is toxic to vampires . . .
If there's one thing I want, it's go get off this iceberg. I'm thinking college on the east coast. ANYWHERE besides Alaska.
Then a near-fatal car wreck changes everything. Government agents jump in and save my life in exchange for my services as a vampire hunter. Did they just say vampires? Yep. And they're not the kind that sparkle. They're rabid, disgusting, rude . . . and way too suave. Those are the ones I really have to watch out for.
A knife isn't my only weapon. My rare blood type sends vampires into temporary paralysis right before I have to finish the job by hand. Basically I'm a glorified chew toy.
Now I'm stuck with an overzealous partner, a group of suck junkies, and a maddening attraction to Mr. Joe Cool, dresses all in black, Fane Donado. I don't know if I want to punch him or kiss him, but clearly he's keeping secrets of his own.
The old Aurora is gone forever. Destroyed in the wreckage. I don't know who I am anymore, only that I suddenly have intense cravings and a V.I.P. pass into Alaska's underworld.
If vampires found out who I worked for it would be lights out forever. In the meantime, I have some undead ass to kick so long as it doesn't kick mine first.
The City of Wizards by George Mazurek
PICK UP AT AMAZON
Goodreads Synopsis:
When a young boy Syrdan arrives to a mythical city of Averot'h, everything seems perfect. Both humans and wizards live here in peace and harmony, four Spires shine brightly high in the skies, wizards cruise the air on their tephirs and an Arena, a place of a magic tournament, is just amazing…
But within the City of Mages, something is badly wrong. What was meant to be a brief trip turns into a battle to save his brother, his new love and his own life from the most powerful of mages…
An entertaining young adult novella from a unique fantasy world is just the first book of the Averot'h saga.
Free Audio Books/Stories:
~~~~~~~~~~
Soulless
by Skyla Dawn Cameron
The Sentinel
by Chris Lester
The Muse
by Chris Lester
Metamor City: Making the Cut
by Chris Lester
Metamor City: Whispers in the Wood
by Chris Lester
Lex Talionis
by Starla Huchton
Spark

by Starla Huchton
Heir to Kale
by K.L. Bone
Tales from the Archives Vol 4 #5 - Old Sinner's Bones
The Death of Dulgath
by Michael J. Sullivan
Danger's Halo
by Amanda Carlson
The Books and Braun Dossier
by Philippa Ballantine & Tee Morris
Solomon Key
by David Wood
Forged in Magic
by Linsey Hall
Archenemies
by Marissa Meyer
Storm Watcher
by Lilith Saintcrow
Nobody Gets the Girl
by James Maxey
She Dreams of Fire
by M.K. Gibson
Wild Hawk
by Justine Davis
Witchbreaker
by James Maxey
Rogue's Quest
by Sarah K.L. Wilson