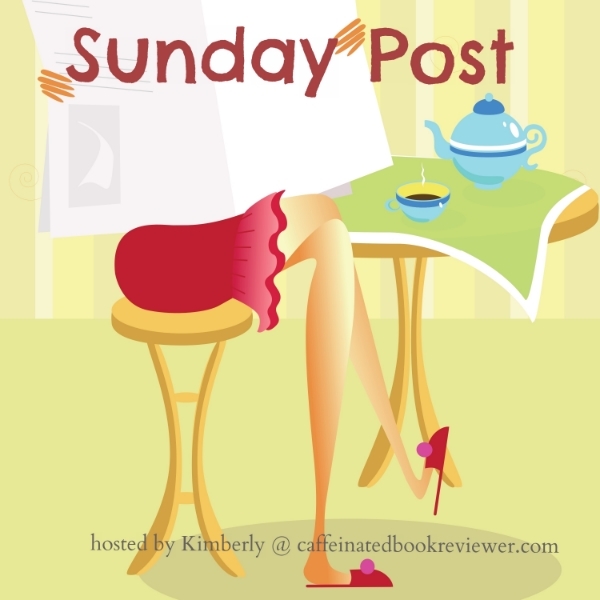 The Sunday Post
is a weekly meme hosted by
Kimba the Caffeinated Book Reviewer
~ It's a chance to share news ~ A post to recap the past week on your blog, showcase books and things we have received and share new about what is coming up on our blog for the week ahead.
And another week in the dust. I've been trying to keep myself busy. I've been taking photos - a concert Thursday night, football Saturday morning, and fireworks Saturday night at a carnival I went to with my husband. It was nice to have a night out to relax a little. It's been stressful with the pets and all.

Sheba's been sick with a terrible, terrible skin infection and I've been trying to keep her cleaned up. She does seem to be improving with her new antibiotic, at least in her movements and personality. She's not just laying on her pillow sleeping now. And she's eating much better.

I've been working on editing work, which it totally awesome. I'm excited for this author and book.

It's been crazy here with Sheba being sick, so I haven't been on the blog lately. I really wish things would go back to normal so I can do what I love.

I've found with Googles change in policies, they no longer email the blog owner of any comments on posts. I miss this as this is how I found who comments and where so I can answer and follow back to your blog. Does anyone know how to change this so I DO get the emails on comments?

Oh well. Lets move on to the next week of events. Hope they are all good ones for you!


~~~~~~~~~~~~~~~
Goal: Workout in any form of exercise (or on Wii Fit) 2x's a week. (to feel better and hope to drop a few pants sizes)
How did I do last week... Not...really... Time is mad at me right now.


What's Happening in Books:
The Books and Braun Dossier
by Philippa Ballantine & Tee Morris
Editing work.
Current Audiobook:
Marines
by Paul E. Cooley
War and Wind
by Alex Lidell
Current Podcast Book Listen:
Nothing new.
Books:
xxxx
by xxxx
Audiobooks :
Flotsam Prison Blues
by M.K. Gibson
As Dead as a Vampire
by April Fernsby
Finished Podcast Book Listen:
Nothing new yet.
Last Two Weeks on the Blog:
Cover Reveals:
(click titles to go to post & learn more)
Posts:
Around the Internet...
Reviews:
Helios
"I love how things come together. These stories bring things together I wouldn't expect to relate, yet they fit. Religion, gods, aliens, and so much more tie in threads to each other along with adventure. I get caught up and find I stop and listen, pausing to take it all in. It opens my mind to the possibilities the authors are creating with the characters and events. I can see the connections! Myths and the way things were related in stories for what could have been something people lived through."
Flotsam Prison Blues
"What I love is the lessons learned and important points made that people need to remember through life. These are mixed in with crazy and funny moments, but in the end there is a huge point that hits home with the characters and with the readers. The way it's done, it feels as though a comic book fashion is used but in words. I love it!"
Mama Bitchstress Reviews:
GIVEAWAYS:
This Week to Come on the Blog:
I will finished up two reviews for you this week.
~~~~~~~~~~
Received For the Last Two Weeks:
(Note: Links to Amazon are buy links where I could earn commission, in case you are interested.)
For Review Consideration:
Bad Faith by Jon Hollins
PICK UP AT AMAZON
Goodreads Synopsis:
Will and his comrades went to war to overthrow the reign of dragons, winning battle after battle, and acclaim as conquering heroes.
But now they've angered the gods, and may just need the dragons to help them this time...
Audio Books Requested for Review:
Make Bright the Arrows by S.A. Huchton
PICK UP AT AMAZON
Goodreads Synopsis:
"Soldiers need wars, doctors need patients, and the Nanshe needs trouble. That's just kinda how it is."
The galaxy ain't a friendly place, but it's a good sight better when you've got friends at your back. And when the crew of the Nanshe stumbles into larger-than-your-average trouble, they'll need all the help they can get.
What starts off as a simple retrieval of stolen goods turns deadly when Leena Espinoza discovers a girl stashed in a cellar, her guardian murdered. The crew has a soft spot for hard cases, and despite Delilah's odd behavior, offer help instead of turning her over to the authorities.
But what they don't know might kill them.
No good deed goes unpunished, and the crew winds up on the radar in the worst possible way. Merc squads, shadowy coalitions, plus the usual criminal element are all on their tails, so it's fight or flight.
As a plot to unbalance the entire civilized universe unfolds around them, the ladies of the SS Nanshe gear up for battle. Through blood and fire, they'll do everything they can to protect what little they have. In the vast blackness of space, taking matters into your own hands isn't an option... It's a matter of survival.
Purchased/Winnings/Gifts:
Book:
She Dreams of Fire by M.K. Gibson
PICK UP AT AMAZON
Goodreads Synopsis:
Agatha "Aggy" Grae was only ten years old the night a witch of the Umbra Coven killed her mother and burned her home. Injured, she received a transfusion of blood tainted by witchcraft, and immediately her eyes were opened to the truths hidden from mundane eyes. She saw a new world, a hidden world, one filled with darkness and secrets.
And that new world was now aware of her.
Through the years, Aggy never quit hunting the mysterious coven. From the shadows she gathered information, stepping out only to hurt those who dared to hurt others. But everything changed the night she helped a familiar-looking stranger. Through magical means, Vanessa, a high witch of the Umbra Coven, has learned of Aggy. Following the orders of the coven's leader, The Veiled One, Vanessa has begun her own hunt, one that can end only with Aggy's blood.
She Dreams Of Fire is a story of strength. In order to survive, Aggy must defeat her own doubts, addictions, and fears. In order to win, she has to endure everything the witches and the Hidden Folk throw at her. Partnered with a man from her past, the unlikely pair must learn to trust each other as they suffer betrayal, discover hidden truths about themselves, and battle the monsters in the dark.
But does Aggy have the strength to walk through the fire?
Audio:
Free Ebooks:
(On my Kindle and Nook App)
Links to books under title. They may or may not be free at this time.
Witch Slapped by Dakota Cassidy
PICK UP AT AMAZON
Goodreads Synopsis:
"Oh, good. Not a problem. I'll invoke the Gods of Pilates. I'm sure they'd be happy to help. Hang on just one sec while I dial them up. Oh, wait. I can't. Know why I can't? Because my hands are tied behind my back with zip ties, Win!"
A rib-tickling cozy mystery complete with an ex-witch, a dead British spy, a cotton ball bat and a cast of suspects that will keep you guessing right up to the end!
Witch Slapped
from
USA Today
bestselling author Dakota Cassidy is book one in her new cozy mystery series Witchless In Seattle. Join the hunt for a murderer with Stevie, Winterbottom, and Belfry in a race against time as the local police prepare an eight by ten cell for our intrepid ex-witch.
What's a girl to do when she's a broke, shunned ex-witch with a very tiny, very hungry bat familiar named Belfry to feed?
Hello. My name is Stevie Cartwright, and I've been witchless for thirty days.
If only there was a support group for down-on-their-luck ex-witches who've had their powers slapped right out of them (literally). Just as I was licking my wounds after returning to my hometown of Ebenezer Falls, WA, and navigating my suddenly non-magical existence with the help of my familiar, the only friend I have left in the world--things got sticky.
Enter an ex-spy and newly departed spirit named Winterbottom, who's infiltrated my life with his sexy British accent and a couple of requests...
Thanks to Belfry's successful attempt to use me as a human antenna to the afterlife, I can somehow hear Win. I should be ecstatic; helping departed souls used to be my witch specialty. It's like I got the teensiest piece of my old life back. Except Win's dropped me right at a dead woman's feet.
Madam Zoltar, the town's beloved fake medium, has been murdered, and Win wants me to catch the killer.
My old life won't be worth much if it gets me whacked before my new life has barely begun--and that seems to be exactly what the killer has planned!
Content Notes: This cozy mysteries women sleuths series has a complete cast of oddball characters from witches to ghosts and bats to psychics. Witchless In Seattle Mysteries is a spin-off of Dakota Cassidy's popular A Paris, Texas Romance Series.
Siren's Tide by Pip Ballantine
PICK UP AT AMAZON
Goodreads Synopsis:
Ianthe Liakos is a mermaid from a different dimension and between that and now working as a PI in the corrupt climate of Washington DC, she'd thought she'd seen it all.
But when following a case leads down a trail of money that connects the murders of young political interns to a new paranormal threat, she realizes she must protect the next target.
The waters turn even murkier when Clayton Abernathy, a newly risen revenant fresh out of the grave, finds himself under the power of this new unnatural threat. Ianthe must hunt down this new threat to DC, while trying to keep her own identity safe. If the paranormal citizens of Washington DC found out that a mermaid has returned her own life and mission would be in danger.
And when it becomes clear that the murderer and Ianthe's mermaid past are inexplicably intertwined, she realizes she may just be out of her depth dealing with this killer.
=======================================
Six remarkable female writers, bring you a new urban fantasy series of novellas. Their Sea King's Daughters will carry the reader into uncharted waters.
Ethan: Prequel Novella by P.T. Michelle
PICK UP AT AMAZON
Goodreads Synopsis:
Ethan Harris never thought monsters and darkness would consume his daily thoughts, but every night the same visions repeat in his dreams. He's careful to project a semblance of normalcy, keeping the suffocating darkness locked inside. As much as he wishes he could focus on girls, sports, and cars like other seventeen-year-olds, nothing distracts him from his own demons or shines through.
Until Nara Collins crosses his path. The blonde fascinates and intrigues him, giving him a measure of peace he's never felt before.
When Ethan discovers there's more to Nara than she allows others to see, that she might have a unique secret of her own, suddenly his world comes into focus.
Note: ETHAN is a novella PREQUEL to BRIGHTEST KIND OF DARKNESS. This story will give some of Ethan's background and lead up until the day he and Nara talk for the first time.
The Mystery of the Emerald Flame by Pip Ballantine
PICK UP AT AMAZON
Goodreads Synopsis:
After her brush with death, Verity Fitzroy and the children of the Ministry Seven retreat to London, but adventure has a way of finding them.
With her Uncle Octavius somewhere out there, Verity is sure the disappearance of children in the fogs of the capital cannot be a coincidence. But when she and the Ministry Seven find traces of the mysterious emerald flame, they will find themselves whisked into the embrace of dark conspiracies, and ancient puzzles.
Rocket Fuel (Tor Anthology of short stories)
PICK UP AT AMAZON
Goodreads Synopsis:
A collection of some of the best feature articles from Tor.com's 10 year history as an online sci-fi/fantasy literature magazine. Read:
- An intimate moment under the covers that bloomed into a lifetime lived through sci-fi/fantasy.
- A fierce defense of fan fiction.
- The history of Wheel of Time author Robert Jordan, and the story of the reader who had her future rewritten in turn.
- A deeply unwise thought experiment that explains how centaurs eat.
- The story of one writer's amazing day, starting out on her last dime and ending with her somehow hugging her idol, Terry Pratchett.
- And much more!
Rocket Fuel: Some of the Best From Tor.com Non-Fiction features essays from Seanan McGuire, Ursula Vernon, Jo Walton, Nisi Shawl, Kate Elliott, Becky Chambers, Kai Ashante Wilson, Sarah Gailey, Grady Hendrix, Judith Tarr, Lish McBride, Emily Asher-Perrin, Ryan Britt, Leah Schnelbach, Natalie Zutter, Molly Templeton, and more!
At the Publisher's request, this title is being sold without Digital Rights Management Software (DRM) applied.
Free Audio Books/Stories:
~~~~~~~~~~
Soulless
by Skyla Dawn Cameron
The Sentinel
by Chris Lester
The Muse
by Chris Lester
Metamor City: Making the Cut
by Chris Lester
Metamor City: Whispers in the Wood
by Chris Lester
Lex Talionis
by Starla Huchton
Spark

by Starla Huchton
Heir to Kale
by K.L. Bone
Tales from the Archives Vol 4 #5 - Old Sinner's Bones
The Death of Dulgath
by Michael J. Sullivan
Danger's Halo
by Amanda Carlson
As Dead as a Vampire
by April Fernsby