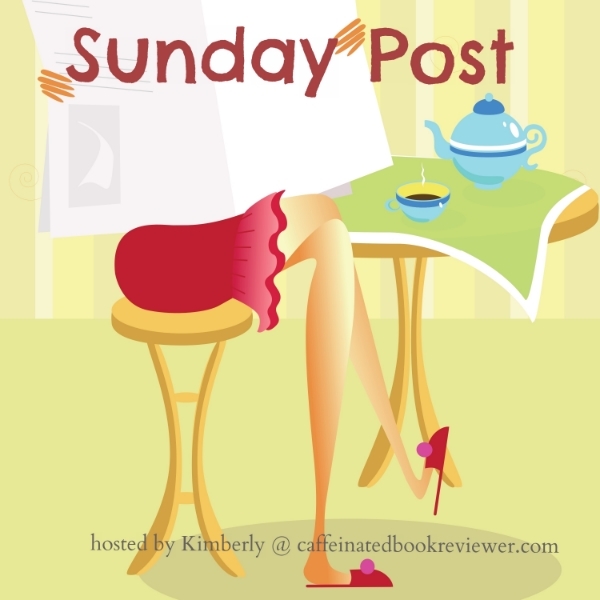 The Sunday Post
is a weekly meme hosted by
Kimba the Caffeinated Book Reviewer
~ It's a chance to share news ~ A post to recap the past week on your blog, showcase books and things we have received and share new about what is coming up on our blog for the week ahead.

First and foremost, I want to thank everyone that still stops by the blog and sends their best. It's been a rough few months here. Dad was sick so I lost a month of doing my personal things, which I'm good with because it's my dad. But March is also slogging by as I'm trying to get back into life and get everything ironed out again. Unfortunately it's taking longer than I wanted. But I'm getting there.

It's been a few weeks since I've done a Sunday Post. The weekends have been busy for us. It's crazy how when Kiddo got older and onto his own items how we started doing more and keeping busy. That's what's happened.

It was snowing this morning!!??! It's suppose to be Spring. I'm so ready for green and color in the world.

Hope the weather is nice in your area.
~~~~~~~~~~~~~~~
Goal: Workout in any form of exercise (or on Wii Fit) 2x's a week. (to feel better and hope to drop a few pants sizes)
How did I do last week... I've been walking on lunch, when can, for 25-30 mins. It's a start to getting exercise in with the weather slowly turning to the nicer side.


What's Happening in Books:
Gunsmoke & Dragonfire
edited by Diane Morrison
Current Audiobook:
Angels and the Bad Man
by M.K. Gibson
Current Podcast Book Listen:
Nothing new.
Books:
King of Ashes
by Raymond E. Feist
Audiobooks :
Crystalline Space
by A.K. DuBoff
The Tournament of Supervillainy
by C.T. Phipps
Finished Podcast Book Listen:
Nothing new yet.
Last Week on the Blog:
Cover Reveals:
(click titles to go to post & learn more)
Posts:
Around the Internet...
Reviews:
GIVEAWAYS:
I have two reviews scheduled for you this week.
For Review Consideration:
Gunsmoke & Dragonfire edited by Diane Morrison
PICK UP AT AMAZON
Goodreads Synopsis:
From the drought-plagued plains of Mars, to a post-apocalyptic Canada, to the familiar American West and Mexico, to other dimensions and other worlds weird and wonderful, an international cast of bestselling, award-winning, established, and emerging authors brings you 25 strange western tales:
Robert Lee Beers - A hardboiled P.I. and his partner must find their way back to the present from 1906 San Francisco before the Big One hits, dodging gunslingers and the risk of changing history, with only a drunken misanthropic wizard to help them...
James Blakey - A sheriff must question a colourful cast of characters to discover who has stolen a unicorn rancher's herd...
Zach Chapman - A card-cheating Spellslinger must duel a mysterious Green Gunslinger to his damnation or salvation...
Sara Codair - Two Martian sheriffs must stop a gang of outlaws from stealing a settlement's precious water, if they can keep their marriage together long enough to do it...
Eric S. Fomley - A marshal comes to town seeking an outlaw, but neither he nor the outlaw are the ordinary kind...
Milo James Fowler – Heroic Coyote Cal, the witch Donna Jamieson, and his faithful sidekick Big Yap, must stop a monster from ravaging the livestock and people of a town in the western desert...
Ron S. Friedman - A WWI pilot shot down over the Amazon must survive Germans, crazy scientists, the jungle and dinosaurs...
Carrie Gessner - An elven veteran is called back to face her demons when a little girl is snatched to serve the army that destroyed her...
Paul Alex Gray - The heir to the Bourbon Throne must earn coin in America to overthrow the French Republic and reclaim his birthright, so he builds a fantastic contraption to aid him...
Jude-Marie Green - Sorceress Jane Smith knows her partner Donna Quick is quite mad, but she follows her anyway...
Brent A. Harris - Marshal Bass Reeves has been asked for help by a desperate frontier settlement beleaguered by a dragon...
Ethan Hedman - A wandering gunfighter inherits an enchanted weapon, but it's broken...
Joachim Heijndermans - Two outlaws hole up in a quiet town full of terrified townsfolk, but all is not as it seems...
Russell Hemmell - Two investigators must discover why an entire colony in the Kuiper Belt has disappeared, leaving nothing but an anachronistic western frontier town in its place...
Liam Hogan - A young outlaw is hunted by an implacable mechanical foe...
G. Scott Huggins - A blacksmith with ghostly allies receives an unusual, and dangerous, client...
Sean Jones - The last Norse descendant in North America, who swears vengeance on the Comanche for killing his wife and village, is given supernatural aid by the Navajo...
Mackenzie Kincaid - Junior died helping Pa maintain the fence against the Somethings, so now 12-year-old Jane must take his place...
R. Daniel Lester - An old tap-dancing celebrity defaults on the payments for his magical shoes, and a repo agent has come to collect...
Diane Morrison - Two young elven Gunslingers must stop a cannibal spirit before it, or the blizzard it brings, kills everyone they know...
Diana L. Paxson - A painter journeys to the Rockies to paint landscapes, and stumbles upon an ancient mystery...
Claire Ryan - Rollo is going to get her giant slug herd in to market, come hell or high water, monster or no monster...
Ricardo Victoria - An ex-spellslinger has taken up a career as a travelling salesbeing of a newfangled weapon called a "rifle"...
Stanley B. Webb - A U.S. Marshal must stop a notorious outlaw who may or may not be a dragon...
We invite you to explore these stories in the grand pulp fiction tradition: from weird westerns, to sci-fi and space westerns, to post-apocalyptic westerns, alternate history, time travel, and cattlepunk.
Featuring a classic Solomon Kane story by Robert E. Howard.
Audio Books Requested for Review:
Villains Deception by M.K. Gibson
PICK UP AT AMAZON
Goodreads Synopsis:
Jackson Blackwell, the Shadow Master, returns. And lo, the multiverse shall tremble. Why? For someone dared to kidnap his daughter.
In this third installment of the multiple award-nominated Shadow Master novels (which we perpetually lose), Jackson and his crew of malicious malcontents are going on a road trip! Er, well, space . . . trip? Look, this time we're mocking sci-fi, so you know, just go with it.
While on a consultation trip to a sci-fi dimension, Evie Blackwell is taken by hired mercenaries, and Jackson is stranded on a remote planet. Using all of his devious and deadly tricks, Jackson must escape, assemble his team, and travel through space and time to find those responsible. Jackson will stop at nothing to prove his commitment to his family while wreaking his patented comedic havoc in a way that only a man-turned-god can.
Follow this thrilling, hilarious, and yes, oddly touching book, as Jackson hops dimensions, fights the forces of light and shadow, and even confronts an entire pantheon of pissed-off gods.
Won't this be a hoot?
Purchased/Winnings/Gifts:
Book:
Audio:
Wishes and Wellingtons by Julie Berry
PICK UP AT AUDIBLE
Goodreads Synopsis:
From award-winning author Julie Berry comes a brand new middle-grade fantasy adventure full of humor and heart, exclusively from Audible.
Maeve Merritt chafes at the rigid rules at her London boarding school for "Upright Young Ladies." When punishment forces her to sort through the trash, she finds a sardine tin that houses a foul-tempered djinni with no intention of submitting to a schoolgirl as his master.
Soon an orphan boy from the charitable home next door, a mysterious tall man in ginger whiskers, a disgruntled school worker, and a take-no-prisoners business tycoon are in hot pursuit of Maeve and her magical discovery. It'll take all of her quick thinking and sass to set matters right. Maeve Merritt is one feisty heroine you won't soon forget.
Julie Berry lives near Los Angeles with her family.
The Scandalous Sisterhood of Prickwillow Place
is an Odyssey Honor Audiobook, and
The Passion of Dolssa
is a Printz Honor Title.
A Mind of Her Own by Paula McLain
PICK UP AT AUDIBLE
Goodreads Synopsis:
From Paula McLain, the best-selling author of The Paris Wife and Love and Ruin, comes a breathtakingly intimate story of the brilliant, willful Marie Curie - a young woman in Paris on the verge of her greatest discovery yet: herself.
Paris, 1893. Twenty-five-year-old Marie Sklodowska is studying science at the Sorbonne - one of the only universities in the world that has begun to admit women. A thousand miles from her native Poland, with no money and the odds stacked against any woman daring to pursue a career in such a rigorous field, Marie throws herself into her studies. She's certain that to succeed in a man's world, she will have to go it alone.
Her meticulous plans get thrown slightly off-course when Marie attracts the attention of an accomplished young physicist, himself on the precipice of greatness. Thirty-five-year-old Pierre Curie, famous for his work on symmetry, believes he has found in Marie an equal who shares his devotion to scientific discovery. He offers to help with her work, and soon begins to court her. But to Marie, men have always been an obstacle, love a distraction from her goals. She hasn't come this far to let either stand in the way of her dreams - dreams Pierre insists they can share.
In A Mind of Her Own, McLain taps into the luminous mind and complex heart of a singular woman caught between order and chaos, science and love in the period just before the world would learn her name.
Heart of Dragons by Meg Cowley
PICK UP AT AMAZON
Goodreads Synopsis:
A stolen magic. A rising evil. They are pawns in a game they do not understand.
USA Today
Bestselling Author and 2018 SPFBO Semi-Finalist Meg Cowley returns with a stunning new epic fantasy trilogy set in the same world as her acclaimed
Books of Caledan
series.
When orphan Harper discovers a legendary Dragonheart, her life changes forever.
Searching for the elven King's missing Dragonheart is his ruthless Spymaster Dimitri, who has his own agenda to revolutionise Pelenor, and free it from the King's greed.
When Harper and Dimitri's paths collide, the only thing more dangerous than lies might be the truth, yet either might destroy them. Harper is forced to ally with the hated spymaster - but Dimitri is equally displeased that his fate rests in her unworthy hands.
Who will drown in deceit, and who will rise triumphant?
If you enjoy epic fantasies with vivid characters and complex plots, you'll love the
Pelenor Chronicles
. It's perfect for fans of SJ Maas'
A Court of Thorns and Roses
series and Jeff Wheeler's
Kingfountain
series.
Read Heart of Dragons now.
Hidden Enemies by Terry Mixon
PICK UP AT AMAZON
Goodreads Synopsis:
Trapped between murderous xenophobes and calculating artificial intelligences, an interstellar war threatens to wash Princess Kelsey Bandar away in a tide of blood.
With her most powerful ship crippled, only a desperate mission to steal what she needs right out from under the noses of her enemies offers a way to get her people safely home.
As if that wasn't hard enough, success requires her foes never learn of her existence and therein lies the problem. Few have ever accused Kelsey Bandar of subtlety.
If you love military science fiction and grand adventure on a galaxy-spanning scale, grab "Hidden Enemies" and the rest of The Empire of Bones Saga today!
Free Ebooks:
(On my Kindle and Nook App)
Links to books under title. They may or may not be free at this time.
Bewitching Bedlam by Yasmine Galenorn
PICK UP AT AMAZON
Goodreads Synopsis:
As Maudlin and Aegis prepare to open the Bewitching Bedlam to guests, they immediately find themselves embroiled in a battle for customers. Ralph Greyhoof, the owner of the Heart's Desire Bed & Breakfast, doesn't like to share. The conflict heats up when Maddy finds a local witch dead in the rose garden. The woman looks a lot like Maudlin and suspicion falls on Ralph. But Maddy knows that, as competitive as Ralph is, he wouldn't resort to murder. Maudlin and Aegis set out to find the killer, even as their own relationship is put to the test. Aegis's old flame has returned, determined to win him back, no matter what it takes.
See You in Hell by Demelza Carlton
PICK UP AT AMAZON
Goodreads Synopsis:
Hate your job? Try working in HELL!
Melody Angel takes a job as a temp at the HELL Corporation. Surrounded by eternal bureaucracy gone mad, demons who love making life miserable, and dying for a decent coffee, it may take a miracle for Mel's mission to succeed. She must find out what evil plans the Lord of Lies has up his sleeve and stop him, using any means necessary. Lucifer and his minions are out to take over the world, but there's more than money at stake when the Devil drives.
Adding trouble and temptation to Mel's job is Luce Iblis, the damnably hot CEO, who has set his smouldering eyes on the new office angel and is determined to claim her, body and soul.
Can ultimate evil and angelic perfection escape a limbo of desire and find a paradise of their own?
Alice Worth Box Set (Books 1-3 & Bonus Novella) by Lisa Edmond
PICK UP AT AMAZON
Goodreads Synopsis:
From highly acclaimed urban fantasy author, Lisa Edmonds, comes the Alice Worth Box Set. The collection contains books 1 – 3 and a bonus novella including Heart of Malice, Heart of Fire, Heart of Ice, and Blood Money. Join Alice and help solve the paranormal mystery today!
**********
HEART OF MALICE (Book 1)
The first time Moses Murphy's granddaughter killed on his orders, she was six years old.
For twenty years, she was a prisoner of an organized crime syndicate, forced to use her magic to make Moses the most powerful and feared man on the East Coast. To escape his cruelty, she faked her own death and started a new life as Alice Worth. As a private investigator specializing in cases involving the supernatural, Alice walks a precarious line between atoning for the sins of her grandfather's cabal and keeping her true identity hidden.
Hired to investigate the disappearance of a mysterious object of power, Alice enlists the help of Malcolm, a ghost running from a past as nightmarish as her own. It soon becomes clear the missing object was taken by someone with a dangerous secret and an unknown agenda. When her client is kidnapped, Alice must find her and the object of power before a vengeful killer destroys the city and slaughters thousands—starting with Alice.
**********
HEART OF FIRE (Book 2)
It has been a rough month for mage private investigator Alice Worth.
Alice hasn't had a decent night's sleep in weeks, her relationship with werewolf Sean Maclin is on the rocks, a federal agent hounds her every step, and a powerful vampire whose ulterior motives have ulterior motives watches her every move. It's enough to drive any woman to drink.
Just when Alice's ghost sidekick Malcolm is about to stage an intervention, her former employer, Mark Dunlap, enlists her help to find out who's been kidnapping women off the streets. As the list of the missing grows, the city's anger turns against the vampires, and the Vampire Court hires Mark and Alice to find those responsible. After the case reunites her with Sean, Alice is forced to confront painful demons from her past, as well as the very real demon who wants her dead and the vampire determined to control her power.
**********
HEART OF ICE (Book 3)
Even the coldest hearts can burn...
After closing a big case for the Vampire Court, mage private investigator Alice Worth is relieved to be back solving magical mysteries with her ghost sidekick Malcolm and spending quality time with sexy alpha werewolf Sean. Her latest case puts her on the trail of a burglary ring targeting wealthy collectors of magical objects. Meanwhile, Alice's grandfather, crime lord Moses Murphy, fights a local boss for control of the city. Soon a new danger emerges: Moses's new lieutenant is someone Alice knows and this is one family reunion she wants to avoid at all costs.
**********
BLOOD MONEY (Novella)
Charles Vaughan has always had great taste in women, and the Vampire Court's newest investigator, Alice Worth, looks very tasty indeed.
In two hundred years, Charles has never met anyone quite like Alice. Minutes after meeting him for the first time, she threatens to burn down Vampire Court headquarters. By the end of the night, Charles is sure of two things: Alice is not who or what she seems, and someday she will be his...if she doesn't get herself killed first.
Night Myst by Yasmine Galenorn
PICK UP AT AMAZON
Goodreads Synopsis:
Eons ago, vampires tried to turn the Dark Fae in order to harness their magic, only to create a demonic enemy more powerful than they imagined. Now Myst, the Vampiric Fae Queen of the Indigo Court, has enough power to begin a long prophesied supernatural war. And Cicely Waters, a witch who can control the wind, may be the only one who can stop her-and save her beloved Fae prince from the Queen's enslavement.
Cicely Waters, a witch who can control the wind, has returned home to New Forest, Washington, after learning that her family is in danger. The Indigo Court holds the city in fear. People are vanishing, and strange deaths plague the town. And when she is swept into an unexpected and passionate reunion with Grieve, the Fae prince who taught her how to harness the wind, Cicely finds herself with a fierce and territorial lover.
But Greive has been enslaved in Myst's court, and now, caught betwen two evils, the lovers must survive the machinations of the Vampiric Fae queen, even as Cicely untangles the hidden secrets to her own heritage.
Starswept by Mary Fan
PICK UP AT AMAZON
Goodreads Synopsis:
Some melodies reach across the stars.
In 2157, the Adryil—an advanced race of telepathic humanoids—contacted Earth. A century later, 15-year-old violist Iris Lei considers herself lucky to attend Papilio, a prestigious performing arts school powered by their technology. Born penniless, Iris's one shot at a better life is to attract an Adryil patron. But only the best get hired, and competition is fierce.
A sudden encounter with an Adryil boy upends her world. Iris longs to learn about him and his faraway realm, but after the authorities arrest him for trespassing, the only evidence she has of his existence is the mysterious alien device he slipped to her.
When she starts hearing his voice in her head, she wonders if her world of backstabbing artists and pressure for perfection is driving her insane. Then, she discovers that her visions of him are real—by way of telepathy—and soon finds herself lost in the kind of impossible love she depicts in her music.
But even as their bond deepens, Iris realizes that he's hiding something from her—and it's dangerous. Her quest for answers leads her past her sheltered world to a strange planet lightyears away, where she uncovers secrets about Earth's alien allies that shatter everything she knows.
Shattered Illusions by Laura Greenwood
PICK UP AT AMAZON
Goodreads Synopsis:
Don't get in the way of me and my sai. At least, not if you're a vampire. That's a quick way to end up dead.
My name is Ashryn Barker, and I'm a vampire hunter. One of the best in fact.
I also have a secret. One I can never tell anyone else. When I look someone in the eyes, I can see their deepest secret, the one hidden behind the illusion they show the world.
My name is Ashryn Barker, and I'm here to shatter your illusions.
Shattered Illusions is a paranormal reverse harem filled with vampires, hunters, and some very wrong assumptions. Shattered Illusions is the first book in the Ashryn Barker series, and is a novella. However books 2 & 3 will both be full novels.
Greyson Undead by Jennifer Martucci
PICK UP AT AMAZON
Goodreads Synopsis:
The Vampire Extinction: Greyson Undead is an exciting new paranormal series that will take fans of Twilight, The Mortal Instruments, The Vampire Diaries and A Shade of Vampire on a thrill ride unlike any other…
Greyson Black hated what he was: a monster. Forced to feed on the blood of humans, he'd been condemned to a life of darkness and murder to survive. Though others like him celebrated their fate, Greyson cursed it. Unlike them, he had a conscience, one that prohibited him from feeding on innocents. Instead, he chose to kill only those he deemed deserving. Those the world would be better off without.
Despising the vicious nature of his kind, Greyson lived a life of complete solitude. An empty life without anyone or anything to live for. But of that all changed the day he met Alex Lockhart.
The only human he'd ever encountered who didn't fall victim to the trap of his allure, Alex made him feel alive again for the first time in decades. She caused him to feel a dangerous emotion: hope.
A violent encounter threatened to tear at the thread of happiness Greyson clung to, and forced him to choose between letting Alex die and enslaving her to a life like his. A life spent in shadows. A life of bloodlust.
But would changing Alex even save her?
Dark forces lurked, stalking and conspiring against all vampires. Killing them systematically and intent upon exterminating every last one of them.
Will Greyson and Alex survive the hunt or will they fall to the vampire extinction? Find out in this riveting first installment of The Vampire Extinction series, Greyson Undead…
The Affiliate by K.A. Linde
PICK UP AT AMAZON
Goodreads Synopsis:
On the day of her Presenting, in front of the entire Byern Court, seventeen-year-old Cyrene Strohm's lifelong plans come to fruition when she's chosen for one of the most prestigious positions in her homeland—an Affiliate to the Queen.
Or so she thinks.
When Cyrene receives a mysterious letter and an unreadable book, she finds nothing is as it seems. Thrust into a world of dangerous political intrigue and deadly magic, Cyrene's position only grows more treacherous when she finds herself drawn to the one man she can never have...
King Edric himself.
Cyrene must decide if love is truly worth the price of freedom. Find out in this first book in
USA Today
bestselling author K.A. Linde's new Ascension series.
The Stone of Knowing by Allan Packer
PICK UP AT AMAZON
Goodreads Synopsis:
Even a small stone creates big ripples
In the kingdom of Arvenon, young Thomas Stablehand stumbles upon an unusual stone. Suddenly able to read the thoughts and intents of others, his life sours as he eagerly indulges his curiosity. But dangerous enemies seek the stone.
With overwhelming forces attacking the kingdom, Thomas has no one to turn to except his friend Will Prentis, a born leader who has seized his opportunity to command. To thwart the invaders, Will leads a small band on a perilous quest. Fearing exposure, Thomas flees with him, along with Brother Vangellis, a conflicted monk hiding from his past.
They can ill afford distractions, least of all a fiery young woman with a sharp tongue. But more may depend on Elbruhe than they can foresee.
As Thomas struggles to unravel the enigma of the stone, Will must outwit a relentless adversary whose true purpose remains a mystery.
Staying alive is a formidable challenge. Defeating their enemies seems an impossible dream.
The Dragon Blood Collection, books 1-3 by Lindsay Buroker
PICK UP AT AMAZON
Goodreads Synopsis: