The Sunday Post
is a weekly meme hosted by
Kimba the Caffeinated Book Reviewer
~ It's a chance to share news ~ A post to recap the past week on your blog, showcase books and things we have received and share new about what is coming up on our blog for the week ahead.
~~~~~~~~~~
So much for thinking I'd be back this week. *sigh* Kiddo was sick the first half of the week so evenings were spent trying to find something for him to take, eat (if he would), and going to the doctors along with the pharmacy. It's insane how busy the pharmacy is! Then he had a chiropractic appointment and his big sports games. The week was shot before I even knew it.
So, lets start anew this week. Hoping things should flow better as kiddo is on antibiotics and things should (I say should) go along properly this week.
I'm also trying to find that cool story to work on for NaNoWriMo. But I'm not thinking any of my ideas are cool. I think they sound lame.
What's Happening in Books:
Current Read:
Dirty Magick: Los Angeles
edited by Charlie Brown
Current Podcast Book Listen:
The Horde
by Patrick Scaffido
Finished Last Week:
Master of Myth
by Starla Huchton
Finished Podcast Book Listen:
None finished yet.
~~~~~~~~~~
Last Week on the Blog:
Cover Reveals:
(click titles to go to post & learn more)
Posts:
Eternal Wanderings
- A kickstarter to continue in this world.
Audio? Podcast? What? Take 4
Audio? Podcast? What? Take 3
Audio? Podcast? What? Take 2
Audio? Podcast? What? Take 1
(These are done but I will pull the information and create a post in the next few weeks.)
Around the Internet...
Reviews:
Mama Bitchstress Reviews:
GIVEAWAYS:
Weekly Posts:
Mythical Monday
Throwback Thursday
~~~~~~~~~~
This Week to Come on the Blog:
Mythical Monday
Kerry Schafer sharing about Bigfoot.
(Mon)
Book Review
The Horde (1st 6 chpaters)
by Patrick Scaffido
(Tue)
Book Review
Marco and the Red Granny
by Mur Lafferty
(Wed)
~~~~~~~~~~
Received Last Weeks:
Review:
For Review Consideration:
The Cipher by Diana Pharaoh Francis
Goodreads Synopsis:
Lucy Trenton's ability to sense majick is one of her most dangerous secrets. But only one.
A blackmailer knows the other.
Suddenly, Lucy is caught in a treasonous plot to destroy the crown, and she's trapped in the tentacles of a desperate, destructive majick. Her only hope is ship captain Marten Thorpe, who--by every account--cannot be trusted. With time running out, Lucy must find a way to win a dangerous game or lose everything she holds dear.
Purchased/Winnings/Gifts:
Free Ebooks:
(Kindle)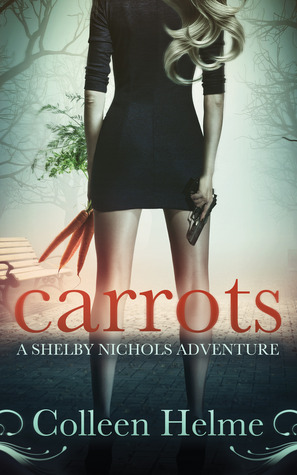 Carrots by Colleen Helme
Goodreads Synopsis:
Shelby Nichols is an average woman who is married to the only guy she ever fell for. Her life is organized and predictable, revolving around her husband and two children. All that changes the day she stops at the grocery store for some carrots. As the cashier rings up her purchases, a gunman is busy robbing the bank inside the store. When a customer grabs the robber's mask, he is shot and everyone runs for cover. Everyone except Shelby, who finds herself face to face with the killer. The next thing she knows, she's lying on the floor with a bullet wound to her head. Luckily, the bullet only grazes her scalp, and she doesn't suspect any lasting affects until later, when she suddenly 'hears' what people are thinking. With this uncanny ability, her life takes on a whole new dimension. Her kids think she's bossy and too old to understand them, but that's nothing compared to her husband. He says he loves her, but what is it about the redhead at work that he doesn't want her to know? As if that isn't enough, the gunman knows she can identify him, and he's out to silence her forever. In her fight to stay alive, she is saved from certain death by a handsome hit-man with ties to organized crime. This pulls Shelby even deeper into danger, where knowing someone's thoughts can not only hurt her feelings, but get her killed.
Free Audio Books/Stories:
Ravenwood
by Nathan Lowell - a podcast reading of the book
The Secret World Chronicle: The Hunt
by Mercedes Lackey & Steve Libbey (in audiobook while at work)
Rusted Veins
by Jaye Wells
Haunted
by Amanda Bonilla
The Secret World Chronicle: World Well Lost
by Mercees Lackey,Steve Libby, Cody Martin, & Dennis Lee
Tales from the Archives, Vol 3: #2
by Tee Morris, Pip Ballantine, & others.
Tales from the Archives, Vol 3: #3
by Tee Morris, Pip Ballantine, & others.
Harlan's Wake
by John Mierau
The List
by John Mierau
Tales from the Archive: 4 - Wooden Go to Waste
by Sandra Wickham
Tales from the Archive: 5 (part 1 & 2) - Those Dark Satanic Mills
by Suna Dasi
Soulless
by Skyla Dawn Cameron
The Sentinel
by Chris Lester
The Muse
by Chris Lester
Metamor City: Making the Cut
by Chris Lester
Metamor City: Whispers in the Wood
by Chris Lester