The Sunday Post
is a weekly meme hosted by
Kimba the Caffeinated Book Reviewer
~ It's a chance to share news ~ A post to recap the past week on your blog, showcase books and things we have received and share new about what is coming up on our blog for the week ahead.
~~~~~~~~~~
Sorry I've been a bit MIA for about... three weeks! Wow. I didn't realize it's been that long. Lots going on. The first two weeks I did have posts that were scheduled, although I didn't get much visiting in. That would be due to the sports schedule of kiddo. And last week...well, that would be my fault. I was a bit exhausted with all going on and trying to find that balance in the day for everything. Trying to iron out a routine. Hahaha! Life seems to not like to allow for that. But also, last week was kind of a catch up week around the house and with life. We've been on the go so much with sports that there are people I needed to check in with and things that need to be done.
I'm hoping to get back to our normal schedule these days. (Hoping all is caught up and ready to go.) Have I found that routine? Heck no. But I have to get back to doing things so I'm going to try.
What's Happening in Books:
Current Read:
Dirty Magick: Los Angeles
edited by Charlie Brown
Master of Myth
by Starla Huchton
Current Podcast Book Listen:
The Horde
by Patrick Scaffido
Finished Last (few) Weeks:
Ante Up
by Amanda Carlson
Finished Podcast Book Listen:
None finished yet.
~~~~~~~~~~
Last Week on the Blog:
Cover Reveals:
(click titles to go to post & learn more)
Posts:
We have time. We just don't know how long...
Writing Update - August
Flash Fiction - 9
Flash Fiction - 10
Audio? Podcast? What? Take 4
Audio? Podcast? What? Take 3
Audio? Podcast? What? Take 2
Audio? Podcast? What? Take 1
(These are done but I will pull the information and create a post in the next few weeks.)
I organized an Author tour for Skyla Dawn Cameron
The tour has come and gone. I hope you check out all the amazing posts (found on link) Skyla did on RIVER. Also, check out the link of first seven chapters up for free reading.
Kate SeRine shares her play list for

Ever After

and a GIVEAWAY!
Around the Internet...
Reviews:
Mama Bitchstress Reviews:
GIVEAWAYS:
Kate SeRine has a giveaway
(for 4 more days!)
Weekly Posts:
Mythical Monday
Throwback Thursday
~~~~~~~~~~
This Week to Come on the Blog:
Mythical Monday
Kerry Schafer sharing about Bigfoot.
(Mon)
Book Review
Red Blooded
by Amanda Carlson
(Tue)
Book Review
Requiem for a Dream
by S.A. Archer & S. Ravynheart
(Wed)
~~~~~~~~~~
Received Last Weeks:
Review:
(NetGalley)
A Cursed Bloodline by Cecy Robson
Goodreads Synopsis:
The Weird Girls return in another edge-of-your-seat novel from Cecy Robson! Just when Celia thinks the supernatural world can't turn deadlier, a new rival emerges, proving just how dangerous a power-hungry were can be.
Since being cursed with unique abilities, Celia Wird and her three sisters have fought the most bloodthirsty preternaturals in the Lake Tahoe region. But Celia's greatest threat is someone she would have never suspected: Anara, a werewolf Elder who has allowed his hatred for Celia to spiral out of control. In a play for dominance, Anara tortures Celia and gives her an ultimatum: sever her mate bond with pureblood
were
Aric—or Anara will kill everyone she loves.
From the instant they met, Celia and Aric have shared an attraction that cannot be tamed. So keeping Aric away is impossible, and Aric would sooner die than allow anyone to hurt the woman he loves. Misha, master vampire and Celia's sworn protector, also finds his way into the chaos, seeking blood from those who have harmed her.
Now Celia and her sisters are caught in the middle of a war driven by lust, fueled by hatred, and destined to end in tragedy. For Anara is a force to be reckoned with, and he will not succumb without robbing Celia of those who hold her heart.
For Review Consideration:
Limelight by Krista D. Ball
Goodreads Synopsis:
Love…in the spotlight.
Anna Lainey is a successful author who values her privacy. The last person she would imagine herself dating is a movie star–yet when she meets Benjamin Worthington on the set of a major motion picture, sparks fly–and before she knows it, she's caught up in a very public whirlwind romance.
But Anna has kept herself distant from others for a reason–she has a secret, crippling panic disorder. When Ben's fans turn against her and begin stalking her, her worst anxieties have come to life. She doesn't want to live without Ben–but she can't live in the limelight either.
Purchased/Winnings/Gifts:
River by Skyla Dawn Cameron
Goodreads Synopsis:
Defiant, nocturnal, moody–though River sounds like a typical teenager, she's anything but. River's a werewolf.
The life of an alpha female wolf was irrevocably changed the night she was attacked and bitten, and awoke confused, alone, and human. Three years later, thrust into a world where she doesn't belong and living in foster care, River barely tolerates humanity and still doesn't know who bit her or why.
But River isn't as alone as she previously thought; someone's been watching her, someone who holds the answers she's been seeking. And though the human who changed her seems to be a step ahead of her at every turn, River is determined to beat his game and return to her pack and mate.
As if being stuck in a world she hates, with a life she never asked for, and faced with a destiny she doesn't want wasn't bad enough, River still must find a way to survive every human's greatest challenge: high school.
Bring on the Night by Sonya Clark
Goodreads Synopsis:
Only a vampire can own the night. If there's one thing Jessie hates, it's going after her own kind. She may be used to taking a bite out of human killers, but she leaves her fellow immortals alone. It's only after a series of gruesome murders have her suspecting vampires and werewolves are going after innocents does she set out to put a stop to it. It's not long that Jessie finds herself racing against the waxing moon to stop an ambitious gang of monsters with a sinister agenda.
Free Ebooks:
(Barnes & Nobles)
Death Warmed Over by Kevin J. Anderson
Goodreads Synopsis:
In the tradition of bestselling fantasy humor writers Terry Pratchett and Douglas Adams, "New York Times"-bestselling author Anderson is one of the biggest names in the science fiction genre. Now, he launches a fabulously funny new urban fantasy series starring a zombie detective.
Angelbound by Christina Bauer
Goodreads Synopsis:
Eighteen year old Myla Lewis is a girl who loves two things: kicking ass and kicking ass. She's not your every day quasi-demon, half-demon and half-human, girl. For the past five years, Myla has lived for the days she gets to fight in Purgatory's arena. When souls want a trial by combat for their right to enter heaven or hell, they go up against her, and she hasn't lost a battle yet.
But as she starts her senior year at Purgatory High, the arena fights aren't enough to keep her spirits up anymore. When the demons start to act weird, even for demons, and the King of the Demons, Armageddon, shows up at Myla's school, she knows that things are changing and it's not looking good for the quasi-demons. Myla starts to question everything, and doesn't like the answers she finds. What happened seventeen years ago that turned the quasi-demons into slave labor? Why was her mom always so sad? And why won't anyone tell her who her father is? Things heat up when Myla meets Lincoln, the High Prince of the Thrax, a super sexy half-human and half-angel demon hunter. But what's a quasi-demon girl to do when she falls for a demon hunter? It's a good thing that Myla's not afraid of breaking a few rules. With a love worth fighting for, Myla's going to shake up Purgatory.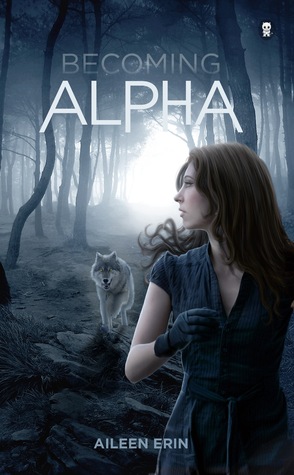 Becoming Alpha by Aileen Erin
Goodreads Synopsis:
Tessa McCaide has a unique talent for getting into trouble. Then again, it isn't easy for a girl with visions to ignore what she sees. Luckily Tessa and her family are leaving California and moving halfway across the country, giving her the perfect opportunity to leave her reputation as "Freaky Tessa" behind.
But Tessa doesn't realize that kissing the wrong guy in her new Texas town could land her in far more trouble than she ever imagined. Like being forced to attend St. Ailbe's Academy, a secret boarding school for werewolves.
Even if the wrong guy did accidentally turn her into one of "them" and doom her to attending the weirdest high school ever, Tessa can't help her growing attraction to the mysterious Dastien Laurent.
When vampires attack St. Alibe's and her visions pinpoint an enemy in their midst, Tessa realizes that boy drama and her newfound canine tendencies might just be the least of her problems.
(Kindle)
Brain Spike by Resa Nelson
Goodreads Synopsis:
There's a fine line between madness and genius.
Caren knows it. She runs an art school for children and recognizes the gifted when she sees their work. The problem is that one of her students has been diagnosed with a propensity toward becoming a sociopath, based on patterns detected in the brain. And there's a history of talented children who receive treatment for the same diagnosis: they watch their artistic gifts slip through their fingers, gone for good.
She also worries about her niece Sooky, the sole survivor of a horrible accident that killed Caren's sister and brother-in-law. With a court battle for custody in progress, the evidence suggests that Sooky might be responsible for the death of her parents.
While Caren fights to convince a parent of one of her students to deny treatment for the sake of his art, she keeps a close eye on Sooky while keeping her own secrets under wraps.
A Quest of Heroes by Morgan Rice
Goodreads Synopsis:
A QUEST OF HEROES (BOOK #1 IN THE SORCERER'S RING) revolves around the epic coming of age story of one special boy, a 14 year old from a small village on the outskirts of the Kingdom of the Ring. The youngest of four, the least favorite of his father, hated by his brothers, Thorgrin senses he is different from the others. He dreams of becoming a great warrior, of joining the King's men and protecting the Ring from the hordes of creatures on the other side of the Canyon. When he comes of age and is forbidden by his father to try out for the King's Legion, he refuses to take no for an answer: he journeys out on his own, determined to force his way into King's Court and be taken seriously.
But King's Court is rife with its own family dramas, power struggles, ambitions, jealousy, violence and betrayal. King MacGil must choose an heir from amongst his children, and the ancient Dynasty Sword, the source of all their power, still sits untouched, waiting for the chosen one to arrive. Thorgrin arrives as an outsider and battles to be accepted, and to join the King's Legion.
Thorgrin comes to learn he has mysterious powers he does not understand, that he has a special gift, and a special destiny. Against all odds he falls in love with the king's daughter, and as their forbidden relationship blossoms, he discovers he has powerful rivals. As he struggles to make sense of his powers, the king's sorcerer takes him under his wing and tells him of a mother he never knew, in a land far away, beyond the Canyon, beyond even the land of the Dragons.
Before Thorgrin can venture out and become the warrior he yearns to be, he must complete his training. But this may be cut short, as he finds himself propelled into the center of royal plots and counterplots, ones that may threaten his love and bring him down—and the entire kingdom with him.
With its sophisticated world-building and characterization, A QUEST OF HEROES is an epic tale of friends and lovers, of rivals and suitors, of knights and dragons, of intrigues and political machinations, of coming of age, of broken hearts, of deception, ambition and betrayal. It is a tale of honor and courage, of fate and destiny, of sorcery. It is a fantasy that brings us into a world we will never forget, and which will appeal to all ages and genders. It is 82,000 words. Book #2 in the series will be published soon.
Free Audio Books/Stories:
Ravenwood
by Nathan Lowell - a podcast reading of the book
Marco and The Red Granny
by Mur Lafferty (in audiobook while at work)
The Secret World Chronicle: The Hunt
by Mercedes Lackey & Steve Libbey (in audiobook while at work)
Rusted Veins
by Jaye Wells
Haunted
by Amanda Bonilla
The Secret World Chronicle: World Well Lost
by Mercees Lackey,Steve Libby, Cody Martin, & Dennis Lee
Tales from the Archives, Vol 3: #2
by Tee Morris, Pip Ballantine, & others.
Tales from the Archives, Vol 3: #3
by Tee Morris, Pip Ballantine, & others.
Harlan's Wake
by John Mierau
The List
by John Mierau
Tales from the Archive: 4 - Wooden Go to Waste
by Sandra Wickham
Tales from the Archive: 5 (part 1 & 2) - Those Dark Satanic Mills
by Suna Dasi
Soulless
by Skyla Dawn Cameron
The Sentinel
by Chris Lester
The Muse
by Chris Lester
Metamor City: Making the Cut
by Chris Lester
Metamor City: Whispers in the Wood
by Chris Lester