The Sunday Post
is a weekly meme hosted by
Kimba the Caffeinated Book Reviewer
~ It's a chance to share news ~ A post to recap the past week on your blog, showcase books and things we have received and share new about what is coming up on our blog for the week ahead.
~~~~~~~~~~
And once again this is a two week post. I didn't post last weekend as I was catching up on my sleep. ;P I spent the day Saturday (26th) in Cranberry at Confluence SFF Convention. It was nice seeing people I know from Balticon and meeting new friends. Nice relaxing convention. I hope many more come in the future. Then Sunday I spent on the go for family birthdays and such.
It's been a hectic week this past week and will be in the one to come. We had several severe storms cross through and with the power flickering I didn't get on the computer much. For anything. This week coming kiddo has sports practice in the evenings, so guess where I'll be. :) Then we get ready for back to school in the weeks after. I can't believe the summer is about over already.
I'm going to try to get on for a few minutes each night this week, but it's going to be hard. Hope to see you! Now, off I go to relax as it's my birthday today. Then I'll do some email responses that need to be done. :)
What's Happening in Books:
Current Read:
Ever After
by Kate SeRine
Current Podcast Book Listen:
The Horde
by Patrick Scaffido
Finished Last Weeks:
Blood & Iron
by Jon Sprunk
Ever After
by Kate SeRine
Finished Podcast Book Listen:
None finished yet.
~~~~~~~~~~
Last Week on the Blog:
Cover Reveals:
(click titles to go to post & learn more)
Posts:
Audio? Podcast? What? Take 1
Audio? Podcast? What? Take 2
Rounding Out A Series
by S.A. Huchton
Flash Fiction 7
by Melissa Hayden
I'm looking for Blogs to join me with posting Author Guest Posts for Skyla Dawn Cameron
-- I have a amazing author friend that is doing a book tour. It's for guest posts by her only. If you'd like to join (I'm hoping you will. ;) ) please let me know. It's a Werewolf turned human book with a Young Adult vibe to it with being in high school.
Around the Internet...
Reviews:
Mama Bitchstress Reviews:
GIVEAWAYS:
Weekly Posts:
Throwback Thursday
~~~~~~~~~~
This Week to Come on the Blog:
Mythical Monday
I don't seem to have many author responses to do this at the moment. I have a few for August, but that's it then. If you know of any authors wanting to participate, please let them know.
(Mon)
Book Review
Owner's Share
by Nathan Lowell. (I'm going to finish out a few series)
(Wed)
Book Review
War
by Mur Lafferty.
(Thur)
~~~~~~~~~~
Received Last Weeks:
Review:
Ante Up by Amanda Carlson
Goodreads Synopsis:
Diesel Jones is a shifter who has issues with the moon, but he quickly finds that Sofia Cabrera, a clever witch who just moved in to town, is his only hope to reach his goal of becoming a Collector. When they pair up to take down an incubus, she not only saves his life, but wins his heart in the process…
For Review Consideration:
Purchased/Winnings/Gifts:
100 Jolts by Michael A. Arnzen
Goodreads Synopsis:
Now readers have a new reason to be afraid. One hundred new reasons! Bram Stoker Finalist for Best Collection of 2004.
Triangulation: Parch Edited By Stephen V. Ramey
Amazon Synopsis:
What do you thirst for? A patchwork god? A new libido? Alien intervention? Noah after the flood? Vegan dinosaur? A fine wine and poison cellar? A straw mother? Evolution? a magic mask? Duplicated brothers? It's all here, and more, in this strong collection of 20 original short stories by today's up and coming writers. Triangulation: Parch is the 2014 edition of PARSEC Ink's internationally acclaimed anthology series.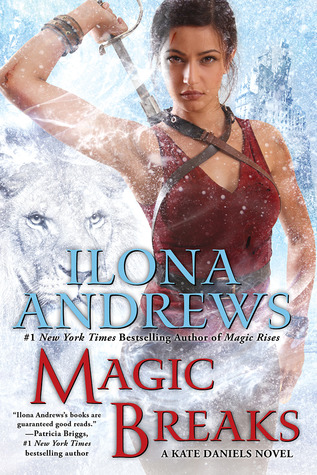 Magic Breaks by Ilona Andrews
Goodreads Synopsis:
No matter how much the paranormal politics of Atlanta change, one thing always remains the same: if there's trouble, Kate Daniels will be in the middle of it…
As the mate of the Beast Lord, Curran, former mercenary Kate Daniels has more responsibilities than it seems possible to juggle. Not only is she still struggling to keep her investigative business afloat, she must now deal with the affairs of the pack, including preparing her people for attack from Roland, a cruel ancient being with god-like powers. Since Kate's connection to Roland has come out into the open, no one is safe—especially those closest to Kate.
As Roland's long shadow looms ever nearer, Kate is called to attend the Conclave, a gathering of the leaders from the various supernatural factions in Atlanta. When one of the Masters of the Dead is found murdered there, apparently at the hands of a shapeshifter, Kate is given only twenty-four hours to hunt down the killer. And this time, if she fails, she'll find herself embroiled in a war which could destroy everything she holds dear…
Free Ebooks:
Free Audio Books/Stories:
The Horde by Patrick Scaffido
Goodreads Synopsis:
The Horde, a mysterious force that brings nightmares to life, devours everything in its path.
Bridan, a lone traveler, seeks the key to the Horde's destruction at the expense of all else- bystanders, worlds, and broken lives be damned.
Cyrack, the Horde's inhuman master, follows Bridan across the Worldcycle seeking Bridan's heart- literally.
Terry is caught between them, dreaming their battles across the blasted wastes of Farrakan from the safety of his dull nine to five life and the arms of his loving girlfriend.
None of this is true.
Terry glimpsed the hideous intelligence hiding behind the struggle and it has driven him mad.
Something watches, hungers, and manipulates events keeping the Horde moving ever closer to the center of creation, leaving only empty husks in its wake.
Planet by planet, town by town, life by life, friend by friend, Bridan makes his way forward.
And as the Horde follows without rest, Terry knows that their next destination is Earth.
The Horde is a genre bending novel incorporating elements of Science Fiction, Epics, Dark Urban Fantasy, Horror, and Surrealism performed in the style of acoustic deathfolk and released weekly as short albums. You've never heard anything quite like it.
~~~~~~~~~~
Captain's
Share
by Nathan Lowell - a podcast reading of the book
Owners
Share
by Nathan Lowell - a podcast reading of the book
Ravenwood
by Nathan Lowell - a podcast reading of the book
Marco and The Red Granny
by Mur Lafferty (in audiobook while at work)
Wasteland
by Mur Lafferty (in audiobook while at work)
War
by Mur Lafferty (in audiobook while at work)
The Secret World Chronicle: The Hunt
by Mercedes Lackey & Steve Libbey (in audiobook while at work)
Rusted Veins
by Jaye Wells
Haunted
by Amanda Bonilla
The Secret World Chronicle: World Well Lost
by Mercees Lackey,Steve Libby, Cody Martin, & Dennis Lee
Tales from the Archives, Vol 3: #2
by Tee Morris, Pip Ballantine, & others.
Tales from the Archives, Vol 3: #3
by Tee Morris, Pip Ballantine, & others.
Harlan's Wake
by John Mierau
The List
by John Mierau
A Curse Awakened
by Cecy Robson
Tales from the Archive: 4 - Wooden Go to Waste
by Sandra Wickham
Tales from the Archive: 5 (part 1 & 2) - Those Dark Satanic Mills
by Suna Dasi
Soulless
by Skyla Dawn Cameron
Shadow's Master
by Jon Sprunk
The Sentinel
by Chris Lester
The Muse
by Chris Lester
Metamor City: Making the Cut
by Chris Lester
Metamor City: Whispers in the Wood
by Chris Lester
Blood & Iron
by Jon Sprunk
Requiem for a Dream

by S.A. Archer & S. Ravynheart
Ever After by Kate SeRine