It is Monday...again.
Current Read:
Indigo Springs
by A.M. Dellamonica
Finished Last Week:
Tranquility's Blaze
by Krista D. Ball
Devil's Punch
by Ann Aguirre
Reviews to Come:
Corrupts Absolutely?
- an anthology
Dormitory of the Dead
by Kelly Lougheed
Tranquility's Blaze
by Krista D. Ball
Magic Bleeds
by Ilona Andrews
Devil's Punch
by Ann Aguirre
My Sanctuary
by Sarah-Jane Lehoux
Love, Death, and Loneliness
by Douglas Brown
Book Reviews Posted:
Dead Drop: A Lawson Vampire Bonus Story
by Jon F. Merz
Curran POV #3 & #4
by Gordon Andrews
Movie Review Posted:
Safe
Podcast Reviews Posted:
The Gearheart: Artifice Ep. 33, 34, & 35
Books & Covers Shared:
Hmm, no covers shared. Wow.
Special Posts:
Book Chat Final on Devil's Punch
Ministry of Peculiar Occurrences gets a Crest
for their doors.
Freebies and Deals, and on Nook too (12)
Just For Thought (14)
- This week I'm curious about those free books we are all picking up.
Sorry (Melissa - you know which one) I did not do a
Flash Fiction Friday
. I had planned on sitting down and thinking about a short to do over the weekend, and well the weekend got away from me. Sorry! I AM going to do one this week. I need to. I don't want to break a very good and fun habit.
My
Want List
...Well, I've only added 3 books. Hmmm, that sounds light. Oh well. Here's to a very good week of adding. ;)
Received Last Week:
Free for Nook:
A Thief of Nightshade by J.S. Chancellor
Goodreads Synopsis:
Avalar isn't real—at least it wasn't supposed to be. Aubrey never expected to fall in love with and marry her graduate writing professor, Jullian. His life's work, a grim fantasy titled A Thief of Nightshade encompassed everything Aubrey hated about fairy tales and make-believe. After Jullian goes missing and is eventually presumed dead, Aubrey discovers just how make-believe the world of Nightshade is. Not only is Jullian alive and well in Avalar, he's at the mercy of the Dark Fae, condemned to a fate worse than death, with no memory of Aubrey or his time in her world. In order to save him, she'll have to confront more than just the demons in her past, but the very real ones that await her in a place she never thought could exist. All of them will do everything in their power to stop her.
Winnings:
The Case of the Singing Sword by Tee Morris
Goodreads Synopsis:
"Chicago, 1929. There are a thousand stories in the naked city; and when you're a dwarf at four-foot-one, they all look that much taller." It is The Era of Prohibition, where crime runs rampant in the streets and a city divided into territories serves as the ultimate prize. Somewhere in this Underworld of Chicago, an enchanted weapon holds the key to ending The Gangland Wars. In the wake of The St. Valentine's Day Massacre, only one is man enough to stand up against Al Capone... ...a four-foot-one dwarf named Billibub Baddings. "Billi," as his friends come to know him, is a working stiff dwarf in the all too-human sized world of Chicago. Seems that a brood of orcs and a renegade warlock had opened a Portal of Oblivion in his homeworld and was planning to submerge his nine lands of Acryonis into an Age of Darkness. Billi had managed to throw a monkey wrench into those plans...but not before getting himself caught in the pull of that portal. When he came to, he found himself in the heart of The Windy City during The Roaring Twenties. After dealing with trolls, goblins, and rock dragons, Al Capone and Bugs Moran are about as intimidating as choir boys. Billi sets himself up as a tough-talking, waist-high, straight-dealing detective, and business was looking bleak, until a dark-eyed beauty crossed his threshold with the case that involved the mob, the upper-crust of Chicago society, and Billi's past. Get ready for The Lord of the Rings written by Mickey Spillane Poking fun at the hard-boiled detective novel, Fantasy mainstays, and even the legend of Chicago's 1920 underworld
The Case of the Pitcher's Pendant by Tee Morris
Goodreads Synopsis:
Chicago, 1930, and following the financial calamity of Black Thursday, Billi is doing everything he can to keep his business afloat. The change in seasons, though, brings him a case that appears to be a true blessing from The Fates. Chicago Cubs Manager Joe McCarthy suspects something fishy with the Baltimore Mariners, a new team in the league, and he's hiring Billi to look into it.
Digital Magic by Philippa Ballantine
Goodreads Synopsis:
The Fey are gone...and with it, magic. At least, that is how things seem with the demise of the Dark Goddess and The Bard.
"Lord what fools these mortals be."
Penheram is a quaint, sleepy English village where people escape the 21st century. Hiding from the world of laptop computers, the Internet, and wireless communications, is Ella. Once a celebrated writer, now barren of ideas and drive, she resigns to a life of a deadline-free solitude. Everything changes with the arrival of a shape shifting thief. Suddenly everyone from the local librarian to the lady of the manor begin to change, revealing true natures and dangerous secrets.
Something in this sleepy English village is awakening...and some of these things were better left alone.
Magic by Gaslight by Pip Ballantine
Goodreads Synopsis:
A novella of steampunk and magic, from one of the minds behind the Ministry of Peculiar Occurrences.
Lucinda is a witch in a alternative Victorian London, where being a witch is a death sentence. Her coven harness sensuality and passion to make magic, and that is a crime according to the Association of Magicians. Women with control of sex and magic are too dangerous to tolerate. So Lucinda and her coven live in secret. That is until she meets a young American magician, and their attraction cannot be denied, but they have always been taught such a thing can never be.
Rules however do not apply to the young and powerful. Lucinda and Theo find out just how far they are prepared to go.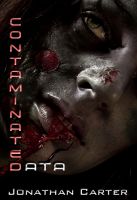 Contaminated Data by Jonathan Carter
Smashwords Synopsis:
From the writer behind "Crack in the Glass" and "Final Cut" comes a novella inspired by NASA. On January 19, 2006, NASA launched the New Horizons probe, bound for the farthest edges of our solar system. On July 14, 2015, the probe performs a flawless flyby of Pluto, in the hopes of revealing new details of the elusive dwarf planet. Be careful what you wish for.
You Can Thank Me Later by Jonathan Carter
Goodreads Synopsis:
From the dark imagination on Jonathan Carter, writer of the novella Contaminated Data, comes a story that tests the boundaries of The Real. Patrick Martin, driving home after a long day of his personal daily grind, is allowing his mind to wander. On this particular trip home, however, his mind wanders farther than anyone could imagine.
Tales from the Archives Collection!!
A Ruby in Rain
Goodreads Synopsis:
From the farthest edge of the Empire, New Zealand agents Lachlan King and Barry Ferguson are called to interview a recent arrival to Auckland's prisons. An infamous gambler, according to the constable's account, has turned himself into their custody, not for the safety of society but for his own. The Ministry steps in to uncover a man's story of impressive luck, and more incredible vision.
A Swan in Siam
Smashwords Synopsis:
Fall, 1863 Phailin is not your typical personal guard to the King of Siam. This royal protector of secrets finds herself intrigued by a guest of the British Ambassador's, the enigmatic John M. Alvey of the Ministry of Peculiar Occurrences, and his quest for a swan possessing mythical powers… Tales from the Archives are short stories set in the world of the Ministry of Peculiar Occurrences.
Darkest before the Darkwater
Goodreads Synopsis:
A group of survivors from the airship Guy Fawkes find themselves washed ashore on an uncharted island. In their search for survival they uncover one mystery after another.
Dust on the Davenport
Goodreads Synopsis:
Agent Simon R. Boswell, still considered the green agent of the Ministry, takes on his own a supposed haunting in Islington. Hauntings tend to be nothing too serious for agents specializing in the unexplained; but for Simon, this case supplies surprises of all kinds, around every corner…
From Paris, with Regret
Goodreads Synopsis:
On assignment in the City of Light, Ministry agents Eliza D. Braun and Harrison Thorne chase down a murderer condemning descendants of a royal bloodline to a horrific death.
Hanuman's Gift
Smashwords Synopsis:
Tales from the Archives are short stories set in the world of the Ministry of Peculiar Occurrences. Augustus Whitby toils in the Archives, dreaming up stories far more plausible than the supposed "investigations" of the field agents. A story from Agent Harrison Thorne and an artifact from his recent case, however, proves that there are some truths that are far stranger than fiction.
Night's Plutonian Shore
Goodreads Synopsis:
In 1849 when a poet is murdered in the streets of Baltimore. The man behind the seemingly random murder manages to elude the law until — in 1889 — Agents Bruce Campbell and Brandon Hill track him down. The assassin, Mikael Scharnusser, gives the slip to the agents on revealing his "talent" and the madman's intentions to bring down the House of Usher.
The Astonishing Amulet of Amenartas
Goodreads Synopsis:
Agent Heathcliff Durham finds himself crisscrossing Africa, looking for an Amulet that could spell disaster for any who come near it. Battling blistering heat, starvation, wild animals, and despair, he is not comforted by the company of a rough and ready sort named Morrison. Soon Durham begins to suspect he may never return home—and to top it all off the tea has almost run out.
Sins of the Father
Smashwords Synopsis:
Arthur Books welcomes home his son, Wellington, from the jungles and deserts of Africa. In his own manner, the invalid father bestows upon his heir all the pride and respect due to actions in the field. Tales from the Archives are short stories set in the world of the Ministry of Peculiar Occurrences.
The Evil that Befell Sampson
Goodreads Synopsis:
Eliza D Braun is a young field agent in the Ministry of Peculiar Occurrences (South Pacific Branch) when she is asked by New Zealand's preeminent suffragist to investigate some strange goings within the organisation.
She cannot possibly imagination that this little case will alter her entire life and thrust her into a world barely prepared for her.
The Precarious Child
Smashwords Synopsis:
The street urchins that will one day be called the Ministry Seven, have a task from Agent Harrison Thorne. It seems simple enough, however their leader Miss Verity Fitzroy discovers that a surprise from her past is tangled up with this mysterious man which leads to a very precarious situation. Tales from the Archives are short stories set in the world of the Ministry of Peculiar Occurrences.
The Seven
Goodreads Synopsis:
Agent Brandon Hill is on assignment in South America, enjoying the local culture and women, when a mystery that could lead to El Dorado falls into his lap. Before the intrepid agent knows it, he is the jungle uncovering a plot but the devilish Illuminati. He will need all his monkey knife fighting skills to survive this one.
The Sun Never Sets
Smashwords Synopsis:
Tales from the Archives are short stories set in the world of the Ministry of Peculiar Occurrences. Agent Isaac Martin receives a note, imploring him to investigate the nearly completed clock tower at the Palace at Westminster. He and his partner, Agent Andrew Kensington, start looking into the construction and uncover unanswered questions concerning this new landmark's creators.
So, is that enough for one week? lol! I'm THRILLED to have the Archives on my Nook now. I can read them or listen to them all the time now. :) Sweet!
How was your week last week? How does this week look for you?
Wishing you all the best in words and pages. Hope you have a great week.