The Sunday Post
is a weekly meme hosted by
Kimba the Caffeinated Book Reviewer
~ It's a chance to share news ~ A post to recap the past week on your blog, showcase books and things we have received and share new about what is coming up on our blog for the week ahead.

Thank heavens it's the weekend. It's funny how things change and shift through life. I've not been as happy at my day job, so I look forward to evenings and weekends. It's not a bad job, just...blah. It's hard to explain. But I've slowly been gandering at the want ads. Crazy how the head hunters come flying out of the woodwork at you when you post your resume though. Wow. I don't want that. I don't want to be with a temperary service bouncing from place to place, not sure if there will be work tomorrow.

I've also created a full plate for myself. We've become busy people now that Kiddo is old enough and does things on his own. We've started hanging out with our friends again, now that we aren't doing football or anything like that. I've also been working on editing work (which I'll tie up today and send back to client). I've got photos to touch up and get back to people (I feel are long overdue). And I am at the end of a few books that I want to get done. Also, I have photos I want to take. And I need to get back to writing! So lots going on to keep me going.

And somewhere, I need to fit in exercise. I want to lose a little bit of weight. I know I say I don't care about it, but I really do want to lose some weight. So I have to make time to do this. I know I won't be as tired if I exercise as well.

So, what all do you have on your plate?



~~~~~~~~~~~~~~~
Goal: Workout in any form of exercise (or on Wii Fit) 2x's a week. (to feel better and hope to drop a few pants sizes)
How did I do last week... This has turned into a dream for me. lol.



What's Happening in Books:
Winter of Ice and Iron
by Rachel Neumeier
Starsigns
by A.F. Grappin (on treadmill)
Current Audiobook:
Forbidden Island
by Jeremy Robinson
Books:
I'm getting close on Winter of Ice and Iron, so hopefully soon!
Audiobooks :
A Witch's Concern
by N.E. Conneely
Age of Assassins by R.J. Barker


Finished Podcast Book Listen:
None.
DNFed:
Stonebriar Casefiles: Bad Alchemy
by Laura Nicole Spencer (You can listen for free too!) - Author's stopped posting it.
Last Two Weeks on the Blog:
Cover Reveals:
(click titles to go to post & learn more)
Posts:
Around the Internet...
Reviews:
Assassin's Mark

by A.F. Grappin
"
This book is another turning point in Luc's life. What he learns and has to do is hard emotionally. He even wonders, when finally faced with his test, if he can do it. Luc is great at working logic to make his way through many things, but can he logic his way through this?
"
Darkstorm

by M.L. Spencer
"
Throughout the book I found myself drawn into the world and the magic here. I enjoyed the characters. Even when I was getting a bad vibe from a character or two because this is a sign of them being written very well for me to get the right feel off their actions and emotions.
"
Mama Bitchstress Reviews:
GIVEAWAYS:
This Week to Come on the Blog:
I have two reviews to finish and schedule for you.
~~~~~~~~~~
Received For the Last Month:
(Note: Links to Amazon are buy links where I could earn commission, in case you are interested.)
For Review Consideration:
Audio Books Requested for Review: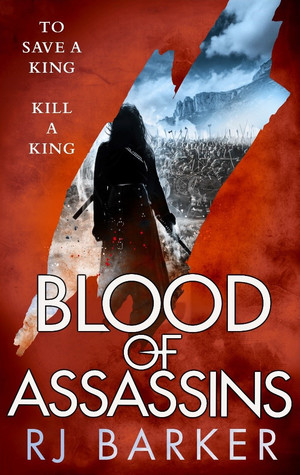 Blood of Assassins by R.J. Barker
PICK UP AT AMAZON
Goodreads Synopsis:
THE KING IS DEAD, LONG LIVE THE KING . . .
The assassin Girton Club-foot and his master have returned to Maniyadoc in hope of finding sanctuary, but death, as always, dogs Girton's heels. The place he knew no longer exists.
War rages across Maniyadoc, with three kings claiming the same crown – and one of them is Girton's old friend Rufra. Girton finds himself hurrying to uncover a plot to murder Rufra on what should be the day of the king's greatest victory. But while Girton deals with threats inside and outside Rufra's war encampment, he can't help wondering if his greatest enemy hides beneath his own skin.
The Tethered Mage by Melissa Caruso
PICK UP AT AMAZON
Goodreads Synopsis:
In the Raverran Empire, magic is scarce and those born with power are strictly controlled -- taken as children and conscripted into the Falcon Army.
Zaira has lived her life on the streets to avoid this fate, hiding her mage-mark and thieving to survive. But hers is a rare and dangerous magic, one that threatens the entire empire.
Lady Amalia Cornaro was never meant to be a Falconer. Heiress and scholar, she was born into a treacherous world of political machinations. But fate has bound the heir and the mage.
War looms on the horizon. A single spark could turn their city into a pyre.
I Was a Teenage Weredeer by C.T. Phipps & Michael Suttkus
PICK UP AT AMAZON
Goodreads Synopsis:
FROM THE BEST SELLING AUTHOR OF THE SUPERVILLAINY SAGA
Jane Doe is a weredeer, the least-threatening shapechanger species in the world. Blessed with the ability to turn furry at will and psychically read objects, Jane has done her best to live a normal life working as a waitress at the Deerlightful Diner. She has big dreams of escaping life in the supernatural-filled town of Bright Falls, Michigan, and her eighteenth birthday promises the beginning of her teenage dreams coming true.
Unfortunately, her birthday is ruined by the sudden murder of her best friend's sister in an apparent occult killing. Oh, and her brother is the primary suspect. Allying with an eccentric FBI agent, the local crime lord, and a snarky werecrow, Jane has her work cut out for her in turning her big day around.
Thankfully, she's game.
Set in the same world as Straight Outta Fangton.
Dragon School: First Flight by Sarah K.L. Wilson
PICK UP AT AMAZON
Goodreads Synopsis:
Join Dragon School. Learn to Fly.
Sixteen-year-old Amel arrived at Dragon School just like everyone else – with a dream to ride dragons and join the Dominion Dragon Riders.
But Amel has a crippled leg and Dragon School training is grueling. Before she can even become an initiate, she must complete her First Flight on a dragon.
Can Amel survive First Flight and become a Dragon School initiate or will her dreams dash on the rocks below?
Winter Rose by Rachel A. Marks
PICK UP AT AMAZON
Goodreads Synopsis:
A dark and haunting tale of a young girl trapped in Winter, longing to be free. When Rose and her sister are left to fend for themselves and an ailing mother, they must fight both nature and the darkness of the soul to survive. And perhaps, along the way, they will find the strength to love.
Purchased/Winnings/Gifts:
Book:
Audio:
Woodcutter by Kate Danley
PICK UP AT AMAZON
Goodreads Synopsis:
Deep within the Wood, a young woman lies dead. Not a mark on her body. No trace of her murderer. Only her chipped glass slippers hint at her identity.
The Woodcutter, keeper of the peace between the Twelve Kingdoms of Man and the Realm of the Faerie, must find the maiden's killer before others share her fate. Guided by the wind and aided by three charmed axes won from the River God, the Woodcutter begins his hunt, searching for clues in the whispering dominions of the enchanted unknown.
But quickly he finds that one murdered maiden is not the only nefarious mystery afoot: one of Odin's hellhounds has escaped, a sinister mansion appears where it shouldn't, a pixie dust drug trade runs rampant, and more young girls go missing. Looming in the shadows is the malevolent, power-hungry queen, and she will stop at nothing to destroy the Twelve Kingdoms and annihilate the Royal Fae…unless the Woodcutter can outmaneuver her and save the gentle souls of the Wood.
Blending magic, heart-pounding suspense, and a dash of folklore, The Woodcutter is an extraordinary retelling of the realm of fairy tales.
Free Ebooks:
(On my Kindle and Nook App)
Links to books under title. They may or may not be free at this time.
Legend of Jade Dragon by Yasmine Galenorn
PICK UP AT AMAZON
Goodreads Synopsis:
Tarot cards seldom lie. So when they predict chaos and bad luck for her last client of the day, Emerald gets more than a little worried. He leaves behind a charming jade statue of a dragon--but promptly dies in a hit-and-run accident outside of her shop. When other terrible things begin to plague Em and her family, the only explanation is the jade dragon. To thwart its evil spell, she'll have to follow a trail of heartache all the way back to China's Ming Dynasty--and its ancient--and sometimes harsh--mysteries.
The Dragon Lady by Angelique S. Anderson
PICK UP AT AMAZON
Goodreads Synopsis:
Its 19th Century London, stablehand Wylie Petford has just suffered extreme tragedy. It is this tragedy that leads her to a magical device and her greater purpose. The alluring Dracosinum holds a key to her hidden heritage and opens the door for a fantastic future while leaving her love Lord Adrian in the past. The taking over of her hometown by the Villainous Lord Ukridge rips her from her closest friend and further destroys what little good is left in her life. Now, with the odds against her, she has one chance to become whom she is meant to be, escape her shackles and defeat the evil lord Ukridge. Get ready for steam-powered adventure in The Dragon Lady, an enchanting world full of corsets, mythical beasts, and dastardly villains.
Free Audio Books/Stories:
~~~~~~~~~~
Soulless
by Skyla Dawn Cameron
The Sentinel
by Chris Lester
The Muse
by Chris Lester
Metamor City: Making the Cut
by Chris Lester
Metamor City: Whispers in the Wood
by Chris Lester
Lex Talionis
by Starla Huchton
Spark

by Starla Huchton
Heir to Kale
by K.L. Bone
Tales from the Archives Vol 4 #5 - Old Sinner's Bones
The Death of Dulgath
by Michael J. Sullivan
Danger's Halo
by Amanda Carlson
A Witch's Concern
by N.E. Conneely
Age of Assassins by R.J. Barker