The Sunday Post
is a weekly meme hosted by
Kimba the Caffeinated Book Reviewer
~ It's a chance to share news ~ A post to recap the past week on your blog, showcase books and things we have received and share new about what is coming up on our blog for the week ahead.
I've decided I need to quit with all the ebooks. I'm never going to get to read them all, even if they are free. So I'm trying to not enter for the Kindle giveaways as that's where I get added to author newsletters and find all these amazing free ebooks.

In personal life, things are still flipping back and forth for us. Sheba now has a UTI, more money spent for tests and drugs. Athena is still limping. Our septic system almost cost us a pretty penny, but thankfully it didn't. Kiddo is doing extremely well! He passed his strength test to jog. He's also maintaining the straight degree, though he could be better. At doctor appointment, he was released to go back to gym and do what he wanted with sports but NO full contact yet (that'll be 3 more months). Now! What the doctor released him to do is still beyond what physical therapists say he should do, but he'll get there. So he's doing amazingly well! Yeaaaaah!! But he does have to keep working on straightening, which with doing running and other bending things he's slacking on.

When you see my section on What's Happening in Books, you are going to think I'm crazy with all the books/audiobooks in the hopper right now. I never have all this going on at once. lol. But it's not to bad. I'm caught up on the podcasted books, so that is an episode once or twice a week. The audiobook I'll listen to while at work. And the reading books will be when I'm on elliptical or at rest, but not evening when I'm working on content editing items.
Goal: Workout in any form of exercise (or on Wii Fit) 2x's a week. (to feel better and hope to drop a few pants sizes)
How did I do last week... I did got to the gym 2 days last week, Tuesday and Thursday. My usual. With working on lifting equipment then the elliptical for 30 mins. I also cut grass last Sunday.


What's Happening in Books:
The Side of Good / The Side of Evil
edited by Danielle Ackley-McPhail
Struck
by Amanda Carlson
I'm also working on Work as well.
Current Audiobook:
Nemesis
by K.A. Finn
Current Podcast Book Listen:
Stonebriar Casefiles: Bad Alchemy
by Laura Nicole Spencer (You can listen for free too!)
Alight
by Scott Sigler (You can listen for free too! One episode, a few chapters, a week!)
No new books started yet.
Audiobooks from Audible:
Transition
by K.A. Salidas
The Cupcake Witch
by Poppy Lawless
Wrapped in the Past
by Chess Desalls
Finished Podcast Book Listen:
Nothing
Last Week on the Blog:
Cover Reveals:
(click titles to go to post & learn more)
Posts:
Around the Internet...
Reviews:
Mama Bitchstress Reviews:
GIVEAWAYS:
This Week to Come on the Blog:
I've decided to do three reviews a week for a few weeks, just to try to get caught up with what I have to share with you all. Hope you stop by to check them all out! :)
The Mainframe
The Cupcake Witch
Transition
I have a guest author mini interview and a discussion post.
~~~~~~~~~~
Received Last Weeks:
Review & Review Consideration:
Audio Books Requested for Review:
Birthright by E.J. Stevens
PICK UP AT AMAZON
Goodreads Synopsis:
Being a faerie princess isn't what it's cracked up to be...

Ivy must go to Faerie, but the gateway to the Wisp Court is through Tech Duinn, the house of Donn--Celtic god of the dead. Just her luck.

Unable to share her secret with Jinx, and with Jenna called away on Hunters' Guild business, Ivy must rely on Ceff and Torn to lead her to Death's door, literally, and back again. As if that wasn't dangerous enough, there's no saying what horrors lay in store within the Faerie realm. Too bad the Wisp Court is the one lead Ivy has in the search for her father--and possible salvation.

Maybe hiding away and dodging sidhe assassins isn't so bad after all...
Purchased/Winnings/Gifts:
Book:
I won a HUGE basket of books along with a $25 Amazon card. Sweet! The goodies are rolling in!
Battle for Valhalla by Melinda Skye
PICK UP AT AMAZON
Goodreads Synopsis:
Valerie Gunnar thought her days working as Odin's Chooser of the Slain were over. A successful college professor in the mortal world, this Valkyrie would have been happy never getting involved in the business of the supernatural again. But someone's trying to bring about the fall of Asgard and Valerie must return to her natural form of Gunnr ("Battle"), sword-wielding Valkyrie.
Along the way she picks up a partner in the form of Detective Jace Heffernan, who's not as human as he seems. He's looking for a little revenge for the death of his partner. Together the two of them must find the missing Thunder God Thor and restore order to Valhalla, while a very powerful enemy stands in their way.
Once Gunnr is stripped of her powers, she must decide between finally having her mortality and freedom back and the family she left behind a long time ago.
Misdirection by Melinda Skye
PICK UP AT AMAZON
Goodreads Synopsis:
In the fast-paced world of espionage, two partners must fight their way through a web of lies, misdirections, and red herrings in order to fight back against the terrorist plot that threatens the world.
Vivienne Holbrooke has been at the spy game for quite a while, but her new partner insists on treating her like a novice. But when terrorists threaten the country she's sworn to protect, they're going to have to learn to work together.
Alex Masterson had had it up to here with female agents. He didn't want a partner, he didn't need a partner, but he was stuck working this case with a little rich girl who wanted to play at being a spy. But when things get a little more complicated than they expect, he might find more than just backup in his partner.
Working together, the two partners tackle terrorists and false trails, eventually leading to a showdown that puts their country in danger ... and their hearts on the line. Can they save the world and fall in love?
The Hoax by Andrienne Jones
PICK UP AT AMAZON
Goodreads Synopsis:
How well do you know your closest friends? Are they loyal? Are they trustworthy? Are they human? A magnetic false prophet with an unnatural power to enchant; a government agent trying to profile an inhuman breed of terrorist; an otherworldly mastermind posing as an out of work beach bum. And the man in the middle, Patrick Obrien, a humble accountant who discovers his best friends are more than they seem. As he struggles to escape their trap to use him in a global catastrophe scheme, Patrick finds himself ensnared by the FBI agent, who pits him against the very people he is running from.
These two beauties are special editions! You can only get them from signings and giveaways Dina is part of. And I got a set!
All Wounds by Dina James
Goodreads Synopsis:
It's said that when opportunity knocks on your door, you have only one chance to take it. No one said what you're supposed to do when it kicks it. All Rebecca MacDonnell wants to do is get through high school with grades good enough to win a prestigious scholarship so that she can finally leave her miserable life behind. One evening, after a particularly bad day, she finds out that people other than her aging grandmother need her help, and desperately so. Well, not "people," exactly. Vampires, werewolves, demons, ghosts, goblins, and other things thought only imaginary all need help sometime, and Rebecca was born with the unique ability to heal ethereal beings. She is about to turn seventeen, the age at which her talent will manifest in its entirety, and become a true Healer...if she lives through the event. A war between various ethereal factions is brewing, and Healers are a valuable commodity to any side. Those who wish to harness Rebecca's manifesting healing powers for their own purposes must get to her before her seventeenth birthday. Only two vampires and a rogue werewolf stand between Rebecca and those determined to make her serve them, and the fact that Rebecca has no clue what she's doing doesn't exactly help matters. Neither does being seriously attracted to more than one of those just trying to protect her. For a soon-to-be seventeen-year-old Healer-in-training, that's a lot to handle. Especially on top of her homework.
Time Heals by Dina James
Goodreads Synopsis:
Rebecca MacDonnell is strange. More than that, she's a Stranger, a human born with the ability to use her own life's force to heal ethereal beings. Vampires, werewolves, demons, ghosts, goblins, and other things thought only imaginary all need help sometime, and when they do, they come to her.
Some things, however, are beyond help. Something is stalking all Ethereals, great and small. Beings of every race are fleeing a terror no one will acknowledge, let alone name.
At seventeen, Mistress Healer Rebecca is still learning to manage her power. She must learn to control it before it controls her.
Unless it's already too late.
When her burgeoning ability gets away from her, that which heals turns to harm and drives her loyal man-wolf bodyguard Billy straight into the arms of the unknown horror.
Unlikely new friends are her only hope to finding out what's happened, and she must enter new – and dangerous – territory in order to do it.
Audio:
Free Ebooks:
(On my Kindle App)
Links to books under title. They may or may not be free at this time.
Magick after Midnight
PICK UP AT AMAZON
Goodreads Synopsis:
Magick After Midnight is the collection you've been waiting to sink your teeth into… because all the best things happen after dark.
Escape into 20 bewitching novellas from your favorite USA Today and International Bestselling Paranormal authors. From witches to shifters, to fae and vampires, this scintillating set will have you reading well into the witching hour.
This collection also comes with an opportunity to receive 20 MORE full-length novels by the same authors for FREE. That's 40 spectacular stories all for the price of a cup of witch's brew!
(On my Nook)
Valley of the Shadow by Christina Ochs
PICK UP AT AMAZON
Goodreads Synopsis:
A captive prince. A desperate princess. An alliance that will shake the foundations of an empire.
In the wake of battle, Kendryk finds himself the prisoner of Empress Teodora. As war ravages Terragand, Kendryk's guilt is matched only by his fear that he will never see his family again. Gwynneth, in possession of a valuable captive but sworn to keep him close, faces Teodora's wrath as she waits in anguish for relief.
But when Gwynneth's rescue comes, the empire will never be the same again.
A tide of religious upheaval sweeps across the land, bearing men and women toward their fates. The delicate joy shared by Janna and Braeden will be shattered; the king of a neighboring kingdom will walk the edge of madness; and an oath of vengeance will bind three unlikely allies together in a desperate attempt to curb Teodora's ambitions once and for all.
The Desolate Empire, Christina Ochs' epic fantasy series, continues in Book 2:Valley of the Shadow.
Ishtar's Blade by Lisa Blackwood
PICK UP AT AMAZON
Goodreads Synopsis:
Warrior.
King's confidant.
Avenging blade of the Goddess Ishtar.
Iltani asked to be none of these things. Yet fate does not ask permission when she weaves souls upon destiny's loom.
On the day of Iltani's birth, an assassin tried and nearly succeeded in ending the line of the gryphon kings. Out of that bloodshed, an unbreakable bond was forged between child-king and goddess-chosen infant, and from that pivotal moment forward, Iltani was never farther from King Ditanu than his shadow. Not until her training to become Ishtar's Blade required her to leave.
After four brutal years of training, Iltani now returns to court as Ishtar's Blade and takes up her role of king's shadow—a dangerous position in a court where the threat of another assassination is but a blade's width away. But for the chance to stand at the side of her beloved king, she will endure the dangers of court intrigues, assassins, and political maneuverings.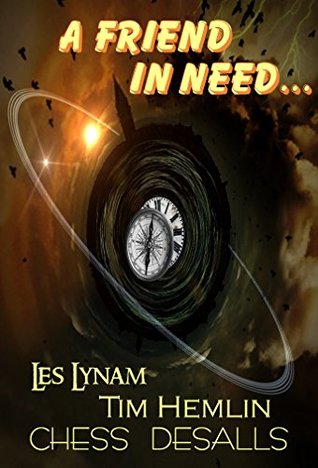 A Friend in Need
PICK UP AT AMAZON
Goodreads Synopsis:
A Friend in Need features three different YA authors who combine their talents to create an intersection in an apocalyptic world populated with characters from their respective novels. LX and Jane (from Lynam's Time Will Tell series) time-crash into Tim Hemlin's The Wastelanders. Their only hope of returning to their own world requires help from Bear, Caballito, and the time-witch. Enter Calla and Valcas, (time-travelers from Chess Desalls' Call to Search Everywhen series,) who land in the wastelands while conducting a time-search of their own. Will the travelers be able to return, or are they stuck in the wastelands forever?
Free Audio Books/Stories:
~~~~~~~~~~
Soulless
by Skyla Dawn Cameron
The Sentinel
by Chris Lester
The Muse
by Chris Lester
Metamor City: Making the Cut
by Chris Lester
Metamor City: Whispers in the Wood
by Chris Lester
Age of Myth
by Michael J. Sullivan
Lex Talionis
by Starla Huchton
Spark

by Starla Huchton
Heir to Kale
by K.L. Bone
Tales from the Archives Vol 4 #5 - Old Sinner's Bones
The Death of Dulgath
by Michael J. Sullivan
The Mainframe
by Simone Pond
Transition
by K.A. Salidas
The Cupcake Witch
by Poppy Lawless
Wrapped in the Past
by Chess Desalls