The Sunday Post
is a weekly meme hosted by
Kimba the Caffeinated Book Reviewer
~ It's a chance to share news ~ A post to recap the past week on your blog, showcase books and things we have received and share new about what is coming up on our blog for the week ahead.
Again, THANK YOU!!! I can not express how nice it is to know that I have friends here. I'm sorry for not getting to visit and comment back. I do see your comments and kind words for my family. It's GREATLY!! appreciated. I don't know how to express the gratitude enough for you all.

Truthfully, you all are the only ones that have an idea of the stress that's going on right now. Well, my husband and son but no one else has checked in with us and we haven't had the time to call anyone. So thank you for being here for me.

I got worried about my son's progress at therapy on Monday. Well, we've been for a week before but Monday was a breaking point for me. I called the doctor Tuesday morning. His secretary called back and we were in for an appointment that afternoon. By Thursday we had a scheduled surgery and a new plan. Kiddo is not getting his leg straight. It's scar tissue. The doctor will go in and clear it out this week coming and we will dive into therapy the same day, and consistent for three days after along with working at home and a new brace that's to work on range of motion and straightening. My husband also called a second doctor just to see what he says. That appointment is this week, the day before surgery. *sigh*

Dad's doing better but there are appointments that the nursing home is sending him out to. So there is still worry there. And with all going on with my son, I'm not able to get to all the appointments with him. (Damn, I'm running out of personal/sick days at work!) But the home, at my request, is to send an aid with him to help him with understanding and communicating.

Things are getting so tight and strapped in the way of money and time, that I'm thinking I need to cancel my Balticon trip. I hate to do that. It breaks my heart to even think about it, but I just don't think I can swing the costs to go. And I don't know if I'm to be on any panels this year or not. I'm thinking not as I haven't received any participate emails.
Goal: Workout in any form of exercise (or on Wii Fit) 2x's a week. (to feel better and hope to drop a few pants sizes)
How did I do last week... I did make it to the gym three days, counting Sunday. It's tough to keep going to the gym, but I know I feel better with all the stress after working out.


What's Happening in Books:
I'll start a new book next week.
Current Audiobook:
The Long Way Down
by Craig Schaefer
Current Podcast Book Listen:
Nothing
Nothing
Audiobooks from Audible:
Legally Undead
by Margo Bond Collins
Risen Gods
by J.F. Penn & J. Thorn
Finished Podcast Book Listen:
Nothing
Last Week on the Blog:
Cover Reveals:
(click titles to go to post & learn more)
Posts:
Around the Internet...
Reviews:
Mama Bitchstress Reviews:
GIVEAWAYS:
This Week to Come on the Blog:
I've decided to do three reviews a week for a few weeks, just to try to get caught up with what I have to share with you all. Hope you stop by to check them all out! :)
Riot of Storm and Smoke
The Deep Beneath
Revolutions (part 1)
~~~~~~~~~~
Received Last Weeks:
Review & Review Consideration:
Fall of the Dagger by Glenda Larke
PICK UP AT AMAZON
Goodreads Synopsis:
Excommunicated cleric Saker returns from exile in the Spice Islands to find his homeland in chaos.
A dark sorcerer controls the ear of the King, turning him against his own son and heir, while a corrupted army gathers in the shadows.
With the illusionist Sorrel and islander Ardhi, armed with magic from Ardhi's homeland, Saker now must stand between his city and the corruption that threatens to cripple it before it is too late . . .
The third and final novel in an epic fantasy trilogy from Glenda Larke, author of the Stormlord series - full of scheming, spying, action and adventure.
Audio Books Requested for Review:
Dragon Gate by Gary Jonas
PICK UP AT AMAZON
Goodreads Synopsis:
A RITUALISTIC MURDER
Stephen Noble, a board member of Dragon Gate Industries (DGI), is decapitated. DGI, a front company for wizards, decides to provide executive protection services for Noble's son, Graham, and daughter, Rayna. But Graham doesn't trust wizards and refuses their offer, so DGI hires Jonathan Shade and his team to keep the Noble family safe.
GUILTY CLIENTS
The Nobles are from the other side of the Dragon Gate, and in that dimension, they committed crimes against the Marshall Clan. And now the Clan has come through the Gate to exact their revenge. While Graham and Rayna were too young to have been a part of the death and mayhem in the other land, honor dictates that they must pay for the crimes of their family.
INHUMAN ATTACKERS
How can Jonathan protect clients who are willing to kneel and accept death at any moment? How can he and his team handle thirteen deadly warriors willing to die to accomplish their goal? And how can Jonathan defeat the deadly creatures the Marshall Clan has brought with them to our world? Creatures that will destroy anything in their path as they hunt their prey.
Silicon Dawn by William Massa
PICK UP AT AMAZON
Goodreads Synopsis:
A SILICON MAN PREQUEL
THE LINE BETWEEN MAN AND MACHINE HAS BEEN CROSSED...
AND THERE IS NO TURNING BACK.
A serial killer stalks the city of the future…
Hunting the people who build the machines.
And it's up to a cop and an AI to unravel a terrible conspiracy.
The world is still reeling form the devastation of the Omega Virus and struggling to rebuild. A growing android workforce has given rise to the Human Defense League and anti-AI sentiment is at an all-time high.
Adam, one of the first of the new X-3000 models, arrives into this hostile future. Field-tested on the Luna colonies, now assigned to Earth, Adam is paired with homicide detective Jane Malveaux, who has little patience for synthetics.
Before long both Malveaux and Adam must cast aside their differences and join forces to solve a case that will test both man and machine.
Note: This prequel can be read before or after Silicon Man.
Purchased/Winnings/Gifts:
Book:
Audio:
Redemption Song by Craig Schaefer
PICK UP AT AMAZON
Goodreads Synopsis:
Daniel Faust, Las Vegas sorcerer and career criminal, has never pulled the trigger on an innocent man. When the infernal Prince Sitri challenges him to do just that, though, he can't walk away. His lover, Caitlin, is Sitri's right hand...and if Daniel refuses the job, he'll never see her again.
While Daniel works to unravel Sitri's twisted game, putting his principles and his life on the line, Caitlin has problems of her own. A pack of renegade halfbloods are in town, armed to the teeth and aiming to go to war with hell itself. Their leader is a bad memory from Caitlin's past, one she thought dead and buried centuries ago, and he's got revenge on his mind.
As if that isn't bad enough, the fallout from Daniel's last job descends in the form of an FBI task force, aimed at putting him and everyone he cares about behind bars. The feds have a magician of their own, one who knows all of Daniel's dirty little secrets. Throw in a mythical road map to hell and the ghost of a 15th-century serial killer, and the stage is set for a deadly collision.
Sitri's games are never what they seem. Everything is connected. If Daniel and Caitlin can't solve the puzzle in time, the consequences will tear them apart forever.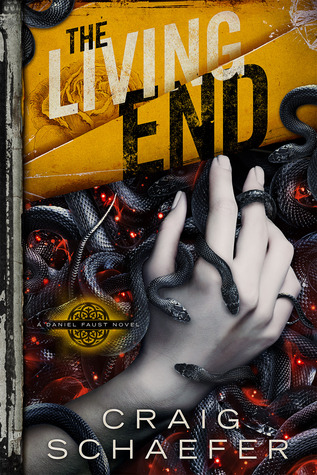 The Living Edge by Craig Schaefer
PICK UP AT AMAZON
Goodreads Synopsis:
As the FBI closes in on the Las Vegas underworld, Daniel Faust -- grifter, thief, and sorcerer -- isn't the only one feeling the heat. Half-demon racket boss Nicky Agnelli is fighting to hang onto his empire, leaving a trail of dead informants in his wake, while Daniel's ex-girlfriend Jennifer rallies her forces on the street and aims her sights at Nicky's crown.
Meanwhile, homeless people are vanishing by the dozens. Daniel has bigger problems to worry about, but a plea from an old friend sends him on a search for answers. What he finds is a conspiracy twenty years in the making, involving a power-hungry senator, occult experiments, murderous British mercenaries...and Lauren Carmichael, Daniel's nemesis.
From a gunfight in the Arizona badlands to unearthing buried secrets in a New York laboratory, the hunt is on. With Lauren's deadly plan revealed and time running out, Daniel and his crew will stop at nothing to take her down. She's got the law in her pocket and a hired army at her back. He's got black magic, bullets, and the art of the con. It's high noon in Vegas and when the dust settles, only one side will be left standing.
May the best villain win.
Free Ebooks:
(On my Kindle App)
Links to books under title. They may or may not be free at this time.
The Trouble with Time by Lexi Revellian
PICK UP AT AMAZON
Goodreads Synopsis:
It's 2045. Jace Carnady works for the Time Police, dedicated to the prevention of timecrime. Life is good; he loves his girlfriend and enjoys his work. But when the team gets wind of a rogue time machine and fails to find it, Jace suspects one of his colleagues may be involved, and his life begins to unravel . . .
In 2015, Floss Dryden is snatched from her own time and taken to the future – but will this really prevent the extinction of humanity?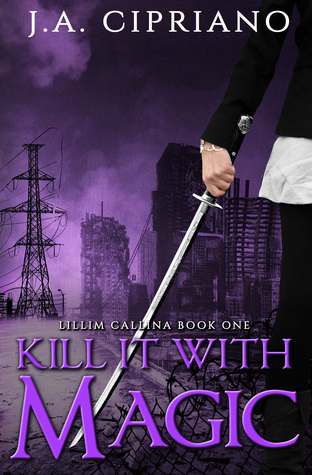 Kill it with Magic by J.A. Cipriano
PICK UP AT AMAZON
Goodreads Synopsis:
Sixteen-year-old Lillim Callina is good at two things: running away and magic.
Now, Lillim's half-demon ex-boyfriend is contacting her for help, she has somehow gotten herself mixed up in a kidnapping, and her long-dead rival has risen from the grave.
So when a dragon plotting to take over the world offers her a choice: Work for him or else.
Lillim Callina is going to choose else.
The Hatter is Mad by J.A. Cipriano
PICK UP AT AMAZON
Goodreads Synopsis:
In Kill It With Magic, Lillim Callina faced off with vampires, werewolves, and dragons. Now, in The Hatter is Mad, Lillim has attracted the attention of some altogether different bad guys.
Between hunting vampires and studying for her PI license, seventeen-year-old Lillim Callina was just one lamp short of perfectly decorating her apartment. That's when an ancient orcish warrior throws a car through her front door, burns her place to the ground, and unleashes the Lord of Death on Earth.
And when the Lord of Death beats her mother into a coma and takes over her father's body, well… she might just have to stop him, right?
A Coronation of Kings by S.C. Stokes
PICK UP AT AMAZON
Goodreads Synopsis:
For a hundred years, the peaceful Kingdom of Valaar has teetered precariously on the brink of civil war. The Golden Throne lies vacant as the King's Council strives to preserve peace throughout the land.
Unbeknownst to the council, disaster lurks in the shadows. Conspiring men plot to plunge the island kingdom into conflict. Amid the violent and volatile politics of Valaar, a prophecy uttered millennia ago, will see its fulfillment.
Tyrants will rise, armies will assemble and the winds of magic blow ominously. When the dust settles and the age of uncertainty ends, who will wear the Crown of Kings?
The War of the Black Tower by Jack Conner
PICK UP AT AMAZON
Goodreads Synopsis:
When a dark power rises, only a doomed prince can stand against it. "The War of the Black Tower: An Epic Fantasy" is a dark, swashbuckling epic fantasy trilogy.
Baleron is the youngest son of the king of Havensrike, a land eternally at war with the dark empire of Oslog to the south. Ruled by Gilgaroth, the legions of Oslog have continually striven to tear down the works of man and sweep the world in darkness. For eons the dark masses have awaited their lord's Chosen One, he who will be appointed by Gilgaroth to usher in the next age of shadow. That time is now. Baleron, though a womanizer and rogue, the black sheep of the royal family one step from being kicked out of the castle, is loyal to the kingdoms of the north and wants only to redeem himself in his father's eyes. But as Baleron leads his sister Rolenya's wedding party through the treacherous Aragst Mountains, they're set upon by the dark powers, and the thralls of Gilgaroth call out to Baleron in worship, calling him the Chosen One.
This is just the beginning of Baleron's epic journey of action, romance, wonder and discovery in "War of the Black Tower: An Epic Fantasy." He'll know battle, hardship, the enmity of a terrible dragon, and all the terror of Oslog before he can find out what it means to be the Chosen One of Gilgaroth, and what it takes to throw off his dark destiny.
(On my Nook)
Free Audio Books/Stories:
~~~~~~~~~~
Soulless
by Skyla Dawn Cameron
The Sentinel
by Chris Lester
The Muse
by Chris Lester
Metamor City: Making the Cut
by Chris Lester
Metamor City: Whispers in the Wood
by Chris Lester
Danube Waves
by Katharina Bordet
Age of Myth
by Michael J. Sullivan
Lex Talionis
by Starla Huchton
Spark

by Starla Huchton
House of Grey 6
by Collin Earl
The Secret World Chronicle:
Revolutions
by Mercedes Lackey, Cody Martin, Dennis Lee, Veronica Giguere
Heir to Kale
by K.L. Bone
Tales from the Archives Vol 4 #5 - Old Sinner's Bones
The Death of Dulgath
by Michael J. Sullivan
Riot of Storm and Smoke
by Jennifer Ellision
The Deep Beneath
by Natalie Wright