The Sunday Post
is a weekly meme hosted by
Kimba the Caffeinated Book Reviewer
~ It's a chance to share news ~ A post to recap the past week on your blog, showcase books and things we have received and share new about what is coming up on our blog for the week ahead.
I just can't keep up these days. I try to plan out the days to get the max out of my time. But time and life have other plans. I can't seem to win the battle with life's unexpected events.

See, I had great plans for this weekend. So much to do and get done (with pay editing things too). But life threw another curve ball at me yesterday. The nursing home where my father lives called. He was sick so they were sending him to the hospital for all sorts of tests. I, being the faithful daughter, jumped through the shower and rushed to the hospital. Of course, with my luck, I beat his ambulance there. He arrived shortly and I stayed with him all day... until about 11:00 pm. I was beat. See, the reason I rushed to his side is he's paralyzed completely on his right side and can not speak from a stroke 16 years ago. I go to help convey what he wants and about him. The hospitals always want to take blood from his right side, and it's hyper sensitive so the pain is terrible for him. I stop them from doing that. He also can't sign any papers, which I do. And if that hard decision needs to be made, I'm power of attorney to do it. I think I also make him feel a bit more comfortable as support too.

So, today I'll be heading back to the hospital.

I still believe life karma is planning against me. If it's not the kiddo, it's the sick dogs. If not the dogs, it's my dad. I don't think there's a break there for me. *sigh*

I'm sorry I haven't made the visits this week. With Kiddo's therapy and now dad, it's been nonstop. I will do my best to visit everyone this week.


Goal: Workout in any form of exercise (or on Wii Fit) 2x's a week. (to feel better and hope to drop a few pants sizes)
How did I do last week... We have joined a local gym. Expensive, but worth it for kiddo's exercises to get his knee back into shape. Kiddo has me working out with him.

I did get to do an elliptical for 30 minutes Sunday. 2.34 miles. And all sorts of core workout on the machines.

I did get on the elliptical for 12.5 minutes on Tuesday and did a leg workout.

I did get on the elliptical for 35 minutes on Thursday and did shoulder workout.


What's Happening in Books:
I'll start a new book next week.
Current Audiobook:
Changeling
by David Wood & Sean Ellis
Current Podcast Book Listen:
Nothing
Nothing
Audiobooks from Audible:
How to be a Mermaid
by Erin Hayes
Threats of Sky and Sea
by Jennifer Ellision
Finished Podcast Book Listen:
Nothing
Last Week on the Blog:
Cover Reveals:
(click titles to go to post & learn more)
Posts:
Around the Internet...
Reviews:
Mama Bitchstress Reviews:
GIVEAWAYS:
This Week to Come on the Blog:
I've decided to do three reviews a week for a few weeks, just to try to get caught up with what I have to share with you all. Hope you stop by to check them all out! :)
Revolution
Prodigal
Billy and the Cloneasaurous
~~~~~~~~~~
Received Last Weeks:
Review & Review Consideration:
Audio Books Requested for Review:
Purchased/Winnings/Gifts:
Book:
Audio:
Free Ebooks:
(On my Kindle App)
Links to books under title. They may or may not be free at this time.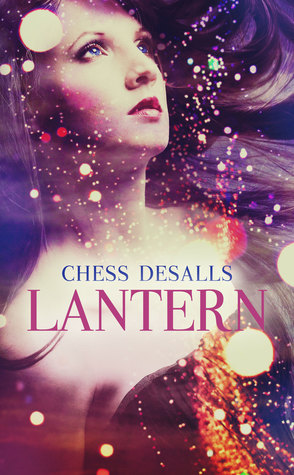 Lantern by Chess Desalls
PICK UP AT AMAZON
Goodreads Synopsis:
Five days before Halloween, all sixteen-year-old Tori has on her mind is vacationing with her family and scoring lots of candy. Her grandmother's estate, with its Gothic spires and trails that lead out to the woods, holds an unexpected secret: a lantern that lights up for Tori and nobody else. Certain that it's a ghost or a prank, she investigates further and discovers a mysterious life that shines in the darkness.
Galactic Empires: Eight Novels of Deep Space Adventures
PICK UP AT AMAZON
Goodreads Synopsis:
Eight full-length novels of adventure, war, intrigue and survival in the far reaches of space.
The Backworlds by M. Pax
A man struggles to survive in the harsh world of humanity's outer settlements and prove his father wrong.
Ambassador 1: Seeing Red by Patty Jansen
To look an alien superior in the eye is a deadly offense. To accuse him of a political murder…
Alien Hunters by Daniel Arenson
A scruffy alien pest controller faces an alien threat the likes of which the universe has never seen.
Hard Duty by Mark E. Cooper
Hostile aliens nearly eradicated humanity. Will the next encounter finish the job?
Bypass Gemini by Joseph Lallo
A disgraced racer pilot gets mixed up with a mega-corporation. Now he has to stop them.
Sky Hunter by Chris Reher
Sent to a human outpost to investigate sabotage, a pilot finds more trouble than she bargained for.
The Galapagos Incident by Felix Savage
A genocidal AI attacks the solar system, and a Space Corps agent has one chance of saving a bunch of asteroid squatters she was sent to evict.
First Conquest by David VanDyke
To find a home and keep humanity safe from hostile aliens, Task Force Conquest must fight to seize a new star system.
LEGENDS: Fifteen Tales of Sword and Sorcery
PICK UP AT AMAZON
Goodreads Synopsis:
Seventeen New York Times, USA Today, and Amazon bestselling authors bring you fifteen epic tales of Sword and Sorcery.
LEGENDS is a ONE TIME ONLY limited bundle with over a million words of fantasy reading including original, never released stories from bestselling authors Nick Webb and K. F. Breene.
Immerse yourself in captivating worlds and kingdoms where fearless warriors quest, powerful sorcerers battle fiery dragons, and humble peasants rise from poverty to riches.
Grab LEGENDS today and discover some of the finest minds of epic fantasy.
(On my Nook)
Free Audio Books/Stories:
~~~~~~~~~~
Soulless
by Skyla Dawn Cameron
The Sentinel
by Chris Lester
The Muse
by Chris Lester
Metamor City: Making the Cut
by Chris Lester
Metamor City: Whispers in the Wood
by Chris Lester
Danube Waves
by Katharina Bordet
Age of Myth
by Michael J. Sullivan
Lex Talionis
by Starla Huchton
Spark

by Starla Huchton
House of Grey 6
by Collin Earl
The Secret World Chronicle: World Divided
by Mercedes Lackey, Cody Martin, Dennis Lee, Veronica Giguere
The Secret World Chronicle: Waiting On
by Mercedes Lackey, Cody Martin, Dennis Lee, Veronica Giguere
The Secret World Chronicle:
Revolutions
by Mercedes Lackey, Cody Martin, Dennis Lee, Veronica Giguere
Heir to Kale
by K.L. Bone
Tales from the Archives Vol 4 #5 - Old Sinner's Bones
The Death of Dulgath
by Michael J. Sullivan
Revolution
by K.A. Salidas
Billy and the Cloneasaurus
by Stephen Kozeniewski
Prodigal
by Tyler Jolley & Sherry D. Ficklin
Herculean
by Jeremy Robinson & Sean Ellis
How to be a Mermaid
by Erin Hayes
Threats of Sky and Sea
by Jennifer Ellision