The Sunday Post
is a weekly meme hosted by
Kimba the Caffeinated Book Reviewer
~ It's a chance to share news ~ A post to recap the past week on your blog, showcase books and things we have received and share new about what is coming up on our blog for the week ahead.
I'm late at posting this weekend. We had a power outage Friday night and we had to wait for the cable company to come fix our tv and internet. Ugh. Other than that, not much happening. Kiddo's physical therapy sessions seem to be going longer as they are trying to get his knee straight along with working for strength too. Lots of work for him.

I spent yesterday sleeping off and on through the day. It seems my body can't take the daily go go we've been doing lately.


Goal: Workout in any form of exercise (or on Wii Fit) 2x's a week. (to feel better and hope to drop a few pants sizes)
How did I do last week... I did get on the treadmill!
Tuesday - 30 mins. 1.87 miles. 20 jackknives 15 push-ups on steps
Thursday - 30 mins. 1.81 miles 20 jackknives 15 push-ups on steps

Season 1 Episode 18:
I headed out with the New Canton ear piece I was given a few episodes back. I got to over hear a few things, but it seemed they were intentionally sending zombies my way! Dirty buggers!

Season 1 Episode 19:
Aaah. This mission... This mission was a last request for a runner I ran with a few episodes ago. He was the brilliant man who saw patterns in the zombies actions. This was to find the letter and recording for his lost daughter. We hope we find her in the future. It was a bit of a sad episode as he is at the end.



What's Happening in Books:
I'll start a new book next week.
Current Audiobook:
Prodigal
by Tyler Jolley & Sherry D. Ficklin
Current Podcast Book Listen:
Nothing
Billy and the Cloneasaurus
by Stephen Kozeniewski
Audiobooks from Audible:
Acheron Highway
by Gary Jonas
Revolution
by K.A. Salidas
Finished Podcast Book Listen:
Nothing
Last Week on the Blog:
Cover Reveals:
(click titles to go to post & learn more)
Posts:
Around the Internet...
Reviews:
Mama Bitchstress Reviews:
GIVEAWAYS:
This Week to Come on the Blog:
I've decided to do three reviews a week for a few weeks, just to try to get caught up with what I have to share with you all. Hope you stop by to check them all out! :)
Core Punch
Into the Aether
Playing with Magic
~~~~~~~~~~
Received Last Weeks:
Review & Review Consideration:
Audio Books Requested for Review: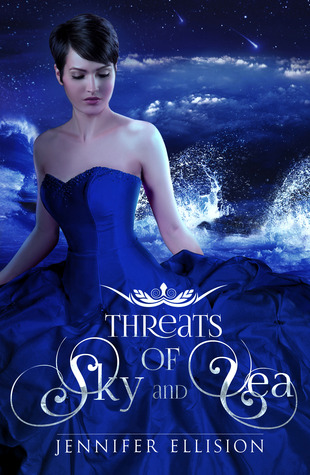 Threats of Sky and Sea by Jennifer Ellision
PICK UP AT AMAZON
Goodreads Synopsis:
Sixteen year-old Breena Perdit has spent her life as a barmaid, innocent to her father's past and happily free from the Elemental gifts that would condemn her to a life in the Egrian King's army. Until the day that three Elemental soldiers recognize her father as a traitor to the throne and Bree's father is thrown in jail—along with the secrets from his last mission as the King's assassin. Secrets that could help the King win a war. Secrets he refuses to share.
Desperate to escape before the King's capricious whims prove her and her father's downfall, Bree bargains with him: information for their lives. It's a good trade. And she has faith she'll get them both out of the King's grasp with time.
But that was before the discovery that she's the weapon the King's been waiting for in his war.
Now, time is running out. To save her father's life and understand her own, Bree must unravel the knot of her father's past before the King takes his life– and uses her to bring a nation to its knees.
Riot of Storm and Smoke by Jennifer Ellision
PICK UP AT AMAZON
Goodreads Synopsis:
War draws closer, like a tide to the shore.
Bree and her friends have escaped the clutches of the Egrian King, but their troubles are far from over. Still reeling from the secrets that drew new breath when her father took his last, Bree sets off for the safety of Nereidium-- the kingdom she's just learned is hers.
But with the King's ire at its peak and war a certainty, Nereidium is no longer safe. As Prince Caden rallies the Egrian people against his tyrant father, Bree, Princess Aleta, and Tregle race to the Nereid shore to warn them of the incoming danger—and to put the Nereid Princess on the throne.
The only trouble there: Bree can't bring herself to reveal that the Princess is her.
It's not a dilemma she can waste time pondering. With a new weapon in his arsenal, the King's strikes are sure to be bolder than ever before. And Bree may not be ready to wear a crown… but she won't let her kingdom down without a fight.
How to be a Mermaid by Erin Hayes
PICK UP AT AMAZON
Goodreads Synopsis:
All Tara ever wanted was to be a mermaid.
So she takes a year off between high school and college to don a fake tail and tour aquariums across the country in a professional mermaid troupe.
Everything's great until she meets a gorgeous real-life merman named Finn. Suddenly, what she thought was a dream turns out to be a nightmare -- she's turning into a mermaid herself. For real.
Yet when she returns to the sea to seek out Finn and reverse her transformation, she finds herself in the middle of an impending war between the land and sea. Tara may have always wanted to be a mermaid, but now it's sink or swim. In order to survive, she has to learn how to be one, too.
***
Summer 2015, award-winning, and best-selling authors will bring you romantic tales of mermaids, sirens, sprites, and other creatures of the deep! Keep in touch as we reveal each title in our collection!
Purchased/Winnings/Gifts:
Book:
Audio:
The Deep Beneath by Natalie Wright
PICK UP AT AMAZON
Goodreads Synopsis:
H.A.L.F. 9 has taken his first breath of desert air and his first steps in the human world. Created to be a weapon, he proved too powerful for his makers and has lived a sedated life hidden from humans. But H.A.L.F. 9 has escaped the underground lab he called home, and the sedation has worn off. He has never been more alive. More powerful. Or more deadly.
Erika Holt longs to ride her motorcycle east until pavement meets shore. She bides her time until graduation when she'll say adios to the trailer she shares with her alcoholic mother and memories of her dead father. But a typical night in the desert with friends thrusts Erika into a situation more dangerous than she ever imagined.
Circumstances push the two together, and each must make a fateful choice. Will Erika help H.A.L.F. 9 despite her "don't get involved" rule? And will H.A.L.F. 9 let Erika live even though he was trained to kill?
The two may need to forget their rules and training and if either is to survive the dangers of the deep beneath them.
Free Ebooks:
(On my Kindle App)
Links to books under title. They may or may not be free at this time.
King of Ages: A King Arthur Anthology
PICK UP AT AMAZON
Goodreads Synopsis:
A fresh take on a legendary tale, this anthology of thirteen short stories is a testament to just how eternal and timeless the story of King Arthur truly is.
One recurring aspect of Arthurian literature is the notion that he will one day return as a messiah to save his people. Another hallmark of the King Arthur legend is that Merlin—wizard, prophet, and Arthur's most trusted advisor—lives backwards through time. What if Merlin was actually advising multiple reincarnations of King Arthur during various points, and places, in time and history? And what if this all began at the
end
of time?
King of Ages
is an anthology like no other, showcasing stories that re-imagine King Arthur at several points in history, from the end of days all the way to the beginning of mankind.
Featuring thirteen all-new stories by
Paola K. Amaras • Patrick S. Baker • Josh Brown • Dale W. Glaser • Doug Goodman • Joanna Michal Hoyt • Philip Kuan • David W. Landrum • P. Andrew Miller • Mike Morgan • Alex Ness • C.A. Rowland • David Wiley
The Tinkerer's Daughter by Jamie Sedgwick
PICK UP AT AMAZON
Goodreads Synopsis:
Breeze is an outcast, a half-breed orphan born into a world torn apart by a thousand years of war. Breeze never knew her elven mother, and when her human father is recalled to the war, he leaves her in the safest place he knows: in the care of a reclusive tinker.
The Tinkerman's inventions are frightening at first -noisy, smelly, dangerous machines with no practical use- but when the war comes home, Breeze sees an opportunity. If she can pull it off, she'll change the world forever. If she fails, she'll be considered a traitor by both lands and will be hunted to her death.
The Clockwork God by Jamie Sedgwich
PICK UP AT AMAZON
Goodreads Synopsis:
Mr. Sedgwick's new steampunk series picks up where the Tinkerer's Daughter Trilogy left off:

Barreling through their post-apocalyptic world in a massive steam locomotive called the Great Iron horse, the steam-powered ape Socrates and his crew of warriors, miscreants, and genetic anomalies are in search of a rare and precious element known as starfall. Starfall is the fuel that powers the Iron Horse, as well as the great city of Sanctuary. Supplies are running low and unless they can locate another source, all civilization may soon collapse. Starfall also happens to be the ape's power source and without it, Socrates will die.

On their first adventure, Socrates, River, and the rest of the crew encounter a bizarre cult of isolationists and their strange "Clockwork God." Meanwhile, several crew members have gone missing, and tensions are rising as mutineers conspire to overthrow Socrates and destroy the train. As the conflict comes to a boil, a power more ancient and sinister than anything they ever imagined threatens to destroy them all.

The "Iron Horse" series is a follow up to Sedgwick's "The Tinkerer's Daughter" series. A reading of the earlier books is not necessary to enjoy this new series, but may provide added insight to certain characters and history.
Boys Don't Cry by Jennifer Melzer
PICK UP AT AMAZON
Goodreads Synopsis:
Taliesin Wick knows exactly what she wants to do with her life. Even when her house-flipping father puts their home in Austin on the market and moves the family to Pennsylvania, it's nothing but a minor wrench in the cogs of her dreams.
Then she meets Nate Thorne.
From the moment she first spied Nate playing guitar on his front porch, Tali was drawn to him. The sorrow in his songs, the deep sadness in his beautiful eyes... she can feel Fate pulling her to him.
Something haunts him. He never talks about the sins of his past, but she knows he doesn't trust himself, especially not with her heart. Tali can't imagine the sweet, loving boy she's come to know being the awful monster he thinks he is, but what if he's right? What if learning his secrets changes the way she feels about him?
Tali doesn't know if their whirlwind of bliss is just a summer fling, or something much more, but she does know falling in love with Nate is going to leave the kind of mark you can never erase.
C791 by Eve Langlais
PICK UP AT AMAZON
Goodreads Synopsis:
Machines aren't supposed to feel, but this cyborg can't help falling in love.
Assigned as a specimen collector for a captured cyborg, Chloe is intrigued by the machine disguised as a man. Kidnapped during his daring escape, he shows her that despite the chip in his brain, his humanity is not completely lost.
Formerly known as unit X109GI, Joe is on a quest to discover his origin. While he doesn't find the answers he's looking for, he does discover that affection isn't just for humans. But when it comes to a battle between logic and love, which side will the cybernetic organism—once a man—choose?
Evaluating his feelings will have to wait though because the military isn't done with Joe. But their threats against him pale in comparison before the shocking discovery of project C791, the revelation of which stuns the rebel cyborgs—and ignites a fury for vengeance.
(On my Nook)
Free Audio Books/Stories:
~~~~~~~~~~
Soulless
by Skyla Dawn Cameron
The Sentinel
by Chris Lester
The Muse
by Chris Lester
Metamor City: Making the Cut
by Chris Lester
Metamor City: Whispers in the Wood
by Chris Lester
Danube Waves
by Katharina Bordet
Age of Myth
by Michael J. Sullivan
Lex Talionis
by Starla Huchton
Spark

by Starla Huchton
House of Grey 6
by Collin Earl
The Secret World Chronicle: World Divided
by Mercedes Lackey, Cody Martin, Dennis Lee, Veronica Giguere
The Secret World Chronicle: Waiting On
by Mercedes Lackey, Cody Martin, Dennis Lee, Veronica Giguere
The Secret World Chronicle:
Revolutions
by Mercedes Lackey, Cody Martin, Dennis Lee, Veronica Giguere
Heir to Kale
by K.L. Bone
Tales from the Archives Vol 4 #5 - Old Sinner's Bones
The Death of Dulgath
by Michael J. Sullivan
Into The Aether
by P.J. Schnyder
Core Punch
by Pauline Baird Jones
Playing with Magic
by Carrie L. Wells