The Sunday Post
is a weekly meme hosted by
Kimba the Caffeinated Book Reviewer
~ It's a chance to share news ~ A post to recap the past week on your blog, showcase books and things we have received and share new about what is coming up on our blog for the week ahead.
I've decided to do three reviews a week for a bit. I want to try to get caught up with a few of the reviews I have waiting to post. I hope everyone takes a minute to check them all out. :)

As for life... It's still moving so fast! Kiddo is going to physical therapy three days a week. It cuts my evening short and makes a lot to get done around the house when I am home. But I do get about two days to visit blogs through the week, but I do go through all the posts that are available when I do visit.


Goal: Workout in any form of exercise (or on Wii Fit) 2x's a week. (to feel better and hope to drop a few pants sizes)
How did I do last week... I did get on the treadmill!
Tuesday - 2.47 miles in 40 mins. 20 jackknives and 10 push-ups on steps
Thursday - 2.44 miles in 40 mins. 20 jackknives and 15 push-ups on steps

Season 1 Episode :
I go out on a scouting mission. There are three of us on this run and we come across a place where there are guns found with piles of dead zombies. (That sounds wrong to say. lol. dead zombies.) But there is something going on here. We pick up what we can and run before the animated zombies get us. But... who did this and why?

Season 1 Episode :
I head out with Runner 10 who's well known for his zombie killing skill. We are taking cargo to a runner from another town and Runner 10 is nervous about the congregation of people in one spot. He has learned that zombies run on instinct and follow the grouping of people. When we are approached by zombies, Runner 10 has a way to save us. We separate, confusing the zombies and they are tunneled between two buildings which makes it easy to take them down. Smart!



What's Happening in Books:
Billy and the Cloneasaurus
by Stephen Kozeniewski
Current Audiobook:
I'll start a new book on Monday.
Current Podcast Book Listen:
Nothing
Nothing this week
Audiobooks from Audible:
Shadowed Glass
by Charlie Pulsipher
The Games of Supervillainy
by C.T. Phipps
Finished Podcast Book Listen:
Nothing
Last Week on the Blog:
Cover Reveals:
(click titles to go to post & learn more)
Posts:
Around the Internet...
Reviews:
Mama Bitchstress Reviews:
GIVEAWAYS:
GIVEAWAY!!
A Voice Behind the Words. I interviewed one of my favorite narrators & she's giving away your pick of her works!
This Week to Come on the Blog:
I've decided to do three reviews a week for a few weeks, just to try to get caught up with what I have to share with you all. Hope you stop by to check them all out! :)
His Dark Empire
Trueheart
The New Agenda
~~~~~~~~~~
Received Last Weeks:
Review & Review Consideration:
Audio Books Requested for Review: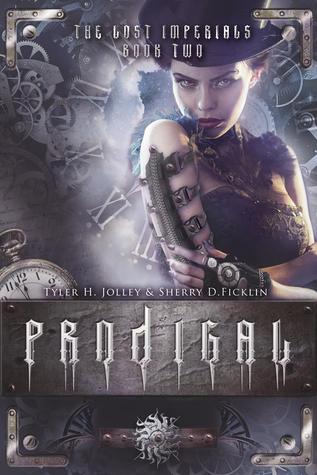 Prodigal by Tyler Jolley & Sherry D. Ficklin
PICK UP AT AMAZON
Goodreads Synopsis:
In a battle for control of the time stream, the past and the future will collide, either saving mankind—or destroying it.

Stein has been with the Hollows for as long as she can remember, taken as a child she has no memories of her past—and that's always been fine by her. Until the day she stumbles across a hidden journal containing the devastating truth about her paternity. Now everything she thought she knew—and everyone she thought she could trust—has changed. The truth about who she is and where she came from is a secret so deep, it will rock the Hollows and the Tesla Institute alike.
During a test to verify her bloodlines, Stein makes a terrible discovery. She is carrying a rare genetic mutation that is slowly killing her. Unsure who to turn to and running out of time, she has no choice but to turn to Tesla--her most hated enemy--for help. But can she trust the man who she's been fighting against her whole life, or will she end up another piece in his deadly game of cat and mouse with the people who betrayed her so long ago?
Purchased/Winnings/Gifts:
Book:
Audio:
Free Ebooks:
(On my Kindle App)
Links to books under title. They may or may not be free at this time.
Bloodfire by Helen Harper
PICK UP AT AMAZON
Goodreads Synopsis:
Mack might be, to all intents and purposes, a normal looking human, but she lives with a pack of shapeshifters in Cornwall in rural England after being dumped there by her mother when she was just a young child. She desperately wants to be accepted by her surrogate family, not least because a lot of them hate her for merely being human, but for some reason her blood just won't allow the transformation to occur.
With a terrible temper to match her fiery red hair, Mack is extraordinarily useful in a fight, and when her pack alpha is brutally and abruptly murdered, she swears vengeance. Unfortunately, his murder also draws in the Brethren - the leaders of the shapeshifter world - who will slaughter everyone in Mack's small rural pack if they discover her true identity. Unfortunately Corrigan, the green-eyed muscle-bound Lord Alpha of the Brethren, doesn't let much slip by him...
Becoming by Raine Thomas
PICK UP AT AMAZON
Goodreads Synopsis:
**Optioned for movie rights by multiple-award winning producer Chase Chenowith of Back Fence Productions.**
Every three years, Amber Hopkins explodes. Okay, not a blown-to-smithereens explosion, but whatever it is always hurts like hell and leaves her life a shambles. She's already worked her way through five foster placements, and she's doing whatever she can to avoid getting blasted into a sixth.
As her eighteenth birthday approaches and she feels the strange and powerful energy building, disaster looms. When the inevitable explosion occurs, her life gets its biggest shakeup yet. She'll not only learn how her fellow foster and best friend, Gabriel, really feels about her, but she'll discover that she isn't really without family.
To top it all off, she'll finally find out why she's having the power surges: she isn't entirely human.
Amber must Become, transitioning to another plane of existence and risking the loss of the most important relationship she's ever had. Her choice will impact the future of an entire race of beings, and will pit her against an enemy that will prey upon her doubt to try and take her very life.
Kind of makes the explosions now seem like a cakewalk.
Avanaux by P.J. McDermott
PICK UP AT AMAZON
Goodreads Synopsis:
2149 AD, the planet Prosperine, Eridanus Constellation, twenty light years from Earth.
Hickory Lace, recently reinstated to the rank of Commander in the Alien Corps, is assigned to investigate the Prosperine mystic known as The Teacher. The Corps has spent decades hoping to find evidence of the Son of God on remote planets, and The Teacher could be the proof they've been looking for.
Hickory's estranged father is an admiral in the Intragalctic Agency, a federation of planets with common trading interests. He has been negotiating with the Prosperine government for the sale of crynidium—a vital and rare ingredient of FTL travel. As part of the deal, the Prosperine leadership has asked the IA to help them contend with an upsurge of violence and the threat of revolution in the capital city of Ezekan.
On their part, the IA have requested the assistance of Hickory, as they believe her unique empathic abilities might prove pivotal.
Hickory and her team become embroiled in the local politics and discover that the rebel Pharlaxian faction have teamed up with a battalion of alien Bikashi soldiers supplied by the non-aligned planets who are intent on seizing the crynidium for themselves.
The fate of the Earth and its allies is at risk. Hickory must find a way to prevent the revolution from being successful and at the same time determine where the Teacher stands in all this.
Corrigan Fire by Helen Harper
PICK UP AT AMAZON
Goodreads Synopsis:
The Blood Destiny series has sold over 100,000 copies. Now read the events of the first book, Bloodfire, from the point of view of the predatory Lord Alpha.
Corrigan may have only just started in his role as Head of the Brethren, the de-facto rulers of the country's shifters, but it's already clear he's not going to be in for an easy ride. Between brutal deaths in both Cornwall and London to deal with, alongside a certain curious were-hamster who has far more strength, power and mouth than should be possible, he's got his hands full.
He thought his greatest desire was to modernise the shapeshifter world - but he may have been very mistaken...
The Rules of Supervillainy by C.T. Phipps
PICK UP AT AMAZON
Goodreads Synopsis:
Gary Karkofsky is an ordinary guy with an ordinary life living in an extraordinary world. Supervillains, heroes, and monsters are a common part of the world he inhabits. Yet, after the death of his hometown's resident superhero, he gains the amazing gift of the late champion's magical cloak. Deciding he prefers to be rich rather than good, Gary embarks on a career as Merciless: The Supervillain Without Mercy.
But is he evil enough to be a villain in America's most crime-ridden city?
Gary soon finds himself surrounded by a host of the worst of Falconcrest City's toughest criminals. Supported by his long-suffering wife, his ex-girlfriend turned professional henchwoman, and a has-been evil mastermind, Gary may end up being not the hero they want but the villain they need.
Wrapped in the Past by Chess Desalls
PICK UP AT AMAZON
Goodreads Synopsis:
Shirlyn travels back in time to ancient Persia where she meets the three magi who follow the Star of Bethlehem. After a mishap threatens to send her ride home without her, the youngest mage exhibits a hidden talent that leaves an impression on his elders and on Shirlyn's heart. But his silhouette will forget they ever met, unless she leaves a reminder that comes with a heavy price.
Peter Huddleston & The Rites of Passage by Miguel Lopez de Leon
PICK UP AT AMAZON
Goodreads Synopsis:
This is BOOK 1 in the GALADRIA fantasy book trilogy! The GALADRIA trilogy is about Peter Huddleston, a lonely boy who discovers that he is the heir to the throne of the amazing golden realm of GALADRIA! Armed with his trusty boomerang, an assortment of magical trinkets, and his friendly white tiger, Rune, Peter charges into dangerous and magical adventures in this action packed series! Filled with watermelon sized ladybugs, ancient oracles, enchanted weapons, water dwelling monsters, a 3000 room manor, and a troop of lovable, kooky characters, the GALADRIA series is an exciting collection you'll cherish!
Peter Huddleston & The Mists of the Three Lakes by Miguel Lopez de Leon
PICK UP AT AMAZON
Goodreads Synopsis:
Upon his return to Hillside Manor, Peter is once again thrown into more exciting adventures...sitting in on the Supreme Council meetings, exploring dangerous parts of Hillside Manor, learning all about the darker aspects of Galadrian history, and finally visiting Galadria itself! Join Peter, Rune, Aunt Gillian, Monty and all your favorite Galadrian friends as they fight for their lives in this action packed sequel in the Galadria series!
Peter Huddleston & The Knights of the Leaf by Miguel Lopez de Leon
PICK UP AT AMAZON
Goodreads Synopsis:
Join Peter and his family as they fight for their lives in the very heart of Galadria! All seems lost, before Peter and his grandfather must travel to the Galadrian forests, and seek help from the mysterious and elusive Knights of the Leaf! Filled with serpent priestesses, brave knights, a barrage of magical weapons, a clan of paper-thin warriors, political fairies and a host of Galadrian creatures...Peter and his family must sacrifice everything for their beloved golden realm! Book 3 in the Galadria series is chock-full of magic, sweets, battle, hope, death, revelation and above all...courage! Come join the adventure!
(On my Nook)
Altdorf by J.K. Swift
PICK UP AT AMAZON
Goodreads Synopsis:
ALTDORF
(Book 1 of The Forest Knights Duology)
A wild land too mountainous to be tamed by plows...
A Duke of the Holy Roman Empire, his cunning overshadowed only by his ambition...
A young Priestess of the Old Religion, together with a charismatic outlaw, sparking a rebellion from deep within the forests...
And an ex-Hospitaller caught between them all.
"Re-imagining the William Tell legend--without William Tell."
At the end of the thirteenth century, five hundred orphans and second sons are rounded up from villages in the Alpine countryside and sold to the Hospitaller Knights of St John. Trained to serve as Soldiers of Christ, they fight in eastern lands they know nothing about, for a cause they do not understand.
Thomas Schwyzer, released from his vows by the Grandmaster of the Hospitallers, returns to the land of his birth a stranger. Once a leader of men, and captain of the Order's most famous war galley, he now settles into the simple life of a ferryman. He believes this new role to be God's reward for years of faithful service fighting the Infidel in Outremer.
Seraina, considered a witch by most, a healer by some, is a young woman with a purpose. A Priestess of the Old Religion, and the last Druid disciple of the Helvetii Celts, she has been gifted by the Great Weave to see what others cannot. Her people need her guidance and protection now more than ever. For Duke Leopold of Habsburg, in his efforts to control the St. Gotthard Pass, builds a great Austrian fortress in Altdorf. Once finished, the Habsburg occupation will be complete, but the atrocities visited upon her people will have just begun.
Set in medieval Switzerland, ALTDORF, a novel of The Forest Knights, is the first book in a two-book series.
Healer by J.K. Swift
PICK UP AT AMAZON
Goodreads Synopsis:
Why would anyone try to kill a healer?
Deenah's quiet life as an apprentice healer in the remote village of Brae's Creek is shattered when a stranger gravely wounds her master and flees into the wild. For all her skills, Deenah is unable to identify the strange forces at work on the injury.
To save her master's life, Deenah must join the young Warder for the area, Kaern, and an aging veteran tracker, as they set out on a manhunt into hostile lands.
Free Audio Books/Stories:
~~~~~~~~~~
Soulless
by Skyla Dawn Cameron
The Sentinel
by Chris Lester
The Muse
by Chris Lester
Metamor City: Making the Cut
by Chris Lester
Metamor City: Whispers in the Wood
by Chris Lester
Danube Waves
by Katharina Bordet
Age of Myth
by Michael J. Sullivan
Lex Talionis
by Starla Huchton
Spark

by Starla Huchton
House of Grey 6
by Collin Earl
The Secret World Chronicle: World Divided
by Mercedes Lackey, Cody Martin, Dennis Lee, Veronica Giguere
The Secret World Chronicle: Waiting On
by Mercedes Lackey, Cody Martin, Dennis Lee, Veronica Giguere
The Secret World Chronicle:
Revolutions
by Mercedes Lackey, Cody Martin, Dennis Lee, Veronica Giguere
Heir to Kale
by K.L. Bone
Tales from the Archives Vol 4 #5 - Old Sinner's Bones
The Death of Dulgath
by Michael J. Sullivan
His Dark Empire
by M.R. Forbes
Trueheart
by Mel Sterling
Into The Aether
by P.J. Schnyder
The New Agenda
by Simone Pond
Core Punch
by Pauline Baird Jones
Playing with Magic
by Carrie L. Wells