The Sunday Post
is a weekly meme hosted by
Kimba the Caffeinated Book Reviewer
~ It's a chance to share news ~ A post to recap the past week on your blog, showcase books and things we have received and share new about what is coming up on our blog for the week ahead.
I'll start with the most important thing. My son. He went in for surgery, second on his knee, on Wednesday. I wasn't sure what would come of the day. Of course his arrival time was 6:45 AM, to a surgery center an hour away. *groan* We were up at a crazy hour to get there. We got there, and I had a flat tire. *head desk* I'm becoming a pro at changing tires, but thankfully my husband was there and it went even faster with the two of us working together. What caused the flat? I believe it was a water bottle that blew in front of my car and I couldn't swerve to avoid hitting it. Yes, only me. As the last flat tire was from a chicken bone. Only me. But, back to my son. He went in for surgery at 7:30 AM, the first of the day at the facility and for our doctor. We talked to the doctor about 9:15 AM and were called back to him waking from anesthesia at about 10:00 AM. He look WONDERFUL! Kiddo didn't have any of the reactions he did the last time. He was awake and doing great. We told them about how he came out of anesthesia last time along with the loss of use of his leg from the nerve block they used. This time they changed things up. Wow! He was walking with his cast that evening and went to school the next day! Crazy! He was having no pain at all.
What did they find? The Doctor said there was a lot of scar tissue in there. So he cleaned it all out and notched his knee cap a bit more so if any scar tissue grew back, it wouldn't hinder his straightening of the knee. He's doing so amazingly well!
He also has what they call a drop off cast on, which after just a few days has become a pain in his side. lol. He's to keep it on for 2 weeks and we are to stack towels between his ankle and the cast to elevate his leg which is straightening the leg more.
There it is! It's a full leg cast, just below hip to heel. And he chose the pink color for the cast. Though I think the doctor was picking on him when Kiddo asked the colors. The doctor said, pink or purple. Kiddo picked pink as it's an amazing color and all the boys have been wearing it. He's been wearing it, and you don't pick on the football players, right? lol. I don't think anyone's said anything about it being pink though. If so, kiddo doesn't care.
Then we got hit with the "winter storm of 2016" (crazy how they name these things). We ended up with somewhere around 10 inches? It's hard to tell as that would be the low spots. The deep spots were about 1 foot and 1/2 to 2 feet deep. It was a lot of snow yesterday.
So, needless to say, I've not been on the computer at all this week. I have responding comments to make on my blog and visiting to do to all of yours. *sigh* I'll try to do better this week. Hopefully life cooperates with me.
Goal: Workout in any form of exercise (or on Wii Fit) 2x's a week. (to feel better and hope to drop a few pants sizes)
How did I do last week... I


Episode 14, Season 1:
It seems that the Doctors friend had left a special message at the end of her recording. Where to look for Patient 29's file. I went out to a special facility where copies of the file were kept. But! The owner of the facility and ran the program shows up with others. I have to get out, with the file!


Episode 15, Season 1:
This was a fun run. I am on a mission to find fun items from the toy store. But to learn that the two voices in my ear are both fans of role playing games was a hoot. I did smile while I was doing this run. It was fun.


What's Happening in Books:
Trueheart
by Mel Sterling
AND
Work reads as well.
Current Audiobook:
Will start His Dark Empire by M.R. Forbes on Monday.
Current Podcast Book Listen:
Nothing
Nothing in reading.
Audiobooks from Audible:
Bound by Prophecy
by Stormy Smith
Serpent Singer and Other Stories
by M.H. Bonham
Bound Together
by Stormy Smith
Finished Podcast Book Listen:
Nothing
Last Week on the Blog:
Cover Reveals:
(click titles to go to post & learn more)
Posts:
Around the Internet...
Reviews:
Mama Bitchstress Reviews:
GIVEAWAYS:
This Week to Come on the Blog:
I have two reviews scheduled.
Modern Sorcery
Complication
~~~~~~~~~~
Received Last Weeks:
Review & Review Consideration:
Audio Books Requested for Review:
Purchased/Winnings/Gifts:
Book:
I got a 15% off 1 item at Barnes and Nobles last week so I took that and my $20 gift card from Christmas and went shopping.
I got these 3 book for $20. The Gate Thief & Words of Radiance in hard cover were only $5.98 each! Steal!
Tempest Reborn by Nicole Peeler
PICK UP AT AMAZON
Goodreads Synopsis:
Anyan may be trapped in an evil dragon and Blondie may be gone, but Jane knows one thing: she's not about to give up. She's ready to tear down heaven and earth to save her lover, despite those who believe he's lost.
Luckily for Jane, those who've given up on Anyan do not include those closest to her. Defying The Powers That Be, Jane and Company form their own crack squad of misfits, in whose hands the fate of the world may well rest.
With a little help from her friends, the Universe, and lots of snacks, Jane embarks on her greatest adventure yet, confident that with great sacrifice comes great reward. The question is, who will be that sacrifice?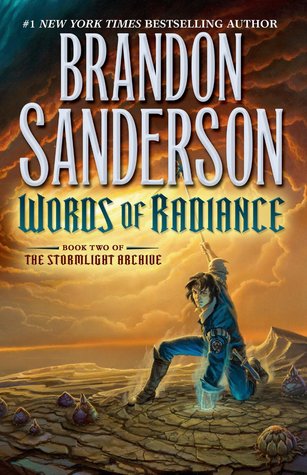 Words of Radiance by Brandon Sanderson
PICK UP AT AMAZON
Goodreads Synopsis:
Brandon Sanderson's The Stormlight Archive sequence began in 2010 with the
New York Times
bestseller
The Way of Kings
. Now, the eagerly anticipated
Words of Radiance
continues the epic story and answers many of your questions.
Six years ago, the Assassin in White, a hireling of the inscrutable Parshendi, assassinated the Alethi king on the very night a treaty between men and Parshendi was being celebrated. So began the Vengeance Pact among the highprinces of Alethkar and the War of Reckoning against the Parshendi.
Now the Assassin is active again, murdering rulers all over the world of Roshar, using his baffling powers to thwart every bodyguard and elude all pursuers. Among his prime targets is Highprince Dalinar, widely considered the power behind the Alethi throne. His leading role in the war would seem reason enough, but the Assassin's master has much deeper motives.
Expected by his enemies to die the miserable death of a military slave, Kaladin survived to be given command of the royal bodyguards, a controversial first for a low-status "darkeyes." Now he must protect the king and Dalinar from every common peril as well as the distinctly uncommon threat of the Assassin, all while secretly struggling to master remarkable new powers that are somehow linked to his honorspren, Syl.
Brilliant but troubled Shallan strives along a parallel path. Despite being broken in ways she refuses to acknowledge, she bears a terrible burden: to somehow prevent the return of the legendary Voidbringers and the civilization-ending Desolation that will follow. The secrets she needs can be found at the Shattered Plains, but just arriving there proves more difficult than she could have imagined.
Meanwhile, at the heart of the Shattered Plains, the Parshendi are making an epochal decision. Hard pressed by years of Alethi attacks, their numbers ever shrinking, they are convinced by their war leader, Eshonai, to risk everything on a desperate gamble with the very supernatural forces they once fled. The possible consequences for Parshendi and humans alike, indeed, for Roshar itself, are as dangerous as they are incalculable.
The Gate Thief by Orson Scott Card
PICK UP AT AMAZON
Goodreads Synopsis:
In this sequel to
The Lost Gate
, bestselling author Orson Scott Card continues his fantastic tale of the Mages of Westil who live in exile on Earth in
The Gate Thief
, a novel of the Mither Mages.
Here on Earth, Danny North is still in high school, yet he holds in his heart and mind all the stolen outselves of thirteen centuries of gatemages. The Families still want to kill him if they can't control him…and they can't control him. He is far too powerful.
And on Westil, Wad is now nearly powerless—he lost everything to Danny in their struggle. Even if he can survive the revenge of his enemies, he still must somehow make peace with the Gatemage Daniel North.
For when Danny took that power from Loki, he also took the responsibility for the Great Gates. And when he comes face-to-face with the mages who call themselves Bel and Ishtoreth, he will come to understand just why Loki closed the gates all those centuries ago.
Audio:
Free Ebooks:
(On my Kindle App)
Links to books under title. They may or may not be free at this time.
Stone Guardian by Danielle Monsch
PICK UP AT AMAZON
Goodreads Synopsis:
Gryphons flying past skyscrapers? Wizards battling it out in coffeehouses? Women riding motorcycles with large swords strapped to their backs? All normal sights since the Great Collision happened twenty-six years ago.
Well, not normal for everyone. Larissa Miller may have been born after the Great Collision, but as a history teacher who lives in the human-only city, she has never come into contact with any other race or species, nor has she wanted to. Her life is as ordinary as it gets - that is, until one day she walks out of her apartment and is attacked by a mob of Zombies, only to be saved by a Gargoyle.
Gargoyles trust no one outside their Clan, but due to a cryptic prophecy, Terak, Leader of the Gargoyles, has been watching over the human woman for months. While he can find no reason why the woman has been singled out, something about her stirs every protective instinct within him. When the attack confirms that the threats against her exist and are real, he convinces Larissa that though their races have never been allies, the best chance of discovering why she has been brought into his world is by working together.
In the course of their investigation Terak becomes entranced by his little human. But when he discovers why Necromancers want her and the great reward that awaits him if he betrays her, he must choose between the welfare of his Clan and not only Larissa's life, but the fate of this New Realm as well.
The Institute by Kayla Howarth
PICK UP AT AMAZON
Goodreads Synopsis:
Living in constant fear. Always looking over your shoulder. The source of your fear? The Institute.

Allira Daniels will do anything to keep her Defective brother safe from the Institute. They claim to protect Defectives, but it's human nature to fear the unknown. Defectives are dangerous, they possess abilities that no human should be able to. To Allira and the rest of her family, the Institute seems more like a prison than the safe-haven they promote themselves to be. Protecting Shilah from that fate is their number one priority.

When Allira stumbles across a car crash involving two of her school classmates, she ignores all of her father's warnings of laying low and not drawing attention to herself. By doing so, she may have just caught the eye of the Institute. She's not Defective, but what seventeen-year-old girl has the ability to pull two teenage boys away from a fiery rubble and walk away without a scratch? It would definitely be seen as suspicious.

Allira and her family need to make decisions. Do they stay, or do they flee again? Will they be coming for her? Will her whole family come under investigation? Will they discover Shilah and his ability to predict the future?

Are you Defective? The Institute is coming for you.
Timon and The Spacetime Engineers by Sabine K. Atkins
PICK UP AT AMAZON
Goodreads Synopsis:
When a menace stirs in Hyperspace, threatening to destroy all universes, a boy from Earth is the only one who can stop it.
In this fun, family friendly cosmic adventure filled with aliens, monsters, robots, and much more, Timon's biggest wish comes true when he joins the spacetime engineers corps as their youngest trainee. He's looking forward to creating paths for all the space-faring civilizations Earth has joined just recently. Soon, however, he finds out that god-like beings from another dimension are fighting for his allegiance, and a dangerous race through wormholes and interdimensional portals begins.
Stone Embrace by Danielle Monsch
PICK UP AT AMAZON
Goodreads Synopsis:
In the New Realms, love can be the most dangerous battle of all...
Terak has fought all enemies to claim Larissa. It doesn't matter his own Clan looks upon the union with misgivings. It doesn't matter her family see a monster when they see him.
It doesn't matter, because Larissa is his.
And any who would try to take her away? They'll see what a Gargoyle will do to protect his mate.
*****
NOTE: Stone Embrace is not a complete story. It would best be described as an extended 30 page epilogue to the novel Stone Guardian. You'll probably have the most enjoyment reading this story if you have read Stone Guardian and already know the characters and world of the Entwined Realms series.
(On my Nook)
Free Audio Books/Stories:
~~~~~~~~~~
Soulless
by Skyla Dawn Cameron
The Sentinel
by Chris Lester
The Muse
by Chris Lester
Metamor City: Making the Cut
by Chris Lester
Metamor City: Whispers in the Wood
by Chris Lester
Danube Waves
by Katharina Bordet
Age of Myth
by Michael J. Sullivan
Lex Talionis
by Starla Huchton
Spark

by Starla Huchton
House of Grey 6
by Collin Earl
The Secret World Chronicle: World Divided
by Mercedes Lackey, Cody Martin, Dennis Lee, Veronica Giguere
The Secret World Chronicle: Waiting On
by Mercedes Lackey, Cody Martin, Dennis Lee, Veronica Giguere
The Secret World Chronicle:
Revolutions
by Mercedes Lackey, Cody Martin, Dennis Lee, Veronica Giguere
Heir to Kale
by K.L. Bone
Tales from the Archives Vol 4 #5 - Old Sinner's Bones
The Death of Dulgath
by Michael J. Sullivan
Modern Sorcery
by Gary Jonas
Earth's Requiem
by Ann Gimpel
Complication
by K.A. Salidas
Destiny
by David Wood & Sean Ellis
Bound by Prophecy by Stormy Smith
Serpent Singer and Other Stories
by M.H. Bonham
Bound Together
by Stormy Smith