The Sunday Post
is a weekly meme hosted by
Kimba the Caffeinated Book Reviewer
~ It's a chance to share news ~ A post to recap the past week on your blog, showcase books and things we have received and share new about what is coming up on our blog for the week ahead.
It's been a week of go, go, go. Kiddo's had meets and life has been on the go with appointments and all sorts of things this week. I did get one work project done and I'm on to the next portion.

I'm hoping this week will be back to normal, or some normalcy, so I can get lots done. (and exercise)
Goal: Workout in any form of exercise (or on Wii Fit) 2x's a week. (to feel better and hope to drop a few pants sizes)
How did I do last week... I was on the go all week with kiddo and appointments, so no exercising done. :(
~~~~~~~~~~~~~~~
What's Happening in Books:
I'm working on some 'work' books
And
Current Podcast Book Listen:
7th Son: Deceit
by J.C. Hutchins
The Horde
by Patrick Scaffido
nothing
Finished Podcast Book Listen:
7th Son: Descent
by J.C. Hutchins
~~~~~~~~~~
Last Week on the Blog:
Cover Reveals:
(click titles to go to post & learn more)
Click the link to learn more about the books and their series:
Posts:
Steampunk Book Trailer!
(And you'll enjoy this little movie.)
Around the Internet...
Reviews:
Mama Bitchstress Reviews:
GIVEAWAYS:
~~~~~~~~~~
This Week to Come on the Blog:
Believe it or not, I have two reviews scheduled already!
Tues:
Space Casey
Wed:
7th Son: Descent
Thurs:
Guest Post
~~~~~~~~~~
Received Last Weeks:
Review & Review Consideration:
Purchased/Winnings/Gifts:
Nameless by Lili St. Crow
Goodreads Synopsis:
When Camille was six years old, she was discovered alone in the snow by Enrico Vultusino, godfather of the Seven—the powerful Families that rule magic-ridden New Haven. Papa Vultusino adopted the mute, scarred child, naming her after his dead wife and raising her in luxury on Haven Hill alongside his own son, Nico.
Now Cami is turning sixteen. She's no longer mute, though she keeps her faded scars hidden under her school uniform, and though she opens up only to her two best friends, Ruby and Ellie, and to Nico, who has become more than a brother to her. But even though Cami is a pampered Vultusino heiress, she knows that she is not really Family. Unlike them, she is a mortal with a past that lies buried in trauma. And it's not until she meets the mysterious Tor, who reveals scars of his own, that Cami begins to uncover the secrets of her birth... to find out where she comes from and why her past is threatening her now.
Arielle Immortal Awakening by Lilian Roberts
Goodreads Synopsis:
A mortal soul…
From the time college co-ed Arielle Lloyd had been young, she had been able to hear the thoughts and feel the pain of certain others, and those she comes to think of as her special group. One friend's dabbling with spells and magic showed her the power of love that can endure beyond the grave. But another friend's terrifying encounter with a warlock left Arielle wary of those who claim otherworldly powers. On holiday in the south of France, a chance encounter could change her mind. Or could cost her life.
An Immortal man…
Sebastian Gaulle is the wealthy, handsome owner of an international company. He is also an Immortal. For five centuries he has sought the one soul who can fulfill his dreams of everlasting love. Then he meets Arielle, whose heart calls out to him like no other.
A timeless love…
Sebastian has made his choice clear. But jealous Immortals from his past threaten retaliation. They have vowed to destroy any woman who becomes involved with him. In spite of the powerful protection amulet Sebastian gives Arielle, death stalks their newfound love. Their love may be eternal, but they may be running out of time.
I picked up some bookends. The paint is scuffed in spots and the glue for the dragon wings is visible, but the back and bottom seem solid. I'll see if my artistic brother can touch those up for me.
The swag for
The Nothing
has come! :)
Won:
Free Ebooks:
(On my Kindle App)
Beauty and Other Dangerous Things by Jennifer Melzer
Goodreads Synopsis:
Beauty and Other Dangerous Things contains four speculative fiction shorts by author Jennifer Hudock, including Beauty, Hate, The Clockwork Heart and Skin.

Beauty--He's been chasing beauty down for years, wrenching her cold soul from every body it taints, but when the tide turns Brad Shaner discovers a centuries' old evil won't be so easily broken.

Hate--Abby dangles on the edge of defeat, torn between saving or slaying the monster that has taken over her life.

The Clockwork Heart--Death offers Summer the chance to save her younger brother Gerald, but when the price becomes too high, she quickly learns some things are better left alone.

Skin--Haunted by longing for her dead husband Jonathan, Katherine follows his faded dreams to his homeland in Scotland to learn a strange family secret he carried with him to the grave.
Carpe Demon by Julie Kenner
Goodreads Synopsis:
Kate Connor is your average, everyday mom with two kids, a husband, and one very big secret ... she used to be a Demon Hunter for a secret arm of the Vatican.
Now retired, she's more interested in the domestic than the demonic. So when she catches sight of a demon in Wal-Mart, she tells herself it's some other Hunter's problem. But when that demon attacks her in her kitchen, retirement is no longer an option.
Now Kate has to kick a little demon butt, figure out why the creatures are trying to take her out and take over her home town, and at the same time take care of her 2 year old, deal with a hormonal 14 year old, get the family to Catholic mass on time, and try to keep her past a secret from her daughter and her husband.
She's a little out of practice, but hey ... if she can juggle two kids and an impromptu dinner party, ridding the town of demons should be a piece of cake. Like the saying goes, Carpe Demon ... and Kate intends to do just that.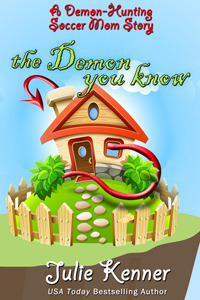 The Demon You Know by Julie Kenner
Goodreads Synopsis:
When daughter Allie finds herself knee-deep in demons, Demon Hunter Kate Connor must come to the rescue in this first short story featuring not only Kate, but fourteen year old Allie, too!
Panic by K.R. Griffiths
Goodreads Synopsis:
Michael Evans is only in rural St. Davids to maintain a low profile after his time spent as a city cop ended in disaster. The town is perfect for him: isolated. A tiny population. Virtually no crime.

Until the night the strange canisters fall from the sky and the town priest starts killing people with his teeth. To Michael, the bloodbath looks like a murder case that the quiet town's two police officers can't possibly handle.

But this isn't just a crime scene.

And the priest is just the beginning...
Shock by K.R. Griffiths
Goodreads Synopsis:
The team had been told it would be a straightforward mission: enter St. Davids, now little more than a ghost town, retrieve the target and return to base.
Trouble is, the target is a man named Victor, and it looks like somebody else got to him first.
And St. Davids is anything but a ghost town...
***
SHOCK is a novella that picks up where K.R. Griffiths' acclaimed debut PANIC left off. A further installment, PSYCHOSIS, was released in September 2013.
(On my Nook)
Free Audio Books/Stories:
7th Son: Deceit by J.C. Hutchin
Goodreads Synopsis:
Two days ago, seven human clones -- John, Michael, Father Thomas, Dr. Mike, Jonathan, Jack and Kilroy2.0 -- were torn away from their "normal" lives to stop a ruthless plot created by their progenitor, a man code-named John Alpha. Their quest was a descent into conspiracy, violence and death.
The clones were successful in their mission, but victory was not without its price.
As 7th Son: Book Two - Deceit begins, the Beta clones are demoralized, reeling from their loss ... and about to learn that John Alpha's plans are far from over.
To prevent the next phase of Alpha's plan, John, Kilroy2.0, and the others must unearth more dark secrets about the government project from which they were spawned. They will experience the horrors of betrayal, and race cross-country to track John Alpha.
And they will finally realize the scope of Alpha's wrath -- the bloodshed the clones have witnessed is merely a prelude to the world-rending destruction to come. Unless they can stop it first.
Deceit is the second novel in J.C. Hutchins' 7th Son thriller trilogy.
~~~~~~~~~~
The Secret World Chronicle: World Well Lost
by Mercees Lackey,Steve Libby, Cody Martin, & Dennis Lee
Soulless
by Skyla Dawn Cameron
The Sentinel
by Chris Lester
The Muse
by Chris Lester
Metamor City: Making the Cut
by Chris Lester
Metamor City: Whispers in the Wood
by Chris Lester
Master of Myth
by Starla Huchton
Danube Waves
by Katharina Bordet
Rhune
by Michael J. Sullivan
Heartstealer
by K.T. Bryski
Lex Talionis

by Starla Huchton
Space Casey
by Christiana Ellis
Tales From the Archives:
Blessings of Baalshemin
Tales From the Archives:
Bitter Pill
Tales From the Archives:
What the turtle saw.
Tales From the Archives:
Clockwork Portal When Timelines Go Awry
Tales From the Archives:
Foothold
Tales From the Archives:
2014 Christmas Special
Space Casey: Season 2
by Christiana Ellis
House of Grey 4
by Collin Earl
7th Son: Descent
by J.C. Hutchins