The Sunday Post
is a weekly meme hosted by
Kimba the Caffeinated Book Reviewer
~ It's a chance to share news ~ A post to recap the past week on your blog, showcase books and things we have received and share new about what is coming up on our blog for the week ahead.
~~~~~~~~~~
It's been a busy week. Works been busy and I've been on the move with kiddo in the evenings. Then when I finally get home, I'm ready for bed. Thank you winter time. lol.
I got to do a little bit of blog visiting this week, but I didn't get to responding on mine. I'll get to that today. I'm hoping with the weather we are expecting I'll be back to a normal evening and on to respond AND visit.
Goal:
Workout on Wii Fit 2x's a week. (to feel better and hope to drop a few pants sizes)
How did I do last week...well, I failed. Figures, right! The first week at posting here and hoping to keep my keester in gear and I fail. Well, life does seem to have other plans for us on some occasions. I did get frustrated and did workout one night for about 45 minutes. I did a few things on my own and walked (a fast walk) on the treadmill.
Hoping this week is a bit better for me.
~~~~~~~~~~
What's Happening in Books:
Current Read:
Danube Waves
by Katharina Bordet
Rhune
by Michael J. Sullivan
Current Podcast Book Listen:
The Horde
by Patrick Scaffido
Finished Last Week: (in last month)
I didn't finish anything last week.
Finished Podcast Book Listen:
None finished yet.
~~~~~~~~~~
Last Week on the Blog:
Cover Reveals:
(click titles to go to post & learn more)
Posts:
Around the Internet...
Reviews:
Mama Bitchstress Reviews:
GIVEAWAYS:
Weekly Posts:
Mythical Monday
Throwback Thursday
~~~~~~~~~~
This Week to Come on the Blog:
What's to come.... I do have one review scheduled that has a giveaway with it too! It's a new release and a wonderful read. :) That will be up on February 2nd.
~~~~~~~~~~
Received Last Weeks:
Review & Review Consideration:
Purchased/Winnings/Gifts:
My Kickstarter purchases have started to come in. There are several short stories that aren't listed on Goodreads by: Danielle Ackley-McPhail, Beth Cato, Cynthia Ward, Misty Massey, and Brenda Cooper.
Sometimes I really love Kickstarters as I get many new stories for a low cost of $10 (AND I back something I want to see as well!). And several of these are just that! I look forward to reading these.
The Final Death by Gail Z. Martin
Goodreads Synopsis:
A Deadly Curiosities Adventure #8 (Novella) - Vampires, vengeful ghosts and Voodoo are all in a day's work for Cassidy Kincaide, owner of Trifles and Folly, an antique and curio store in historic, haunted Charleston, SC whose real mission is to get dangerous magical objects off the market and out of the wrong hands. When developers disturb old graves, Cassidy and her team land in the middle of big trouble as the restless dead return to finish old business and feast on the blood of the living.
Collector by Gail Z. Martin
Goodreads Synopsis:
Set in modern-day Charleston. A Collector's passion brings death and despair to Battery Row. Cassidy, Teag and Sorren fight for their lives against an ancient spirit, a children's bogeyman, who has brought her minions with her to help discipline all in her path.
This series of adventures spans over 500 years, from the 1500s to modern day as a small cabal of vampires and their human helpers battle supernatural enemies to find and destroy dangerous magical items and keep the world safe from dark forces.
Dead West (Omnibus 1 - Includes vol. 1 and vol 2) by Tim Marquitz
Those Poor, Poor Bastards (vol. 1)
Goodreads Synopsis:
'THE WALKING DEAD AND HELL ON WHEELS COLLIDE!'
The year is 1868...
IN THE SIERRA NEVADA, during the expansion of the Central Pacific Railroad, Nina Weaver and her pa, Lincoln, trundle into Coburn Station with a wagonful of goods they're looking to barter. Of all the rotten luck, their world—and the future of the American West—is forever changed when a sudden swarm of zombies invades town on the hunt for some human-sized vittles.
THOSE POOR, POOR BASTARDS
is the first volume in the all-new Old Western Action-Horror series, "Dead West."
What folks are saying...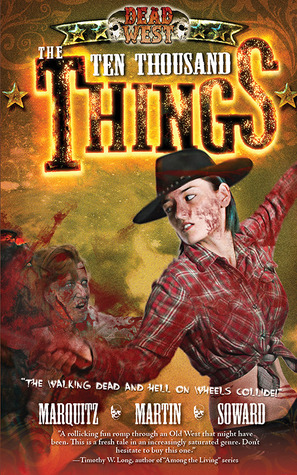 The Ten Thousand Things (vol 2.)
Goodreads Synopsis:
THE WALKING DEAD AND HELL ON WHEELS COLLIDE!
Stalked across the Great Basin by an evil they hardly understand, Nina Weaver and her hard-bitten bunch o' ragtag death-dealers have learned one crucial lesson:
the only sure thing in life—and death—is a loaded gun.
'Deaduns' and other horrors have come a'callin', and Nina struggles to uphold unlikely alliances as the stale waft of rot threatens to overrun the West.
Can Nina and company stand against...THE TEN THOUSAND THINGS?
From the deranged minds of Tim Marquitz, J.M. Martin, and Kenny Soward, THE TEN THOUSAND THINGS is the second volume in the all-new Old Western Action-Horror series, "Dead West."
Fire on the Mountain: A Beauregard the Monster Hunter Short by John G. Hartness
Goodreads Synopsis:
What do you get when one of urban fantasy's funniest writers puts his hillbilly spin on steampunk? Shinepunk, of course! Shades of Hartness' beloved Bubba the Monster Hunter permeate this hilarious steampunk-inspired short story.
The original Bubba - Great-Grandpappy Beauregard - sets out with his brilliant and overbearing sister Octavia to find out what links the disappearance of nearby children with the strange lights and fires up the mountain. There's a tech wizard, a preacher, a bad guy to unleash some whoop-ass onto, and a drunken redneck. Sounds like turn-of-the-century Bubba to me!
Railroad Omnibus by Tonia Brown
(Includes 1st 3 volumes.)
Rodger Dodger (Vol 1)
Goodreads Synopsis:
Railroad is a fast-paced steampunk story of gadgetry, gunplay and grit.

Join us as we follow the strange stand-alone train known as the Sleipnir (pronounced Schlipnear); eight cars of free traveling steam powered might. Able to lay her own tracks, as well as pick them up again, the train is a marvelous feat of engineering, and as an unbound entity she can travel anywhere her master desires. The only trouble is the trouble she attracts. Her owner and creator, one Professor Hieronymus J. Dittmeyer, can't seem to help but catch the attention of all manner of odd characters, including an undead conductor and a ghostly guardian. But even the most well intending ghost just isn't enough to keep trouble from the tracks. From run of the mill outlaws, to world-class super villains, the crew of the Sleipnir needs hands-on protecting and they need it fast!

Enter Rodger Dodger, dead-eye marksman and all around vexed soul. Dodger finds he is inexplicably drawn to the Sleipnir and her crazy crew, though he is reluctant to return to the work of a gunslinger after a dreadful history of bloodshed and violence. At the request of a restless spirit, Dodger takes on the work, straps on the biggest guns this side of the Mississippi and soon finds his life will never be the same again. (Which is just fine with him because he didn't like the one he had anyways.)

On a train that can go anywhere, anything is bound to happen!
Dogs of War (Vol 2)
Goodreads Synopsis:
Railroad is a fast pace steampunk story of gadgetry, gunplay and grit.
Rodger Dodger decides to take on the job of security for the unusual standalone train, only to find the professor's precocious niece has been taken hostage. Join him as he straps on the biggest pair of guns this side of the Mississippi and tracks down the kidnapped damsel, finding his own distress along the way.
The dogs of war have it out for our Dodger, and it will take every ounce of skill he possesses if he wants to survive.
The Trouble with Waxford (vol 3)
Goodreads Synopsis:
Railroad is a fast pace steampunk story of gadgetry, gunplay and grit.
The dog soldiers' genetics are hanging by a thread, and our intrepid hero is the only one that can keep them from turning into goop! In an effort to create a cure for the dog men's condition, the doc sends Dodger after a rare and expensive chemical. Unfortunately, the ingredient is sold by a dangerous brood of deadly but beautiful ladies. Did we say ladies? Aren't those fangs awful sharp for just regular ladies?
Join Rodger Dodger as he plunges into the weirder west in this sexy volume of the ongoing web series!
Kestrel's Voyages by Misty Massey
Goodreads Synopsis:
Mad Kestrel, proud captain of the pirate vessel Thanos and secret wielder of wild magics, is back! In between assignments as the Privateer for the King of the Nine Islands, Kestrel and her crew have thrilling adventures all their own. Mermaids and magic springs, dead men walking and mages drinking, enchanted gateways and horrible monsters...the thrills never stop! Come on board and ride the waves in these four stories of derring-do and the marvelous tingle of magic.
Baba Ali and the Clockwork Djinn by Danielle Ackley-McPhail & Day Al-Mohamed
Goodreads Synopsis:
Come, Best Beloved, and sit you by my feet. I shall tell you a tale such as sister Scheherazade could have scarce imagined. A tale of wonders, of deeds both great and grievous, of courage that defies description, and above all, Child of Adam, I shall tell you a tale of love.
The night is for the telling of tales to which the morning may bear Truth. In the oldest of days and ages and times, there was, and there was not, a great evil that reached across the desert and beyond…
In the Nejd there is nothing at all…except secrets. A band of thieves wish such secrets to remain hidden.
In England, far from his desert home, Ali bin-Massoud serves as apprentice to the famed Charles Babbage. One night a mysterious box is delivered by a clockwork falcon and Ali's world is never the same again. Heartache, danger, and thieves mark his journey as Ali is summoned home at the death of his father.
It will take faith, knowledge, and yes, love to realize his destiny, and more than a little skill with steam-driven technology. Can he unravel the mystery of the puzzle box and the clockwork djinn before it is too late? An ancient legacy and Ali's very life depend on his success.
Hear you the tale of Baba Ali and the Clockwork Djinn.
Won:
Free Ebooks:
(On my Kindle App)
The Lady is Blue by Aurora Springer
Goodreads Synopsis:
THE LADY IS BLUE: WHAT COLOR ARE YOUR SCALES? An unlikely romance set on the remote planet of Eden on the edge of the spiral galaxy. The human colonists on Eden welcome alien refugees in their crippled spaceship. The alien Atrapako sport spiky crests, vicious claws and scales of four colors covering massive humanoid bodies. The intrepid Dr. Lucy Stannis, a secret agent of Terra, initiates a lively friendship with the captain of the Atrapako spaceship, the impressive Blue, Sa Kamizan Veedak. Their growing attraction for each other is threatened by their secret knowledge, assassination attempts and sabotage by humans and aliens. They must learn to fight together to survive. What strange secret are the Atrapako hiding? Can they overcome their cultural instincts and co-exist peacefully with humans on Eden?
On Basilisk Station by David Weber
Goodreads Synopsis:
Honor Harrington in trouble: Having made him look the fool, she's been exiled to Basilisk Station in disgrace and set up for ruin by a superior who hates her. Her demoralized crew blames her for their ship's humiliating posting to an out-of-the-way picket station. The aborigines of the system's only habitable planet are smoking homicide-inducing hallucinogens. Parliament isn't sure it wants to keep the place; the major local industry is smuggling, the merchant cartels want her head; the star-conquering, so-called "Republic" of Haven is Up to Something; and Honor Harrington has a single, over-age light cruiser with an armament that doesn't work to police the entire star system. But the people out to get her have made one mistake. They've made her mad!
The Honor of the Queen by David Weber
Goodreads Synopsis:
It's hard to give peace a chance when the other side regards war as a prelude to conquest. That's why Manticore needs allies against Haven, and planet Grayson is placed to make a good ally. But the Foreign Office overlooked a cultural difference when they sent Honor Harrington to carry the flag.
(On my Nook)
Free Audio Books/Stories:
Ravenwood
by Nathan Lowell - a podcast reading of the book
The Secret World Chronicle: The Hunt
by Mercedes Lackey & Steve Libbey (in audiobook while at work)
The Secret World Chronicle: World Well Lost
by Mercees Lackey,Steve Libby, Cody Martin, & Dennis Lee
Harlan's Wake
by John Mierau
The List
by John Mierau
Tales from the Archive: 5 (part 1 & 2) - Those Dark Satanic Mills
by Suna Dasi
Soulless
by Skyla Dawn Cameron
The Sentinel
by Chris Lester
The Muse
by Chris Lester
Metamor City: Making the Cut
by Chris Lester
Metamor City: Whispers in the Wood
by Chris Lester
Dirty Magick: Los Angeles
edited by Charlie Brown
Edgelanders
by Jennifer Melzer
The Stillness of the Sky

by Starla Huchton
Master of Myth
by Starla Huchton
Tales of a Tesla Ranger: Tribute to P.G. Holyfield
by (anthology)