We have
Barnes & Nobles Freebie Friday thread
...
New!! At
Barnes & Nobles of Fridays
will be Free Apps as well! This week is one that you can work on all your word, excel and Power point documents! WOW! A $14.99 value, for FREE! I got mine for my Tablet.
Freebies:
I read and absolutely adored this book. It's no where near scary as the cover might make you feel. Loved that it was full of magic, and Marten...Oh once you meet him you won't care that he's an Imp Skinner (don't let the title fool you.) I do hope you'll take a look into this freebie. My review will be up next week, but I'm afraid it'd be to late to take advantage of this deal.
Frances said it'll be free over the weekend
.
Unlikely by Frances Pauli
Amazon ~ Kindle
Goodreads Synopsis:
Satina knows more than anyone that gangs are bad news. As a Granter, she uses her magic to help people escape them. So far, her sole reward has been a life on the run, dodging from pocket to pocket and only landing in the ordinary world long enough to put her special skills to use.When the goodmother arrives in Westwood, however, a magic-hungry gang is just one step behind her, and their leader wants more than just the town. He wants Satina, and he'll do anything, use anyone, to get her.
Though Satina finds an unlikely ally in Marten, the imp Skinner who manages to help more people than he hurts, it will take all the power they can summon to keep Westwood's secrets from falling into the wrong hands, to keep one wide-eyed girl from following the wrong man, and to keep Satina herself from falling in love with the only person in the world who knows how much of a fraud she really is.
Kingdoms Gone series book one: A fantasy fairy tale
Kelly A. Harmon is giving away a book
of hers this week for ebook week through Smashwords. The coupon code ends at the end of the week. So, I'm hoping it still works for you today.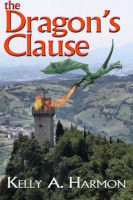 The Dragon's Clause by Kelly A. Harmon
Code: NV79A
Smashwords
Description:
For hundreds of years, the city-state of San Marino has paid tribute to the dragon living beneath their mountain city. But humans are forgetful, and no one alive has ever seen the dragon. Though a contract exists, the people feel they are just throwing their money away. Find out what happens when the city residents renege on their contract with the dragon.
Do you have any new ones to share this week?