The Sunday Post
is a weekly meme hosted by
Kimba the Caffeinated Book Reviewer
~ It's a chance to share news ~ A post to recap the past week on your blog, showcase books and things we have received and share new about what is coming up on our blog for the week ahead.
Where is the summer going? Football camp has started for kiddo and school is around the corner. Kiddo is a senior this year! WOW!

Update on Kiddo's knee. He was released by therapy as doing well. He was released by the doctor for full contact at football. HOWEVER! Ugh, this has been such a struggle! When they took an x-ray, like at every visit, they found he is growing new bone. *head desk* The doctor thought about sending him for a ct scan but decided to wait. It's not in the way at the moment, but if it keeps growing, it could be. So when he goes back for his year visit (from surgery date) in November, they will x-ray again and decide then if it needs a ct scan. Worst case, he'll need, yet again, another surgery. The kid just heals to well!

I'm more than likely going to be MIA this week on the blog and visiting. This is surgery week. I go in Wednesday. It is an outpatient procedure, but I'm still going to be under general anesthesia, so I'm going to be beat the rest of the week. I'm going to do my best to go to work the next day as I'm short on sick/vacation time with all that's been going on with kiddo and his knee.


~~~~~~~~~~~~~~~
Goal: Workout in any form of exercise (or on Wii Fit) 2x's a week. (to feel better and hope to drop a few pants sizes)
How did I do last week... I got 2 days of exercise in last weeks. One with trainer and the other I went in to stretch, elliptical for 25 minutes, and swam laps for 20-25 minutes.


What's Happening in Books:
The Side of Good / The Side of Evil
edited by Danielle Ackley-McPhail
Current Audiobook:
Will start a new one on Monday.
Current Podcast Book Listen:
Stonebriar Casefiles: Bad Alchemy
by Laura Nicole Spencer (You can listen for free too!)
Alight
by Scott Sigler (You can listen for free too! One episode, a few chapters, a week!)
Hidden Design
by Tia Tormen
Audiobooks from Audible:
The Machines of Bellatrix
by Cary Caffrey
Ancient Magic
by Linsey Hall
Finished Podcast Book Listen:
Nothing
Last Week on the Blog:
Cover Reveals:
(click titles to go to post & learn more)
Posts:
Around the Internet...
Reviews:
Oblivion by Skyla Dawn Cameron
"Basically, Skyla's not afraid to rip out your heart, stomp on it, and place it back a little bruised and sore. But, it's back where it belongs!"
The Case of the Claw

by Keith R.A. DeCandido
"I've found this story is one about the people we see. There is more about them and other cases the police are on rather than The Claw."
Mama Bitchstress Reviews:
GIVEAWAYS:
This Week to Come on the Blog:
I have 2 reviews (maybe 3).
~~~~~~~~~~
Received Last Weeks:
Review & Review Consideration:
Audio Books Requested for Review:
Ancient Magic: Dragon's Gift by Linsey Hall
PICK UP AT AMAZON
Goodreads Synopsis:
I'm good at two things: finding treasure and killing demons. Lying low is a close third—but not because I want to be good at hiding. I have to be. I'm a FireSoul, one of the unlucky few to inherit a piece of the dragon's soul. Being born with the dragon's covetousness should be a sweet gig - I have the power to find and steal any type of treasure, including the powers of other supernaturals.
But it doesn't come without a price - stealing powers requires that I kill, and others would destroy me if they discover what I am. In a world full of magic, hiding my species is the only way to survive. Finding magical artifacts is the only way to pay the bills. It's a dangerous job when you can barely use your magic, but that's one of the things I like about it.
When Aidan Merrick, the most powerful shifter in the city, hired me to find an ancient scroll, I didn't want to take the job. His immense amount of power reminds me of too much of murky memories from a past I can't remember. But I don't have a choice. The scroll reveals what I am. And if anyone finds out, I'm dead.
Tarah Woodblade by Trevor H. Cooley
PICK UP AT AMAZON
Goodreads Synopsis:
A Bowl of Souls Novel
The war is over, but there is a void of power that must be filled and no shortage of souls eager to fill it.
Tarah Woodblade was the best guide and tracker in the land, but she ran away from the war. She returns to Dremaldria expecting to be labeled a coward, but finds herself lauded as a hero. It seems a hero is needed too, because someone is hunting rogue horses . . .
Dead Red by M.R. Forbes
PICK UP AT AMAZON
Goodreads Synopsis:
Conor Night, the world's only surviving necromancer, is used to having bad days. After all, he's spent the last few years as a minor pawn in the Game of Houses while keeping one foot planted firmly in the grave. But between the job offer he can't refuse from a wizard he doesn't trust, and the appearance of a cult bent on sending him to the afterlife, his days are about to get a whole lot worse.
He's used to the threat of death. Death making threats? That's new.
Purchased/Winnings/Gifts:
Book:
Tempered Hearts by S. A. Huchton
PICK UP AT AMAZON
Goodreads Synopsis:
The war against corrupted monsters from the Void may have ended, but much remains broken in Valentia, including its reluctant monarch. To save the kingdom from the destruction of civil war, Darius Marillion had to sacrifice his heart, agreeing to a marriage of convenience over one of love.
Lady Arden Tanarian was born to wealth, bred to be a fine wife to a high lord. Despite her mother's best efforts, however, her passion for the decidedly unladylike fields of chemistry and elvish culture marks her as a different breed of woman. Though she's always been able to see the bright side of things, Arden's hopes for her life with the dashing, but sullen prince crumble around her in learning where his heart truly lies.
Dubbed The Light of Valentia, Arden has a mystifying effect on the world around her. She inspires something in people— including Darius— that he thought he'd never feel again: Hope.
Bonds of the heart forged in battle are strong, but time changes much. When the flames of war fade to low embers, peace in a kingdom can reveal love in the most unexpected places.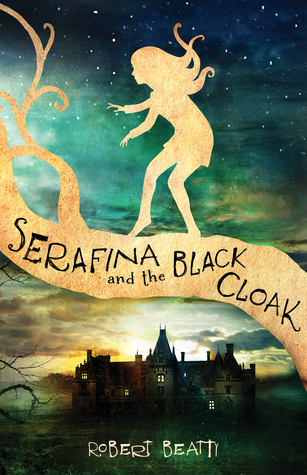 Serafina and the Black Cloak by Robert Beatty
PICK UP AT AMAZON
Goodreads Synopsis:
"Never go into the deep parts of the forest, for there are many dangers there, and they will ensnare your soul."
Serafina has never had a reason to disobey her pa and venture beyond the grounds of the Biltmore estate. There's plenty to explore in her grand home, although she must take care to never be seen. None of the rich folk upstairs know that Serafina exists; she and her pa, the estate's maintenance man, have secretly lived in the basement for as long as Serafina can remember.
But when children at the estate start disappearing, only Serafina knows who the culprit is: a terrifying man in a black cloak who stalks Biltmore's corridors at night. Following her own harrowing escape, Serafina risks everything by joining forces with Braeden Vanderbilt, the young nephew of the Biltmore's owners. Braeden and Serafina must uncover the Man in the Black Cloak's true identity . . . before all of the children vanish one by one.
Serafina's hunt leads her into the very forest that she has been taught to fear. There she discovers a forgotten legacy of magic, one that is bound to her own identity. In order to save the children of Biltmore, Serafina must seek the answers that will unlock the puzzle of her past.
Serafina and the Twisted Staff by Robert Beatty
PICK UP AT AMAZON
Goodreads Synopsis:
In 1899, when an evil threatens all the humans and animals of the Blue Ridge Mountains, twelve-year-old Serafina, rat catcher for the Biltmore estate and the daughter of a shapeshifting mountain lion, must search deep inside herself and embrace the destiny that awaits her.
Audio:
Free Ebooks:
(On my Kindle App)
Links to books under title. They may or may not be free at this time.
Home is the Sailor by Jolie Mason
PICK UP AT AMAZON
Goodreads Synopsis:
Captain Aricka Badu left Taarken Prime twelve years ago for very good reasons, and she seldom goes back. It was supposed to be a short run, but, between the pirates, a brewing civil war and her ex, she may never get to leave.
Caden Carnes hadn't seen Ari in twelve years. Given their past, it wasn't exactly surprising. What was surprising was seeing her back on Taarken, the mining planet she'd abandoned along with her lover and her family.
Her brother's mining hauler is missing and Caden asks for Ari's assistance and her ship to go find it. One discovery leads to another, until all the secrets are out. Caden and Ari don't have long to discover the most important thing in the universe; You can actually go home again.
Bad Portions by Michelle Fox
PICK UP AT AMAZON
Goodreads Synopsis:
Gambling with magic, betting on love. Welcome to Charmed in Vegas!
A witch on a hit list and a cursed elf hit sin city, their hearts and lives on the line.
Witch-in-training Marion fled to Vegas to escape being murdered. She's counting on the wards of Vegas to protect her until she can learn the magic to do it herself. Except her love potions keep exploding, and if she can't fix them, she'll never control the defense magic that will keep her safe.
The last thing she wants to do is fall in love, but that might be the only fix for her bad potions.
Elf Aidan thought Vegas would be the place to break his curse and win his way back into the Fairy Queen's honor guard, but it's not turning out to be so easy. When he meets Marion, he realizes she might be just what he needs to get rid of his curse. But her would-be murderer has found her, and Aidan will have to protect her or lose his only chance at escaping the curse.
Aidan knows exactly what to do to keep Marion alive, but what he isn't prepared for is falling in love.
And how that will royally piss off his Queen.
Warning: This story includes foul-mouthed pixies in Elvis jumpsuits, sexy sirens, big-hearted giants, shapeshifting as a weight loss method, steamy sex scenes and all bets on love win big.
Free Audio Books/Stories:
~~~~~~~~~~
Soulless
by Skyla Dawn Cameron
The Sentinel
by Chris Lester
The Muse
by Chris Lester
Metamor City: Making the Cut
by Chris Lester
Metamor City: Whispers in the Wood
by Chris Lester
Age of Myth
by Michael J. Sullivan
Lex Talionis
by Starla Huchton
Spark

by Starla Huchton
Heir to Kale
by K.L. Bone
Tales from the Archives Vol 4 #5 - Old Sinner's Bones
The Death of Dulgath
by Michael J. Sullivan
Solomon's Seal
by Skyla Dawn Cameron
Harbinger
by Philippa Ballantine
Queen Mab by Kate Danley & William Shakespeare
The Machines of Bellatrix
by Cary Caffrey
Ancient Magic
by Linsey Hall
Hidden Design
by Tia Tormen