The Sunday Post
is a weekly meme hosted by
Kimba the Caffeinated Book Reviewer
~ It's a chance to share news ~ A post to recap the past week on your blog, showcase books and things we have received and share new about what is coming up on our blog for the week ahead.
Heeeeeyyyy! It feels like forever since I've been on the computer let alone said hi on the blog. I'm home and all are safe. We returned from Disney first thing Tuesday morning. Oh dear goodness, was it melting hot in Florida! Ugh!

It was such a late flight! But the plane was half empty so the kiddos got their own row to relax in and watch out their own window. I will say, the early, early morning flight and late night flights seem to be not as packed. Was nice on our part! The early morning flight had a gorgeous view as we were leaving Pittsburgh, when the sun started to come out as the rain finally stopped.

We made it to all parks and rode all sorts of rides. I don't even know what was my favorite as each park had it's own. It was the Star Wars theme which was cool! I wish I hadn't had missed the scenes on the stage though. With our plans and the times of the shows, they clashed and I missed them. I really wanted to see them.



I could share so many amazing pictures with you all! Maybe I'll work up a post with them for you... ;)

But after we got home, I came down with a sinus infection. It started on Monday, our last day there, but really hit me Tuesday. So I've been trying to recover from that along with being exhausted from Disney. lol.

I was hoping this holiday weekend would be nice and relaxing. Ha! I should know better. We've been going all weekend already. And still more to do.

I did decide to join Camp Nanowrimo though. I have the current book in re-writes that needs to get do. I want to get it done so I can move on to the next project. And the next project has a first book that needs re-writes too. So those are both the works of the month since I don't have content editing jobs. Wish me luck!


~~~~~~~~~~~~~~~
Goal: Workout in any form of exercise (or on Wii Fit) 2x's a week. (to feel better and hope to drop a few pants sizes)
How did I do last week... I didn't get any exercise time in, in the last 2 weeks. With being at Disney and being sick....


What's Happening in Books:
The Side of Good / The Side of Evil
edited by Danielle Ackley-McPhail
The Ghost Rebellion
by Pip Ballantine and Tee Morris
I'm also working on Content Editing Work as well.
Current Audiobook:
Nothing new, I'll start on Monday.
Current Podcast Book Listen:
Stonebriar Casefiles: Bad Alchemy
by Laura Nicole Spencer (You can listen for free too!)
Alight
by Scott Sigler (You can listen for free too! One episode, a few chapters, a week!)
Nothing written.
Audiobooks from Audible:
Silicon Man by William Massa



Finished Podcast Book Listen:
Nothing
Last Week on the Blog:
Cover Reveals:
(click titles to go to post & learn more)
Posts:
Around the Internet...
Reviews:
Otherlife Dreams by William D. Arand
"Runner is now in a game and things we may let slide, like slightly hungry, becomes items that will decrease stats in the game. Runner has to pay attention to all items as he tries to level up, without dying."
The Hierophant

by Madeline Claire Franklin
"Fascinating, crafted writing to draw a world, characters, and events all together and rely on each other to create the story here. I didn't want to stop listening as I was so engrossed with the creations here. Madeline has written the scenes in a way to show us through experience, with the characters, who they are and how they feel."
"In the end of this book Mira is who she has always been. I love how she fights yet turns things around for life. Her speech at the end is wonderful! Mira isn't a diplomat but she gives the best speeches from the heart in the heat of the moment."

Mama Bitchstress Reviews:
GIVEAWAYS:
This Week to Come on the Blog:
I'm back to two reviews a week for a few weeks, until I get caught up with reads and listens. Hope you stop by to check them out! :)
I have reviews to come this week. One that is scheduled for Monday and as soon as I finish what I'm working on, more to write and schedule.
~~~~~~~~~~
Received Last Weeks:
Review & Review Consideration:
Wasteland King by Lilith Saintcrow
PICK UP AT AMAZON
Goodreads Synopsis:
The thrilling conclusion to New York Times bestselling author Lilith Saintcrow's dark fantasy series where the faery world inhabits diners, dive bars and trailer parks.
The plague has broken loose, the Wild Hunt is riding, and the balance of power in the sidhe realms is still shifting. The Unseelie King has a grudge against Jeremiah Gallow, but it will have to wait. For he needs Gallow's services for a very delicate mission -- and the prize for success is survival itself.
In order to save both Robin Ragged and himself, Gallow will have to do the unspeakable...
Audio Books Requested for Review:
Purchased/Winnings/Gifts:
Book:
Audio:
Free Ebooks:
(On my Kindle App)
Links to books under title. They may or may not be free at this time.
Star Rebels: Stories of Space Exploration, Alien Races, and Adventures
PICK UP AT AMAZON
Goodreads Synopsis:
There are rebels among the stars...
Meet eleven protagonists battling to save themselves and the ones they love. Human, cyborg, clone, or alien, they'll find themselves pitted against intergalactic crime bosses, interstellar mercenaries, a quantum-wave-riding collective mind, and the universe itself. Along the way, there's plenty of action, adventure, humor, and even some romance.
Written by the freshest voices in science fiction, these stories are short, but they'll light your imagination like a solar flare. Strap yourself in and join the rebellion! Download this collection today.
About the Star Rebels Stories:
A Tale of Two Ships by Audrey Faye
A KarmaCorp Story
Two ships crash into an unimportant digger rock. The first carries a newborn baby. The second will rewrite her destiny.
Carl Sagan's Hunt for Intelligent Life in the Universe by C. Gockel
An Archangel Project Story
Sometimes intelligent life is right in front of your whiskers.
Blood Ties by Christine Pope
A Gaian Consortium Story
On the outlaw world of Iradia, Miala Fels and her computer hacker father discover that taking the wrong commission can have unexpected consequences.
Passage Out by Anthea Sharp
A Victoria Eternal Story
Street rat Diana Smythe has long since given up her hopes of escaping Earth, but that doesn't mean she can't watch the ships fly in and out of the spaceport and dream…
Arcturus 5 by D.L. Dunbar
A Twenty Sectors Story
Xella went to Arcturus 5 to mediate a simple trade dispute between the Mol and the Dark, but now she's not sure she'll get out alive.
Treason's Course by L.J. Cohen
A Halcyone Space Story
In the midst of Earth's first off-planet war, a soldier is given a covert assignment and must decide if treason lies in carrying out her orders or disobeying them.
Falling by Pippa DaCosta
A Girl From Above Story
Trapped in a scrappers rig with a woman he's been hired to kill, Caleb Shepperd is beginning to wonder if this job could be his last.
Starfall Station by Lindsay Buroker
A Fallen Empire Story
After the empire falls, cyborg soldier Leonidas Adler must avoid the Alliance operatives who want him for secrets only he knows, but that's easier said than done. Worse, his past threatens those he's traveling with, including Alisa, the freighter captain he has come to care about.
Luminescence by Patty Jansen
An ISF-Allion World Story
Hadie learns the price of being an artificial human when her partner has an accident and becomes unresponsive.
Glome by James Wells
A Great Symmetry Story
Humanity's first interstellar colony ship has arrived at its destination, only to find an inhospitable death trap of a planet. Crew member Amanda Bowen wishes that was the biggest problem she faced.
Unfinished by Kendra C. Highley
An Unstrung Story
In a world where genetically-engineered humans serve as slave labor to "real humans," two prototype children, designed to be the most superior models ever created, look to each other to find a way to escape their fate. They may discover that being "artificial" doesn't mean they can't love.
The Last Necromancer by C.J. Archer
PICK UP AT AMAZON
Goodreads Synopsis:
Victorian London: For five years, Charlotte (Charlie) Holloway has lived as a boy in the slums. But when one theft too many gets her arrested, her only means of escape lies with a dead man. Charlie hasn't raised a spirit since she first discovered she could do so five years ago. That time, her father banished her. This time, she brings even more trouble upon herself.

People are now hunting Charlie all over London, but only one man succeeds in capturing her.

Lincoln Fitzroy is the mysterious head of a secret organization on the trail of a madman who needs a necromancer to control his newly "made" creatures. There was only one known necromancer in the world - Charlotte - but now there appears to be two. Lincoln captures the willful Charlie in the hopes the boy will lead him to Charlotte. But what happens when he discovers the boy is in fact the young woman he's been searching for all along? And will she agree to work for the man who held her against her will, and for an organization she doesn't trust?

Because Lincoln and his ministry might be just as dangerous as the madman they're hunting.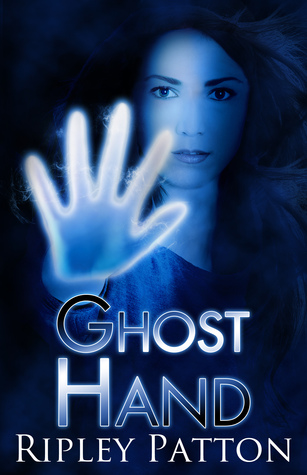 Ghost Hand by Ripley Patton
PICK UP AT AMAZON
Goodreads Synopsis:
Seventeen-year-old Olivia Black has a rare birth defect known as Psyche Sans Soma, or PSS. Instead of a right hand made of flesh and blood, she was born with a hand made of ethereal energy.
How does Olivia handle being the girl with the ghost hand? Well, she's a little bit morbid and a whole lot snarky.
Her mother thinks her obsession with death, black clothing, and the local cemetery is a bid for attention. But when Marcus, the new guy in Olivia's calculus class, stares at her like she's a freak, Olivia doesn't like it. And when her hand goes rogue, doing things she never imagined possible, Olivia finds herself running for her life with Marcus from a group of men bent on taking the power of her hand for their own nefarious purposes.
Half Wolf by Aimee Easterling
PICK UP AT AMAZON
Goodreads Synopsis:
Every werewolf knows the meek don't inherit the earth.
Fen Young is a half-shifter whose inner beast is more mouse than wolf. Home is her castle, the only place she's ever felt safe.
Enter Hunter Green, an uber-alpha strong enough to stop traffic with a single look. He's handsome and enticing and seems like just the ticket to broaden Fen's horizons...until the uber-alpha brushes off his admirer and summarily rejects her from her home pack.
Now treading water in the no-man's land of outpack territory, Fen must confront a missing pack mate, a tantalizing stranger, and a serial killer targeting half-werewolves. Will she be able to shore up her waning power in time to save her friend...and half-breeds everywhere...before it's too late?
Burned by Magic by Jasmine Walt
PICK UP AT AMAZON
Goodreads Synopsis:
In the city of Solantha, mages rule absolute, with shifters considered second-class citizens and humans something in between. No one outside the mage families are allowed to have magic, and anyone born with it must agree to have it stripped from them to avoid execution.
Sunaya Baine, a shifter-mage hybrid, has managed to keep her unruly magic under wraps for the last twenty-four years. But while chasing down a shifter-hunting serial killer, she accidentally loses control of her magic in front of witnesses, drawing the attention of the dangerous and enigmatic Chief Mage.
Locked up in the Chief Mage's castle and reduced to little more than a lab rat, Sunaya resists his attempts to analyze and control her at every turn. But she soon realizes that to regain her freedom and catch the killer, she must overcome her hatred of mages and win the most powerful mage in the city to her side.
(On my Nook)
Free Audio Books/Stories:
~~~~~~~~~~
Soulless
by Skyla Dawn Cameron
The Sentinel
by Chris Lester
The Muse
by Chris Lester
Metamor City: Making the Cut
by Chris Lester
Metamor City: Whispers in the Wood
by Chris Lester
Age of Myth
by Michael J. Sullivan
Lex Talionis
by Starla Huchton
Spark

by Starla Huchton
Heir to Kale
by K.L. Bone
Tales from the Archives Vol 4 #5 - Old Sinner's Bones
The Death of Dulgath
by Michael J. Sullivan
Silicon Man
by William Massa