The Sunday Post
is a weekly meme hosted by
Kimba the Caffeinated Book Reviewer
~ It's a chance to share news ~ A post to recap the past week on your blog, showcase books and things we have received and share new about what is coming up on our blog for the week ahead.
And it's another week gone. Why does it feel so short when at work yet so fast when I'm here at Sunday?

Not much to share in my little piece of the world. I had planned on getting some re-writes done yesterday... and that didn't happen. I ended up working on my photo blog to get a portfolio set up. And I'm still working on it. I talked to my mom and she has a friend that does weddings, so if I can get my portfolio finished she'll send it to her to see if she can use an extra set of eyes. It's hard to get through the world these days and I can use any extra money I can get.


~~~~~~~~~~~~~~~
Goal: Workout in any form of exercise (or on Wii Fit) 2x's a week. (to feel better and hope to drop a few pants sizes)
How did I do last week... I got 1 day of exercise in last weeks. With being sick and this cough, it went okay. I had a trainer session and ended up having troubles with breathing. Darn heavy air here and allergies.


What's Happening in Books:
The Side of Good / The Side of Evil
edited by Danielle Ackley-McPhail
The Demons We See
by Krista D. Ball
I'm also working on Content Editing Work as well.
Current Audiobook:
Dead of Night
by M.R. Forbes
Will start a new one at work on Monday
Current Podcast Book Listen:
Stonebriar Casefiles: Bad Alchemy
by Laura Nicole Spencer (You can listen for free too!)
Alight
by Scott Sigler (You can listen for free too! One episode, a few chapters, a week!)
Finished Podcast Book Listen:
Nothing
Last Week on the Blog:
Cover Reveals:
(click titles to go to post & learn more)
Posts:
Around the Internet...
Reviews:
The Ghost Rebellion by Pip Ballantine & Tee Morris
"I love that we have a couple that still function and interact as individuals paired together. They are who they are and love each other for that reason. Eliza and Wellington still banter and make me smile as they go through their missions, but they are more to each other as well. I enjoy writing of couples in this way."
Icarus

by Matt Verish
"Becoming criminals (willingly or not) makes for strange new friends and allies. The crew of ICV-71 becomes an awkward relationship as they all have different motives once they are known around the universe as criminals - some want to clear their name, others want to accomplish personal goals."
Mama Bitchstress Reviews:
GIVEAWAYS:
This Week to Come on the Blog:
I'm back to two reviews a week for a few weeks, until I get caught up with reads and listens. Hope you stop by to check them out! :)
I have reviews to come this week. One that is scheduled for Monday and as soon as I finish what I'm working on, more to write and schedule.
~~~~~~~~~~
Received Last Weeks:
Review & Review Consideration:
Audio Books Requested for Review:
The Case of the Claw by Keith R.A. DeCandido
PICK UP AT AMAZON
Goodreads Synopsis:
The great metropolis of Super City is the home of dozens of costumed heroes: Spectacular Man, the Terrific Trio, the Bruiser, the Superior Six, and more.
This isn't their story...
When the heroes are done punching out the villains, it's left to the stalwart men and women of the Super City Police Department to restrain them, arrest them, and hope that this time there's enough evidence to actually convict them.
SUPER CITY POLICE DEPARTMENT
THE CASE OF THE CLAW
The mutated spree killer known as the Claw has returned, leaving bloody victims all over Super City. While Homicide detectives try to find out who the Claw really is, uniformed officers must deal with the Bolt's escape from the drunk tank, and the bumblings of aspiring hero Knight Dude. Meanwhile, the Superior Six claim they'll cooperate with the police and stop the Claw—but they're busy fighting the Brute Squad and stonewalling the cops. The SCPD must find out the Claw's deadly secret, before he claims another victim!
Purchased/Winnings/Gifts:
Book:
Audio: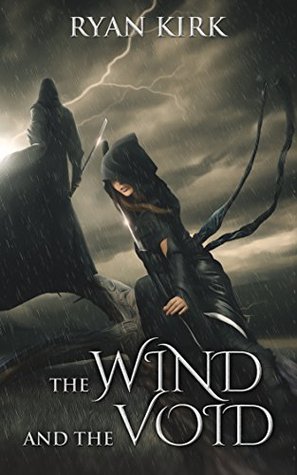 The Wind and the Void by Ryan Kirk
PICK UP AT AMAZON
Goodreads Synopsis:
The invasion is here. Already decimated by civil war, the armies of the Three Kingdoms struggle desperately to mount a defense against a force stronger than any they have fought before.
In the midst of the chaos the actions and choices of a select few will shape the future of the land. Akira prepares to give up his Lordship. Ryuu wanders the Southern Kingdom, searching for a reason to fight. Moriko sits quietly, biding her time before she leaves the Three Kingdoms for good. Finally, across the Three Sisters, Nameless fight to keep his fragile alliance of clans together.
A new age is dawning in the Three Kingdoms. An age born in blood and sacrifice. An age shaped by the wind and the void. . .
Free Ebooks:
(On my Kindle App)
Links to books under title. They may or may not be free at this time.
Descended from Dragons by Tracey Owens
PICK UP AT AMAZON
Goodreads Synopsis:
To save Sin City, she must battle Hell. Too bad the odds are against her.
Beneath the glitz and glamour of Las Vegas lies another city. A secret city in plain sight, full of warlocks and demons, shapeshifters and golems. A city that feeds off the chance magick that is generated by gamblers and which is ruled by mysterious beings called the Oddsmakers.
It is in this strange underbelly of the occult that Anne Moody runs a cursed pawn shop for the desperate, the curious, and the magickally inclined. Though the job is boring, it keeps her under the radar. None of her customers have any inkling that she is a dragon sorceress with a power that's been feared throughout history. One day, a visitor to her shop pawns a stone statue that is more than it appears. The statue is a gargoyle named Vale, who is shrouded in mystery and secrets. When she learns that Vale is possessed, and that the person responsible for cursing him plans to take over Las Vegas with a horde of demons from Hell, Anne realizes it is up to her to defy the Oddsmakers and save the city, and possibly the world.
A Demon Bound by Debra Dunbar
PICK UP AT AMAZON
Goodreads Synopsis:
Samantha Martin is an imp, enjoying an extended vacation from Hel. All she wants to do is drink beer by the pool, play mischievous pranks on the humans, and get her hot neighbor in the sack. It's a relaxing break from her infernal home, as long as she manages to avoid the angels, who won't hesitate to execute her on sight.

But when her naughty hellhound lands her in trouble with the local werewolf pack, Sam is blackmailed into helping track and catch a killer. The steps she must take to appease the werewolves will put her right in the crosshairs of the angels. And with angels, there is no second chance.
This Doesn't Happen In The Movies by Renee Pawlish
PICK UP AT AMAZON
Goodreads Synopsis:
A wannabe private eye with a love of film noir and detective fiction.
A rich, attractive femme fatale.
A missing husband.
A rollicking ride to a dark and daring ending.
Reed Ferguson's first case is a daring adventure, complete with a dose of film noir, and a lot of humor. With a great supporting cast of the Goofball Brothers, Reed's not too bright neighbors, and Cal, Reed's computer geek friend, This Doesn't Happen In The Movies is detective noir at its best. Follow Reed as he solves crime akin to his cinematic hero, Humphrey Bogart.
Great for fans who love a fast-paced, humorous read, without a lot of swearing or sex.
Gargoyle Knight by William Massa
PICK UP AT AMAZON
Goodreads Synopsis:
When his kingdom is threatened by an ancient evil, a king is forced to make the ultimate sacrifice. If he is to defeat an army of monsters, he must become one himself! His victory carries a terrible price... An eternity frozen in stone.
Fifteen centuries later, the Celtic warrior is awakened when the world needs him most. A stranger in a strange land with his only guide a beautiful archeology student, he must battle his old adversary once again, all while struggling with his own darkness. For he is by day a man, by night cursed to become... The GARGOYLE!
Sorceress Found by Lisa Blackwood
PICK UP AT AMAZON
Goodreads Synopsis:
When Gregory, a gargoyle and Avatar to the gods, wakes to a new life, he finds the female half of his soul is missing. He soon learns she has been captured by their oldest enemy—the Lady of Battles. And that ancient rival has forced his soulmate to be reborn as a vulnerable child. To save her, Gregory will risk everything even if he must pay the ultimate price for his loyalty.
This series is not YA; it is Urban Fantasy.
Author's Note: Sorceress Found is a prequel short story and contains sample chapters for Sorceress Awakening. It was previously published under the title Beginnings and it is part of an Urban Fantasy series with a strong romantic subplot.
Sorceress Found takes place twelve years before the events in Sorceress Awakening.
A Christmas Gift by Stella Wilkinson
PICK UP AT AMAZON
Goodreads Synopsis:
Holly and Caleb had been best friends as children, growing up on the same street, but as teenagers they couldn't be further apart. When Caleb unexpectedly asked Holly to help him pick out a Christmas gift for his girlfriend, neither of them anticipated where it would lead.
A young adult romantic comedy, from Stella Wilkinson, acclaimed author of The Flirting Games Series.
A Christmas Gift is a "clean" romance, suitable for ALL ages
"Oh what it is to be young! A funny, light and frothy read." Janie Oakes, Teen Reader Today
Please note that this is a short story of approx 7000+ words
Bringing Christmas to the Dragons by Rinelle Grey
PICK UP AT AMAZON
Goodreads Synopsis:
With time running out before his clan's prince is discovered by mining or killed by enemy dragons, dragon shifter Jayrian needs to convince the elders to accept help from the humans. He hopes that the clever librarian, Gretchen, might be able to help him with that. He didn't count on falling for her—that wasn't part of his plan at all.
Gretchen longs for adventure outside of the books she reads in her job as a small town librarian. But not the kind that involves her moving to the big city to take the promotion her Aunt Mary offers. The cute guy who's been hanging around the library seems far more exciting—there's just something about him that draws her—so on impulse, she invites him to her family's Christmas celebration. When a dragon lands on the front of her car on the way there, she wonders if she's gotten more than she bargained for.
Together they must find a way to save his prince and clan, without sacrificing who they are, or their budding relationship.
The Christmas Scarf by Kay Correll
PICK UP AT AMAZON
Goodreads Synopsis:
Sometimes, Christmas wishes bring their own special magic…
A woman chasing a life-long dream. A man given a second chance at love. If one wins, the other loses. Does a stranger's scarf hold enough magic to make both their Christmas wishes come true?
Missy Sherwood has always wished for one thing, to be a country singer. After trying to make it for years in Nashville, she returns to her hometown of Comfort Crossing, Mississippi, feeling like a misfit and a failure. But there's no use in telling anyone the truth just yet—she's here for longer than the holidays, she's home for good.
Right?
Dylan Rivers is glad to see his old friend return to town, not only to help him with the children's Christmas pageant, but because her homecoming sparks long-forgotten but never acted upon feelings. But there is no use in acting on those feelings, she's soon to head back to her fabulous career in Nashville.
Right?
Then a stranger comes to town and has Missy re-examining her dreams. She gets one final chance, and her life-long wish is within her grasp. Is there really magic in the stranger's scarf, or is it in the power of knowing her heart's true wish?
(On my Nook)
Free Audio Books/Stories:
~~~~~~~~~~
Soulless
by Skyla Dawn Cameron
The Sentinel
by Chris Lester
The Muse
by Chris Lester
Metamor City: Making the Cut
by Chris Lester
Metamor City: Whispers in the Wood
by Chris Lester
Age of Myth
by Michael J. Sullivan
Lex Talionis
by Starla Huchton
Spark

by Starla Huchton
Heir to Kale
by K.L. Bone
Tales from the Archives Vol 4 #5 - Old Sinner's Bones
The Death of Dulgath
by Michael J. Sullivan
Solomon's Seal
by Skyla Dawn Cameron