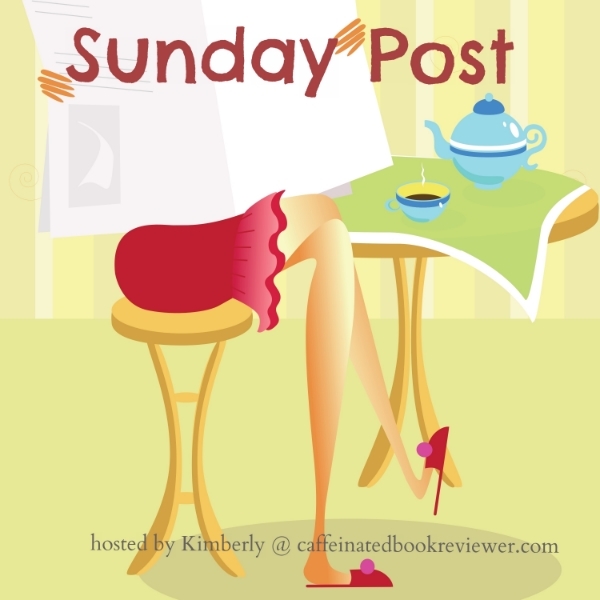 The Sunday Post
is a weekly meme hosted by
Kimba the Caffeinated Book Reviewer
~ It's a chance to share news ~ A post to recap the past week on your blog, showcase books and things we have received and share new about what is coming up on our blog for the week ahead.
This week was shot in the foot from the get-go.
I went to Ligonier where they had Ice Sculpting going on over the weekend. It was a cold one for it, perfect for the ice! I went with a few from the photography club and we took pictures with our cell phones for something different. Also, one of the lady's daughter opened a new store,
Paws on Main
. She has so many awesome items that are different than what you find at a normal pet store and the prices are so reasonable! She was taking pictures of every dog that walked into the store. lol. They have delicious looking, fresh treats for sale too!
Monday evening was spent at eye doctor. It's hard to pick new glasses! But I did. Tuesday was spent at the car dealer doing paperwork for the new car. Wednesday, well, I had to go talk to my dad at the nursing home. I had some concerns about his care and after talking to the home I talked to him about a doctor that will come talk to him. Thursday was a photography meeting. And Friday I got my hair done.
Then... I made a spur of the moment decision with friends and we went to Niagara Falls Friday night to spend the day on the American side Saturday. It was pretty neat as there was ice on the falls. I did take photos of it and was hoping to have pictures for you, but it's been another full week. I got the call Saturday night that my dad was sick. I spent the week with him at the hospital talking with doctors and waiting for results between being at work. He ended up having surgery on Wednesday due to a tumor that was blocking his colon along with large polyps. He's recovering now.
So... yea, it was packed full. Lots of good and some bad, but I think the bad is working out. I think I need to stay home and not spend any money for a while. lol.
Hope you've been having lots of great happening.
~~~~~~~~~~~~~~~
Goal: Workout in any form of exercise (or on Wii Fit) 2x's a week. (to feel better and hope to drop a few pants sizes)
How did I do last week... I didn't get on the treadmill at all.


What's Happening in Books:
King of Ashes
by Raymond E. Feist
Editing work.
Current Audiobook:
I'll start a new book this week.
Current Podcast Book Listen:
Nothing new.
Books:
Not yet.
Audiobooks :
Darkmage
by M.L. Spencer
Valley of Dry Bones
by J.F. Penn
Storm & Fury
by Gail Z. Martin & Larry N. Martin
Finished Podcast Book Listen:
Nothing new yet.
Last Week on the Blog:
Cover Reveals:
(click titles to go to post & learn more)
Posts:
Around the Internet...
Reviews:
Storm Watcher by Lilith Saintcrow
"This is a romance read mixed with action and worry. We learn there is still trouble in the city that needs tending to yet Mari and Hanson are drawn to each other as they work through all the troubles. There are sensual moments along with a growth of trust and feelings between them. I love the blend of action and love in this story. This is an adult read with these special moments."
Nobody Gets the Girl by James Maxey
"The story was enjoyable with the comic book feel to it. There were some expected twists to the characters to go with the comic book feel, but a few nice little leads into other directions too. If you want a superhero story with a comic book feel, this is a cool one to pick up."
She Dreams of Fire by M.K. Gibson
"I really liked the story as we learn about Aggy and Marcus in this book. Gibson gives us the information we want about our characters as we fight through the troubles they come into or follows them. And as they decide what to face and how they want to do it. There is action and fighting in the story along with the characters growing in personality and their thinking."
Storm & Fury by Gail Z. Martin & Larry N. Martin
"Mitch is so drawn to the science-y things. Jacob feels to be the grounded person. But both are big on guns. Mitch and and Jacob kind of have a feel of Lethal Weapon movies with Riggs and Murtaugh for me. They don't always agree but are a great team that gets the work done. Also, one's a little more grounded than the other. And, things do seem to go boom around these two. lol."
Mama Bitchstress Reviews:
GIVEAWAYS:
This Week to Come on the Blog:
I have two reviews scheduled for you this week.
~~~~~~~~~~
Received For the Last Week:
(Note: Links to Amazon are buy links where I could earn commission, in case you are interested.)
For Review Consideration:
Audio Books Requested for Review:
The Centaur's Last Breath by April Fernsby
PICK UP AT AMAZON
Goodreads Synopsis:
A Paranormal Cozy Mystery
Cassia Winter is a witch. With the help of her cat, Stanley, she investigates crime in the magical town of Brimstone.
A centaur has died while out on a run. His death is confirmed as heart failure by a doctor. But the centaur's father is adamant that his son was murdered and asks for Cassia's help.
Cassia starts to investigate the centaur's death and is soon convinced it was murder. Furthermore, she discovers the centaur had made many enemies in the lead-up to his death.
As Cassia and Stanley get deeper into the investigation, a stranger comes into their lives. This stranger is welcome, but things quickly take a turn for the worse and Cassia realises someone is out to cause her a great deal of harm.
Ancient Echoes by Joanne Pence
PICK UP AT AMAZON
Goodreads Synopsis:
Over two hundred years ago, a covert expedition shadowing Lewis and Clark disappeared into the wilderness of Central Idaho. Now, seven anthropology students and their professor vanish in the same area. The key to finding them lies in an ancient secret, one involving alchemy, gold, and immortality...a secret that men throughout history have sought to unveil.
Michael Rempart is a brilliant archeologist whose colorful and controversial career has earned him admiring fans and implacable foes, but he is plagued by a troubling sense of the supernatural and a mysterious spiritual intuitiveness. Joining Rempart in this adventure are a CIA consultant on paranormal phenomena, a washed-up local sheriff, and a former scholar of Egyptology. All must overcome their personal demons as they attempt to save the students and, ultimately, the world.
From the Journal of Francis Masterson, 1806--
All hope is gone. Evil is victorious.
In the time I have remaining I will, herewith, impart a tale so filled with Dread and Terror that my heart overflows with immeasurable Sorrow to tell it. It began with the highest of Good Will and Promise and, on my part, great Excitement. I can only trust to Providence that one day this small account which I leave in a land of unimaginable desolation and Wildness, may be discovered, and that it will serve to warn others of the wickedness that may ensnare Good men.
Ours was to be a Secret Expedition...
The Tournament of Supervillainy by C.T. Phipps
PICK UP AT AMAZON
Goodreads Synopsis:
Being a supervillain was all Gary ever wanted to be but the constant beatings, moral ambiguity, and the fact he now has a young daughter to look after have caused him to reconsider his career path. As he debates making a jump to the "other side", Gary finds himself recruited by Death to serve as her champion in a multiversal tournament for the ultimate prize: anything you could desire!
Gary and a oddball collection of champions from a variety of universes must prevent the prize from falling into the hands of the genocidal space wizard Entropicus! He also must discover just where his heart really lies when his two closest loves reveal shocking secrets.
Guest starring Jane Doe from I Was a Teenage Weredeer, Agent G from Agent G: Infiltrator, and Cassius Mass from Lucifer's Star.
Wraith Knight by C.T. Phipps
PICK UP AT AMAZON
Goodreads Synopsis:
The King Below, Enemy of the World, is dead. Will his successor save the world...or rule it? Jacob Riverson was once the greatest hero of an age. Cut down during what should have been the final battle against the King Below, he was condemned to centuries of torment as a Wraith Knight in the service of said monster. With the destruction of his master, Jacob finds his free will returning and discovers he is in a world torn by civil war between the King Below's former slaves and the heroes who "saved" them. Joining forces with the overly-idealistic but brilliant warrior Regina Whitetremor, Jacob must determine whether he has any place in the new world and whether his destiny is as a hero or monster. Or both. Wraith Knight is book one of the Three Worlds saga by C.T. Phipps.
Purchased/Winnings/Gifts:
Book:
Shades of the God by Erin Hayes
PICK UP AT AMAZON
Goodreads Synopsis:
Caught between life and death, all Callie wants is to live again.
Homicide detective Callie Saunders knows that death isn't all pearly gates and angels. After being hit by a bus, she finds that it's the ancient gods and goddesses of Greek mythology who are in charge of everything.
So when Hades offers her a deal, she accepts. If she wants to be brought back to life, she'll have to figure out who is trying to kill his son. But if she fails, both her soul and the world will be destroyed.
With the odds mounting against her, it'll take everything she has within her to wake up from death. But the rules are constantly changing. And someone wants her to stay dead.
(This book was formerly titled Death is but a Dream. The covers and titles have changed for The Elysium Legacies, but the content is still the same.)
Audio:
Free Ebooks:
(On my Kindle and Nook App)
Links to books under title. They may or may not be free at this time.
Book of Watchers by Mary Ting
PICK UP AT AMAZON
Goodreads Synopsis:
Enoch wants to live an ordinary life. He's content to lie low, skip his college classes, and avoid committing to any one girl. But ordinary isn't on the syllabus for Enoch because at night, he dreams of demons. Vivid dreams that leave him wanting escape more than ever. When they escape his dreams and attack him during daylight, his reality becomes a nightmare.
As he pieces together the meaning behind the encounters, supernatural creatures emerge. Demons. Vampires. Witches. Angels. And they all want something from him. In a supernatural world he never thought possible, Enoch uncovers a secret that either will destroy him or force him to become much more than he ever wanted.
Happy Howlidays: Shifters in Love Romance Collection
PICK UP AT AMAZON
Goodreads Synopsis:
Snowed in With the Bear - Isadora Montrose - Billionaire black bear tempts curvy grizzly. Is their sniping and snapping a cover for forbidden passion? Will a Christmas Eve blizzard turn BBW widow Amanda and playboy Calvin's lust into a forever love?
Dreaming of a Wolf Christmas - Elsa Jade - Bitten and changed—betrayed—by her high school sweetheart, Solange has spent the last twenty years denying her wolf…and her love. Now her grandchildren are celebrating their first Christmas, and her mate has returned to the little town of Angels Rest. Can the sweetness of the season melt away an old bitterness at last?
Hoarding Christmas – Becca Fanning - Bah, humbug! This capitalist Dragon Shifter knew what mattered during the holiday season: profits! That's why his eye fell upon the charming little knickknack store and the prime piece of real-estate it occupied. But just as he fantasized about the strip-mall he'd replace it with, he saw her...
Seducing Her Christmas Cowbear – Liv Brywood - All Jessica wants for Christmas is sexy cowboy bear shifter Toby. Unfortunately, he's her new boss and totally off-limits. When his "bah, humbug" attitude threatens to ruin Christmas, she decides it's time to play dirty. She knows exactly how to get him into the holiday spirit, but she's about to get more than she bargained for under the mistletoe.
Guarding Her Dragon - Julia Mills - With six older sisters, two baby reindeer, and an evil Gnome of an auntie hellbent on world domination, Elsa's got her hands full. It's gonna take more than a little Elven magic and the love of her Dragon to make it to Christmas Eve, but this little Elf refuses to give up. She's guarding her Dragon with all she's got and finding out the best things in life come wrapped in glittering green scales.
Angel Kisses - Élianne Adams - Jenna hasn't been home for Christmas in years. Life happened—actually, her asshole ex happened—but this year, she's back if only to lick her wounds and salvage her pride. When an unfortunate Christmas tree incident reunites her with her high school crush, Dereck, the last thing she needs is a fling, much less a relationship. But the alpha wolf is too sexy for his own good, and she's not sure she can resist or even if she wants to.
The Ocelot's Surprise Present - Olivia Arran - Ocelot shifter Julie is happy hiding out, blissfully ignoring the law that says she has to move to one of those new shifter towns. Her best friend is about to have a baby and Christmas is just around the corner. When a sexy wolf shifter shows up on her doorstep and informs her that they're fated mates, she's not sure if she should run from this unexpected Christmas present … or start unwrapping him.
Little Puma's Christmas Adventure- Scarlett Grove - Tired of waiting for a mate, Puma shifter Stephanie takes a Christmas cruise to the Caribbean. Working for a covert squadron, grizzly shifter Max hopes he can make up for his past. When disaster strikes it leaves both shifters stranded on a tropical island and interrupts Max's mission to change everything for the shell shocked shifter. Can he save the girl, save the day, and learn to let himself be loved?
The Reindeer Shifter's Christmas Gift - J.K. Harper - Bear shifter Wyatt and reindeer shifter Brynna have lots of history. Their youthful dreams were dashed years ago when Wyatt left town, but now he's come home for good. Can a sexy, possessive bruin and a stubborn, holiday-hating reindeer heal their busted hearts just in time to make some mistletoe magic that will last forever?
Second Chance Xmas - Jacqueline Sweet - The Bearfield tree lighting ceremony is a chance for s
Catwalk: Messiah by Nick Kelly
PICK UP AT AMAZON
Goodreads Synopsis:
Nitro City, 2033.
Leon "Catwalk" Caliber left his cop job in DC behind, heading to the City of Angels to earn a living off the grid. He took a few odd jobs that called for his particular skill set – extortion, espionage, and the occasional hit – and managed to carve out a niche for himself among the Downtown dwellers.
All that changed when a new breed of MetaHuman cyborg appeared on the streets with explosive violence. Cat's quiet existence is sent into turmoil when he finds himself right in the crosshairs. He must evade the assassin squads sent by a vengeful pimp, uncover the origin of these mysterious new mechs, and keep the cops off of his tail. Simple enough, except that the cybernetic technology that powers his body threatens to sever his humanity at any moment.
Can the killer with a conscience find a cure, solve the case, get the girl, and live to see another day?
Catwalk: Making an Entrance by Nick Kelly
PICK UP AT AMAZON
Goodreads Synopsis:
Available only on Kindle Fire.
Read it here exclusively - The first appearance of Leon "Catwalk" Caliber!
Leon "Catwalk" Caliber, former cop, involuntary cybernetic metahuman, odd jobs guy. Follow Catwalk as he runs protection detail for model/actress/beauty, Delilah Dupree. Take a look inside the mind of the killer with a conscience in this fast-paced, noir meets cyberpunk story. (Prologue to the 2013 novel, "Catwalk: Messiah.")
Includes never-before-seen cover art!
Written by Nick Kelly & David Napoliello
Art by Corey Zayatz
Inked by Dan Parsons
Lettered by Vince Sneed
Cover by Nick Kelly
Originally published in "Independent Voices 3" from Peregrine Entertainment (2001).
The North Star by Killian Carter
PICK UP AT AMAZON
Goodreads Synopsis:
Bringing down his ship was their biggest mistake…
When Jason Grimshaw, First Commander of the Starship Bakura, leads a routine training mission to Colony 115, an unidentified alien vessel forces them to crash-land.
Ensign Clio Evans is separated from her crew in the wreckage. She must re-join them if she stands any hope of surviving, but an alien army stands in her way.
With the invaders hot on their heels, Grimshaw and Evans must find a way off the battle-scarred planet in time to warn the Galactic Council before the mysterious new race tears the Alliance asunder.
Meanwhile, on the other side of the galaxy, Randis Kahn fights for survival on the lower levels of Sentinel Station. Caught between warring gangs and a political conspiracy, he must look to a past he would rather forget or lose everything he holds dear.
Put three fresh characters in a glass. Fill it with action, and mix in some intrigue. Give it a good shake, and you have a cocktail called The North Star.
If you enjoyed Star Wars, Mass Effect, and similar science fiction stories, you'll love The North Star.
Perfect for those who like books about alien invasion, first contact, colonisation, military science fiction, space opera, space fleet adventures, or anything related to the above.
Free Audio Books/Stories:
~~~~~~~~~~
Soulless
by Skyla Dawn Cameron
The Sentinel
by Chris Lester
The Muse
by Chris Lester
Metamor City: Making the Cut
by Chris Lester
Metamor City: Whispers in the Wood
by Chris Lester
Lex Talionis
by Starla Huchton
Spark

by Starla Huchton
Heir to Kale
by K.L. Bone
Tales from the Archives Vol 4 #5 - Old Sinner's Bones
The Death of Dulgath
by Michael J. Sullivan
Danger's Halo
by Amanda Carlson
The Books and Braun Dossier
by Philippa Ballantine & Tee Morris
Solomon Key
by David Wood
Wild Hawk
by Justine Davis
Witchbreaker
by James Maxey
Rogue's Quest
by Sarah K.L. Wilson
Darkmage
by M.L. Spencer
Valley of Dry Bones
by J.F. Penn