The Sunday Post
is a weekly meme hosted by
Kimba the Caffeinated Book Reviewer
~ It's a chance to share news ~ A post to recap the past week on your blog, showcase books and things we have received and share new about what is coming up on our blog for the week ahead.

How's everyone doing? I hope well. I'm, once again sounding like a broken record, sorry I didn't get to visiting last week. Some days I really wonder about hanging up the keyboard and retire from blogging. I love doing it and want to be on more, but it seems life has grown bigger in the last few years. I thought I'd have more time once kiddo went to college. And in a sense that's true. But I've filled that time with other things. I've started seeing old friends again, going out more, and taking photos. All these things take from the time I would be putting into my blog. I love reading and writing and won't stop that. I just wonder about the hours of a day anymore. This is NOT me saying I'm leaving, just babbling about how I wish I could put the hours together better to do everything I want to do. *sigh*

Sorry for the venting. It's so hard to do all the things.

But, how are you? I want to know what awesome things are happening for you. I'm hoping to get on this week to visit and respond. Last week started well. I did one hour a day for Camp NaNoWriMo and planned on visiting blogs on Thursday. It didn't happen as I remembered I had a friend who had an art opening, so I went to that. Then Friday was ladies night with two friends from high school. I hadn't seen them in years and we spent hours talking and catching up. Yesterday I had plans, that fell through. lol. Kiddo was in a dodge ball game that benefited Dementia and wanted me to take pictures. So I did.

I think this week will be more relaxed. I do have three hours of Camp NaNoWriMo work to get caught up on and blog visiting to do. I'm going to get there this week. I'm determined.


~~~~~~~~~~~~~~~
Goal: Workout in any form of exercise (or on Wii Fit) 2x's a week. (to feel better and hope to drop a few pants sizes)
How did I do last week... Ummm... I've become bad at this.


What's Happening in Books:
Volatile Bonds
by Jaye Wells
Current Audiobook:
Will start new one on Monday.
Books:
Starsigns
by A.F. Grappin
Void Trip #3
by Ryan O'Sullivan & Plaid Klaus
Void Trip #4
by Ryan O'Sullivan & Plaid Klaus
Void Trip #5
by Ryan O'Sullivan & Plaid Klaus
Audiobooks :
The Tethered Mage
by Melissa Caruso
Finished Podcast Book Listen:
None.
DNFed:
Stonebriar Casefiles: Bad Alchemy
by Laura Nicole Spencer (You can listen for free too!) - Author's stopped posting it.
Last Week on the Blog:
Cover Reveals:
(click titles to go to post & learn more)
Posts:
Around the Internet...
Reviews:
Mama Bitchstress Reviews:
GIVEAWAYS:
This Week to Come on the Blog:
I will finished up two reviews for you this week.
~~~~~~~~~~
Received For the Last Month:
(Note: Links to Amazon are buy links where I could earn commission, in case you are interested.)
For Review Consideration:
Audio Books Requested for Review:
Hunting in Bruges by E.J. Stevens
PICK UP AT AMAZON
Goodreads Synopsis:
The only thing worse than being a Hunter in the fae-ridden city of Harborsmouth, is hunting vamps in Bruges.
Being shipped off to Belgium sucks. The medieval city of Bruges is quaint, but the local Hunters' Guild is understaffed, the canals are choked with dead bodies, and there's no shortage of supernatural predators as likely suspects.
On second thought, maybe Bruges isn't so bad after all.
With a desire to prove herself, protect the innocent, and advance within the ranks of the Hunters' Guild, Jenna Lehane hits the cobbled streets of Bruges with blades at the ready. Someone, or something, is murdering tourists and dumping their bodies in the city's scenic canals. With the help of a mysterious stranger, Jenna begins to piece together clues that are dotted throughout the city like blood spatter.
Determined to stop the killings, Jenna delves into a bloody local history that only raises more questions—but some secrets are best left buried. Jenna must put her combat training to the test as she struggles to unearth the truth about an ancient enemy.
Hunting in Bruges
is the first novel in the Hunters' Guild urban fantasy series set in the world of Ivy Granger.
Purchased/Winnings/Gifts:
Book:
Audio:
Free Ebooks:
(On my Kindle and Nook App)
Links to books under title. They may or may not be free at this time.
20 Shades of Shifters
PICK UP AT AMAZON
Goodreads Synopsis:
20 Shades of Shifter is a limited edition collection of new and exclusive paranormal romance novels guaranteed to suck in you from page one.
A shape-shifting dragon must win over his reluctant mate and stop Jack the Ripper. A Fae trucker becomes allies with an MC member when trying to deliver magical motorcycles to the Fae Queen. A wolf shifter is held captive in a human research lab where he is tortured until he meets one sexy scientist. An angel risked it all to steal the elixir of life and save his mortal love's life and over two millennia later must get her to remember she once loved an angel. These stories and many more are included in this steamy, hot collection.
Don't wait to read this set. It is only out for a short time before it will be gone forever!
Demelza Carlton
Evelyn Lederman
ML Guida
Aidy Award
Carmen Fox
David Adams
Sascha Illyvich
Lynn Best
Lilly Cain
Emma Alisyn
Vonnie Davis
Brenda Trim and Tami Julka
Nina Croft
K.L. Bone
Natalie Jones
Kailin Gow
Moxie North
Awaken by Michelle Bryan
PICK UP AT AMAZON
Goodreads Synopsis:
Imagine a world devastated by The Shift. The cities left in ruins and the people all gone. Technology now nothing but the subject of folklore. Each and every day a struggle to survive. This is Tara's world.
Raised as a survivor in the harsh, lawless sand lands, Tara is no stranger to hardship. But when her village is destroyed and the young people taken by the merciless Prezedant, she quickly learns how much of a fighter she really is.
Now on a quest to rescue her only remaining kin, she is joined by the most unlikely of companions. Finn, an orphaned boy who has a devil Cat as a pet. Tater, the dwarf storytelling trader who seems to know more than he is willing to admit. And Jax, a surly young man who seems to hate everything about Tara. Together this little band of adventurers will face dangerous adversaries on a journey into the unknown. Nothing will ever be the same.
Bitterwood by James Maxey
PICK UP AT AMAZON
Goodreads Synopsis:
Bitterwood has spent the past twenty years hunting down dragons, one at a time. But he is getting old and the hate that he has carried in his heart since a group of dragon-soldiers killed his family is beginning to fade. When he kills the royal prince dragon, the king decides the only retribution is genocide of the human race. Bitterwood is forced to enter the Free City, the grand trap designed to eradicate mankind, with thousands of others. Can he lead from within, or can a select few dragons unite to stop the king's madness from becoming reality. Full of rich characters and drama, this is an amazingly astute vision of our own culture by way of a feudal kingdom where dragons rule, and humans are used as workers or pets.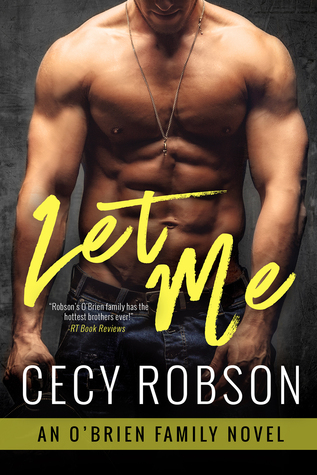 Let Me by Cecy Robinson
PICK UP AT AMAZON
Goodreads Synopsis:
Once he was broken beyond repair. Now this MMA contender is fighting to be a better man—for her. RT Book Reviews proclaims that the O'Brien Family series from award-winning author Cecy Robson "has the hottest brothers ever!" And in Let Me, it is Finn's turn to discover how love can heal the deepest wounds.
A mixed martial arts star on the rise, Finn O'Brien dismantles his opponents with brutal precision. And yet beneath his fierce persona, Finn is raw from a trauma he's buried for years . . . until the day his deep-rooted rage erupts and lands him in court-mandated therapy. Finn's not one to bare his soul, but if talking it out means meeting beautiful women like Sol Marieles, he'll give it a shot.
Sol is working toward her masters degree in psychology, and already she feels like she's in over her head. With an important internship on the line and a scary family situation demanding her attention, the last thing Sol needs is Finn around to distract her. The man is ripped and seriously sexy yet it's his troubled side that warns her to keep her distance. But their attraction is intense, and he clearly has the heat to see how far and fast their passion takes them.
Alone, Finn and Sol have been fighting to find happiness in their lives. Together, there's no stopping them as they face their greatest challenges—not in the ring, but in their hearts.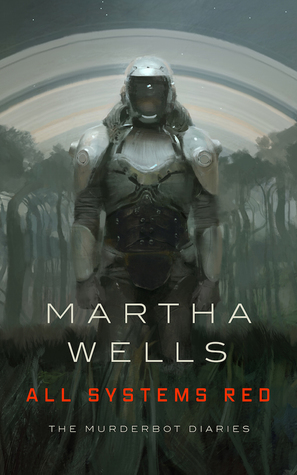 All Systems Red by Martha Wells
PICK UP AT AMAZON
Goodreads Synopsis:
In a corporate-dominated spacefaring future, planetary missions must be approved and supplied by the Company. Exploratory teams are accompanied by Company-supplied security androids, for their own safety.
But in a society where contracts are awarded to the lowest bidder, safety isn't a primary concern.
On a distant planet, a team of scientists are conducting surface tests, shadowed by their Company-supplied 'droid — a self-aware SecUnit that has hacked its own governor module, and refers to itself (though never out loud) as "Murderbot." Scornful of humans, all it really wants is to be left alone long enough to figure out who it is.
But when a neighboring mission goes dark, it's up to the scientists and their Murderbot to get to the truth.
Free Audio Books/Stories:
~~~~~~~~~~
Soulless
by Skyla Dawn Cameron
The Sentinel
by Chris Lester
The Muse
by Chris Lester
Metamor City: Making the Cut
by Chris Lester
Metamor City: Whispers in the Wood
by Chris Lester
Lex Talionis
by Starla Huchton
Spark

by Starla Huchton
Heir to Kale
by K.L. Bone
Tales from the Archives Vol 4 #5 - Old Sinner's Bones
The Death of Dulgath
by Michael J. Sullivan
Danger's Halo
by Amanda Carlson
The Tethered Mage
by Melissa Caruso
Starsigns
by A.F. Grappin
Void Trip #3
by Ryan O'Sullivan & Plaid Klaus
Void Trip #4
by Ryan O'Sullivan & Plaid Klaus
Void Trip #5
by Ryan O'Sullivan & Plaid Klaus