The Sunday Post
is a weekly meme hosted by
Kimba the Caffeinated Book Reviewer
~ It's a chance to share news ~ A post to recap the past week on your blog, showcase books and things we have received and share new about what is coming up on our blog for the week ahead.

So, I did take last week off from blogging. I keep piling more and more on my plate and I'm not cleaning anything off. So last week was time for me to relax and recoup, more mentally than anything. I have to re-figure my time and what I do each evening to make it all fit. This is something I've been struggling with. And I've been so tired since the time change, like I haven't adjusted yet.

Happy Easter to those celebrating. Happy April Fools Day! lol. What a combo!

I've joined Camp NaNoWriMo to do re-writes, so I have to plan my schedule for the week and month. I had to sign up for an hour a day. I wanted half an hour a day but they don't do that. So, my challenge is set, and I can not help but work for it.

It's a new month, what are your plans for April?


~~~~~~~~~~~~~~~
Goal: Workout in any form of exercise (or on Wii Fit) 2x's a week. (to feel better and hope to drop a few pants sizes)
How did I do last week... I walked the dog one day last week.



What's Happening in Books:
Starsigns
by A.F. Grappin
Current Audiobook:
The Tethered Mage
by Melissa Caruso
Books:
Not yet.
Audiobooks :
I Was a Teenage Weredeer
by C.T. Phipps & Michael Suttkus
Finished Podcast Book Listen:
None.
DNFed:
Stonebriar Casefiles: Bad Alchemy
by Laura Nicole Spencer (You can listen for free too!) - Author's stopped posting it.
Last Week on the Blog:
Cover Reveals:
(click titles to go to post & learn more)
Posts:
Around the Internet...
Reviews:
Mama Bitchstress Reviews:
GIVEAWAYS:
This Week to Come on the Blog:
I will finished up two reviews for you this week.
~~~~~~~~~~
Received For the Last Month:
(Note: Links to Amazon are buy links where I could earn commission, in case you are interested.)
For Review Consideration: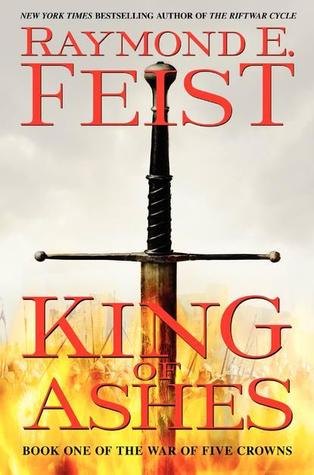 King of Ashes by Raymond E. Fiest
PICK UP AT AMAZON
Goodreads Synopsis:
The first volume in legendary master and New York Times bestselling author Raymond E. Feist's epic heroic fantasy series, The Firemane Saga—an electrifying tale of two young men whose choices will determine a world's destiny.

For centuries, the five greatest kingdoms of North and South Tembria, twin continents on the world of Garn, have coexisted in peace. But the balance of power is destroyed when four of the kingdoms violate an ancient covenant and betray the fifth: Ithrace, the Kingdom of Flames, ruled by Steveren Langene, known as "the Firemane" for his brilliant red hair. As war engulfs the world, Ithrace is destroyed and the Greater Realms of Tembria are thrust into a dangerous struggle for supremacy.
As a Free Lord, Baron Daylon Dumarch owes allegiance to no king. When an abandoned infant is found hidden in Daylon's pavilion, he realizes that the child must be the missing heir of the slain Steveren. The boy is valuable—and vulnerable. A cunning and patient man, Daylon decides to keep the baby's existence secret, and sends him to be raised on the Island of Coaltachin, home of the so-called Kingdom of Night, where the powerful and lethal Nocusara, the "Hidden Warriors," legendary assassins and spies, are trained.

Years later, another orphan of mysterious provenance, a young man named Declan, earns his Masters rank as a weapons smith. Blessed with intelligence and skill, he unlocks the secret to forging King's Steel, the apex of a weapon maker's trade known by very few. Yet this precious knowledge is also deadly, and Declan is forced to leave his home to safeguard his life. Landing in Lord Daylon's provinces, he hopes to start anew.

Soon, the two young men—an unknowing rightful heir to a throne and a brilliantly talented young swordsmith—will discover that their fates, and that of Garn, are entwined. The legendary, long-ago War of Betrayal has never truly ended . . . and they must discover the secret of who truly threatens their world.
Audio Books Requested for Review:
Death and Axes by S.L. Rowland
PICK UP AT AMAZON
Goodreads Synopsis:
Everything has a price. Pangea Online is no different.
Esil has spent the past year toiling in the mines of Pangea while the more wealthy traverse its myriad of gameworlds. His luck changes forever when he stumbles upon a legendary Developer's Chest, containing an invaluable Worldpass, which grants him unlimited travel to all gameworlds.
Now, Esil isn't just stuck watching as others explore Pangea. He can finally level up.
But his in-game actions have real world consequences and failure online threatens everything he holds dear.
Purchased/Winnings/Gifts:
Book:
Audio:
Free Ebooks:
(On my Kindle and Nook App)
Links to books under title. They may or may not be free at this time.
Free Audio Books/Stories:
~~~~~~~~~~
Soulless
by Skyla Dawn Cameron
The Sentinel
by Chris Lester
The Muse
by Chris Lester
Metamor City: Making the Cut
by Chris Lester
Metamor City: Whispers in the Wood
by Chris Lester
Lex Talionis
by Starla Huchton
Spark

by Starla Huchton
Heir to Kale
by K.L. Bone
Tales from the Archives Vol 4 #5 - Old Sinner's Bones
The Death of Dulgath
by Michael J. Sullivan
Danger's Halo
by Amanda Carlson
Blood of Assassins
by R.J. Barker
I Was a Teenage Weredeer
by C.T. Phipps & Michael Suttkus