The Sunday Post
is a weekly meme hosted by
Kimba the Caffeinated Book Reviewer
~ It's a chance to share news ~ A post to recap the past week on your blog, showcase books and things we have received and share new about what is coming up on our blog for the week ahead.

The weather has been nice. It's cool, but nice for sleeping. And the sun shines during the day bringing temperatures up in the afternoon. Yes, I've had to leave home in the morning with a jacket on, but it's lovely weather. The leaves are starting to change as well.

One of the things I'm trying to do on the blog is respond to comments again. I use to do this all the time. I love the interaction with my blogging friends, and miss it. So I've been working to do this again with new posts. And I've set 2 or 3 evenings in the week for me to visit blogs for a half hour to an hour.

It's all time management, right? I'm trying to get on a schedule. But when things demand to be done sooner, I shift my time to those items. I've documented the week and still can't believe where the time goes. lol. But, it shows me what I'm doing. *sigh* I've been writing as well, but had problems with Scrivener. I now ca not get into my document. It's frustrating! And Scary!

I'll work on multitasking my time to get more than one thing done at a time.


~~~~~~~~~~~~~~~
Goal: Workout in any form of exercise (or on Wii Fit) 2x's a week. (to feel better and hope to drop a few pants sizes)
How did I do last week... I made it to the treadmill twice! Thirty minutes each.



What's Happening in Books:
Will start a new book soon.
AND Content Editing work
Current Audiobook:
Will start a new one Monday.
Current Podcast Book Listen:
Stonebriar Casefiles: Bad Alchemy
by Laura Nicole Spencer (You can listen for free too!)
Hoping to get done reading this week.
Audiobooks from Audible:
Air and Ash
by Alex Lidell
The Half-Assed Wizard
by Gary Jonas
Curiouser and Curiouser
by Melanie Karsak
Finished Podcast Book Listen:
Danger's Halo
by Amanda Carlson
Last Two Weeks on the Blog:
Cover Reveals:
(click titles to go to post & learn more)
Posts:
Around the Internet...
Reviews:
Steamborn

by Eric Asher

"The people in this book are kind to each other, with a few slurs or feelings for the lowborn shown. But all are suffering when the village is attacked by the huge insects and they have to work together. This is something our world needs to see more of. The kind hearts of adults and children willing to eagerly help each other, not expecting payment in return."
Reconnaissance in Force

by Terry Mixon

"My heart beats for the characters and their dangers. I love this creation."
Mama Bitchstress Reviews:
GIVEAWAYS:
This Week to Come on the Blog:
I have two reviews schedule.
~~~~~~~~~~
Received Last Week:
(Note: Links to Amazon are buy links where I could earn commission, in case you are interested.)
For Review Consideration:
Void Trip by Ryan O'Sullivan & Plaid Klaus
ORDER AT AMAZON
Amazon Synopsis:
From writer RYAN O'SULLIVAN (Turncoat, The Evil Within, Warhammer 40,000) and illustrator PLAID KLAUS (Turncoat), comes the story of Ana and Gabe, the last two humans left alive in the galaxy. They're low on fuel, they're low on food, and they're low on psychedelic space froot, but they're still determined to make it to the promised land: hippy-paradise, super-planet Euphoria. This is the story of their journey, the friends and enemies they made along the way, and how the universe responded to those who dared to live freely within it.
Audio Books Requested for Review: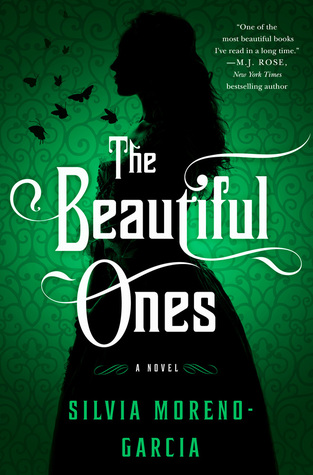 The Beautiful Ones by Silvia Moreno-Grace
PICK UP AT AMAZON
Goodreads Synopsis:
In a world of etiquette and polite masks, no one is who they seem to be.
Antonina Beaulieu is in the glittering city of Loisail for her first Grand Season, where she will attend balls and mingle among high society. Under the tutelage of the beautiful but cold Valérie Beaulieu, she hopes to find a suitable husband. However, the haphazard manifestations of Nina's telekinetic powers make her the subject of malicious gossip.
Yet dazzling telekinetic performer and outsider Hector Auvray sees Nina's powers as a gift, and he teaches her how to hone and control them. As they spend more and more time together, Nina falls in love and believes she's found the great romance that she's always dreamed of, but Hector's courtship of Nina is deceptive.
The Beautiful Ones is a sweeping fantasy of manners set in a world inspired by the Belle Époque
Purchased/Winnings/Gifts:
Book:
Audio:
Free Ebooks:
(On my Kindle and Nook App)
Links to books under title. They may or may not be free at this time.
Armageddon Bound by Tim Marquitz
PICK UP AT AMAZON
Goodreads Synopsis:
Half-devil and miles from anything resembling heroic, perpetual underdog Frank Triggaltheron Trigg is the last man standing against Armageddon. As the favorite nephew of the Devil, Frank has led a troubled life, but he'd always had his uncle's influence to fall back on. Now, with God and Lucifer coming to terms and leaving existence to fend for itself, his once exalted status of Anti-Christ-to-be does little to endear him to the hordes of angels and demons running amok in the Godless world. With help from the members of DRAC, an organization of wizards, psychics, telepaths, and low-end supernatural beings, Frank must thwart the pro-Armageddon forces and rescue an angel in whose life rests the fate of humanity. Better luck next time, humanity.
An American Weredeer in Michigan by C.T. Phipps & Michael Suttkus
PICK UP AT AMAZON
Goodreads Synopsis:
Life is not easy for the world's first weredeer detective. A simple hike turns into a media circus when Jane Doe, her best friend Emma, and a pair of monster hunters find a mass grave. Determined to find the parties responsible, Jane soon discovers a sinister cult leader has decided to make Bright Falls, Michigan the home of his corrupt religion.
As if this wasn't complicating her life enough, Jane also has to decide whether or not she wants to begin a relationship with FBI Special Agent Alex Timmons or local crime lord Lucien Lyons. Both men are determined to get to the bottom of the crime she's investigating but may be distracted by their own agendas--as well as their love for Jane.
Fool's Gold by Zen DiPietro
PICK UP AT AMAZON
Goodreads Synopsis:
Omar Freeborn doesn't expect too much out of life. A warm bed and not getting knifed is usually enough for him.
He's thrown a curve when his sister not only steals his bed, but involves him in her business deal gone wrong.
All he can do is dig in and pull off some trading mastery. Maybe, if he's lucky, he won't get knifed in the process.
"Fool's Gold" is a short story in the Mercenary Warfare series, a Dragonfire Station series.
The Cost of Business by Zen DiPietro
PICK UP AT AMAZON
Goodreads Synopsis:
Not all good guys finish last.
Cabot Layne has unintentionally become the owner of someone else's problem. In order to get free of it, he'll need to use every bit of his trader cunning. If he does it just right, he might stay out of prison. With a little luck, he'll even manage to turn a profit.
Dragonfire Station is all about highly developed characters who feel like real people you know. In a nutshell, it's about kick-ass, flawed people who are doing their best to overcome the challenges thrown their way.
Fans of Firefly and Guardians of the Galaxy will love this sci-fi series, full of rogues, mercenaries, and adventure. Sometimes you have to make the rules up as you go along.
Pirate's Vengeance by L.J. Andrews
PICK UP AT AMAZON
Goodreads Synopsis:
Pillage...Plunder...Survive
"A wild and fun ride with pirates! Danger, fun, magic, and a touch of romance"
The tattooed pirate jumped onto the side of the ship and held tight to the rigging. "Gents," he smiled. "Ye know what to do." With a maniacal laugh he leapt across the gap between ships until joining his captain on deck. Two enormous men with blackened teeth faced the captured crew.
"Ye needs be vetted to join the crew of Smythe. Any deemed unworthy, or cowardly will fly to the Below. Boys, line 'em up." It was time to join the world of sky pirates, or die.
Launi Kingdom is built on floating islands, full of wonderful adventures for eighteen year-old Nova. But when her father is kidnapped by sky pirates, her carefree days are over.
Armed with her father's leather bag, an old pirate seal, and a mysterious jeweled dagger found in the wall of her home, Nova sets out disguised as a boy to find the legendary Captain Phoenix. Only a man such as him could bargain for her father's safe return.
But before she can reach Captain Phoenix her ship is attacked by pirates, and Nova is forced to join the crew or die. Now she must survive the riotous crew for her father's sake. Soon she finds there is something more to the jeweled dagger⸺ and herself. Something dangerous.
Nova must unravel her family's secrets before the dark power overtakes her, or her father will be lost forever and she'll become what she fears most. A pirate.
Free Audio Books/Stories:
~~~~~~~~~~
Soulless
by Skyla Dawn Cameron
The Sentinel
by Chris Lester
The Muse
by Chris Lester
Metamor City: Making the Cut
by Chris Lester
Metamor City: Whispers in the Wood
by Chris Lester
Lex Talionis
by Starla Huchton
Spark

by Starla Huchton
Heir to Kale
by K.L. Bone
Tales from the Archives Vol 4 #5 - Old Sinner's Bones
The Death of Dulgath
by Michael J. Sullivan
Primordial
by David Wood & Alan Baxter
Air and Ash
by Alex Lidell
The Half-Assed Wizard
by Gary Jonas
Curiouser and Curiouser
by Melanie Karsak
Danger's Halo
by Amanda Carlson