The Sunday Post
is a weekly meme hosted by
Kimba the Caffeinated Book Reviewer
~ It's a chance to share news ~ A post to recap the past week on your blog, showcase books and things we have received and share new about what is coming up on our blog for the week ahead.
Where did the week go? I've been trying to get all the things done in a day. Wow, it's a lot. lol. So I've been working at some sort of exercise daily, which is working for Monday through Thursday, and rotating days of writing (preparing) and blogging. With all this after the full time day job and taking care of family and life events. .... Yea, it's a lot.
So, kiddo had another college visit yesterday. He really enjoyed himself. It was a college that's looking at him for football as well. But it's a small school and there will be no scholarships for sports there. But is a possibility to keep in mind. All these schools have something that he wants, a big something. Ugh! We even have more to visit! I just hope when it comes down to it, he picks the one that fits and will be least expensive for him.
My dogs have vet visits this week. Sheba's doing better, but Athena seems to be showing signs of what Sheba had. So, we'll see what the vet says. These dogs are the most expensive in vet visits I've ever had!
Big news! I got to listen to
N.K. Jemisin
on Tuesday! She was at Seton Hill talking with the students of their writing program and Tuesday evening was open to the public. I took two friends with me and we listened to her.
I did get to talk with many amazing people while waiting to get all my books by N.K. signed.
~~~~~~~~~~~~~~~
Goal: Workout in any form of exercise (or on Wii Fit) 2x's a week. (to feel better and hope to drop a few pants sizes)
How did I do last week... This week I got 3 days in. Treadmill on Monday, gym weights and elliptical on Wednesday and Thursday. I did add 10 minutes to treadmill and elliptical times so I could make up for the half hour on Tuesday I missed.


What's Happening in Books:
Blue Blooded
by Amanda Carlson
Content editing work.
Current Audiobook:
I'll start a new one Monday at work.
Current Podcast Book Listen:
Stonebriar Casefiles: Bad Alchemy
by Laura Nicole Spencer (You can listen for free too!)
Lost Girls
by Merrie Destefano
Audiobooks from Audible:
Wytchfire
by Michael Meyerhofer
Finished Podcast Book Listen:
Nothing yet.
Last Week on the Blog:
Cover Reveals:
(click titles to go to post & learn more)
Posts:
Around the Internet...
Reviews:
H.A.L.F.: The Makers

by Natalie Wright
"The writing felt to ring home much better with me in this book. I really like the description as the story starts in Erika's POV. Wow. Well done. I feel this book has more emotion and depth to the characters than the first story. Living through these hard times and fighting to live and return home or save others has brought them all to a new level. This book felt more invested and better written to me."
Eternal Magic

by Linsey Hall
"Linsey keeps the story moving fast, giving us many answers and information we have been wanting. There is something that happens or surprises me in each chapter, moving the story along by leaps."
Mama Bitchstress Reviews:
GIVEAWAYS:
This Week to Come on the Blog:
I have a few reviews to finish up and will have two scheduled for you this week. I also have a resolution post for the new year.
Mythical Monday - Returns with it's first of 2016 on Monday
Two reviews.
~~~~~~~~~~
Received Last Weeks:
For Review Consideration:
Audio Books Requested for Review: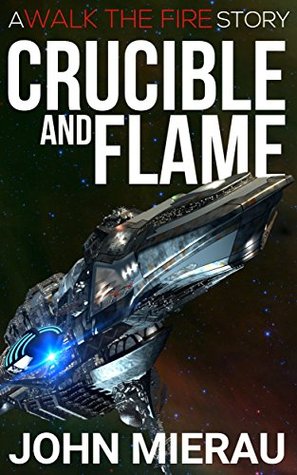 Crucible and Flame: A Walk the Fire story by John Mierau
PICK UP AT AMAZON
Goodreads Synopsis:
A Ferryman Walks the Fire to an isolated generation ship, only a few decades away from its destination planet. There, in a moment of tragedy, he will learn that despite hundreds of years of life and the promise of endless more, even a Ferryman's life can change.
Circle of Reign by Jacob Cooper
PICK UP AT AMAZON
Goodreads Synopsis:
Lands Die.
The Living Light Fades.
An Ancient Darkness Awakens.

The Living Light that sustains Arlethia is dwindling.

An unknown, vicious enemy approaches in stealth from beyond the northern glaciers, a wasteland of ice that spans hundreds of miles. A clandestine brotherhood of assassins, held in check by the Light for millennia, seeks to break their maledictive shackles and unleash their bloodlust upon the world. Those that should stand with Arlethia clothe themselves in betrayal, desiring her secrets for themselves, leaving Arlethia to stand alone.

The rebirthing of lands ceased decades ago. The world of Våleira is dying. Only Arlethia, the Western Province of the Realm, remains untainted by the Ancient Dark's Influence. Reign, the young daughter of Arlethian Lord Thannuel Kerr, becomes entangled in a perilous web of deceit, greed, and assassination plots after witnessing something horrific – something that will destroy all she knows and loves. As threats culminate, she and her twin brother, Hedron, must battle demons on every side – both external and internal – in their efforts to save Arlethia from extinction, as they simultaneously reach for their own personal redemption. But they have become pariahs to their own people. There will be few that dare to stand with them in the dimming Light – and even fewer that will survive.

The world of Våleira cannot endure without Arlethia. And the Living Light is fading ...
Purchased/Winnings/Gifts:
Book:
Audio:
Free Ebooks:
(On my Kindle and Nook App)
Links to books under title. They may or may not be free at this time.
Seen by Frances Pauli
PICK UP AT AMAZON
Goodreads Synopsis:
Shayd's visions serve the Heart... until it asks him to betray his own future.
When the Shrouded Heart sends him on a mission of diplomacy, Shayd is eager to obey. The treason of his predecessor has stained the rituals and weakened his relationship with the sacred crystal, but when it brings him to Rowri, he is certain the alien priestess is destined to be his heartmate. Despite the fact that their mission is to deliver her to her wedding... to someone else.
Rowri's duty to her people insists Shayd must give her away, even as their heartbond draws them closer and closer together. Though he understands her loyalty, honoring her choice will put her in danger, leave her planet open to attack, and unleash an old enemy dead set on destroying them all.
The Dragonslayer's Sword by Rena Nelson
PICK UP AT AMAZON
Goodreads Synopsis:
For Astrid, a blacksmith who makes swords for dragonslayers, the emergence of a strange gemstone from her body sets in motion a chain of events that threaten to destroy her life. Her happiness is shattered when her lover-the dragonslayer-disappears without a trace, and the life that she knows and loves implodes without warning.
Astrid lives in a world of shapeshifters whose thoughts have the power to change not only themselves but others. Everything Astrid knows to be true is called into question when she learns the truth about her past and the mysterious family from which she was separated as a child. Reality turns inside out as Astrid gradually learns the truth about the people she loves as well as those she disdains.
With the fate of dragons, ghosts, and slaves in foreign lands resting on her shoulders, Astrid faces the challenge of deciding who she is and how she will stand up inside her own skin. Will she withdraw and hide from the world that has disappointed her so much...or will she rise to lead others to freedom and peace?
AUTHOR'S NOTE: This series is written for adults but appropriate for ages 14 and up.
SURGE by Kelsey Lee Connors
PICK UP AT AMAZON
Goodreads Synopsis:
A broken city, its people in chains, and a brave young woman who dares to be free
Chicago in 1922, reimagined. The city is ruled by a tyrannical energy company called The Corporation, the streets patrolled by the terrifying and corrupt Corp Bulls. Sixteen-year-old Evelyn O'Donnell takes karate lessons to defend herself in this dangerous dystopia, but she knows this is not enough. And when her father is mysteriously killed, it is a game changer.
Penniless but determined, she meets her brother's friend, the charming and mischievous Black Jack player, Dante Malachi. Discovering a unique, magical power within herself, Evelyn and her new accomplice plot to sting the city's speakeasies and avenge her father's death.
But as the duo join the razzle-dazzle of Chicago's underworld, Evelyn discovers her father had tried to protect her from the dark truth about this city and her past. And as they get involved with the mob, Evelyn knows she will have to do everything in her power if she ever hopes of reaching their shared dream of a life free from poverty and oppression.
Tales of the Blood Kissed by Seleste DeLaney
PICK UP AT AMAZON
Goodreads Synopsis:
Every story has a beginning, and the legend of the Blood Kissed began long before Jocelyn was born. Discover how Jocelyn first became involved in the vampire world, how Max and Chad wound up as her dichotomous duo of protectors, and Remy's views on far too many things. You'll even get his version of how vampires came into being and why there is always a seat on the council for one known only as Remus.
Start this saga from the beginning, and remember, those who don't learn from the past are destined to repeat it.
Includes "Of Course I Try" and "The Ghost of Vampire Present", formerly available as separate ebooks.
Wicked Legends (collection of several author's books)
PICK UP AT AMAZON
Goodreads Synopsis:
A boxed set unlike any other before it, filled with the perfect blend of Dystopian, Paranormal, Urban Fantasy, and SciFi Romance.
Every selection in this rare, limited edition collection is a full-length novel or novella, including some BRAND NEW material from today's New York Times and USA Today bestselling authors!
With over one million words of romantic fiction from all of your favorite genres, this limited edition omnibus will provide over 100 hours of reading!
If you're looking for a boxed set overflowing with variety, this collection will satisfy your cravings with sorcery, genies, necromancers, space pirates, shifters, and more! Travel to new worlds or discover ones hidden right beneath your nose.
Fever by Lola Taylor
PICK UP AT AMAZON
Goodreads Synopsis:
When the Blood Moon rises, the wolves come out to play… and find their mates.
Danica has about given up on love. In a last-ditch attempt at finding "the one," she agrees to a blind date through an online dating service. But instead of finding roses and romance, she finds someone intent on killing her. That is, until the mysterious, brooding Gage shows up to save her….
Gage is running out of time to find a mate. If the Blood Moon sets before he can find her, he'll lose the rank of packmaster - and the peace within the pack - he's worked so hard to obtain. When he saves a luscious blonde in the parking lot, he has no idea she is his mate - until he Marks her with his touch.
Determined to keep her safe at any cost, Gage whisks Danica away into a hidden world full of lust, unlikely love, and treachery. Someone's put a hit on his mate, and he's hell-bent on finding out who, all while the Blood Moon looms closer, threatening to destroy his chances at true love forever. That is, if something - or someone - doesn't kill the woman he's falling for first.
Recommended 18+ for frequent, explicit sexual situations and language. Book 1 of 6. BBW Werewolf Romance
For more information, including a complete list of books and excerpts, please visit lolataylorbooks.com.
Free Audio Books/Stories:
~~~~~~~~~~
Soulless
by Skyla Dawn Cameron
The Sentinel
by Chris Lester
The Muse
by Chris Lester
Metamor City: Making the Cut
by Chris Lester
Metamor City: Whispers in the Wood
by Chris Lester
Lex Talionis
by Starla Huchton
Spark

by Starla Huchton
Heir to Kale
by K.L. Bone
Tales from the Archives Vol 4 #5 - Old Sinner's Bones
The Death of Dulgath
by Michael J. Sullivan
Torn World
by Melanie Karsak
Lost Girls
by Merrie Destefano
Wytchfire
by Michael Meyerhofer