The Sunday Post
is a weekly meme hosted by
Kimba the Caffeinated Book Reviewer
~ It's a chance to share news ~ A post to recap the past week on your blog, showcase books and things we have received and share new about what is coming up on our blog for the week ahead.
And another week is gone in the wind. How does that happen?

I have all these plans and none of them ever get done. I took Monday and Tuesday off this past week as we went to the kiddo's school picnic at a local amusement park. We always have a great time and close the park. It was a bit on the cool side this year, jeans and sweatshirt weather for June 1st. O.o But it was still a nice day. However, with my allergies, I didn't sleep as well that night. I paid for being outside all day.

In the world of books and words... I'm working (and determined) to get my current WIP to a functioning place. A place I can then send to a friend to kindly walk me through what it's in need of. I'm trying to work through the reread at the moment, making notes and changing a few things. The bigger changes are being noted so I can then print out the red lined copy and add what I want where I want it.

I'm also working on a current content editing job. (Which if you know anyone looking for a content editor, I'm taking on clients.)

Then there's my to lovely dogs. *groan* They are really loving trips to the vet this year. Not! They seem to have one trouble after another with the two of them this year. Athena has some irritated lump that wont go away so she's now on antibiotics and steroids for the irritation and itchiness. Sheba, as she's been fighting a UTI for months now. She's getting better, but it's not gone. So on to her fourth set of antibiotics. *sigh* Also with her last visit to the vet, for a growing bubble/lump on her ear, she needs surgery. Oph. They believe it to be a tumor. And surgery for a German Sheppard is not cheap. So I'm saving up for that now. She's my Prize Princess, Sheba. Prize because she's worth more money in vet visits than any dog I've ever had. And believe it or not, the girls are just turning 5 in August and they (or Sheba anyway) are having to many troubles. *sigh*
Goal: Workout in any form of exercise (or on Wii Fit) 2x's a week. (to feel better and hope to drop a few pants sizes)
How did I do last week... So once again no exercise. I did walk around the amusement park all day on Monday. So that's some exercise. My allergies are still draining and heavy when I get working but I'm going to try to get some exercise in this week, at least starting.

I downloaded a few fit apps for my Android phone. So I'll see what exercises they have and how they work for me.



What's Happening in Books:
Dirty Magic: New Orleans
edited by Charlie Brown
and
Content work.
Current Podcast Book Listen:
The Horde
by Patrick Scaffido
Into Thin Air
by Val Griswold-Ford
Finished Podcast Book Listen:
The Hidden Institute
by Brand Gamblin
Last Week on the Blog:
Cover Reveals:
(click titles to go to post & learn more)
Click the link to learn more about the books and their series:
Posts:
Around the Internet...
Reviews:
Mama Bitchstress Reviews:
GIVEAWAYS:
~~~~~~~~~~
This Week to Come on the Blog:
I've still got to look at my schedule and set them to publish. But there will be two reviews go live this week.
~~~~~~~~~~
Received Last Weeks:
Review & Review Consideration:
Purchased/Winnings/Gifts:
Won:
Oh! I won $100 from Powell Books
for posting my review on their site, and they picked it as their Daily Dose email! If you are in USA and want, post your reviews there and you could win $20, $40, or even $100 gift card from them! Of course I already spent my winnings, so hope to have books to share with you soon from that purchase. ;)
Free Ebooks:
(On my Kindle App)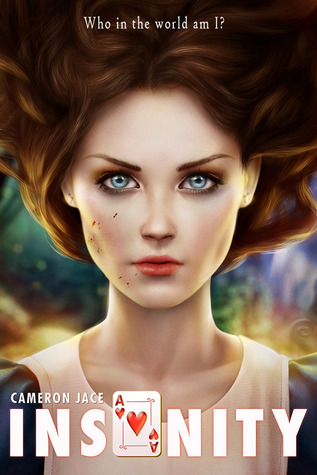 Insanity by Cameron Jace
Goodreads Synopsis:
After accidentally killing everyone in her class, Alice Wonder is now a patient in the Radcliffe Lunatic Asylum. No one doubts her insanity. Only a hookah-smoking professor believes otherwise; that he can prove her sanity by decoding Lewis Carroll's paintings, photographs, and find Wonderland's real whereabouts. Professor Caterpillar persuades the asylum that Alice can save lives and catch the wonderland monsters now reincarnated in modern day criminals. In order to do so, Alice leads a double life: an Oxford university student by day, a mad girl in an asylum by night. The line between sanity and insanity thins when she meets Jack Diamond, an arrogant college student who believes that nonsense is an actual science.
Edgewood by Karen McQuestion
Goodreads Synopsis:
From bestselling author Karen McQuestion—a brand new, spellbinding novel.
The night Russ Becker witnesses a strange astronomical event, his world changes forever. Before long Russ discovers he's developed incredible superpowers, and he's not the only one. Three other young people—beautiful Mallory, arrogant Jameson, and mysterious Nadia—have had the same experience and all of them now have powers of their own. Mallory can control peoples' minds, Jameson moves objects with his thoughts, and Nadia has empathic abilities.
At first the four relish their newfound gifts, but things become serious when they learn they are being hunted by an organization that wants them for its own nefarious purposes. When Russ's family is threatened, he's forced into action. What transpires will change all of them in ways they never imagined.
The Girls from Alcyone by Cary Caffrey
Goodreads Synopsis:
Sigrid and Suko are two girls from the impoverished and crime-infested streets of 24th century Earth. Sold into slavery to save their families from financial ruin, the girls are forced to live out their lives in service to the Kimura Corporation, a prestigious mercenary clan with a lineage stretching back long before the formation of the Federated Corporations.
Known only to Kimura, the two girls share startling secret—a rare genetic structure not found in tens of millions of other girls.
But when their secret becomes known, Sigrid and Suko quickly find themselves at the center of a struggle for power. Now, hunted by men who would seek to control them, Sigrid and Suko are forced to fight for their own survival, and for the freedom of the girls from Alcyone.
(On my Nook)
Free Audio Books/Stories:
~~~~~~~~~~
The Secret World Chronicle: World Well Lost
by Mercees Lackey,Steve Libby, Cody Martin, & Dennis Lee
Soulless
by Skyla Dawn Cameron
The Sentinel
by Chris Lester
The Muse
by Chris Lester
Metamor City: Making the Cut
by Chris Lester
Metamor City: Whispers in the Wood
by Chris Lester
Master of Myth
by Starla Huchton
Danube Waves
by Katharina Bordet
Rhune
by Michael J. Sullivan
Heartstealer
by K.T. Bryski
Lex Talionis

by Starla Huchton
House of Grey 5
by Collin Earl
7th Son: 7 Days
anthology by J.C. Hutchins
House of Grey 6
by Collin Earl
The Secret World Chronicle: World Divided
by Mercedes Lackey, Cody Martin, Dennis Lee, Veronica Giguere
The Secret World Chronicle: Waiting On
by Mercedes Lackey, Cody Martin, Dennis Lee, Veronica Giguere
The Secret World Chronicle:
Revolutions
by Mercedes Lackey, Cody Martin, Dennis Lee, Veronica Giguere
Heir to Kale
by K.L. Bone
Tales from the Archives Vol. 4: #2
The Mummy of Barnsley
Tales from the Archives Vol. 4: #3
The Black Empress
Into Thin Air
by Val Griswold-Ford
The Hidden Institute
by Brand Gamblin