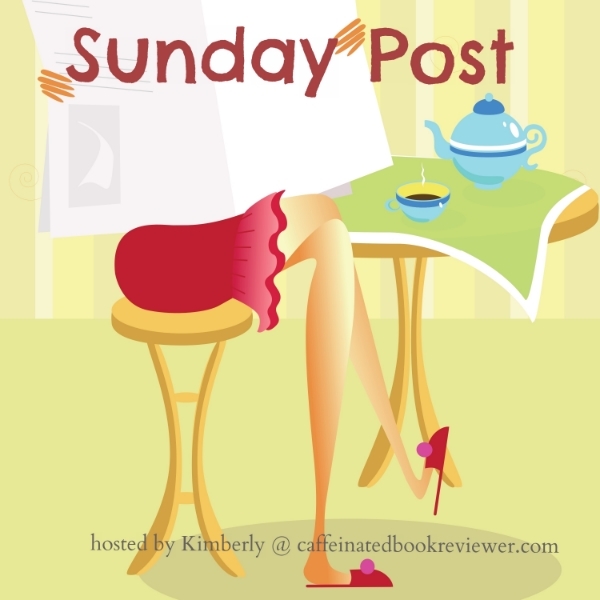 The Sunday Post
is a weekly meme hosted by
Kimba the Caffeinated Book Reviewer
~ It's a chance to share news ~ A post to recap the past week on your blog, showcase books and things we have received and share new about what is coming up on our blog for the week ahead.

It's been a while since I've done a Sunday Post. Life has been moving forward and we've been busy on Sunday's. Lots happening. All good, of course. I don't even know where to start with what I've been doing. lol. There was Easter, which fell on my mom's birthday this year. So Easter was a little more than usual. Then I went for a photo walk last weekend at a local trail and took some flower photos. It was fun and I tried a few techniques that are new to me.

So, here I am today. Hope you are all doing well.
~~~~~~~~~~~~~~~
Goal: Workout in any form of exercise (or on Wii Fit) 2x's a week. (to feel better and hope to drop a few pants sizes)
How did I do last week... I got a few walks in, but not twice a week this week.


What's Happening in Books:
Gunsmoke & Dragonfire
edited by Diane Morrison
Current Audiobook:
Ancient Echoes
by Joanne Pence
Current Podcast Book Listen:
Nothing new.
Books:
No reads this week.
Audiobooks :
Relentless Souls
by Ryan Kirk
Finished Podcast Book Listen:
Nothing new yet.
Last Week on the Blog:
Cover Reveals:
(click titles to go to post & learn more)
Posts:
Around the Internet...
Reviews:
GIVEAWAYS:
I have two reviews scheduled for you this week.
For Review Consideration:
Audio Books Requested for Review:
Insomnia and Seven More Short Stories by Jeremy Robinson
PICK UP AT AMAZON
Goodreads Synopsis:
INSOMNIA is a collection of seven exciting short stories (plus one bonus story) that tackle several different genres including action, science-fiction, horror, noir and thriller. Written by top thriller author, Jeremy Robinson, these stories include all of the action, imagination and twists that fans have come to expect, but they also contain experiments into subjects and voices not normally touched on in his novels.
INSOMNIA - In a world of super efficiency and equality, sleep is illegal and Feene keeps the masses going.
THE EATER - Three children discover a writhing black puddle in the woods of New Hampshire.
HARDEN'S TREE - A group of teens visit a tree planted atop the ashes of a mass murderer from late 1800's.
STAR CROSSED KILLERS - Two lovers, both deadly killers, compete for the same target.
COUNTING SHEEP - A future terrorist gives an insomniac three minutes to fall asleep.
HEARING AID - In the future, a deaf man is healed, but does he like what he hears?
DARK SEED OF THE MOON - Vampires live, and kill, in the eternal shadow of the moon's polar crater.
FROM ABOVE - In the future, a detective goes after terrorists who vaporized his city--and his arm--from space.
BOUGHT AND PAID FOR (Bonus Story) - A brutal character sketch for Scott Sigler's THE CRYPT.
The Haunting of Hillwood Farm by Kathryn Knight
PICK UP AT AMAZON
Goodreads Synopsis:
After tragedy strikes, Callie Sinclair is left with a gift she never wanted—the ability to communicate with ghosts. But when a desperate widow begs for her help, she reluctantly agrees to investigate the strange occurrences at Hillwood Farm. She quickly realizes she's dealing with a dangerous presence beyond anything she's ever experienced, and something else becomes equally clear—the only other living person in the house, Mrs. Turner's handsome grandson, thinks she's a scam artist. While she'd prefer to just ignore him, her heart beats a little faster every time he's nearby.
Luke Turner doesn't believe in spirits. He's moved back to restore the family farm, but living on the property serves a dual purpose—he can watch out for his grandmother. He's not happy about the sudden appearance of a self-described psychic, or his inexplicable attraction to her. His initial suspicions crumble as evidence points to an actual haunting, but he's still determined not to fall for Callie—the past has taught him it's best to avoid relationships.
As Callie is drawn deeper into the mystery, she becomes the target of a vengeful spirit, and Luke can no longer fight his feelings for her. Unable to resist their desire, passion ignites…even as the paranormal activity escalates to a final deadly confrontation.
Alter by Jeremy Robinson
PICK UP AT AMAZON
Goodreads Synopsis:
Stranded in the Amazon rainforest, a lost man fights for survival and discovers that the root of evil doesn't just reside in the world's darkest corners, but inside the hearts of all mankind.
Dr. Gregory Zekser is on a mission to visit the furthest reaches of the Amazon, providing medical aid to recently contacted tribes. As a general practitioner and food pantry director, his life in Massachusetts can be chaotic, but serving people is what he does best, and he doesn't mind sacrificing his personal life to help others, at home or half way around the world.
But any hope of returning home to his wife, daughter, and comfortable life are eradicated when the small plane carrying him back to civilization plummets into the unknown depths of the jungle. Swallowed by endless green, with both pilots dead, Greg struggles to stay alive in a world that wants to infect his body, suck him dry, and eat him whole. Ravaged by illness and dehydration, and stalked by a ruthless predator, Greg's life teeters on the edge of oblivion until a scream lets him know that he is not alone.
His first encounter with an uncontacted tribe ends in death--the first of many. Driven to the brink of madness, and then beyond, Greg finds himself caught up in a feud that existed before his arrival, but will only end with his death--or his enemies'.
Purchased/Winnings/Gifts:
Book:
Siren's Curse by Katee Robert
PICK UP AT AMAZON
Goodreads Synopsis:
Lorelei Fischer is cursed. A mermaid who can't shapeshift, can't create portals, and is no longer fully who she was meant to be. Too ashamed to admit how badly she failed to her sisters, she takes refuge in a small town in northern California and opens a used bookstore. With no way to regain what she's lost, she resigns herself to a life half-lived.
After nearly drowning under the dark of the new moon, there's no escaping the truth. She's being hunted, and this enemy will stop at nothing to take her.
Lorelei must find a way to reclaim her birthright and her abilities before it's too late. Because the sea holds more monsters than she could have dreamed—and one of them wants her dead.
Edge of Duty by Ryan Kirk
PICK UP AT AMAZON
Goodreads Synopsis:
The spark of revolution has been lit.
Jian is a powerful monk, sent by his masters to investigate rumors of a conspiracy that threatens the foundations of the empire. The Order of the Serpent wants to start a fire that will burn the old empire down, but Jian can't let that happen.
A peaceful man living in violent times, Jian knows the monasteries have never faced a threat as organized as this before.
But he doesn't know how much completing this assignment will cost him.
Edge of Duty is a new novella, setting up the events in the standalone novel Relentless Souls.
Sworn to the Night by Craig Schaefer
PICK UP AT AMAZON
Goodreads Synopsis:
Marie Reinhart is an NYPD detective on the trail of a serial killer. When she sleeps, though, she dreams of other lives; she dreams of being a knight, in strange wars and strange worlds. On the other side of the city, Nessa Roth is a college professor trapped in a loveless marriage, an unwilling prop in a political dynasty. She's also a fledgling witch, weaving poppets and tiny spells behind closed doors.

When Marie's case draws her into Nessa's path, sparks fly. What comes next is more than a furtive whirlwind affair; it's the first pebbles of an avalanche. Nessa and Marie are the victims of a curse that has pursued them across countless lifetimes; a doom designed to trap them in a twisted living fairy tale, with their romance fated to end in misery and death.

They aren't going out without a fight. As they race to uncover the truth, forces are in motion across the country. In Las Vegas, a professional thief is sent on a deadly heist. In a Detroit back alley, witches gather under the guidance of a mysterious woman in red. Just outside New York, an abandoned zoo becomes the hunting-ground for servants of a savage and alien king. The occult underground is taking sides and forming lines of battle. Time is running out, and Nessa and Marie have one chance to save themselves, break the curse, and demand justice.

This time, they're writing their own ending.
Into the Drowning Deep by Mira Grant
PICK UP AT AMAZON
Goodreads Synopsis:
Seven years ago, the Atargatis set off on a voyage to the Mariana Trench to film a "mockumentary" bringing to life ancient sea creatures of legend. It was lost at sea with all hands. Some have called it a hoax; others have called it a maritime tragedy.
Now, a new crew has been assembled. But this time they're not out to entertain. Some seek to validate their life's work. Some seek the greatest hunt of all. Some seek the truth. But for the ambitious young scientist Victoria Stewart this is a voyage to uncover the fate of the sister she lost.
Whatever the truth may be, it will only be found below the waves. But the secrets of the deep come with a price.
Audio:
The Darkwater Bride by Marty Ross
PICK UP AT AMAZON
Goodreads Synopsis:
Late Victorian London. When the most respectable of Scottish businessmen is pulled, dead, from the Thames, his daughter is drawn into an investigation which reveals a whole world of secrets and corruption and leads all the way to the tragic truth behind the ghostly legend of The Darkwater Bride.
An epic drama combining the genres of the Victorian mystery thriller with the equally classic Victorian mode of the ghostly tale.
Riley Mack and the Other Known Troublemakers by Chris Grabenstein
PICK UP AT AMAZON
Goodreads Synopsis:
What do you get when you add up
1 middle-school bully2 bank robbers57 dogs in peril4,000 missing dollarsand5 daring troublemakersled by the one and onlyRiley Mack?
1 crazy caper!
In this merry, mischievous romp, master storyteller Chris Grabenstein introduces Riley Mack a twelve-year-old hometown hero you'll never forget."
Alien III by William Gibson
PICK UP AT AUDIBLE
Audible Synopsis:
Alongside a full cast Michael Biehn and Lance Henriksen reprise their iconic roles as Corporal Hicks and Bishop from the 1986 film Aliens.
Father of cyberpunk, William Gibson's original script for Alien III, written in 1987 as a sequel to Aliens, never made it to our screens, although it went on to achieve cult status among fans as the third instalment that might have been after being leaked online.
This terrifying, cinematic multicast dramatisation - directed by the multi award-winning Dirk Maggs, is the chance to experience William Gibson's untold story and its terrifying, claustrophobic and dark encounters between humans and aliens, as a completely immersive audio experience.
The story begins with the Sulaco on its return journey from LV-426. On board the military ship are the cryogenically frozen skeleton crew of that film's survivors: Ripley, Hicks, Newt and Bishop.
We travel aboard and hear an alarm blare. Our heroes are no longer alone....
Starring: Tom Alexander, Barbara Barnes, Michael Biehn, Cliff Chapman, Samantha Coughlan, Ben Cura, Dar Dash, Harry Ditson, Mairead Doherty, Graham Hoadly, Lorelei King, Laurel Lefkow, Martin McDougall, Sarah Pitard, Michael Roberts, David Seddon, Andrew James Spooner, Siri Steinmo, Dai Tabuchi, Keith Wickham, Rebecca Yeo
Free Ebooks:
(On my Kindle and Nook App)
Links to books under title. They may or may not be free at this time.
Happily Ever After: A Romance Collection
Goodreads Link
Goodreads Synopsis:
Three words: Happily. Ever. After.
Love is everywhere in this swoony, combustible boxed set. You'll find it in small seaside towns and sprawling cities. In rich men's skyscrapers and on dark streets. In the fiery burn from enemy to lover and the sweet surrender into a second chance.
Fall head over heels for billionaires, get swept away by a SEAL, and go home with a rockstar in this limited-time set from fifteen queens of romance!
This set features FOURTEEN books, including:
The Hostage Bargain by Annika Martin
Taking a Chance on Love by Iris Morland
The Prince & The Player by Tia Louise
Until I Fall by Claudia Burgoa
Charmed by the Bartender by Piper Rayne
Betting on You by Jessie Evans
A Kiss to Tell by Willow Winters
Cold Brew by Amelia Wilde
Legally Yours by Nicole French
Survival of the Richest by Skye Warren
Saved by the Mountain Man by Adriana Anders
Black Edge by Charlotte Byrd
Shameless by Nana Malone &; M. Malone
Sweet Crazy Song by Theresa Leigh
HAPPILY EVER AFTER is available for a very limited time.
Come meet some of romance's hottest authors and find your HEA!
A Spell of Trouble by Leighann Dobbs
PICK UP AT AMAZON
Goodreads Synopsis:
When town trouble maker, Louella Drummond, drops dead in front of Isolde Quinn's pet store just minutes after threatening both Issy and her cousin Graeme, the police in the small lakeside town of Silver Hollow assume it's from natural causes.
... Until it's discovered that Louella was murdered.
Not just any murder, though. Murder by paranormal means. Dark magic that could only have been performed by a powerful witch. And every law-abiding paranormal knows that dark magic is forbidden and carries strict punishment at the hands of "the committee" - the mysterious entity that provides law and order within the paranormal community.
Being witches, Issy and her three cousins fear they are at the top of the suspect list. To make matters worse, a secret division of the FBI has gotten wind of the happenings in Silver Hollow and sent two agents to ferret out paranormal activity. Even worse than that, Issy is annoyingly attracted to one of them!
Armed with their unconventional posse of familiars, Issy and her cousins dodge the efforts of the "real" police and the special FBI agents while following a twisty path of clues that lead to a shocking betrayal.
Vindication by Rye Brewer
PICK UP AT AMAZON
Goodreads Synopsis:
The seventh book in the League of Vampires series brings you more witches, vampires, fae, shades, and sexy characters in swoonworthy romances and nail-biting action.
When revenge is a being's sole purpose in existence, does this soul burning passion for vengeance end after vindication is achieved?
All This I Will Give to You by Dolores Redondo
PICK UP AT AMAZON
Goodreads Synopsis:
The award-winning, international bestselling page-burner about the secrets and lies of one man that lead another into a treacherous house of strangers…
When novelist Manuel Ortigosa learns that his husband, Álvaro, has been killed in a car crash, it comes as a devastating shock. It won't be the last. He's now arrived in Galicia. It's where Álvaro died. It's where the case has already been quickly closed as a tragic accident. It's also where Álvaro hid his secrets.
The man to whom Manuel was married for fifteen years was not the unassuming man he knew.
Álvaro's trail leads Manuel deep into one of Spain's most powerful and guarded families. Behind the walls of their forbidding estate, Manuel is nothing but an unwelcome and dangerous intruder. Then he finds two allies: a stubbornly suspicious police lieutenant and Álvaro's old friend—and private confessor—from seminary school. Together they're collecting the pieces of Álvaro's past, his double life, and his mysterious death.
But in the shadows of nobility and privilege, Manuel is about to unravel a web of corruption and deception that could be as fatal a trap for him as it was for the man he loved.
The Hangman's Daughter by Oliver Potzsch
PICK UP AT AMAZON
Goodreads Synopsis:
Magdalena, the clever and headstrong daughter of Bavarian hangman Jakob Kuisl, lives with her father outside the village walls and is destined to be married off to another hangman's son—except that the town physician's son is hopelessly in love with her. And her father's wisdom and empathy are as unusual as his despised profession. It is 1659, the Thirty Years' War has finally ended, and there hasn't been a witchcraft mania in decades. But now, a drowning and gruesomely injured boy, tattooed with the mark of a witch, is pulled from a river and the villagers suspect the local midwife, Martha Stechlin.
Jakob Kuisl is charged with extracting a confession from her and torturing her until he gets one. Convinced she is innocent, he, Magdalena, and her would-be suitor race against the clock to find the true killer. Approaching Walpurgisnacht, when witches are believed to dance in the forest and mate with the devil, another tattooed orphan is found dead and the town becomes frenzied. More than one person has spotted what looks like the devil—a man with a hand made only of bones. The hangman, his daughter, and the doctor's son face a terrifying and very real enemy.
The Dark Heart by Joakim Palmkvist
PICK UP AT AMAZON
Goodreads Synopsis:
A chilling true crime story of poisonous family secrets, love gone wrong, and a cold case that refused to stay buried…
In late summer of 2012, millionaire landowner Göran Lundblad went missing from his farm in Sweden. When a search yielded nothing, and all physical evidence had seemingly disappeared, authorities had little to go on—except a disturbing phone call five weeks later from Göran's daughter Maria. She was sure that her sister, Sara, was somehow involved. At the heart of the alleged crime: Sara's greed, her father's land holdings, and his bitter feud with Sara's idler boyfriend.
With no body, there was no crime—and the case went as cold and dark as the forests of southern Sweden. But not for Therese Tang. For two years, this case was her obsession.
A hard-working ex-model, mother of three, and Missing People investigator, Therese was willing to put her own safety at risk in order to uncover the truth. What she found was a nest of depraved secrets, lies, and betrayal. All she had to do now, in her relentless and dangerous pursuit of justice, was prove that it led to murder.
Infraction by Avery Cross
PICK UP AT AMAZON
Goodreads Synopsis:
Mysterious necromancers. Wicked summoners. Fierce witches. Occasional familiars. Military experiments. Secret councils. Forbidden alliances. The Academy of Ancients will suck you in.
THE PENULTIMATE BOOK IN THE ACADEMY OF ANCIENTS SERIES!
Spoiler Alert! If you haven't read the series' prior books, stop now!
Briar's been accused of murder and she's now firmly entrenched in the hands of the enemy!
Warning: This series will hook you! Violence can be found in this series of action-packed fantasy, with necromancers, summoners, and badass witches. And occasional cliffhangers!
Heist by Ell Leigh Clarke
PICK UP AT AMAZON
Goodreads Synopsis:
Particularly when it comes to working with new people.
People who have their (now) mortal lives in their hands.
To make matters worse, when Bentley uncovers a plot that goes deeper than just the quick heist they've been hired for, things start to unravel fast.
A plot that could mean not just the enslavement, and death, of the ALF (Artificial Life Forms) they decide to rescue, but the human population at large.
But first she has to figure out who she can trust.
Will she be able to persuade everyone to work together?
Can she protect her team from an ensuing showdown of blasters and bullets?
And will she see the bigger picture before it's too late?
Find out now.
Siren's Calling by Anna Santos
PICK UP AT AMAZON
Goodreads Synopsis:
Framed and disgraced by her ex, young siren Alayah needs to restore her honor and prove her valor. When the elders announce that there'll be a contest to choose a commander who will leave on a quest to find a Legacy Stone, Alay jumps at the opportunity and signs up.
Only the strongest of all participants will have the honor to search for the stone. The elders aren't taking things lightly, and all the games are difficult. Plus, something dark is killing the participants and trying to stop the quest from being completed.
The warrior siren's young shoulders carry the burden and hopes of the region when she leaves with a team of warrior sirens to recruit a mage to stop the total destruction of the earth's habitat.
Recruiting the mage won't be as easy has the elders foretold. Yet, in a turn of the events, Alay finds herself with two gorgeous mages vying for attention and willing to help her on her quest.
Bonds will be forged, and trusts will be betrayed in this epic quest that leads sirens, humans, mages, and dark creatures into a race against time to find the powerful Legacy Stone and use it for either good or evil.
Siren female warriors, sexy mages, and dark creatures live in this dystopian world where the Black Magic threatens to destroy an already dying world. If you are a fan of Hunger Games, The 100, and Divergent, you'll love this one! Siren's Calling is a stand-alone, full-length, Reverse Harem, Dystopian novel in The Cursed Seas Collection.
Mafia Romance: TEN Love Stories of Danger and Desire
PICK UP AT AMAZON
Goodreads Synopsis:
TEN tales of violent passion from bestselling authors!
Mafia capos, modern-day princesses locked in towers, and scorching hot scenes fill the pages of this limited edition boxed set.
Absolution by Rye Brewer
PICK UP AT AMAZON
Goodreads Synopsis:
Book Three in the League of Vampires Series. This series is best read in order.
Ancient enemies, newfound coalitions.
Anissa's not about to take Jonah's decision to face his enemies alone. This former slayer isn't your average sit on the sidelines kind of girl.
New heroes, not so new archenemies.
Fane wants forgiveness and allegiance, but not at the cost of the ones he loves most. Certainly, not at the expense of an new soul that is joining his cadre.
Needs rarely line up with wants.
Philippa's feelings for Vance won't be the end of her, but will they be the end of a loved one?
The Duke's Bride by Joanne Wadsworth
PICK UP AT AMAZON
Goodreads Synopsis:
A fiercely loyal lady, along with her brooding duke come head-to-head in a battle of wills! An unforgettable Regency romance from New York Times Bestselling Author Joanne Wadsworth.
He must steal a lady...then steal her love.
Desiring a man and never being noticed as more than his best friend's little sister has Lady Ellie Trentbury finally consigning herself to the truth. She must move on, and preferably with a man who lives far away from her home in London where she need never be reminded of the duke who stole her heart. An elopement with an honorable American shipping merchant sounds perfect.
The Duke of Ashten has no choice but to bound into his best friend's carriage when he discovers little Ellie is inside and intent on eloping with a man to Gretna Green who she barely knows. He can't allow her to make such a terrible mistake, yet convincing her might mean giving into his desire for the golden-eyed enchantress who has followed him around since he was a lad.
Her pouty lips and bountiful charms can no longer be ignored, only convincing her of the truth of his intentions will mean jeopardizing both his sanity and a lifelong friendship as well.
Masters of Deception by JC Kang
PICK UP AT AMAZON
Goodreads Synopsis:
Only a conman can save the world.
Songs of Insurrection by JC Kang
PICK UP AT AMAZON
Goodreads Synopsis:
Only the lost art of evoking magic through music can prevent Cathay from descending into chaos.
Blessed with an unrivaled voice, Kaiya dreams of a time when a song liberated enslaved humans from their orc masters. Maybe then, the imperial court would see the awkward, gangly princess as more than a singing fool.
When members of the emperor's elite spy clan uncover a brewing rebellion, the court hopes to appease the ringleader by offering Kaiya as a bride.
Obediently wedding the depraved rebel leader means giving up her music. Confronting him with the growing power of her voice could kill her.
Songs of Insurrection is a re-release of The Dragon Scale Lute
Winter's Captive by Robin D. Mahle & Elle Madison
PICK UP AT AMAZON
Goodreads Synopsis:
The black X of the Aramach Rebels marks the spot Princess Charlotte's life was destroyed.
Her fiance taken and her kingdom on the brink of war because of it, Charlie refuses to be the damsel in distress and takes matters into her own hands. She can only trust a handful of people as hints of a conspiracy are uncovered.
Leaving her castle and everything she's ever known behind, Charlie ventures into a place she only thought she knew -- her own kingdom. In the face of traitors and thieves and ruthless rebels, Charlie won't be stopped on her mission to set things right and find her prince.
The only question is: Will she find him before it's too late?
The Untold Prophecy by Jill Cooper
PICK UP AT AMAZON
Goodreads Synopsis:
For the love of books everywhere...A rebel girl with the hidden ability to read sets off to save the world one book at a time.
One girl, Tarnish Rose rescues what was meant to be destroyed. Finding an occasional book long forgotten, those heart-warming tales speak to her very soul and could land her in the hands of the Dark Lord Creighton.
Her ability to read is a closely guarded secret, but as the man she's betrothed to is set to be killed for violating code of conduct, Tarnish finds her secret on the verge of being discovered.
Unable to let this happen, Tarnish is about to launch on the journey of her life not only to free him but to stop the Dark Lord Creighton himself. With the hunter death squads on her tail, she'll rush for a waiting train and discover the world is full of secrets and join forces with other rebel librarians.
If the death hunters don't get her first.