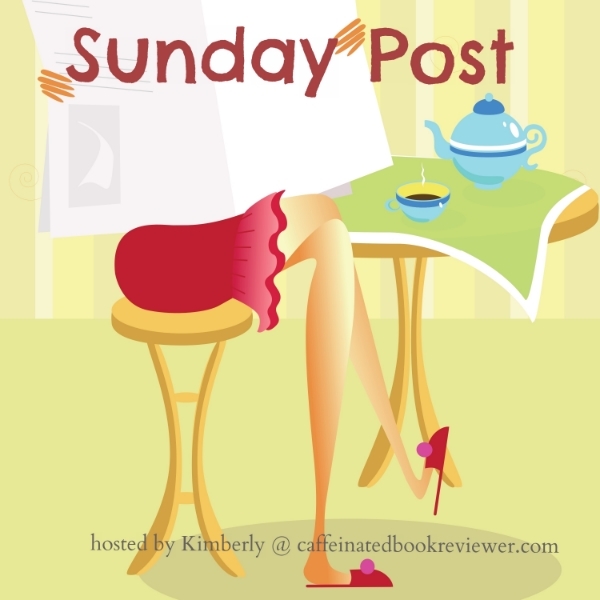 The Sunday Post
is a weekly meme hosted by
Kimba the Caffeinated Book Reviewer
~ It's a chance to share news ~ A post to recap the past week on your blog, showcase books and things we have received and share new about what is coming up on our blog for the week ahead.
It's been busy here! Football season. Renaissance Festival. On my! My son's an assistant coach for a local high school. I've been going to the Friday night games to take photos for the boys. And they did their first JV game on Saturday, so I went to that too. All the kids deserve to have photos. :)
I was wanting to go to the Renaissance Festival this year, but didn't think I would make it... with timing and housework that's got to get done on weekends... It wasn't looking good. Well, the originally planed outing for the photography club I'm in was canceled, it was in the city while there was a football game in town. It wasn't feasible for us. So, they decided to go to the Ren Fest! I was thrilled! I felt bad my husband and kiddo didn't get to go and enjoy themselves too. But I went! And took a boat load of photos. I've got a bunch of
photos from the festival up on Facebook
!
I've been working hard on a book bible for an author as well. So, yea, time is full here. Which is not a bad thing. :) It keeps me out of trouble. ;)
What has your weeks been like? Winding down for fall (at least in my area, falls coming) or winding up with all that's coming with the season?
~~~~~~~~~~~~~~~
Goal: Workout in any form of exercise (or on Wii Fit) 2x's a week. (to feel better and hope to drop a few pants sizes)
How did I do last week... Not...really... Time is mad at me right now.


What's Happening in Books:
She Dreams of Fire
by M.K. Gibson
Editing work.
Current Audiobook:
Will start a new one Monday.
Current Podcast Book Listen:
Nothing new.
Books:
No reading finished yet.
Audiobooks :
The Distance
by Jeremy Robinson & Hilaree Robinson
Straight Outta Fangton by C.T. Phipps
Finished Podcast Book Listen:
Nothing new yet.
Last Two Weeks on the Blog:
Cover Reveals:
(click titles to go to post & learn more)
Posts:
Around the Internet...
Reviews:
The Living End by Craig Schaefer
"Dark and gritty with drugs and dark magic. Fighting and torture. But there is so much going on in the story!"
Lucifer's Nebula by C.T. Phipps
"It's always a pleasure to spend time with Cassius and his crew. They have great relationships that make you smile as they don't hold back when talking. It's all out in the space around them. lol. Then there's the trouble they get into. Fun action story."
Mama Bitchstress Reviews:
GIVEAWAYS:
This Week to Come on the Blog:
I will finished up two reviews for you this week.
~~~~~~~~~~
Received For the Last Few Weeks:
(Note: Links to Amazon are buy links where I could earn commission, in case you are interested.)
For Review Consideration:
Audio Books Requested for Review:
The Sisters of the Wood by Rena Rossner
PICK UP AT AMAZON
Goodreads Synopsis:
Captivating and boldly imaginative, with a tale of sisterhood at its heart, Rena Rossner's debut fantasy invites you to enter a world filled with magic, folklore, and the dangers of the woods.
Raised in a small village surrounded by vast forests, Liba and Laya have lived a peaceful sheltered life - even if they've heard of troubling times for Jews elsewhere. When their parents travel to visit their dying grandfather, the sisters are left behind in their home in the woods.
But before they leave, Liba discovers the secret that their Tati can transform into a bear, and their Mami into a swan. Perhaps, Liba realizes, the old fairy tales are true. She must guard this secret carefully, even from her beloved sister.
Soon a troupe of mysterious men appear in town and Laya falls under their spell-despite their mother's warning to be wary of strangers. And these are not the only dangers lurking in the woods...
The sisters will need each other if they are to become the women they need to be - and save their people from the dark forces that draw closer.
Purchased/Winnings/Gifts:
Book:
Audio:
Free Ebooks:
(On my Kindle and Nook App)
Links to books under title. They may or may not be free at this time.
Embers of Resistance by LJ Andrews
PICK UP AT AMAZON
Goodreads Synopsis:
She had hope. He had hatred. Together they might change everything.
Adira is a traitor to the Citadel.
As a prisoner of the shadow assassins she did something unthinkable. She has a choice: run or become the leader the Uprising needs. Either way, she probably won't survive.
Dominus Kage will never be the same.
He should never have told Adira his real name. Now, everything he created with the shadow assassins is unraveling.
But something about her keeps dragging him back into the fight.
Will a reluctant heroine make an unlikely hero out of a villain?
Danger's Halo by Amanda Carlson
PICK UP AT AMAZON
Goodreads Synopsis:
153 years in the future, Earth doesn't look much like it used to
Holly Danger's current assignment, gleaned from a set of foggy instructions and a handful of coin stuffed into a slot, is to pick up a street kid who's about to terminate himself off a cliff. And, as a rule, she doesn't turn down currency. Her job as a salvager keeps her fed and clothed above the norm, which isn't saying much.
The norm in this city is a scrape-by existence in a post-apocalyptic world, where the rain never stops, food is always scarce, and the elite have deserted the ranks in search of something better. Picking up this urchin won't take much time, even if he's located outside city limits. Her craft is fast, her weapons deadly, and her tech has been optimized as well as it can be for a climate clogged with iron dust.
But things take a big turn when she decides to become the boy's guardian instead of hand him over. Outskirts have descended on the city, and their plans don't include playing nice. When her crew is backed against a graphene wall, it's a good thing her Gem is primed and ready to go. It's almost as deadly as she is...
Siren's Serenity by Stacia D. Kelly
PICK UP AT AMAZON
Goodreads Synopsis:
Loire Destan is being hunted. When a new land developer moves in next door to her spa in Rosarito, Mexico, she thinks she only has to worry about keeping the Nexus portal safe. Then, her artifacts around the spa start to go missing, the portal stops functioning, and she feels she's being watched all the time.
Resort developer Viktor Kieran is used to getting his way. But his new neighbor, Loire is having none of his charm or good looks, and he's finding he's constantly losing his grasp of reality when she's around. He's starting to see lights in the shadows of the waters he shouldn't and wonder if the uneasy energy around Loire should better be left alone. He can't keep his footing around her.
When the accidents stop being accidents, Loire's not sure who's saving who and whether they're both out of their depth. She's got to protect the Nexus.
But who's going to protect her?
Free Audio Books/Stories:
~~~~~~~~~~
Soulless
by Skyla Dawn Cameron
The Sentinel
by Chris Lester
The Muse
by Chris Lester
Metamor City: Making the Cut
by Chris Lester
Metamor City: Whispers in the Wood
by Chris Lester
Lex Talionis
by Starla Huchton
Spark

by Starla Huchton
Heir to Kale
by K.L. Bone
Tales from the Archives Vol 4 #5 - Old Sinner's Bones
The Death of Dulgath
by Michael J. Sullivan
Danger's Halo
by Amanda Carlson
The Books and Braun Dossier
by Philippa Ballantine & Tee Morris
Dreadful Company
by Vivian Shaw
The Distance by Jeremy Robinson & Hilaree Robinson
Straight Outta Fangton by C.T. Phipps