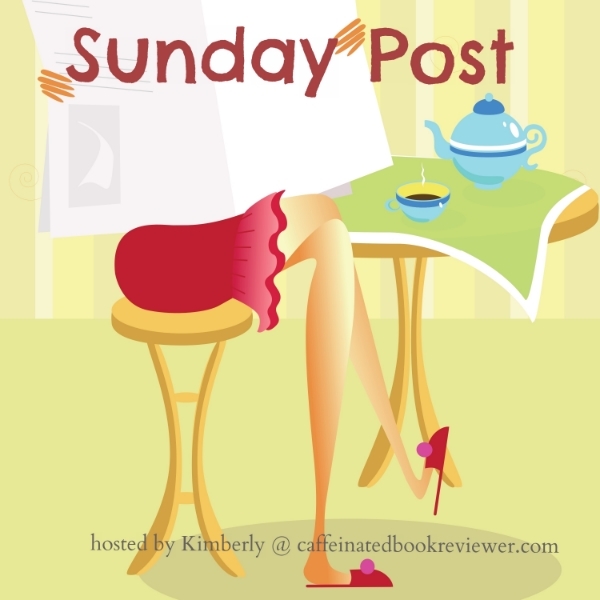 The Sunday Post
is a weekly meme hosted by
Kimba the Caffeinated Book Reviewer
~ It's a chance to share news ~ A post to recap the past week on your blog, showcase books and things we have received and share new about what is coming up on our blog for the week ahead.
The last two weeks have been a blur. We've been busy. First, we lost one of our beloved girls over a week ago. It was Thursday the first week and I had to take our poor, sick Athena to the vet. She'd been going for a few weeks, we were doing all we could, and I knew this day was her last trip. She was struggling with her liver. So, we did what we had to so she didn't suffer. Sheba, Athena's sister and litter mate, has been rather lost in routine without her sister. I can understand. So we've been working to keep her occupied and going. Plus, she's sick with a skin infection. We are working hard to keep her going.
Then there was the Fourth of July. We had a get together of friends here at our home. Ugh! That's a LOT of work. I took the third off and still wasn't ready when people showed up after work. I was beat from the whole thing, which took a day to recover and I was still tired when I went back to work on the fifth.
That brings us to Saturday. We spent the day getting new phones and going to Kennywood for a work picnic for my husband. It was a beautiful day to be out. The weather wasn't in the hundreds like it was for the third and fourth of July, but it was still hot while you waited in lines.
Adding to the mix, I've been working on content editing work. It's been a busy few weeks.
~~~~~~~~~~~~~~~
Goal: Workout in any form of exercise (or on Wii Fit) 2x's a week. (to feel better and hope to drop a few pants sizes)
How did I do last week... When the weather's not so hot and muggy, I've been walking for 15 mins at lunch time.


What's Happening in Books:
The Books and Braun Dossier
by Philippa Ballantine & Tee Morris
Editing work.
Current Audiobook:
Marines
by Paul E. Cooley
Flotsam Prison Blues
by M.K. Gibson
Current Podcast Book Listen:
Nothing new.
Books:
Siren's Tide
by Philippa Ballantine
Audiobooks :
Helios
by Jeremy Robinson & Sean Ellis
Finished Podcast Book Listen:
Nothing new yet.
Last Two Weeks on the Blog:
Cover Reveals:
(click titles to go to post & learn more)
Posts:
Around the Internet...
Reviews:
Tracing Shadows
"I think the catch of the story is the magic used with crystals and that Kali is something else in the magic spectrum. Also we have the kingdom the midst of rebellion with how things are going for their lives and the area they lost to another empire decades ago."
Frostbite
"This story is a quick one to read to introduce yourself to Ivy Granger and her world. You get hints of what is present in the world and city of Harbersmouth along with what Ivy can do. There is nothing here to give away the series secrets. Also, you wouldn't be hindered in not reading this before the series. It's a complete stand-alone short story."
Siren's Tide
"The world and story are written with great care and detail to give us the most we can get of details, action, feelings, and more."
Alone
"So many things happen in this book! Battle on land with rogue springers, battle from above with other ships coming, battle in space... The information we learn... We learn what's causing the races to come to this planet and why. We also learn about the anger issue. About "The Call" to come to this place... The new people we meet! Oh man. Scott has packed so much in this book and poor Em's emotions have to be all over the board! We get the answer to Em and Matilda fight between them. And the bigger battle to save their lives."
The Power of Five
"I like romances that are written with a story and plot entwined with the growing sexual tension. And this story has it. There is more to why this Quint is together, we haven't learned the reason yet though."
Mama Bitchstress Reviews:
GIVEAWAYS:
This Week to Come on the Blog:
I will finished up two reviews for you this week.
~~~~~~~~~~
Received For the Last Month:
(Note: Links to Amazon are buy links where I could earn commission, in case you are interested.)
For Review Consideration:
Audio Books Requested for Review:
As Dead As A Vampire by April Fernsby
PICK UP AT AMAZON
Goodreads Synopsis:
A Cozy Mystery With Witches
Cassia Winter is a witch. She investigates crime in the supernatural town of Brimstone.
There's an increase in the illegal use of black magic in Brimstone resulting in the crime rate escalating. Taking her gran's advice, Cassia takes up residence in town so she can observe anyone who's acting out of character.
It's not long before Cassia comes across the murdered body of a vampire. Cassia discovers he was a particularly nasty vampire who had countless enemies – and there are many residents who are happy to see him dead. But which one of his enemies actually killed him?
Purchased/Winnings/Gifts:
Book:
Audio:
Free Ebooks:
(On my Kindle and Nook App)
Links to books under title. They may or may not be free at this time.
First Flight by Sarah K. L. Wilson
PICK UP AT AMAZON
Goodreads Synopsis:
Join Dragon School. Learn to Fly.
Sixteen-year-old Amel arrived at Dragon School just like everyone else – with a dream to ride dragons and join the Dominion Dragon Riders.
But Amel has a crippled leg and Dragon School training is grueling. Before she can even become an initiate, she must complete her First Flight on a dragon.
Can Amel survive First Flight and become a Dragon School initiate or will her dreams dash on the rocks below?
The Rookie by Scott Sigler
PICK UP AT AMAZON
Goodreads Synopsis:
Set in a lethal pro football league 700 years in the future, THE ROOKIE is a story that combines the intense gridiron action of "Any Given Sunday" with the space opera style of "Star Wars" and the criminal underworld of "The Godfather." Aliens and humans alike play positions based on physiology, creating receivers that jump 25 feet into the air, linemen that bench-press 1,200 pounds, and linebackers that literally want to eat you. Organized crime runs every franchise, games are fixed and rival players are assassinated. Follow the story of Quentin Barnes, a 19-year-old quarterback prodigy that has been raised all his life to hate, and kill, those aliens. Quentin must deal with his racism and learn to lead, or he'll wind up just another stat in the column marked "killed on the field."
Frostbite by E.J. Stevens
PICK UP AT AMAZON
Goodreads Synopsis:
This prequel short story is the perfect introduction to the award-winning Ivy Granger Psychic Detective urban fantasy series.
Everyone knows that there's no such thing as ghosts, but when a client claims that her house is being haunted, Ivy tries to keep her mind open and her weapons handy. If her psychic gifts and recent cases have taught her anything, it's that you're better off arming yourself for the unexpected.
Will our favorite psychic detective face down murderous ghosts? Anything is possible in Harborsmouth.
Most Eligible Billionaire by Annika Martin
PICK UP AT AMAZON
Goodreads Synopsis:
He's a powerful billionaire CEO who built the family business into an empire. The money doesn't matter to him, but the company is his life. And then his eccentric mother wills it all to her tiny dog.
I'm Vicky, the dog whisperer. (Not really, but that's what my elderly neighbor always says.) When she dies, she surprises everybody by leaving a corporation worth billions to her dog, Smuckers. With me as his spokesperson.
Suddenly I go from running my Etsy store to sitting in an elegant Wall Street boardroom with Smuckers in my lap. And my neighbor's son, Henry Locke, aka New York's most eligible bachelor, glaring across the table at me.
Rumor has it Henry's a business genius who's as talented in the bedroom as he is in the boardroom. Sure, he's gorgeous. Sex-in-a-seven-thousand dollar suit. But…
He's arrogant and infuriating.
He refuses to listen to me when I insist I didn't con his mother.
He thinks he can bully me, buy me off, control me, even seduce me.
Henry may have the women of Manhattan eating out of the palm of his hand, but I'm so over entitled rich guys who think they own the world.
No way will his wicked smile be charming ME out of my panties.
His wicked...devastating...impossible-to-resist smile.
Oh well, who needs panties anyway?
The Ex-Pacifist by Sarah K. L. Wilson
PICK UP AT AMAZON
Goodreads Synopsis:
Vera is a reluctant rule-breaker. But when her choice ends in a death sentence, she takes her one chance at survival- a suicide mission to the planet of Capricornia. Now Vera and her teenage bodyguard must solve the planet's mystery together before time runs out. If they fail, she dies.
The Ex-Pacifist is the first book of The Matsumoto Trilogy, a gripping YA Sci-Fi series. If you like action, intrigue, romance and a thrilling climax, then you'll love The Ex-Pacifist.
The Splitting by Sarah K. L. Wilson
PICK UP AT AMAZON
Goodreads Synopsis:
Vera is no longer a passive, brain-washed teen. Now she's on a prison planet filled with shadowy aliens and 'allies' who want her dead. There's only one thing she wants: escape. But to get it, she'll have to become bolder than she ever dreamed was possible.

The Splitting is the second book of The Matsumoto Trilogy, a thrilling YA SCI-FI series. If you like action, suspense, and adventure, then you'll love The Splitting.
The Matsumoto by Sarah K. L. Wilson
PICK UP AT AMAZON
Goodreads Synopsis:
Vera and Roman are reunited, but as things get worse for the Blackwatch Empire there's only one way Vera's path can take her: to the throne or to her death. Will the allies she's made be enough to help her seize the empire? Will her unique abilities, enhanced by her implant, give her the resources she needs to fight an interplanetary army? And will Roman still stick with her now that her path is leading where neither of them wanted to go?
A young adult science fiction thriller with epic themes of family, duty, and conscience, a diverse cast, non-stop action and romantic sub-plots that echo the work of S. J. Kincaid's "The Diabolic" or Suzanne Collins' "The Hunger Games."
The Midnight Society by Rhonda Sermon
PICK UP AT AMAZON
Goodreads Synopsis:
Witness protection has a protocol for dealing with every situation—except magic.
Fifteen-year-old Cate's life has been monitored since her new identity was created five years ago. She's spent countless hours learning how to deal with potential threats and dangerous situations. None of which is any use when everyone around her is suddenly frozen like statues at the bus stop.
As Cate attempts to make sense of the frightening scene, a mysterious group of teenagers appear out of thin air. They are intrigued she's not affected, but focus on completing their deadly mission, using baffling powers before they vanish again.
When the group seeks her out the next day, Cate is drawn into a world filled with sorcery and time travel. After she accidentally brings a cheerleader back from the dead, her incredible powers are revealed. Cate is shocked to discover she has a pivotal role to play in a centuries-old battle between two mortal enemies which threatens to destroy her entire world.
With the distinction between good and evil blurred, she's faced with the excruciating choice of which side to join. Cate can save her family or protect thousands of people from death. She can't do both. Will she risk destroying innocent lives to save the ones she loves?
The Midnight Society is the first book in The Midnight Chronicles series of young adult urban fantasy novels. If you like original butt-kicking heroines, fast-paced urban fantasy action, and unpredictable time travel twists, then you'll love Rhonda Sermon's refreshing, entertaining series starter.
The Midnight Society was originally released as Timesurfers. This book has a new name, new cover and additional content.
Arrows & Angels by Kristin D. Van Risseghem
PICK UP AT AMAZON
Goodreads Synopsis:
Kieran's job of being a guardian angel is straightforward: observe and learn—and don't intervene in their lives. But then he watches as his first charge dies at the hands of evil while he does nothing to help.
Overcome with grief and doubt, Kieran flees back to the safety of heaven. With guidance from his mentor, he learns all he can about the Battle of the Fallen and the creation of evil itself. With renewed determination, he vows he will save the Ordinaries in his care.
The rules of being a guardian angel have not changed, but Kieran has. Returning to earth, only Kieran knows how essential it is to find and protect one 17-year-old girl. The girl who can thwart the Devil's escape from his prison and the start of Armageddon.
Shift of Shadow and Soul by Hilary Thompson
PICK UP AT AMAZON
Goodreads Synopsis:
There are three kinds of magic in the world, and Corentine has the wrong one.
Long ago, the Restless King forced Corentine's people into hiding as he scoured their blood for the SoulShifter. When Corentine learns she possesses some of the forbidden Shifter magic, she must hide her power or risk the same death her twin suffered.
Raised to trust no-one, she rejects the General's son Sy, until she realizes his family secrets might be the key to unlocking hers. When his brother turns against them, they are forced to fight family to save what's left of their home, or accept banishment to find a new future.
If Coren and Sy can't convince their people to accept the light of Shifter magic, the growing Shadow will ruin everyone's chance of freedom.
Travel this richly imagined world with a diverse cast that readers have compared to fantasy favorites like Sarah J Maas and Leigh Bardugo.
Sulit Witch
Weshen Shifter
Umbren Shadow
When dark meets light, will all become Shadow?
Buy Shift of Shadow and Soul today to find out which magic will win!
Free Audio Books/Stories:
~~~~~~~~~~
Soulless
by Skyla Dawn Cameron
The Sentinel
by Chris Lester
The Muse
by Chris Lester
Metamor City: Making the Cut
by Chris Lester
Metamor City: Whispers in the Wood
by Chris Lester
Lex Talionis
by Starla Huchton
Spark

by Starla Huchton
Heir to Kale
by K.L. Bone
Tales from the Archives Vol 4 #5 - Old Sinner's Bones
The Death of Dulgath
by Michael J. Sullivan
Danger's Halo
by Amanda Carlson
Helios
by Jeremy Robinson & Sean Ellis
Siren's Tide
by Philippa Ballantine