The Sunday Post
is a weekly meme hosted by
Kimba the Caffeinated Book Reviewer
~ It's a chance to share news ~ A post to recap the past week on your blog, showcase books and things we have received and share new about what is coming up on our blog for the week ahead.
~~~~~~~~~~
I didn't post last week. I've been feeling a bit on the down side. I think I've been coming down with a head cold or sinus infection for over a week now. I think it was a head cold as I think I might have fought it off, and won. lol.
It's snowing here, again. And lots to get done around the house along with editing work.
I do have a question. For those that are using Wordpress. I'm thinking of making the switch. Blogger has been troublesome lately and I think I am about to the point of making the jump. I'll do a post later to check in with everyone on the whole thing and ask lots of questions but for now... What host do you use? Are you happy with them?
Goal:
Workout on Wii Fit (or any form of exercise) 2x's a week. (to feel better and hope to drop a few pants sizes)
How did I do last week... Well, the previous week (which I didn't post about last week) I only did one day if you count the hour it took me to shovel and scrap a portion of the drive way. Other than that I've been to run down to do anything.
This past week, I didn't get one day in. I've relaxed each night as I wanted to get rid of that head cold. And I'm feeling much better so I think it worked. I think I might be able to breath well enough to start back to my two days this week.
~~~~~~~~~~
What's Happening in Books:
Current Read:
The Diamond Conspiracy
by Tee Morris and Philippa Ballantine
Current Podcast Book Listen:
The Horde
by Patrick Scaffido
Finished Last Week: (in last month)
Heartstealer
by K.T. Bryski
Kiss of Life
by Seleste DeLaney
Finished Podcast Book Listen:
None finished yet.
~~~~~~~~~~
Last Week on the Blog:
Cover Reveals:
(click titles to go to post & learn more)
Click the link to learn more about the books and their series:
Posts:
Diversity in Covers and why change a cover by Author and Cover Artist Skyla Dawn Cameron
Around the Internet...
Reviews:
Oh you get sooo much wonderful for your buck here.
Mama Bitchstress Reviews:
GIVEAWAYS:
One Copy of SERAPHINA by Rachel Hartman!
Weekly Posts:
Mythical Monday
Throwback Thursday
~~~~~~~~~~
This Week to Come on the Blog:
I have a few posts scheduled! Yes I do!
Mon.: The Nain What? - guest post by Seleste DeLaney
Tues.: Review of Kiss of Life by Seleste DeLaney
Wed.: Review of Interlude by Krista D. Ball
Thurs.: Guest post by K.T. Bryski
~~~~~~~~~~
Received Last Weeks:
Review & Review Consideration:
The Exile by C.T. Adams
Goodreads Synopsis:
Brianna Hai runs an occult shop that sells useless trinkets to tourists—and real magic supplies to witches and warlocks. The magical painting that hangs in Brianna's apartment is the last portal between the fae and human worlds.
A shocking magical assault on her home reveals to Brianna that her father, High King Liu of the Fae, is under attack. With the help of her gargoyle, Pug, her friend David, and Angelo, a police detective who doesn't believe in magic, Brianna recovers what was stolen from her and becomes an unwilling potential heir to the throne.
The Diamond Conspiracy by Tee Morris & Philippa Ballantine
Goodreads Synopsis:
For years, the Ministry of Peculiar Occurrences has enjoyed the favor of Her Majesty the Queen. But even the oldest loyalties can turn in a moment…

Having narrowly escaped the electrifying machinations of Thomas Edison, Books and Braun are looking forward to a relaxing and possibly romantic voyage home. But when Braun's emergency signal goes off, all thoughts of recreation vanish. Braun's street-wise team of child informants, the Ministry Seven, is in grave peril, and Books and Braun must return to England immediately.

But when the intrepid agents finally arrive in London, the situation is even more dire than they imagined. The Ministry has been disavowed, and the Department of Imperial Inconveniences has been called in to decommission its agents in a most deadly fashion. The plan reeks of the Maestro's dastardly scheming. Only, this time, he has a dangerous new ally—a duplicitous doctor whose pernicious poisons have infected the highest levels of society, reaching even the Queen herself...
Purchased/Winnings/Gifts:
Won:
Free Ebooks:
(On my Kindle App)
Tainted by Julie Kenner
Goodreads Synopsis:
Lily Carlyle has lied, cheated, and stolen her way through life.
But in death, she'll really get to be bad...
When her little sister is brutalized, a vengeful Lily determines to exact her own justice. She succeeds at the cost of her own life, but as she lies dying, she is given a second chance. Lily can earn her way into Paradise by becoming an assassin for the forces of good.
It's the job Lily believes she can really get into--but she doesn't realize that she may not be able to get out.
Aphrodite's Kiss by Julie Kenner
Goodreads Synopsis:
Zoe Smith might look like your average, ordinary elementary school librarian, but she's about as far from normal as a girl can get. Because Zoe is descended from a line of superheroes … and as her twenty-fifth birthday approaches, she has to decide if she's going to embrace her heritage (including all the wackiness that comes with X-ray vision and her extraordinary senses) or submit herself for mortalization and be that average, ordinary girl. Considering how lousy she's done so far on all the Council-imposed tests, chucking the whole superhero thing might be very best thing … especially when she realizes that sexy, private investigator George Bailey Taylor is more than a little interested in her—and he's more than a little convinced that Zoe is one-hundred percent "the girl next-door".

An ex-cop turned PI, George Bailey Taylor's had one hell of a life being bounced around from foster home to foster home. All he wants now is a normal life with a normal wife in a normal neighborhood. The typical American dream—and when he meets Zoe Smith, he's certain she's the typical American girl. Except she does have an overprotective brother who seems able to appear and disappear at will. And a creepy cousin who's always lurking about. And why does everyone in her family pretend to actually talk to the pet ferret?

With her super powers, Zoe can do just about anything … except make Taylor fall in love with her.

For that, they're both going to need a different kind of magic …
Discordia Ascentant: An illustrated Demon Squad story by Tim Marquitz
Goodreads Synopsis:
An Illustrated short story featuring Rahim.
Determined to rid El Paseo of a supernatural menace, Rahim finds himself face to face with his past.
(On my Nook)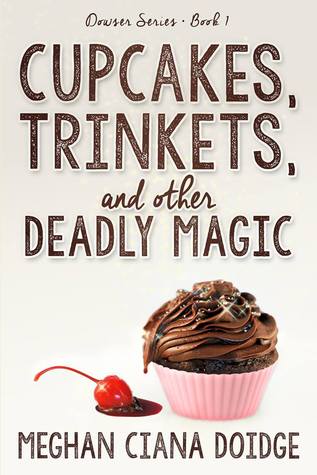 Cupcakes, Trinkets, and Other Deadly Magic by Meghan Ciana Doidge
Goodreads Synopsis:
If you'd asked me a week ago, I would have told you that the best cupcakes were dark chocolate with chocolate cream cheese icing, that dancing in a crowd of magic wielders — the Adept — was better than sex, and that my life was peaceful and uneventful. Just the way I liked it.
That's what twenty-three years in the magical backwater of Vancouver will get you — a completely skewed sense of reality. Because when the dead werewolves started showing up, it all unraveled … except for the cupcake part. That's a universal truth.
Free Downloads From Newsletters:
Darkest Before the Darkwater by Tee Morris & Philippa Ballantine
Goodreads Synopsis:
A group of survivors from the airship Guy Fawkes find themselves washed ashore on an uncharted island. In their search for survival they uncover one mystery after another.
Karma Kommandos by Paul Cook
Goodreads Synopsis:
Chuckle has just hit the streets of 21st century L.A. with devastating results. A member of L.A.P.D's Protean Set--special detectives who can change their appearances--Rory Koestler sets out after Bob Thermopylae, L.A.'s main dealer in Chuckle. Problem is, someone else is after him as well--assassins who step out of walls or just appear out of nowhere. Soon, they turn their sights on Koestler and several other citizens. Who are they? Where do they come from?
They are the Karma Kommandos . . .
Free Audio Books/Stories:
The Secret World Chronicle: The Hunt
by Mercedes Lackey & Steve Libbey (in audiobook while at work)
The Secret World Chronicle: World Well Lost
by Mercees Lackey,Steve Libby, Cody Martin, & Dennis Lee
Soulless
by Skyla Dawn Cameron
The Sentinel
by Chris Lester
The Muse
by Chris Lester
Metamor City: Making the Cut
by Chris Lester
Metamor City: Whispers in the Wood
by Chris Lester
Master of Myth
by Starla Huchton
Tales of a Tesla Ranger: Tribute to P.G. Holyfield
by (anthology)
Danube Waves
by Katharina Bordet
Interlude
by Krista D. Ball
A Curse Unbroken
by Cecy Robson
Rhune
by Michael J. Sullivan
Heartstealer
by K.T. Bryski
Kiss of Life
by Seleste DeLaney