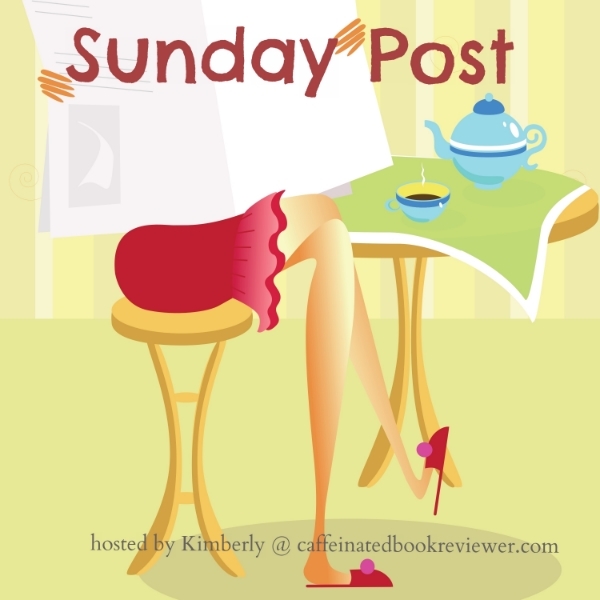 The Sunday Post
is a weekly meme hosted by
Kimba the Caffeinated Book Reviewer
~ It's a chance to share news ~ A post to recap the past week on your blog, showcase books and things we have received and share new about what is coming up on our blog for the week ahead.

I know it's been a long time, but I didn't realize it'd been THAT long! I'm so sorry! Over a month of no Sunday Posts.

Life has been moving forward and we've been busy on Sunday's. Lots happening. All good, of course. I don't even know where to start with what I've been doing. lol. There was Easter, which fell on my mom's birthday this year. So Easter was a little more than usual. Then I went for a photo walk at a local trail and took some flower photos. It was fun and I tried a few techniques that are new to me. Balticon, a science fiction/fantasy convention I go to yearly has come and passed. Time with family has been a big thing. I've been trying to adapt to new medicines that I've been feeling tired from.

So, here I am today. Hope you are all doing well.

I'm trying to work out a schedule when I'm home in the evenings, but I'm not home every night anymore. Between taking photos, photo group meetings, and life things it's hard. I want to write and get a book released or in the process of.


~~~~~~~~~~~~~~~
Goal: Workout in any form of exercise (or on Wii Fit) 2x's a week. (to feel better and hope to drop a few pants sizes)
How did I do last week... I really need to get back to working out!


What's Happening in Books:
Gunsmoke & Dragonfire
edited by Diane Morrison
Current Audiobook:
The Wrath of Lords
by Kyle Alexander Romines
Current Podcast Book Listen:
Nothing new.
Books:
No reads this week.
Audiobooks :
Ancient Echoes
by Joanne Pence
Insomnia and Seven More Short Stories by Jeremy Robinson
The Haunting of Hillwood Farm
by Kathryn Knight
Alter
by Jeremy Robinson
Hidden Enemies
by Terry Mixon
Ark Found
by Rick Chesler
Cinder
by James Maxey
Finished Podcast Book Listen:
Nothing new yet.
Last Week on the Blog:
Cover Reveals:
(click titles to go to post & learn more)
Posts:
Around the Internet...
Reviews:
GIVEAWAYS:
I have two reviews scheduled for you this week.
For Review Consideration:
The Apocalypse Club by Brian Koscienski
PICK UP AT AMAZON
Goodreads Synopsis:
An ancient cult of blood magic rises. All hope is on a circle of young sorcerers who must master arcane knowledge, powerful talismans, and their own desires.
One day Bree Moore is an average high school sophomore focused on her grades, worried about losing her lifelong friends due to a misunderstanding, and avoiding the attention of a few "mean girl" cheerleaders. The next, she is, well, a magician.
After she discovers that one of her teachers is also an instructor at an experimental institute for the study of intercultural magic, Bree accepts an invitation to become a part-time student there. She is quickly swept up in the excitement of meeting kids from around the world and learning about her abilities—until she learns that all is not what it seems.
While trying to help one of her classmates find his missing sister, Bree learns that the school is a front for training students to fight the impending threat of Talo, a zealot and cult leader determined to bring the Mesoamerican gods of blood sacrifice back to the world. With her fellow students, she devises a plan to find the missing girl, but then learns that one of her new friends is a traitor.
Who can she trust in this new life? Have the instructors been lying to her? Can she balance this world with her old life? Will The Apocalypse Club save her life or destroy it?
Audio Books Requested for Review:
Middlegame by Seanan McGuire
PICK UP AT AMAZON
Goodreads Synopsis:
Meet Roger. Skilled with words, languages come easily to him. He instinctively understands how the world works through the power of story.
Meet Dodger, his twin. Numbers are her world, her obsession, her everything. All she understands, she does so through the power of math.
Roger and Dodger aren't exactly human, though they don't realise it. They aren't exactly gods, either. Not entirely. Not yet.
Meet Reed, skilled in the alchemical arts like his progenitor before him. Reed created Dodger and her brother. He's not their father. Not quite. But he has a plan: to raise the twins to the highest power, to ascend with them and claim their authority as his own.
Godhood is attainable. Pray it isn't attained.
Alien: Echo by Mira Grant
PICK UP AT AMAZON
Goodreads Synopsis:
An original young adult novel of the Alien universe
Olivia and her twin sister Viola have been dragged around the universe for as long as they can remember. Their parents, both xenobiologists, are always in high demand for their research into obscure alien biology.
Just settled on a new colony world, they discover an alien threat unlike anything they've ever seen. And suddenly the sisters' world is ripped apart.
On the run from terrifying aliens, Olivia's knowledge of xenobiology and determination to protect her sister are her only weapons as the colony collapses into chaos. But then a shocking family secret bursts open—one that's as horrifying to Olivia as the aliens surrounding them.
The creatures infiltrate the rich wildlife on this virgin colony world—and quickly start adapting. Olivia's going to have to adapt, too, if she's going to survive...
An Imprint Book
Dark Shores by Danielle L. Jensen
PICK UP AT AMAZON
Goodreads Synopsis:
High seas adventure, blackmail, and meddling gods meet in Dark Shores, the first novel in a new YA fantasy series.
In a world divided by meddlesome gods and treacherous oceans, only the Maarin possess the knowledge to cross the Endless Seas. But they have one mandate: East must never meet West.
A PIRATE WITH A WILL OF IRON
Teriana is the second mate of the Quincense and heir to the Maarin Triumvirate. Her people are born of the seas and the keepers of its secrets, but when her closest friend is forced into an unwanted betrothal, Teriana breaks her people's mandate so her friend might escape—a choice with devastating consequences.
A SOLDIER WITH A SECRET
Marcus is the commander of the Thirty-Seventh, the notorious legion that has led the Celendor Empire to conquer the entire East. The legion is his family, but even they don't know the truth he's been hiding since childhood. It's a secret he'll do anything to protect, no matter how much it costs him – and the world.
A DANGEROUS QUEST
When an Empire senator discovers the existence of the Dark Shores, he captures Teriana's crew and threatens to reveal Marcus's secret unless they sail in pursuit of conquest, forcing the two into an unlikely—and unwilling—alliance. They unite for the sake of their families, but both must decide how far they are willing to go, and how much they are willing to sacrifice.
Ark Found: An Omega Files Adventure by Rick Chesler
PICK UP AT AMAZON
Goodreads Synopsis:
AN ANCIENT MAP RECOVERED FROM A SAFE IN THE WRECK OF THE TITANIC…
IT POINTS TO AN ARK
TO FIND IT, OMEGA TEAM MUST A BATTLE A MERCILESS UNDERGROUND CONSORTIUM IN A WORLDWIDE BATTLE WITH THE POTENTIAL TO ROCK THE FOUNDATIONS OF HUMAN THOUGHT
ARK FOUND
April 15, 1912, North Atlantic Ocean, aboard the R.M.S. Titanic
A young archaeologist travelling to New York City aboard the liner's maiden voyage has brought along an intriguing find he hopes to sell to an antiquities collector. When the ship sinks, his artifact is still inside a safe.
Present Day, North Atlantic Ocean, Site of the R.M.S. Titanic shipwreck
When a deep sea submersible dive to the wreck of the Titanic recovers a safe, Carter Hunt and Jayden Takada look forward to seeing if its contents include the rumored map. A map that, if real, would show the way to a find of biblical proportions.
But Omega Team isn't the only group looking for the map. After an underwater battle inside the Titanic with an unknown submersible, Carter and Jayden manage to escape with their lives. But their troubles are only beginning as they are forced to do battle with a shadowy cabal that will stop at nothing to control the planet's most sought-after hallmarks of humanity.
The Wrath of Lords by Kyle Alexander Romines
PICK UP AT AMAZON
Goodreads Synopsis:
The job sounded simple enough.
Rid the village of an ogre and rescue the girl. In return, the local lord would overlook that ugly business in the church.
It was nothing he hadn't dealt with before.
That was before he heard the howls coming from the Bog of Móin Alúin. Before he crossed paths with the headless rider. Before he woke to find the witch's crooked fingers on his face.
Now Berengar must unravel the labyrinth of secrets and lies surrounding the village before a deadly curse claims his life, all while a darker evil looms in the shadows…
Wraith Lord by C.T. Phipps
PICK UP AT AMAZON
Goodreads Synopsis:
Jacob Riverson has assumed the mantle of the King Below and now rules over all the Shadowkind races. However, his desire to break the cycle of violence between the peoples of the Northern and Southern Kingdoms is doomed. The Nine Heroes will not rest until not just the Dark Lord is slain but all of his followers.
Jacob thus sets out on a daring but foolhardy mission to a great northern city in order to recruit an army of allies. He hopes to break the Nine Heroes' army gathering there before it can be used against him. Unfortunately, that may divide his own forces. The Shadowkind, his wives, and secretive forces beyond his own control want a war every bit as much as Jacob's enemies.
What's a Wraith Knight to do?
Shadows on Snow by Starla Huchton
PICK UP AT AMAZON
Goodreads Synopsis:
Once upon a time, a dark evil crept into my kingdom, stealing my loved ones and the happy life I knew. The world turned against me, and I swore to become stronger, to keep myself safe.
Once upon a time, there was a handsome prince, hair dark as ebony, skin as pure as the freshly driven snow, and I became the only one who stood between him and death.
Once upon a time, our stories intertwined, and now, healing my heart may be the only way to save us all from the evil that threatens to destroy what little we have left.
Race to Terra by Terry Mixon
PICK UP AT AMAZON
Goodreads Synopsis:
Separated by an almost unimaginable gulf in space, Princess Kelsey Bandar and Admiral Jared Mertz must fight to stop the diabolical artificial intelligences that destroyed the Old Terran Empire.
Though unable to communicate with one another, they must overcome terrible odds and defeat foes determined to kill or enslave them. They cannot allow themselves to fail.
Yet time is running out. Unless both quickly make their way to Terra, the computers win and humanity loses.
If you love military science fiction and grand adventure on a galaxy-spanning scale, grab "Race to Terra" and the rest of The Empire of Bones Saga today!
Liberty Station by Terry Mixon
PICK UP AT AMAZON
Goodreads Synopsis:
Humanity will be free, no matter the cost!

Deep in the Guatemalan jungle, buried beneath a forgotten Mayan pyramid, an earth-shattering secret sits waiting. Its discovery will rip apart the illusion that humanity is alone in the universe.

Engaged in a life and death struggle for the future of mankind, Harry Rogers and Jess Cook are forced to protect this secret from the most despicable foes imaginable. They must race across the globe to complete Liberty Station, the first true interplanetary ship.

Only then can they search for the shocking truth behind what they've found. They have no room for error, because failure means death for them and subjugation for everyone else.
Freedom Express by Terry Mixon
PICK UP AT AMAZON
Goodreads Synopsis:
Harry Rogers made it onto the first manned mission to Mars. Well, the first one since the unknown others hid their ship under that Mayan pyramid.
He hopes to find priceless relics of an ancient civilization. Too bad his diabolical family wants them, too.
The revelations threaten to set the world ablaze. Those who unlock the long-buried secrets first inherit the galaxy.
If you love adrenaline-pumping science fiction and grand adventure on a galaxy-spanning scale, grab "Freedom Express" and the rest of The Humanity Unlimited Saga today!
Tree of Liberty by Terry Mixon
PICK UP AT AMAZON
Goodreads Synopsis:
Harry Rogers and his friends found alien tech scattered across the solar system and the government of the United States wants it. Them and everyone else.
His diabolical family also managed to steal an alien spaceship and flee the system. How long until they bring trouble back?
As the revelations set the world on fire, Harry must stop shadowy enemies from enslaving humanity. If he can.
Purchased/Winnings/Gifts:
Book:
Audio:
More Bedtime Stories for Cynics by Kirsten Kearse
PICK UP AT AMAZON
Goodreads Synopsis:
Nick Offerman and his posse of high-profile guests present this series of 12 short stories written in the style of classic kid's tales, but with a decidedly adult approach.
If children's literature is any guide, we should all be able to magically fall asleep simply by saying goodnight to the things we can see from our beds. But any adult knows that our work anxieties and shameful memories would rather stay up all night and chat. That's where Offerman and Co. come in—with clever and occasionally downright dark parodies of the classic kids genre. What really happened after Snow White died, from the perspective of the one medically trained dwarf? A naive wizard professor reports back from the trenches of an underprivileged school of magic. A middle-aged man is haunted by the voices of his own aging body. The stories will make you laugh, cry and probably squirm a little.
Performers include: Patrick Stewart, Alia Shawkat, Jane Lynch, Aparna Nancherla, Harry Goaz, Mike Birbiglia, Ellen Page, Rachel Dratch, Gary Anthony Williams, Nicole Byer, and Matt Walsh.
Please note that this audiobook contains explicit content.
Evil Eye by Madhuri Shekar
PICK UP AT AUDIBLE
Goodreads Synopsis:
Pallavi is an aspiring writer living in California. Her mother, Usha, is thousands of miles away in Delhi - and obsessed with finding her daughter a husband.
In Madhuri Shekar's ingenious Evil Eye, hilarious back-and-forth via phone and social media takes a shocking, supernatural twist when Pallavi meets the perfect man - leading to a climactic showdown that will leave listeners on the edges of their seats.
Clockwork Heart by Dru Pagliassotti
PICK UP AT AMAZON
Goodreads Synopsis:
A steampunkish romantic fantasy set in Ondinium, a city that beats to the ticking of a clockwork heart. Taya, a metal-winged courier, can travel freely across the city's sectors and mingle indiscriminately among its castes. A daring mid-air rescue leads to involvement with two scions of an upperclass family and entanglement in a web of terrorism, loyalty, murder, and secrets.
Sea Witch by Sarah Henning
PICK UP AT AMAZON
Goodreads Synopsis:
Everyone knows what happens in the end. A mermaid, a prince, a true love's kiss. But before that young siren's tale, there were three friends. One feared, one royal, and one already dead.
Ever since her best friend, Anna, drowned, Evie has been an outcast in her small fishing town. A freak. A curse. A witch.
A girl with an uncanny resemblance to Anna appears offshore and, though the girl denies it, Evie is convinced that her best friend actually survived. That her own magic wasn't so powerless after all. And, as the two girls catch the eyes—and hearts—of two charming princes, Evie believes that she might finally have a chance at her own happily ever after.
But her new friend has secrets of her own. She can't stay in Havnestad, or on two legs, unless Evie finds a way to help her. Now Evie will do anything to save her friend's humanity, along with her prince's heart—harnessing the power of her magic, her ocean, and her love until she discovers, too late, the truth of her bargain.
Free Ebooks:
(On my Kindle and Nook App)
Links to books under title. They may or may not be free at this time.
Coffee To Go, with a Spaceship by M.J. Wahl
PICK UP AT AMAZON
Goodreads Synopsis:
Alien bounty hunters, bent on revenge against Detective Jack Winters, kidnap his son and disappear into uncharted space. Desperate to rescue his son, Jack enlists the help of Montclair, a strange elf-like character from another world he'd only just met that morning. But he's the only person Jack knows with a spaceship. Jack's daring girlfriend Donna accompanies them and together the trio give chase to the bounty hunters. Along the way Donna discovers a hidden talent for stick-handling spaceships and navigating through space. They track the alien kidnappers to a desolate slave-world where they are forced into a desperate fight on a remote planet to save Johnnie.
Shade: The Complete Trilogy by Merrie Destefano
PICK UP AT AMAZON
Goodreads Synopsis:
A Re-Imagining of Mary Shelley's Frankenstein
Resistance by Ell Leigh Clarke
PICK UP AT AMAZON
Goodreads Synopsis:
It's cards on the table time.
With Bentley and crew signed up for helping the androids recover from the rogue rebel attack, life briefly seems to be getting back to normal.
Apart from Bentley's nightmares and her growing compulsion to follow the mysterious coordinates she's been receiving in her dreams.
With the fate of the rebellion at stake, and still suffering effects from the retinal activator, can Bentley ensure the resistance is on track for the fight of the millennia?
Will the Three finally put all their cards on the table?
Charm by J.A. Armitage
PICK UP AT AMAZON
Goodreads Synopsis:
You think you know the story of Cinderella....
The kingdom needs an heir and Princess Charmaine is quite aware that the job rests solely upon her shoulders. When her elder sister dies, Charmaine has to take her place at the ball designed to find her a husband. With a hundred men to choose between and her wedding planned, all she has to do is pick one.
Cynder knows about the impending war between the people of magic and those of his masters, but working as an underpaid servant in the palace kitchens leaves him with little power to do anything about it. On one hand, he's a staunch supporter of equal rights for his own kind, but he can't deny the attraction he feels for the daughter of the king and queen he works for.
When the two meet, sparks fly and not just the magical kind…
Charm is the first in the Reverse Fairytale series by USA Today bestselling author J.A.Armitage. Take everything you think you know about fairytales and turn it on its head.
Legba by Ell Leigh Clarke
PICK UP AT AMAZON
Goodreads Synopsis:
It's crunch time.
When the Three fight about how to proceed, Bentley intervenes in a dangerous attempt to save humanity from destruction.
Little does she realize that by embarking on this next mission she'll have to not only face her past, but all the things that she is truly capable of.
Things that have mind-blowing consequences.
Good job she's too busy trying to wrangle sulky ex-gods and cryptic sourcerers to really contemplate the implications of what is about to happen.
Storm by Ell Leigh Clarke
PICK UP AT AMAZON
Goodreads Synopsis:
With tensions mounting and the mind-control patch about to roll-out throughout their corner of the universe, the whole human population is in danger.
Bentley's common sense prevails and the Three are persuaded to dock for repairs.
And then things get weird.
As in Legba, other-worldly, weird.
In a race against the clock can Bentley figure out how to mount an assault that they can actually win?
Or are they doomed for failure?
The Devil's Work by Demelza Carlton
PICK UP AT AMAZON
Goodreads Synopsis:
Tired of torturing damned souls, Lucifer decides it's time for a career change. As the new CEO of the HELL Corporation, Luce Iblis is ready to take over the world, starting with a city he's sure even angels haven't heard about: Perth, Western Australia.
Until an angel appears in his office, vowing that the Lord of Hell will never win.
Hell hath no fury like a devil scorned.
And Lucifer's about to raise Hell.
Golden Curse by M. Lynn
PICK UP AT AMAZON
Goodreads Synopsis:
A curse. A hidden identity. A dangerous love.
Ten year old Persinette Basile was forced to flee the palace of Gaule for her life.
Now at eighteen, she must find a way to return in order to obey a curse on her family line.
The prince won't know who she is. Not anymore. But she knows him and what he will do if he discovers her true name.
Made to fight for her life to earn her place, she vows to find a way to break the curse no matter the cost.
-------
To. The. Death.
The words describing the tournament turn Prince Alexandre Durand's blood to ice.
The last warrior standing will win a spot at his side.
As he's thrust onto the throne, forbidden magic, dangerous betrayals, and a complicated love could tear his reign apart.
When the secrets begin to unravel, will Alex stay true to the laws and traditions of Gaule or will he give it all up for a woman who deceived him?
Inspired by the Rapunzel story, this is the golden-haired princess as you've never seen her before.
The City Screams by Phil Williams
PICK UP AT AMAZON
Amazon Synopsis:
Tova's getting her hearing back.

She's going to wish she wasn't.
Alone in Tokyo for experimental ear surgery, Tova Nokes is finally shaking up her life. But when she starts to hear things she shouldn't, all she wants is to make it home alive.
There's a voice saying it's where she comes from that makes her special.
If she can only survive violent stalkers, and the terrible screams, she might figure out why...
Experience the world through the eyes of a unique hero in this standalone fantasy thriller from the Ordshaw universe.
Get it now.
Awaken by Skye Malone
PICK UP AT AMAZON
Goodreads Synopsis:
Running away from home was never Chloe Kowalski's plan. Neither was ending up the target of killers, or having her body change in unusual ways. She only wanted a vacation, someplace far from her crazy parents and their irrational fear of water. She only wanted to do something
normal
for once, and maybe get to know her best friend's hot stepbrother a bit better at the same time.
But the first day she goes out on the ocean, strange things start to happen. Dangerous things that should be impossible. Things to which 'normal' doesn't even
begin
to apply.
Now madmen are hunting her. A mysterious guy with glowing blue eyes is following her. And her best friend's stepbrother seems to be hiding secrets all his own.
It was supposed to be a vacation. It's turning out to be a whole lot more.
Blood Song by Lindsey R. Loucks
PICK UP AT AMAZON
Goodreads Synopsis:
No talking, stay out of the shadows, don't go out at night, survive…
Fin Vee is the chief hangman's daughter at the Church of Hangmen. Everyone has high hopes for her to continue the witch ritual that keeps the Berkano vampires away. When she steps on stage to sacrifice the little girl with the dazzling blue eyes, and doesn't, the Berkano come fast and furious to demand their sacrifice.
The only safe place is within the walls of the Church, but the Church casts Fin out, leaving her only with the annoyingly silent Hendry to guide her.
The Berkano only speak telepathically, so speaking out loud in the city's streets is a death sentence. But as Fin discovers the truth about her beloved city and her Church, she finds she has a lot to say. And so do her new allies: a band of cowboy witches intent on overthrowing the Berkano, whatever the risk may be.
Even if that risk is death.
BLOOD SONG is a standalone contribution to the Fallen Sorcery Berkano Vampire collection. Stories can be read in any order.
Cursed by Andrea R. Cooper
PICK UP AT AMAZON
Goodreads Synopsis:
After defeating the Warloc, Brock, the Elvin Vampyre, takes Celeste to Tamlon to search the prophecies of the four and the Son of Dragons. However, the Elvin city is not safe, even for his witch.
The Warloc's protégé is bent on his physical return to the living. Her necromancy brings forth Brock's first victim and more.
Brock and Celeste must defeat prejudice and power to continue their journey and find Brock's twin sister, Mirhana.
Rebels and Renegades (collection of stories)
PICK UP AT AMAZON
Amazon Synopsis:
Romance is possible, but betrayal is inevitable.
The Medium by M.R. Graham
PICK UP AT AMAZON
Goodreads Synopsis:
It begins with the breaking of a gentle monster.
A medium cannot kill. A medium must not kill. And a medium should never become a vampire.
Lenny played human, kept his head down, never took a life, until Sebastian came. Torn away from his comfortable life, he is plunged into an endless night of manipulation, death, and blood. The only light in the dark is Kim, a young wizard tasked with destroying Sebastian. She is determined to save Lenny from the monster controlling him, but the monster growing inside him will be harder to kill.
Unknown to all, the existence of a vampire medium has sparked a war.
Warrior Mage by Lindsay Buroker
PICK UP AT AMAZON
Goodreads Synopsis:
His mother was one of the most powerful wizards in the Nurian Empire until she abandoned her people to become a notorious pirate. That choice doomed the family she left behind to a life of disgrace.
Yanko White Fox doesn't remember his mother, but as the only gifted child in the family, he is expected to erase the mark she left on them all. With an affinity for earth magic and communicating with animals, he's not the most natural candidate to become a warrior mage, but it's the only sure route back into the Great Chief's good graces. He has resigned himself to training for that destiny, whether it matches his passions or not.
Long before he's ready for his first battle, insurrection comes to his distant corner of the empire. Rebels take over the salt mine his family manages and slay the only relative who ever supported Yanko. On the heels of the tragedy, a courier brings a message from the Great Chief's son. Whether he is prepared or not, Yanko must undertake a quest, one that could save millions of lives… or fail utterly, leaving him dead, his family forgotten, and his people the victims of starvation and endless war.
Stonebriar Casefiles 182: Bad Alchemy by Laura Nicole
PICK UP AT AMAZON
Goodreads Synopsis:
Magical creatures are real!
Since their discovery, Magicks have been integrating into human society and not all humans welcome the change in demographics. Beatrix Stonebriar, a three inch tall fae with dragonfly wings, is the first magical crime scene investigator.
A series of murders that led to an attempt on Trix's life has been solved, but now she must wait for the trial. For her own safety, she is sent back into the Eldar Wood on administrative leave. When she arrives to her own stone briar, death is laid out at her door.
With the help of her former comrades, an elf and a goblin, Trix attempts to prevent the ruin of her home and all the surrounding magical realms.
Bad Blood by Nikki Jefford
PICK UP AT AMAZON
Goodreads Synopsis:
A hunter in love with his partner. A vampire who can't stay away. A secret that changes everything.
I thought I could escape the past, but now it's time to face the music--and the mess I left behind. Apparently I'm a disaster magnet.
Naturally, Melcher's waiting with a new assignment that he swears won't interfere with college classes. Why don't I believe him? He could have at least warned me about my new roommate. Hell to the No! And guess which fanged fiend shows up at my doorstep? If only vamps required permission to enter.
Also, it turns out text flirting while at boot camp has consequences. I must have been in the desert too long because suddenly my goofy mentor looks like a bronzed Titan god with lips that could divide and conquer.
College is starting, and so is my undercover assignment at a network of swanky parties known as "Tastings" for high rolling vamps who like their blood laced with fine wine.
I'm not the only one on the prowl. An underground investigation is underway to find out who killed one of Anchorage's most prominent vampires. Guess who is the prime suspect?
That's just the beginning. Things are about to get really messy with a side helping of messed up!
Harry Watt Bounty Hunter by Rob Guy
PICK UP AT AMAZON
Goodreads Synopsis:
For Harry Watt, Bounty Hunter, simply doing what he's told was never an option. When the best hydrologist on Earth goes AWOL after first helping himself to some company funds, Judge Headlock, Harry's employer and nemesis, instructs him to bring back the runaway to face justice.
A trip to Mars onboard one of the new ships with the StrateLine Drive sounds like fun, but Harry soon discovers something stinks about this job, and it's not one of his socks. He realizes he must first travel to Venus Station, but it's not easy to be in two places at once. And getting framed for murder doesn't help matters.
So with the help of his dead partner, an erstwhile assistant, and a host of lady friends, Harry embarks on a rip-roaring ride through the Solar System in a bid to prevent a Martian civil war, and maybe earn a few credits along the way.
Emerge: Immortals of Indriell: The Collection by Melissa A. Craven
PICK UP AT AMAZON
Goodreads Synopsis:
This boxset includes the first five books of the award winning Emerge series plus over 200 pages of bonus content. The series will continue with Emerge: The Heir, coming in 2018
_________________________________
From Emerge: The Assignment
She has devoted her life to training with the elite Immortals of Soma.
For nearly a decade, Tessa St. James has sacrificed her life with her family to live, train and work behind the safety of Sterling Tower, waiting for the day when she will receive her first assignment.
With Soma at her back, her days of working the Amrita circuit are numbered. As soon as her trainer deems her ready for an assignment, Tess will be one step closer to a world-class career within the Soma agency.
When a casual flirtation at an anonymous Amrita event becomes not so anonymous, Tess is left with images of Dean McBrien to haunt her when she returns to life at Sterling Tower where nothing is as it seems. For the first time Tessa questions the world she lives in and is no longer able to look the other way when Soma's actions don't add up.
What will happen when Tessa finally realizes her position at Soma isn't all she dreamed it would be?
Fans of Emerge will not want to miss the explosive ending when Allie and Tessa's stories collide. Get a taste of what's coming next for Allie in Emerge: The Heir, in Emerge: The Assignment, exclusive to this boxset.
_________________________________
From Emerge: The Awakening (book 1)
She's an orphan, an outcast, and … Immortal.
Allie Carmichael has never known true friendship. Even those closest to her can't stand to be near her. When she learns her family will be moving from Australia to the United States, Allie prepares for life as a loner on the other side of the world…
Except the warm welcome from a new group of friends changes everything. Especially Aidan McBrien, the only guy who's ever dared to get to know her. But her new normal life—the one she's always wanted—shatters when a painful transformation awakens the power within her and Allie discovers what it means to be Immortal.
Aidan is her equal and their friendship could mend the hurt of their lonely pasts … or it could tear them apart.
Allie must deal with the loss of her normal life amidst brutal training, her feelings for Aidan, and an ominous prophecy that threatens his future.
_________________________________
Ancient Magic by Meg Cowley & Victoria DeLuis
PICK UP AT AMAZON
Goodreads Synopsis:
Fans of Lara Croft and Indiana Jones will enjoy this fast-paced urban fantasy adventure series filled with magic, action, and kick-ass characters.
Can a cursed relic be saved from the clutches of evil before it is used to wreak devastation?
Kukulkan's Skull should never have existed; nothing more than a legendary relic with the death powers of a god. Deep in the ancient Mexican jungles, it has been found… and stolen.
Zoe Stark, witch and magical relic hunter, must discover who the true enemy is in time to save the skull from being used for great evil.
Time is running out, for the Day of the Dead fast approaches, when the skull will be at the zenith of its devastating power. Zoe finds much more is at stake as she chases a cold trail of murder and magic.
Her own life is in danger as the mastermind behind the theft silences those who get too close, but she cannot give up, for to fail, would be to doom millions of innocent lives.
If Zoe fails, the skull's first victim will be her...
Read Ancient Magic today for a page-turning adventure you cannot put down.
Justice Howls by Fleur Smith
PICK UP AT AMAZON
Goodreads Synopsis:
Officer Kendra Keets is tasked with finding the predator dubbed The Abstract Assailant. The gruesome displays have been found all over the city.
Though she has an impeccable record with those in the know, her official solved record is lacking. With her chief breathing down her neck to catch yet another predator, her personal life is in a tailspin.
Kendra has a lot of explaining to do, but how will she keep the secrets of her true life hidden?
Tales From Motor City novellas are set in the same world as the Daughter of Fire and Son of Rain series but can be read stand-alone and in any order.
Savage Shrink by Fleur Smith
PICK UP AT AMAZON
Goodreads Synopsis:
Marion Savage is a "shrink for the freaks." Her clients are banshees to vampires and everything in between.

When the man who introduced her to the paranormal world comes knocking on her door asking for a favor, past meets future and Marion is pulled into a situation that might endanger all of her special clients.

With her gifted daughter and a vampire-shifter hybrid at her side, Marion will have to fight for the safety of them all.

It's all just another day in Motor City.

Tales From Motor City novellas are set in the same world as the Daughter of Fire and Son of Rain series but can be read stand-alone and in any order