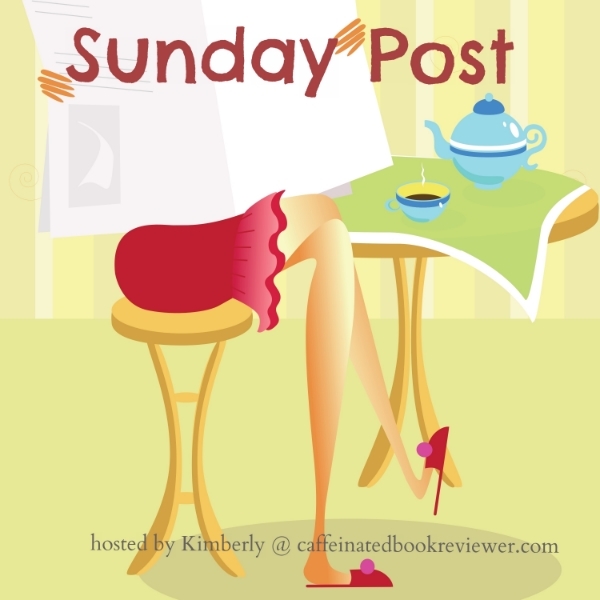 The Sunday Post
is a weekly meme hosted by
Kimba the Caffeinated Book Reviewer
~ It's a chance to share news ~ A post to recap the past week on your blog, showcase books and things we have received and share new about what is coming up on our blog for the week ahead.
So, I took a minor unexpected hiatus. It's been a ride for the last few weeks. I've been keeping myself overly busy. Editing work, photos, and so much more. Also, my father ended up in the hospital sick.

See, in his condition when he gets sick, he gets rather sick. He suffered a stroke 19 years ago that left his right side paralyzed and not able to speak. He can't connect the hand signals or writing to his brain either, so it's harder to figure out what he needs. But, when you know him, you can make very good educated guesses. And many of the nurses that look at the patient (yes we've had some that don't) can see it too. However, I spend time with him at the hospital to help and keep an eye on him. He's been sent back to the nursing home now, but he's still extremely weak. They'll have lots of therapy for him to get him moving again.

I've had some photo requests. Woot woot. I had a mother of a majorette want photos of her daughter since it was her senior year. I took those Friday night and touched them up for her. I've had a color guard mom request photos too. I made another trip to the Renaissance Festival, unplanned. A friend wanted to go and I was glad to join her. I got some more amazing photos! They have a photo contest so I worked up only 5 and entered them. Will I win? I doubt as I'm not lucky like that, but it's a huge step for me as I've never entered photos for anything before.

And last, but not least as it's been what I've been working on mostly, I've got a huge editing project I'm working on. This last week was a bust in any form of work with dad, so I have to get back to the grind here today.

I'm hoping to be around for the next few weeks as November will be here sooner than expected and that's my month off with NaNoWriMo. I've not announced that I'm doing it. I think I'll wait until the last minute, like usual, to decide. Because of life and all. I had hoped to get a plan for the next book I want to write, but haven't done that either. So....we'll see what strikes me.


~~~~~~~~~~~~~~~
Goal: Workout in any form of exercise (or on Wii Fit) 2x's a week. (to feel better and hope to drop a few pants sizes)
How did I do last week... Not...really... Time is mad at me right now.


What's Happening in Books:
She Dreams of Fire
by M.K. Gibson
Editing work.
Current Audiobook:
Trial by Magic
- Dragon's Gift: The Protector series by Linsey Hall
Current Podcast Book Listen:
Nothing new.
Books:
No reading finished yet.
Audiobooks :
Beauty and Beastly
by Melanie Karsak
Flaming Dove
by Daniel Arenson
Fugitive of Magic
- Dragon's Gift: The Protector series by Linsey Hall
Finished Podcast Book Listen:
Nothing new yet.
Last Two Weeks on the Blog:
Cover Reveals:
(click titles to go to post & learn more)
Posts:
Around the Internet...
Reviews:
GIVEAWAYS:
I will finished up two reviews for you this week.
For Review Consideration:
Treason of Hawks by Lili Bowen
PICK UP AT AMAZON
Goodreads Synopsis:
The conclusion to Lila Bowen's widely-acclaimed fantasy series, which New York Times bestselling author Kevin Hearne described as "thrilling, delightfully written, and important."
Rhett Walker is looking for peace, the memories of all he's lost haunting his dreams. And now the Shadow tugs him West, back to where his journey began.
With the lawless Rangers on his heels and monster attacks surging, Rhett is surrounded on all sides. This time it's not all about horses and land. This time, it feels personal. Because the newest monster on the horizon just may be wearing the face of someone from Rhett's past.
To save the Durango territory, Rhett must accept the Shadow's call and fulfill his destiny.
The Shadow
Wake of VulturesConspiracy of RavensMalice of CrowsTreason of Hawks
Audio Books Requested for Review:
Flaming Dove by Daniel Arenson
PICK UP AT AMAZON
Goodreads Synopsis:
The battle of Armageddon was finally fought... and ended with no clear victor. Upon the mountain, the armies of Hell and Heaven beat each other into a bloody, uneasy standstill, leaving the Earth in ruins. Armageddon should have ended with Heaven winning, ushering in an era of peace. That's what the prophecies said. Instead, the two armies--one of angels, one of demons--hunker down in the scorched planet, lick their wounds, and gear up for a prolonged war with no end in sight.
In this chaos of warring armies and ruined landscapes, Laila doesn't want to take sides. Her mother was an angel, her father a demon; she is outcast from both camps. And yet both armies need her, for with her mixed blood, Laila can become the ultimate spy... or ultimate soldier. As the armies of Heaven and Hell pursue her, Laila's only war is within her heart--a struggle between her demonic and heavenly blood.
Dragons Gift: The Protector complete series books 1-5 by Linsey Hall
PICK UP AT AMAZON
Goodreads Synopsis:
In the city of Magic's Bend, I protect what's mine. No matter what.
To the world, I'm a just a Conjurer. To my closest friends, I'm a FireSoul--a dangerous Magica with forbidden powers and a dragon's soul. The downside? If anyone discovers what I am, I'm dead. So I lay low, kicking butt with my weapons, not my magic.
Things get ugly when I witness the murder of a powerful vampire ally and become the key suspect. Soon, I'm hunted by the sexiest, strongest supernatural I've ever met. Ares is an unheard of vampire hybrid, and it's hard to say if he wants to kiss me or kill me.
I've got three days to catch the real killer. The bad news? It will take my forbidden magic to succeed. But can I control it, much less keep my secret with Ares watching my every move? Especially when the stakes get ever higher?
I'm used to protecting others...now I have to protect myself.
This is just the start of Pheonix Knight's adventures. This omnibus contains all five books in the Dragon's Gift: The Protector Series.
Solomon Key by David Wood
PICK UP AT AMAZON
Goodreads Synopsis:
The legacy of a kidnapped African warrior turned pirate sets Dane Maddock and Bones Bonebrake on a collision course with deadly organization that will stop at nothing to claim the greatest treasure in history. But more than riches are at stake. Enemies old and new and even old friends stand in Maddock's in a struggle to control the mysterious power unlocked by the SOLOMON KEY.
Wind Rider by P.C. Cast
PICK UP AT AMAZON
Goodreads Synopsis:
#1
New York Time
s bestselling author of the
House of Night
series, P.C. Cast, brings us
Wind Rider
, an epic fantasy set in a world where humans, their animal allies, and the earth itself has been drastically changed. A world filled with beauty and danger and cruelty…
Mari, Nik, and their newly formed Pack are being hunted. Thaddeus and the God of Death will stop at nothing until they are obliterated from the earth. But Mari and Nik have one goal: to reach the plains of the Wind Riders, in order to band together to stop Thaddeus from destroying all that Mari and Nik hold dear.
But will the mysterious Wind Riders accept the Pack, or will Mari and Nik and their people be rejected by the mighty Riders and be forced to flee for their lives? And what happens when a rogue Lead Stallion gets too close to the Pack, rejecting all Wind Riders and turning to a stranger for companionship instead?
In the next installment of the Tales of a New World series love and goodness are put to the ultimate test. Will the Wind Riders and the Pack be strong enough to withstand the God of Death? Will the Great Goddess of Life awaken to join the battle, and if so, will it be as Death's consort, or will the Goddess stand with Mari and her people against the great love of her eternal life?
Darkest Star by Jennifer L. Armentrout
PICK UP AT AMAZON
Goodreads Synopsis:
When seventeen-year-old Evie Dasher is caught up in a raid at a notorious club known as one of the few places where humans and the surviving Luxen can mingle freely, she meets Luc, an unnaturally beautiful guy she initially assumes is a Luxen...but he is in fact something much more powerful. Her growing attraction for Luc will lead her deeper and deeper into a world she'd only heard about, a world where everything she thought she knew will be turned on its head...
#1
New York Times, USA Today,
and internationally bestselling author Jennifer L. Armentrout returns to the universe of the Lux in this brand new series, featuring beloved characters both new and old.
Purchased/Winnings/Gifts:
Book:
Audio:
Free Ebooks:
(On my Kindle and Nook App)
Links to books under title. They may or may not be free at this time.
Wolves and Daggers by Melanie Karsak
PICK UP AT AMAZON
Goodreads Synopsis:
Who's afraid of the big, bad werewolf?
When London's brightest tinkers and alchemists come up missing, Red Cape Society Agent Clemeny Louvel is on the case.
To help her get the problem in hand, Queen Victoria assigns her a temporary partner—a werewolf with a knightly history and a tendency to be far too flirtatious for either of their good. Can she trust him to help her chase down the monsters they're hunting?
Wolves and Daggers is a retelling of the Little Red Riding Hood fairy tale set in Melanie Karsak's bestselling steampunk universe.
Ashes of the Fall by Nicholas Erik
PICK UP AT AMAZON
Goodreads Synopsis:
Sometimes the fall is only the beginning.

In the year 2048, the crumbling remnants of western North America are suddenly buried in ash, weakening the grip of the brutal dictatorship. A factional landscape springs from the ashes, con man Luke Stokes artfully navigating the clash.

But he can't remain above the fray for long, as each faction seeks the truth from Luke regarding his murdered brother's final project. A neural-interface technology that will forever shift the fragile balance of the ashen plains.

With the true believers, desert nomads, survivalists and existing regime closing in, Luke must delve deeper into his genius brother's secrets. And the truth about his last project will dramatically alter the remnants of civilization.

Because the fall isn't always the end - sometimes, it's only the beginning.
Star Nomad by Lindsay Buroker
PICK UP AT AMAZON
Goodreads Synopsis:
The Alliance has toppled the tyrannical empire. It should be a time for celebration, but not for fighter pilot Captain Alisa Marchenko. After barely surviving a crash in the final battle for freedom, she's stranded on a dustball of a planet, billions of miles from her young daughter. She has no money or resources, and there are no transports heading to Perun, her former home and the last imperial stronghold.
But she has a plan.
Steal a dilapidated and malfunctioning freighter from a junkyard full of lawless savages. Slightly suicidal, but she believes she can do it. Her plan, however, does not account for the elite cyborg soldier squatting in the freighter, intending to use it for his own purposes. As an imperial soldier, he has no love for Alliance pilots. In fact, he's quite fond of killing them.
Alisa has more problems than she can count, but she can't let cyborgs, savages, or ancient malfunctioning ships stand in her way. If she does, she'll never see her daughter again.
The Fowl Proposal Bonus Scenes by Lindsay Buroker
PICK UP AT AMAZON
Goodreads Synopsis:
This series of four scenes was originally published on Lindsay's blog. They take place after the events of Soulblade (Dragon Blood, Book 7) and before Shattered Past (the Therrik novel).
Shadows Over Innocence by Lindsay Buroker
PICK UP AT AMAZON
Goodreads Synopsis:
Note: Despite chronology, it is recommended that The Emperor's Edge (book 1) be read first. This short story contains a spoiler for book 1.
Sicarius, the emperor's personal assassin, returns from a successful mission only to discover that the enemy is retaliating by sending an assassin of their own. The target? Five-year-old Prince Sespian.
Shadows over Innocence is a 4,500-word short story set fourteen years before the first Emperor's Edge novel.
The Emperor's Edge by Lindsay Buroker
PICK UP AT AMAZON
Goodreads Synopsis:
The adventure starts here...
Imperial law enforcer Amaranthe Lokdon is good at her job: she can deter thieves and pacify thugs, if not with a blade, then by toppling an eight-foot pile of coffee canisters onto their heads. But when ravaged bodies show up on the waterfront, an arson covers up human sacrifices, and a powerful business coalition plots to kill the emperor, she feels a tad overwhelmed.
Worse, Sicarius, the empire's most notorious assassin, is in town. He's tied in with the chaos somehow, but Amaranthe would be a fool to cross his path. Unfortunately, her superiors order her to hunt him down. Either they have an unprecedented belief in her skills... or someone wants her dead.
Flash Gold by Lindsay Buroker
PICK UP AT AMAZON
Goodreads Synopsis:
Eighteen-year-old Kali McAlister enters her steam-powered "dogless sled" in a race, intending to win the thousand-dollar prize and escape remote Moose Hollow forever. The problem? Fortune seekers and airship pirates are after her for the secret to flash gold, her late father's alchemical masterpiece.

With her modified rifle and a pocketful of home-made smoke bombs, Kali wouldn't normally hide from a confrontation, but taking on a whole airship single-handedly is a daunting task. Unfortunately, the other racers won't assist her--they're too busy scheming ways to sabotage her unorthodox sled.

When a sword-slinging stranger shows up, wanting to hire on as her protector, she's sure he has ulterior motives, but he's the only one interested in helping her. The question is...why?

Details: an 18,000-word (75 page) steampunk novella set in the Yukon during the gold rush era.
Warrior Wench by Marie Andreas
PICK UP AT AMAZON
Goodreads Synopsis:
Vaslisha Tor Dain is a mercenary starship captain with a few simple rules: A good ship is better than a great man, in case of confusion always err on the side of blowing someone's head off, and never fall for a telepath or a member of her crew.

All of those are about to bite her in the ass.

Vas's life takes a turn for the worse when she comes back to her crew after what should have been a two week pleasure trip to find out she's actually been gone a month and has no memory of missing time. Her beloved ship, The Victorious Dead, has been sold for scrap and its pieces scattered throughout the galaxy. In addition, there are unmarked ships blowing apart entire planets and the Commonwealth government can't, or won't, stop them.

And that's just her first day back.

Vas has to fight her crew, the Commonwealth, and a mysterious cadre of warrior monks to get her ship back and save a universe that may not want to be saved.
Devil in a Black Suit by Colleen Helme
PICK UP AT AMAZON
Goodreads Synopsis:
More than sparks fly when a hit-man and a spy join forces.
Ramos's job as the right-hand man to a mobster used to be easy until Shelby Nichols, a mind-reading soccer mom, joined the organization. With all the trouble she gets into, he's constantly putting his life on the line just to keep her alive.
When a government agent from his past shows up wanting a favor, she rekindles a flame they once shared. Ensnared in her scheme, Ramos discovers that there's more to her favor than he realized. Luckily for him, he has a few tricks up his sleeve that might save his skin...but what about his heart?
Street Spells: Seven Urban Fantasy stories
PICK UP AT AMAZON
Goodreads Synopsis:
Magic stalks modern streets.
Werewolves and witches. Demons and elves. Street Spells compiles seven new and exclusive short stories featuring mythical beings hidden in plain sight.
Aimee Easterling: "Scapegoat"
Tori Centanni: "Dead Goblins and Overdue Rent"
Rachel Medhurst: "Magically Hidden"
Dale Ivan Smith: "Siloed"
Becca Andre: "Alchemy and Destiny"
N. R. Hairston: "Dirty Magic"
Kat Cotton: "Run Away"
Break out of jail, hunt down magical art thieves, and dabble in alchemy as you discover a new author (or seven) in this page-turning collection of paranormal shorts.
Isle of Midnight by Lola StVil
PICK UP AT AMAZON
Goodreads Synopsis:
Seventeen-year-old Jazz Miller has been arrested for a crime she didn't commit and sent to a detention center on the island of Midnight. Soon, Jazz discovers that Midnight is actually a mystical Island with vile creatures, ruthless demons and portals to perilous realms. And the real reason she's there is to participate in a deadly game against the forces of evil.
In addition to the impossible tasks set before her, Jazz must also confront her feelings for Nate—a gorgeous, insolent, alpha team member. But none of that matters because if Jazz doesn't win the game, Nate and the rest of humanity will face a swift and bloody end…
Ghost of a Chance by Yasmine Galenorn
PICK UP AT AMAZON
Goodreads Synopsis:
Emerald O'Brien, single mother of two, owns Chintz 'N China Tea Room, where guests are served a blend of tea and tarot reading. She never set out to be a detective but once word gets out that she can communicate with the dead, there's no turning back....

It was a ghost. There, at the foot of Emerald's bed. A pen hovered above a piece of paper and scrawled these alarming words: I was murdered by my husband but nobody knows. Help me. True, Emerald was considered town witch but owned a teashop, not a detective agency. What did the spirit expect? After another darker entity emerges, bent on destroying her world and her family with it, Emerald's life takes a screeching detour onto a wild and dangerous road. As she careens into a web of lies and secrets woven around her ghostly visitor, death strikes again. Now, along with her friends - ex-supermodel, cop, and new love interest - Emerald must search for clues to put the killer behind bars and this tortured soul to rest.
Strain of Resistance by Michelle Bryan
PICK UP AT AMAZON
Goodreads Synopsis:
I was 12 years old when the world ended. For eight years I've survived in this craphole once known as earth. Fighting the alien parasite that mutated most of the population into blood-thirsty freaks, while the rest of us became the lunch special on their alien menu.

Now things are changing, and not for the better. The parasite is evolving. Becoming smarter, stronger and deadlier.

They've already stolen everything from me. My home. My family. Even the man I loved. It's time for this bullshit to end once and for all.
My name is Bixby and I'm the resistance.

Mature themes. 17+ Rating
A Thrift Shop Murder by N.M. Howell & L.C. Hibbett
PICK UP AT AMAZON
Goodreads Synopsis:
One witch with a grudge, three cats with a secret, and one vegan with a very big problem.
Priscilla "Price" Jones is down on her luck. First, her childhood sweetheart dumps her a month before their wedding so he can hook up with a model he met at one of his yogalates fitness studios. Then, her vegan smoothie store burns to the ground.
Out of work and out of love, Priscilla accepts the first job she can find, packs her bags, and takes the first bus from Portland to Salem, Oregon, to find her luck is even worse than she thought. Her new boss just died, and the old lady's thrift store, her apartment, and three huge male cats just got added to Priscilla's long list of problems. But when Price opens one of the old lady's books and accidentally unleashes some witchy magic, Priscilla realizes her troubles have only begun…
A hilariously witchy reverse harem mystery.
A Vet Vanishes by N.M. Howell & L.C. Hibbett
PICK UP AT AMAZON
Goodreads Synopsis:
What do you get when you cross a crass old ghost, three hot house cats, and one vegan on a mission? A whole lot of trouble.
Price is beginning to find her feet in Salem, Oregon. Her new juice bar is under construction, Finn is starting to remember his life before Agatha cursed him, Tom is defrosting (slowly), Pussy is growing his hair out, and Agatha... Well, some things never change. But on the whole, things are looking good for Price.
Until she finds her friend Tracy has disappeared into thin air!
Now, in the midst of planning the shop's relaunch, she must team up with her motley crew to find Tracy before something terrible happens. But will she get there in time?
Vanishing vets, curious cats, witchy ghosts, mystery, mayhem, and romance. Isn't it time you delved into this best-selling series?
A Devilish Disappearance by N.M. Howell & L.C. Hibbett
PICK UP AT AMAZON
Goodreads Synopsis:
Price Jones, with the help of her three furry housemates and spirited landlady, has finally launched her thrift shop and juicebar. But when a dead body appears then disappears from their favorite neighborhood coffee spot, mayhem sweeps through Salem once again.
With the wedding of her douchebag ex-fiancee looming ahead, Price Jones has enough on her mind besides solving yet another suspicious disappearance.
But with the guys at her side, her new and improved self is ready to take on just about anything... even if she has to put on a dress to do it.
A hilariously witchy reverse harem mystery.
Don't miss the third book in bestselling authors N.M. Howell and L.C. Hibbett's hilarious new series: Cats, Ghosts, and Avocado Toast! Who knew clean eating could be so messy?
The Brotherhood of Merlin by Rory D. Nelson
PICK UP AT AMAZON
Goodreads Synopsis:
Five hundred years after the death of King Arthur, a sadistic tyrant of Visi-Galia, attacks unprotected and vulnerable townships in Gilleon, igniting a deadly chain of events. Because he was unfairly denied a proper chance to compete for valuable mine rights and outbid by a Councilman from Gilleon, he reasons that he can invade Gilleon's vulnerable townships and force the Council to negotiate with him.
Merlin, the lead knight in Lycenea, has foreseen just such a predicament. With the gifts of premonition, telepathy and intelligence, he and 9 of his most formidable knights go into battle against Jason and his force of nine thousand.
At stake is everything. The fate of the prisoners who are awaiting to be sold into slavery rests in the hands of the deadly knights. Specifically, two girls who were attacked in Missalia and are now orphaned, are at the mercy of the sadistic King. Will Merlin and his band of knights be able to rescue them in time?
Adele, the older sister, has plans of her own for escape. Will she prove successful or will her plans be foiled? If she is caught, what will become of her and her sister, Sylvia?
Dante, a boy from Coifen, is also now orphaned. He is the sole survivor of a brutal attack on his family. An unlikely heroine has come to his rescue- a mysterious white wolf. Unfortunately, the attack has left him blind. He and his guardian make their refuge in a remote cave. He clings desperately to the hope that God has spared him for a reason. Every night he goes to bed, he says a prayer to his talisman, the Merlin, a game piece that his father gave him before he was forced to abandon him. It was the last gift he received before all hell broke loose. Will he be rescued? Will he find a permanent haven? His fate also lies in the hands of the Merlin.
Merlin and his troupe lead the Visi-Gauls in a high stakes game of cat and mouse. Jason, though capricious, is not stupid. He uses every means at his disposal to eliminate Merlin. Who will prove the victor? Fighting a severe war of attrition, it seems at times that Jason will inevitably win; but don't count the Merlin out. He is beyond slippery. Every time it seems that Jason has the gifted knight, he is thwarted yet again.
The jaw-dropping confrontation will leave you breathless!
Free Audio Books/Stories: