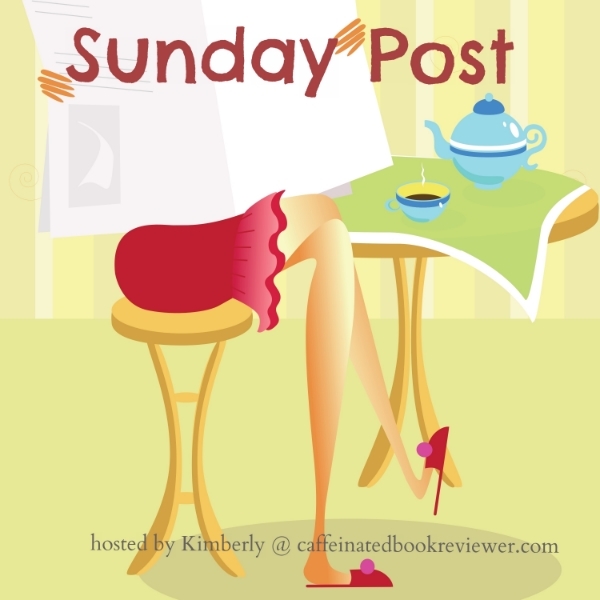 The Sunday Post
is a weekly meme hosted by
Kimba the Caffeinated Book Reviewer
~ It's a chance to share news ~ A post to recap the past week on your blog, showcase books and things we have received and share new about what is coming up on our blog for the week ahead.
It's been about three Sunday's since I've done a Sunday post. It's been rather busy here. We took a week off work to get lots of work done around the house. Only to be rained out each day. Ugh. We had plenty of other things to do but the major work was out side. My husband and I came to realizations though. When we retire, we are going to the grocery store Monday mornings and to the drive-in during the week. lol. We'll fill our time for sure.

During these last weeks, I've celebrated our wedding anniversary of 16 years (we've been together about 21 yrs total), had a birthday (I'm not telling my age lol), went to Confluence SFF convention, and went to a wedding. Like I said, it's been busy. I have pictures from Confluence to share, I just have to get the post done.

That's my quick run down. What have you been up to?


~~~~~~~~~~~~~~~
Goal: Workout in any form of exercise (or on Wii Fit) 2x's a week. (to feel better and hope to drop a few pants sizes)
How did I do last week... Not...really... Time is mad at me right now.


What's Happening in Books:
She Dreams of Fire
by M.K. Gibson
Editing work.
Current Audiobook:
Will start a new one on Monday.
Current Podcast Book Listen:
Nothing new.
Books:
The Books and Braun Dossier
by Philippa Ballantine & Tee Morris
The Job
by Greg L. Turnquist
Audiobooks :
War and Wind
by Alex Lidell
Make Bright the Arrows
by S.A. Huchton
The Living End
by Craig Schaefer
Finished Podcast Book Listen:
Nothing new yet.
Last Two Weeks on the Blog:
Cover Reveals:
(click titles to go to post & learn more)
Posts:
Around the Internet...
Reviews:
GIVEAWAYS:
I will finished up two reviews for you this week.
For Review Consideration:
Audio Books Requested for Review:
Darklight by Greg L. Turnquist
PICK UP AT AMAZON
Goodreads Synopsis:
Snitch, a young woman who grew up on the medieval streets of Kelmar as a thief, has learned something terrible. The regime's evil military ruler has learned the hideout location of the resistance she joined and ordered an all out assault. Combined with the captain of the disbanded royal guard, a political prisoner, a duke's daughter, and an old advisor, can her team rise to action and free Kelmar?
Dreadful Company by Vivian Shaw
PICK UP AT AMAZON
Goodreads Synopsis:
Contemporary fantasy in the world of Strange Practice, starring Dr. Greta Helsing, whose family has been keeping the supernatural community not-alive and well for generations.
When Greta Helsing, doctor to the undead, is unexpectedly called to Paris to present at a medical conference, she expects nothing more exciting than professional discourse on zombie reconstructive surgery and skin disease in bogeymen -- and hopefully at least one uneventful night at the Opera.
Unfortunately for Greta, Paris happens to be infested with a coven of vampires -- and not the civilized kind. If she hopes to survive, Greta must navigate the darkest corners of the City of Lights, the maze of ancient catacombs and mine-tunnels underneath the streets, where there is more to find than simply dead men's bones.
Spellslinger by Sebastien de Castell
PICK UP AT AMAZON
Goodreads Synopsis:
There are three things that earn you a man's name among the Jan'Tep. The first is to demonstrate the strength to defend your family. The second is to prove you can perform the high magic that defines our people. The third is simply to reach the age of sixteen. I was a few weeks shy of my birthday when I learned that I wouldn't be doing any of those things.
Magic is a con game.
Kellen is moments away from facing his first mage's duel and the start of four trials that will make him a spellcaster. There's just one problem: his magic is gone. As his sixteenth birthday approaches, Kellen falls back on his cunning in a bid to avoid total disgrace. But when a daring stranger arrives in town, she challenges Kellen to take a different path. Ferius Parfax is one of the mysterious Argosi - a traveller who lives by her wits and the three decks of cards she carries. She's difficult and unpredictable, but she may be Kellen's only hope...
Shadowblack by Sebastien de Castell
PICK UP AT AMAZON
Goodreads Synopsis:
The second book in the page-turning
Spellslinger
series for all teen, YA, adult and fantasy readers.
It's a few months since Kellen left his people behind. Now aged sixteen, Kellen is an outlaw, relying on his wits to keep him alive in the land of the Seven Sands. He misses home, he misses family and more than anything, he misses Nephenia, the girl he left behind.
Then he meets Seneira, a blindfolded girl who isn't blind, and who carries a secret that's all too familiar to Kellen. Kellen and Ferius resolve to help - but the stakes are far higher than they realise. A Shadowblack plague is taking hold - and Kellen can't help but suspect his own people may even be behind it.
King of Assassins by RJ Barker
PICK UP AT AMAZON
Goodreads Synopsis:
THE KING IS DEAD, LONG LIVE THE KING . . .
Many years of peace have passed in Maniyadoc, years of relative calm for the assassin Girton Club-Foot. Even the Forgetting Plague, which ravaged the rest of the kingdoms, seemed to pass them by. But now Rufra ap Vthyr eyes the vacant High-King's throne and will take his court to the capital, a rat's nest of intrigue and murder, where every enemy he has ever made will gather and the endgame of twenty years of politics and murder will be played out in his bid to become the King of all Kings.
Friends become enemies, enemies become friends and the god of death, Xus the Unseen, stands closer than ever - casting his shadow over everything most dear to Girton.
Lucifer's Nebula by C.T. Phipps & Michael Suttkus
PICK UP AT AMAZON
Goodreads Synopsis:
From the bestselling author of
The Rules of Supervillainy
: Captain Cassius Mass can only run so far from his problems and the galaxy isn't big enough to hide from those pursuing him. Cassius soon finds himself blackmailed into a mission that will clear him of all charges as well as protect him from future persecution: bring an end to the civil war currently racking the galaxy. Accompanied by a new set of untrustworthy allies, the crew of the Melampus, and the A.I duplicate of his dead wife—Cassius needs to figure out how to not only deal with his target but also his employers.
Because the entire universe is at stake.
Purchased/Winnings/Gifts:
Book:
Audio:
Innocence Lost by Patty Jansen
PICK UP AT AMAZON
Goodreads Synopsis:
A fantasy loosely based on the historical setting of the Netherlands and western Germany.
Johanna is the daughter of a rich merchant in the kingdom of Saarland. As an only child and without a mother, she has grown up with notions, such as that she wants to take over her father's river trade business in her own name. Courtesy of her eastern mother, she has an unusual ability. She sees things in willow wood: whenever she touches wood, it shows her what has happened around the tree or wooden object. Any kind of magic is not common in Saardam, and the Church of the Triune, which rapidly gains influence in the city, forbids it.
While she goes to church, Johanna also maintains a loose network of magic-enabled people. One of those people is Loesie, a farmer's daughter from out of town.
One day, Loesie comes to town after having been struck mute by magic. She carries a basket made from willow twigs that tells Johanna that a group of bandits with demons is about to attack the city.
But there is no non-magical proof, so she can't tell anyone or she'd be branded a witch. The time of witch-burnings was not that long ago.
Never mind that the army is still approaching, and there are increasing signs that Saardam's embattled royal family might have done something that has angered magical forces in the east. Add to this that the royal family seems to have fallen out with the city's nobility, and that the recent death of the crown princess has left the family with only one heir: the mysterious prince whom no one has seen for years and who has suddenly returned home.
At the annual ball, Johanna's father has brokered a dance for her with the prince. Johanna just wants to warn people of the impending attack.
Free Ebooks:
(On my Kindle and Nook App)
Links to books under title. They may or may not be free at this time.
The Job by Greg L. Turnquist
PICK UP AT AMAZON
Goodreads Synopsis:
What if a pickpocket had a change of heart?
Snitch and her partner in crime decide to knock over a pawn shop. But something goes wrong. What should she do next?
The Glass Mermaid by Melanie Karsak
PICK UP AT AMAZON
Amazon Synopsis:
I'm the last mermaid.
On the shore of Lake Erie, I spend my final days hunting beach glass and waiting for my mermaid glamour to leave me. Then it will be over. I resigned myself to the fact that there's nothing more for me. Until I saw Cooper.
He comes to the beach every day to paint the sunrise and sunset. Nothing in this vast world has sparked my attention as much as him. I have no business falling in love with a human. Not now. And Cooper seems to have secrets of his own. I should leave him alone, but the curious mermaid in me can't let that shiny bauble go.
More than anything, I want to be part of his world...before it's too late.
At the Heart of the Deep by Carrie L. Wells
PICK UP AT AMAZON
Goodreads Synopsis:
Oceanographer Luke McAllister races to figure out why the ocean depth is changing off Florida's Treasure Coast. But before he and his crew discover what's transforming the deep, he stumbles upon an even greater mystery. Leagues below the waves, he swear he sees…a mermaid?
Anya isn't allowed to get close to humans. But when a golden-haired researcher gets too close to her island, she can't afford to stay away.
Together, this unlikely pair will seek to discover what's causing shifts in ocean floor. While their new alliance is forbidden, Anya will risk everything to save her beloved ocean. The only problem is, she's not sure what's really luring her in, her love of the sea or the tempest Luke has stirred in her heart. Either way, Anya knows that the dangers facing the sea are nothing compared to what will happen to her when her father learns she's broken the merfolks' most sacred law.
Can Anya and Luke discover what lurks at the heart of the deep before it's too late?
Adult novel. Due to steamy scenes, this novel is best suited for mature readers.
Submerged by Pauline Creeden
PICK UP AT AMAZON
Goodreads Synopsis:
Mermaids can be cruel creatures.
I couldn't stop them from hurting her, but I couldn't let them destroy her, no matter what they did to me. The moment I heard the bottom feeder had been chosen for the reckoning, my heart sank. Had I been discovered for what I truly was? Years of pretending I was just like everyone else could all have been for naught. But then I heard it was Verona, and my blood ran cold.
Why was I surprised?
I shouldn't have been. I'd stood by and watched her ridiculed since we were younglings. I was never as brave or as unselfish as she was. But today, I would be.
Ghostly Paws by Leighann Dobbs
PICK UP AT AMAZON
Goodreads Synopsis:
Middle age can be murder ...
At least that's how it seems to former crime journalist, Wilhelmina Chance, whose near-fatal accident has given her a strange side effect ... she sees ghosts.
After a messy divorce sends her fleeing back to her hometown of Mystic Notch, nestled in the White Mountains of New Hampshire, Willa finds herself haunted by the tenacious ghost of the town librarian who insists Willa solve her murder.
Luckily, she has lots of help, including a quirky cast of small-town characters, the cat she's inherited from her grandmother, and her best friend, Pepper, who claims her herbal teas can work magic.
But just when Willa thinks she's discovered who the killer is, she finds out that things are not what they seem in Mystic Notch, and the case takes a strange turn that has Willa adding even some of her long-time friends to her suspect list.
Can Willa find the real killer in time to keep the magical balance in Mystic Notch on the side of good, or will evil prevail?
A Vision For the Future by Melissa Wright
PICK UP AT AMAZON
Goodreads Synopsis:
Elaina Johnson was born with a vision of her own death. It was something she had accepted, but as the end moves closer, she learns that seeing and knowing are far different things.
This is a short story of approximately 3600 words. Additional content includes a free preview of Bound by Prophecy.
Frey by Melissa Wright
PICK UP AT AMAZON
Goodreads Synopsis:
Frey's life is a lie. She doesn't remember being bound from magic. She didn't intend to get entangled in Council business.
But she did.
And now she's on the run. As the Council trackers pursue her, Frey discovers a world beyond their lies. With the aid of a stranger, she fights to reclaim her true identity before the others hunt her down. If they find her, she will burn.
King of Ash and Bone by Melissa Wright
PICK UP AT AMAZON
Goodreads Synopsis:
When flying monsters break through the veil into her world, Mackenzie Scott has nothing left to lose. Her brother has been taken, her future has vanished, and all that remains is a desperate need for revenge. After discovering the breach the creatures used as a gateway, Mackenzie devises a plan to stop them, whatever the cost.
When she finds an injured stranger in the street, he just might be the key she needs to succeed. What Mackenzie doesn't know is that this stranger isn't the helpless boy he appears to be. He's one of the monsters. And he's got plans of his own.
Thrown into a dying city in another realm, Mackenzie is powerless to get back. With the gateway closing, time is not on her side. But the stranger is, and if they can escape execution, this girl and her monster might be able to save both their worlds.
Conjure by Lea Nolan
PICK UP AT AMAZON
Goodreads Synopsis:
Be careful what you search for...
Sixteen-year-old twins Emma and Jack Guthrie hope for a little summer adventure when they find an eighteenth-century message in a bottle revealing a hidden pirate treasure. With their best friend—and Emma's secret crush—Cooper Beaumont, they discover the treasure, and accidentally unleash an ancient Gullah Hoodoo curse that attacks Jack with the wicked flesh-eating Creep and promises to steal Cooper's soul on his approaching eighteenth birthday.
Determined to save the two people she loves the most, Emma apprentices herself to an elderly sea island hoodoo root doctor who agrees to teach her the magic to undo the hex while she works to unravel the riddle of the pirate's message. With the clock ticking down to Cooper's birthday and Jack turning into a walking skeleton, Emma must hone her new skills to conjure visions of the past to discover the curse's origins, steal an antique ruby, battle a horde of terrifying demon dogs, and summon ancient spirits who can help set things right before it's too late.
Inseverable by Cecy Robson
PICK UP AT AMAZON
Goodreads Synopsis:
How can you imagine forever with someone who's leaving everything behind?
Callahan, a former army sniper, wants to make an escape from his past and everything he experienced at war, but most of all, just not feel. Feeling leads to pain and he's suffered enough. When he inherits a house on South Carolina's Kiawah Island, he packs his bags, lured by the peace and seclusion he thinks it will bring. But, Callahan never counted on meeting anyone like Trinity . . .
Trinity has always been the cute, and funny one, who most guys overlook in pursuit of her "hot" friends. She became used to being everyone's pal, until the day the young man she was attracted to, was drawn to her in return. He became her first great love, and first crushing heartbreak when she found him in bed with one of her closest friends.
To move forward, and to carry out her commitment to helping those in need, Trinity enlists in the Peace Corps, but not before returning to Kiawah for one last memorable summer. She just never imagined it would be so unforgettable.
Callahan doesn't want to get close to anyone—let alone Trinity. He finds her perkiness insufferable and her attempts to entice a smile distracting. After all, he's in Kiawah to leave all feelings behind. But when it comes to Trinity, who feels everything, it's hard not to feel something.
Neither expected to fall in love. And no one could have predicted how inseverable they'd become.
Free Audio Books/Stories: