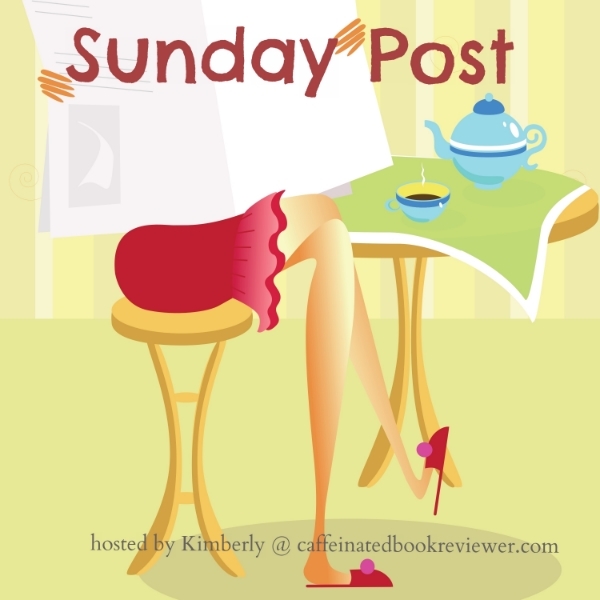 The Sunday Post
is a weekly meme hosted by
Kimba the Caffeinated Book Reviewer
~ It's a chance to share news ~ A post to recap the past week on your blog, showcase books and things we have received and share new about what is coming up on our blog for the week ahead.
Busy week. Dog to vet, hair coloring, free concert (every Thursday for summer). So, I didn't get to visit as I'd hoped. Ugh. This week will be my week. I'm going to make it happen.
I had the great pleasure of going to hear an amazing author speak. Beverly Jenkins.
Oh she was wonderful. I loved hearing her story and journey. She has a presence that holds your attention, and a great sense of humor. I had to pick up a few books of hers as I loved how she talked about them. And I have to meet Cletus, the hog. lol. If you heard her talk about him, you'd understand.
And Seton Hill had an alumni author room where I could meet and pick up their books. Of course I had to stop! And get a few books. Here are a few photos of people I got to talk with.
I always have a great time with the amazing speakers Seton Hill brings in and the people there. I look forward to these days.
~~~~~~~~~~~~~~~
Goal: Workout in any form of exercise (or on Wii Fit) 2x's a week. (to feel better and hope to drop a few pants sizes)
How did I do last week... Nope. Nada. Darn that back. But I did push mow the grass. I know I shouldn't but it needed done. Badly.


What's Happening in Books:
Siren's Tide
by Philippa Ballantine
Editing work.
Current Audiobook:
Marines
by Paul E. Cooley
Helios
by Jeremy Robinson & Sean Ellis
Current Podcast Book Listen:
Nothing new.
Books:
Embracing the Dragon
by K.L. Bone
Audiobooks :
Tracing Shadows
by Alex Lidell
Frostbite
by E.J. Stevens
Finished Podcast Book Listen:
Nothing new yet.
Last Week on the Blog:
Cover Reveals:
(click titles to go to post & learn more)
Posts:
Around the Internet...
Reviews:
Children of Blood and Bone
"The story was powerful. It started strong and drew me in."
Agent Prime
"One thing I'm learning about Jake Bible. He can write many different styles. Wow."
Mama Bitchstress Reviews:
GIVEAWAYS:
This Week to Come on the Blog:
I will finished up two reviews for you this week.
~~~~~~~~~~
Received For the Last Month:
(Note: Links to Amazon are buy links where I could earn commission, in case you are interested.)
For Review Consideration:
Audio Books Requested for Review:
Frostbite by E.J. Stevens
PICK UP AT AMAZON
Goodreads Synopsis:
This prequel short story is the perfect introduction to the award-winning Ivy Granger Psychic Detective urban fantasy series.
Everyone knows that there's no such thing as ghosts, but when a client claims that her house is being haunted, Ivy tries to keep her mind open and her weapons handy. If her psychic gifts and recent cases have taught her anything, it's that you're better off arming yourself for the unexpected.
Will our favorite psychic detective face down murderous ghosts? Anything is possible in Harborsmouth.
War and Wind by Alex Lidell
PICK UP AT AMAZON
Goodreads Synopsis:
A cowardly captain. An incompetent crew. A mission she can't fail.
Nile and her small band of loyal midshipmen saved the ship, and Captain Rima might just kill them for it . . . one young officer at a time. No one and nothing on the Aurora is safe anymore, least of all Nile's explosive secrets or her connection with Domenic, which vibrates between them like a cutlass speared into the deck.
When the shifting tide of war suddenly turns Aurora's backwater outpost into a vital battleground, Nile faces an impossible choice between duty and freedom. In a cascade of violence, gunpowder, and lies, Nile will soon discover who has her back and who wants to stab a dagger in it. To save the ones she loves, Nile may have to sacrifice everything.
Purchased/Winnings/Gifts:
Book:
Bring on the Blessings by Beverly Jenkins
PICK UP AT AMAZON
Goodreads Synopsis:
On Bernadine Brown's fifty-second birthday she received an unexpected gift—she caught her husband, Leo, cheating with his secretary. She was hurt—angry, too—but she didn't cry woe is me. Nope, she hired herself a top-notch lawyer and ended up with a cool $275 million. Having been raised in the church, she knew that when much is given much is expected, so she asked God to send her a purpose.
The purpose turned out to be a town: Henry Adams, Kansas, one of the last surviving townships founded by freed slaves after the Civil War. The failing town had put itself up for sale on the Internet, so Bernadine bought it.

Trent July is the mayor, and watching the town of his birth slide into debt and foreclosure is about the hardest thing he's ever done. When the buyer comes to town, he's impressed by her vision, strength, and the hope she wants to offer not only to the town and its few remaining residents, but to a handful of kids in desperate need of a second chance.

Not everyone in town wants to get on board though; they don't want change. But Bernadine and Trent, along with his first love, Lily Fontaine, are determined to preserve the town's legacy while ushering in a new era with ties to its unique past and its promising future.
Tempest by Beverly Jenkins
PICK UP AT AMAZON
Goodreads Synopsis:
What kind of mail-order bride greets her intended with a bullet instead of a kiss? One like Regan Carmichael—an independent spirit equally at home in denims and dresses. Shooting Dr. Colton Lee in the shoulder is an honest error, but soon Regan wonders if her entire plan to marry a man she's never met is a mistake. Colton, who buried his heart along with his first wife, insists he only wants someone to care for his daughter. Yet Regan is drawn to the unmistakable desire in his gaze.
Regan's far from the docile bride Colton was expecting. Still, few women would brave the wilds of Wyoming Territory for an uncertain future with a widower and his child. The thought of having a bold, forthright woman like Regan in his life—and in his arms—begins to inspire a new dream. And despite his family's disapproval and an unseen enemy, he'll risk all to make this match a real union of body and soul.
High Lonesome Sound by Jaye Wells
PICK UP AT AMAZON
Goodreads Synopsis:
In the sleepy mountain town of Moon Hollow, Virginia, there is a church with a crooked steeple. No one will say for sure how it got that way, but it's the reason the whole town gathers every Decoration Day to honor the dead.
But this year, there are two fresh graves up on Cemetery Hill, a stranger's come to town, and the mountain's song is filled with dark warnings.
The good people of Moon Hollow are about to learn that some secrets are too painful to bear, and some spirits are too restless to stay buried.
The Empress Game by Rhonda Mason
PICK UP AT AMAZON
Goodreads Synopsis:
One seat on the intergalactic Sakien Empire's supreme ruling body, the Council of Seven, remains unfilled, that of the Empress Apparent. The seat isn't won by votes or marriage. It's won in a tournament of ritualized combat in the ancient tradition. Now that tournament, the
Empress Game
, has been called and the females of the empire will stop at nothing to secure political domination for their homeworlds. Kayla Reinumon, a supreme fighter, is called by a mysterious stranger to battle it out in the arena.
The battle for political power isn't contained by the tournament's ring, however. The empire's elite gather to forge, strengthen or betray alliances in a dance that will determine the fate of the empire for a generation. With the empire wracked by a rising nanovirus plague and stretched thin by an ill-advised planet-wide occupation of Ordoch in enemy territory, everything rests on the woman who rises to the top.
Marked by Light by Heidi Ruby Miller
PICK UP AT AMAZON
Goodreads Synopsis:
This is the first book in the Ambasadora science fiction adventure series. This space thriller contains elements of space opera, science fiction romance, cyberpunk, military science fiction, a galactic empire, anthropological science fiction, and exploration.
If everyone told you love wasn't real, would you still be willing to die for it?
Sara Mendoza and Sean Cryer are.
In their multi-partner, caste-ruled society, love and jealousy are considered emotional fallacies, nothing more than fleeting moods and sentiments biased by hormones. Relationships and conceptions in this world obsessed with celebrity, beauty, and power are based on DNA and lineages...or should be. But not everyone believes in the ruling traditions of the all-powerful Embassy. A quiet rebellion prowls the dark underground of this shiny world where techno-militants calling themselves fraggers grow in numbers and bravado. The Embassy intends to silence the fragger movement before the heresy of equality spreads throughout the system.
Sara Mendoza is part of the Embassy's plan. Captured, tortured, and falsely accused of treason, she is given a chance to win back her freedom. She only needs to charm information from one of the fragger leaders, then kill him. But by the time she figures out the Embassy's intel is flawed and that Sean Cryer is her true mark, she's already in love with him.
Sean knows why Sara is on his ship from the start, but as a lonely, anti-social doser, he doesn't value his life, only his ideology within the fragger organization. Against his better judgment, he becomes her protector, each day caring more about a future he was always afraid to hope for.
Starrie by Heidi Ruby Miller
PICK UP AT AMAZON
Goodreads Synopsis:
In this caste-ruled society, where multiple partners are the norm, celebrity, beauty, and power mean everything. Love and jealousy are considered emotional fallacies, nothing more than fleeting moods and sentiments biased by hormones. But sometimes people just fall in love…and that can be deadly.

Ben Anlow and his team embark on a revenge mission to bring down serial murderer and rapist, Liu Stavros, at his fortress in the inhospitable mountains of Tampa Three. But contractor Naela Starrie already has her own kind of vengeance planned for Stavros. Even as a battle-hardened soldier, Ben's not prepared for the darkness he sees in the female assassin, nor the way she challenges his prejudices about her people when she makes a sacrifice to save to his life.
Greenshift by Heidi Ruby Miller
PICK UP AT AMAZON
Goodreads Synopsis:
Greenshift is a tale set within the world of Ambasadora.
Mari's rare eye color makes her a pariah within Upper Caste society, which is why she prefers plants to people…except David, the former Armadan captain who shuttles scientists around on a refurbished pleasure cruiser.
But someone else is interested in Mari and her distinctive look—an obsessed psychopath who tortures and murders women for pleasure.
When the killer chooses Mari as his next victim, the soldier inside David comes alive, but it is Mari who must fight for her own life and prove she isn't as fragile as the flowers she nurtures.
Audio:
Free Ebooks:
(On my Kindle and Nook App)
Links to books under title. They may or may not be free at this time.
Free Audio Books/Stories:
~~~~~~~~~~
Soulless
by Skyla Dawn Cameron
The Sentinel
by Chris Lester
The Muse
by Chris Lester
Metamor City: Making the Cut
by Chris Lester
Metamor City: Whispers in the Wood
by Chris Lester
Lex Talionis
by Starla Huchton
Spark

by Starla Huchton
Heir to Kale
by K.L. Bone
Tales from the Archives Vol 4 #5 - Old Sinner's Bones
The Death of Dulgath
by Michael J. Sullivan
Danger's Halo
by Amanda Carlson
Alone
by Scott Sigler
Power of Five by Alex Lidell
Tracing Shadows
by Alex Lidell
Frostbite
by E.J. Stevens