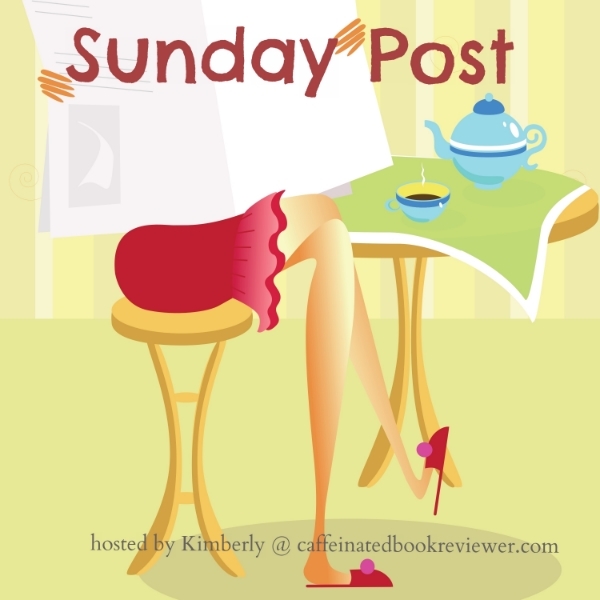 The Sunday Post
is a weekly meme hosted by
Kimba the Caffeinated Book Reviewer
~ It's a chance to share news ~ A post to recap the past week on your blog, showcase books and things we have received and share new about what is coming up on our blog for the week ahead.
I didn't post this last week. It wasn't that I didn't have anything to post, it was more my back. I don't know what I did but it was hurting something fierce for a week and a half. It hurt to sit, stand, walk, lay... you name it, it hurt. I made several trips to the chiropractor and did my stretches and I'm starting to get around better. But, I didn't get on the computer when home much because I was trying to relax or stretch, even walk when feeling better as it kept my back moving and limber. I do sit at a desk all day during the day job, and that was a struggle. I was constantly shifting, trying to get comfortable. The last four or five days, I'm finally moving better and feeling better. But there are still sore spots and ways I can't move. I'm getting better though.
I promised photos of the t-shirts I got at Balticon along with my Jessica Jones toy. Here they are!
The Goonies t-shirt is sooooo comfy! I am going to wear that one all the time!
So, I listen to audiobooks while at work. I'm currently listening to an 18 hour book. O.O I've found I struggle with a book of this length. I want to race to the end, like it takes too long to get there. Does anyone else struggle with a long book?
So, I need to set limits on everything. An hour for this and an hour for that. I'm going to try to set goals this week for each evening and see how that goes. I want to get back to everything I love.
~~~~~~~~~~~~~~~
Goal: Workout in any form of exercise (or on Wii Fit) 2x's a week. (to feel better and hope to drop a few pants sizes)
How did I do last week... Nope. Nada. Darn that back. But I did push mow the grass. I know I shouldn't but it needed done. Badly.


What's Happening in Books:
Embracing the Dragon
by K.L. Bone
Editing work.
Current Audiobook:
Marines
by Paul E. Cooley
Current Podcast Book Listen:
Nothing new.
Books:
Not this week.
Audiobooks :
Children of Blood and Bone
by Tomi Adeyemi
Power of Five by Alex Lidell


Finished Podcast Book Listen:
Last Week on the Blog:
Cover Reveals:
(click titles to go to post & learn more)
Posts:
Around the Internet...
Reviews:
GIVEAWAYS:
I will finished up two reviews for you this week.
For Review Consideration:
Siren's Tide by Philippa Ballantine
PICK UP AT AMAZON
Goodreads Synopsis:
Ianthe Liakos is a mermaid from a different dimension and between that and now working as a PI in the corrupt climate of Washington DC, she'd thought she'd seen it all.
But when following a case leads down a trail of money that connects the murders of young political interns to a new paranormal threat, she realizes she must protect the next target.
The waters turn even murkier when Clayton Abernathy, a newly risen revenant fresh out of the grave, finds himself under the power of this new unnatural threat. Ianthe must hunt down this new threat to DC, while trying to keep her own identity safe. If the paranormal citizens of Washington DC found out that a mermaid has returned her own life and mission would be in danger.
And when it becomes clear that the murderer and Ianthe's mermaid past are inexplicably intertwined, she realizes she may just be out of her depth dealing with this killer.
=======================================
Six remarkable female writers, bring you a new urban fantasy series of novellas. Their Sea King's Daughters will carry the reader into uncharted waters.
Audio Books Requested for Review:
Power of Five by Alex Lidell
PICK UP AT AMAZON
Goodreads Synopsis:
Four elite fae warriors. One mortal female. A magical bond they can't allow—or resist.
Orphaned and sold to a harsh master, Lera's life is about mucking stalls, avoiding her master's advances, and steering clear of the mystical forest separating the mortal and fae worlds. Only fools venture into the immortal realms, and only dark rumors come out... Until four powerful fae warriors appear at Lera's barn.
River, Coal, Tye, and Shade have waited a decade for their new fifth to be chosen, the wounds from their quint brother's loss still raw. But the magic has played a cruel trick, bonding the four immortal warriors to... a female. A mortal female.
Distractingly beautiful and dangerously frail, Lera can only be one thing—a mistake. Yet as the males bring Lera back to the fae lands to sever the bond, they discover that she holds more power over their souls than is safe for anyone... especially for Lera herself.
Power of Five
is a full-length reverse-harem fantasy novel.
Tracing Shadows by Alex Lidell
PICK UP AT AMAZON
Goodreads Synopsis:
To protect the throne, seventeen-year-old spy Kali must play a male guardsman trainee by day and royal lady by night.
Orphaned and trained on a spymaster's remote estate, Kali is a scout who works alone in the shadows. But when a terror group threatens the Dansil throne, the king forces Kali to accept a mission at the palace or forfeit her sister's life.
Suddenly thrust into the light, Kali must infiltrate high society as the royal Lady Lianna while penetrating the servant ranks as Kal, a male guardsman trainee. It doesn't help that Trace, the harsh and enigmatic captain of the king's guard, is soon assigned as both Lady Lianna's palace escort and Kal's commanding officer.
As Kali edges closer to the truth behind the violent group's identity, she uncovers dangerous secrets that could bring her mission to a brutal end. A scout's job is to observe and report, never to engage . . . but if it means saving her sister and kingdom, Kali may have no choice.
Purchased/Winnings/Gifts:
Book:
I got a storybundle! Summer Steampunk. Check out all the titles I got!
Star Compass by Anthea Sharp
Goodreads Synopsis:
Charles Dickens meets Firefly in this tale of an orphan destined for the stars.
Steampunk with a twist! Enter a fantastical world filled with alien spacecraft and Victorian sensibilities, ball gowns and travel to the stars - where a pickpocket with a particular gift makes the journey from the gutter to the stars…
Gunpowder Alchemy by Jeannie Lin
PICK UP AT AMAZON
Goodreads Synopsis:
In 1842, the gunpowder might of China's Qing Dynasty fell to Britain's steam engines. Furious, the Emperor ordered the death of his engineers, eliminating China's best chance of fighting back. Since her father's execution eight years ago, Jin Soling has kept her family from falling apart. With her mother addicted to opium and her younger brother in danger of being sent off to the factories, Soling has no choice but to sell off the last of her father's possessions. Unwittingly, her actions bring her to the attention of the imperial court-the same court that betrayed her father. The Crown Prince has launched a secret mission to bring together the remnants of the former Ministry of Science. To restore her family's name, Soling must track down the rebel alchemist who holds the key to powering the imperial fleet. Her only ally is a man she's just met-the engineer with a mysterious past who was once meant to be her husband...
Legend of the Skyfire Stone by Joseph Robert Lewis
PICK UP AT AMAZON
Goodreads Synopsis:
Lorenzo Quesada believes an ancient relic will restore his dying country to prosperity and honor, unless the military finds it first. Taziri Ohana is on a routine flight when she discovers a secret Espani warship, which shoots her down, stranding her behind enemy lines. Thrown together by fate, Lorenzo and Taziri race through a gauntlet of vicious assassins, undead demons, and giant beasts to find the fabled Skyfire Stone. But when the Espani warship sets sail for Marrakesh, Lorenzo must stop a war that could destroy the Middle Sea, even if it costs him both the stone and his life. Welcome to a fantasy world where strange machines sail the seas and the skies, enormous prehistoric beasts roam the earth, and the restless dead whisper to the living. Publisher's Note: This book was originally released under the title Halcyon 2: The Broken Sword. No content has been changed.
Golden Heart by Christine Pope
Goodreads Synopsis:
The adventure of a lifetime...or a trap she can't escape?
When the proper Miss Lavinia Greene receives a letter from her eccentric inventor uncle asking her to visit him at his castle in Romania, her only thought is that his invitation will give her a wonderful opportunity to escape her carefully ordered existence. Even as she acknowledges her attraction to her uncle's mysterious new assistant, Joshua Jones, Lavinia also finds herself drawn into mayhem and murder as foreign agents attempt to seize her uncle's latest invention.
Fearing for her life, Lavinia must navigate a shifting web of loyalties and deceit, whether in the wilds of Romania or the elegant ballrooms of a Victorian London just slightly different from our own. But can she discover the truth of her own heart before it's too late?
Fall of Sky City by S.M. Blooding
PICK UP AT AMAZON
Goodreads Synopsis:
Book 1 of the Devices of War Trilogy
In a world governed by the opposing forces of the mystical House of Tarot and the tribal Great Families, Synn is caught in the crossfire. He witnesses the slaughter of innocent people, and the devastating murder of his father. This act awakens his Mark of power, a Mark greater than any the world has seen in a very long time.
Queen Nix thought she won a great prize when she destroyed Synn's father, the leader of the strongest Great Families. She had no idea she'd be doubly blessed by capturing his son. However, before Synn can become her treasured weapon, before she can use him to bring the rest of the world to its knees, she must break him and bind his soul to hers.
She does her job with brutal brilliance. Synn's mind is broken and his soul is seared to hers in an unbreakable bond.
That doesn't stop him from wanting to be free. She may have broken his mind and claimed his soul, but he will find a way to destroy her.
Experience a world of ships that sail the clouds and cites buried beneath the ocean, and survive the fiery battle brought forth by those who control the forces of nature!
The Books & Braun Dossier by Pip Bllantine & Tee Morris
Goodreads Synopsis:
When Agents Eliza D. Braun and Wellington Thornhill Books, Esquire, were first partnered up in the Archives of The Ministry of Peculiar Occurrences, it was hard to believe they would ever delight in one another's company, let alone engage in acts of derring-do within and outside the boundaries of Her Majesty's Empire. Collected for the first time in one volume are the cases before and in-between the award-winning steampunk novels written by Pip Ballantine and Tee Morris. In The Books & Braun Dossier, you will find out…

Why Eliza D. Braun was cast out of her homeland of New Zealand.

Who is Arthur Books.

How Wellington and Eliza cannot avoid trouble, even on Christmas Eve.

When Wellington is away, how Archimedes entertains himself.

From the award-winning podcast anthology series Tales from the Archives comes these fantastic adventures of spy craft, science, and the supernatural.
Heart of the Kraken by A.W. Exley
PICK UP AT AMAZON
Goodreads Synopsis:
Legend says if you consume the heart of a mermaid, you will know all the secrets of men
Ailin doesn't care if the legend is true or not - she's stuck in a crate on her way to feature as the main course at a lavish banquet. Her heart to be served while still beating for a cruel noble while the rest of her is sliced into sashimi. Unless she can escape.
Across the ocean, Fenton longs for a different release. Sold as a child by men who labelled him a mistake, a failed experiment. Except he has one valuable skill, he can summon the dreaded kraken. Bought by a pirate, he has only known life at sea, wielded as a tool by the captain.
Two lives collide when the pirates capture the vessel holding Ailin. The kraken holds the key to Ailin's freedom but in summoning the beast one last time, Fenton must choose between losing his life or his heart…
Clockwork Alchemist by Sara C. Roethle
PICK UP AT AMAZON
Goodreads Synopsis:
A thief, a wayward detective, and an automaton with a soul. What could possibly go wrong?
Arhyen is the self-declared finest thief in London. The mission was simple. Steal a journal from Fairfax Breckinridge, one of the greatest alchemists of the time. Arhyen hadn't expected to find Fairfax himself, with a dagger in his back. Nor had he expected his automaton daughter, Liliana. Suddenly entrenched in a mystery too great for him to fully comprehend, he must rely on the help of a wayward detective, and an automaton who claims she has a soul, to piece together the clues laid before them. Will Arhyen uncover the true source of Liliana's soul in time, or will London plunge into a dark age of nefarious technology, where only the scientific will survive?
This novel is classified as Gaslamp Fantasy, with elements of magic within alchemy and science, based in Victorian England.
The Curious Case of The Clockwork Menace by Bec McMaster
PICK UP AT AMAZON
Goodreads Synopsis:
Friends, partners, and professionals... So just why is this case coming between them?
In a Victorian London ruled by the blood-drinking elite, Perry Lowell is a logical and accomplished Nighthawk: a rogue blue blood who tracks murderers and thieves for the Guild. So when she and her charming-but-reckless partner, Garrett, are charged with finding a missing theatre starlet, it should be a simple solve.
But with an entire theatre of suspects, including a flirtatious understudy and whispers of a Clockwork Menace haunting the place, tension is brewing between the pair of them. Can they come together to solve the case - or will it be too late, when the murderer turns his gaze on Perry herself?
Warning: This is not a traditional HEA. Set three years before Forged By Desire (available Sept 2014), it's a pre-romance novella featuring Perry and Garrett. Heads will butt, tempers will flare - and perhaps one of them might come to realise just what the other truly means to them?
THEN! For signing up for the newsletter, I got these two books:
Wreck of the Frost Finch by Joseph Robert Lewis
PICK UP AT AMAZON
Goodreads Synopsis:
Omar Bakhoum joined an airship expedition to the glaciers of Europa to find a lost island and to learn about the aether mist that reveals the souls of the dead, even though howling storms, rampaging beasts, and a deadly samurai stand between him and his goal. But when Omar is accused of murder over the north sea, his quest for answers may end in a watery grave. Welcome to a fantastical world where strange machines sail the seas and the skies, enormous prehistoric beasts roam the earth, and the restless dead whisper to the living.
Assassins of the Steam Age by Joseph Robert Lewis
PICK UP AT AMAZON
Goodreads Synopsis:
When the local airfield is destroyed, Taziri Ohana is the only airship pilot left to help the marshals chase the killers across the skies of Marrakesh. But the case becomes terrifyingly personal when Taziri finds that her enemies have turned her own inventions into weapons and her family's survival may hang in the balance.

Meanwhile, exiled Incan princess Qhora and her swashbuckling lover Lorenzo face a gauntlet of assassins, cruel aristocrats, and wealthy industrialists conspiring against the very Queen that Taziri is trying to save, and her country's only hope for peace may be her crippled airship plummeting out of the burning sky.

Welcome to a world where strange machines sail the seas and the skies, enormous prehistoric beasts roam the earth, and the restless dead whisper to the living.
Audio:
Free Ebooks:
(On my Kindle and Nook App)
Links to books under title. They may or may not be free at this time.
Happy Hour at Casa Dracula by Marta Acosta
PICK UP AT AMAZON
Goodreads Synopsis:
Latina Ivy League grad Milagro de Los Santos can't find her place in the world or a man to go with it. Then one night, at a book party for her pretentious ex-boyfriend, she meets an oddly attractive man. After she is bitten while kissing him, she falls ill and is squirreled away to his family's estate to recover. Vampires don't exist in this day and age -- or do they? As Milagro falls for a fabulously inappropriate man, she finds herself caught between a family who has accepted her as one of their own and a shady organization that refuses to let the undead live and love in peace.
Magick and Monsters: A collection of Fantasy and Urban Fantasy Novels
PICK UP AT AMAZON
Goodreads Synopsis:
Ready for a touch of magic?

MAGICK AND MONSTERS is a best-selling boxed set of wicked paranormal reads, brought you by today's best-selling and award-winning authors!

Supernaturally suspenseful, this boxed set has all the myths, magic, and monsters you could ever ask for: demons, vampires, werewolves, ghosts, shape-shifters, faeries, and other creatures to keep you awake all night, burning through the pages alongside the midnight oil.

Scroll up and one click to start reading this exciting collection today!

Brought to you by...
Vivian Lane
Alexa Padgett
Samantha Britt
Elle Boon
Joanna Mazurkiewicz
Erica Gerald Mason
Tameri Etherton
Annie Anderson
Erin Hayes
Amanda Booloodian
Angela Kulig
K.C. Finn
Jessica Aspen
R.K. Close
Jennifer Rose McMahon
Kim Carmichael
Alyssa Drake
Carmen Fox
Tara West
CK Dawn
Melinda R. Cordell
J.N. Colon
Miss Mabel's School for Girls by Katie Cross
PICK UP AT AMAZON
Goodreads Synopsis:
Never underestimate the power of a determined witch.
Letum Wood is a forest of fog and deadfall, home to the quietly famous Miss Mabel's School for Girls, a place where young witches learn the art of magic.
Sixteen-year-old Bianca Monroe has inherited a deadly curse. Determined to break free before it kills her, she enrolls in the respected school to confront the cunning witch who cast the curse: Miss Mabel.
Bianca finds herself faced with dark magic she didn't expect, with lessons more dangerous than she could have ever imagined. Will Bianca have the courage to save herself from the curse, or will Miss Mabel's sinister plan be too powerful?
Miss Mabel's School for Girls is the first novel in The Network Series, an exciting new fantasy collection. A gripping tale about the struggle to survive, it will take you to a new place and time, one you'll never want to leave.
Gate of Air by Resa Nelson
PICK UP AT AMAZON
Goodreads Synopsis:
Frayka must find and convince the dragon gods of the Far East to appease the gods of her Northland heritage. If she fails, her own Northlander gods will destroy all the mortals who once promised to worship them.
The Far East is a mysterious place of legend to Northlanders like Frayka. Only an old map can show her how to get there. Once she arrives, all of Frayka's sensibilities put her in danger. And every dangerous turn delays her from finding the dragon gods whose help she so desperately needs.
Although Frayka looks like a Far Easterner, she is a powerful Northlander warrior who is quick to voice her thoughts. She is trained to fight and won't hesitate to do so.
But everything about Frayka puts her in deadly peril in the Far East, where the laws are strict and the punishment cruel.
Especially when the one being punished is a woman.
Free Audio Books/Stories: