The Sunday Post
is a weekly meme hosted by
Kimba the Caffeinated Book Reviewer
~ It's a chance to share news ~ A post to recap the past week on your blog, showcase books and things we have received and share new about what is coming up on our blog for the week ahead.
It's Sunday and I've been falling behind in everything. I have two or three reviews to write today so they can be posted this week and the week after. I also have a guest post to get done for you, with a giveaway. Exciting!
Not that I've been around as much these last few months, but in a few weeks I'm going to definitely be MIA. I'm going on a well needed vacation. I hope to get lots of relaxing in and little stress.
As for the testing I had done... The result is clean. But, there is always a but, they still don't like what was found and feel that it could lead to future troubles. So now I made an appointment to talk to a specialist. I know what is being suggested but I want to hear what the specialist says first before I take any actions, get all my ducks in a row so to speak.
Life has been enjoying throwing sour apples at us for the last year now. No breaks.
So, life keeps moving on and we are in the ride for the long haul. I'll try to get visiting in more than one day a week. I will.
~~~~~~~~~~~~~~~
Goal: Workout in any form of exercise (or on Wii Fit) 2x's a week. (to feel better and hope to drop a few pants sizes)
How did I do last week... I only went to the gym 2 days a week with the testing I had done. I do weights and walk on the elliptical for 30 minutes.


What's Happening in Books:
The Side of Good / The Side of Evil
edited by Danielle Ackley-McPhail
The Ghost Rebellion
by Pip Ballantine and Tee Morris
I'm also working on Content Editing Work as well.
Current Audiobook:
I'll start new this week coming, on Monday!
Current Podcast Book Listen:
Stonebriar Casefiles: Bad Alchemy
by Laura Nicole Spencer (You can listen for free too!)
Alight
by Scott Sigler (You can listen for free too! One episode, a few chapters, a week!)
Nothing written.
Audiobooks from Audible:
Carrots
by Colleen Helme
Otherlife Dreams
by William D. Arand
Finished Podcast Book Listen:
Nothing
Last Week on the Blog:
Cover Reveals:
(click titles to go to post & learn more)
Posts:
Around the Internet...
Reviews:
The Glass Mermaid by Poppy Lawless
"Oh goodness. This story brought the tears out. Something in Poppy's writing twisted my heart. All the feels were here."
Amber

by David Wood & Rick Chesler
"I found I was thinking I'd enjoy traveling in person with these men on their adventures. Their personalities and humor are ones I'd enjoy. Plus the addition of possible dangers (okay with them, yes danger) they find themselves fighting out of, sounds exciting!"
Mama Bitchstress Reviews:
GIVEAWAYS:
This Week to Come on the Blog:
I've decided to do three reviews a week for a few weeks, just to try to get caught up with what I have to share with you all. Hope you stop by to check them all out! :)
Birthright
Carrots
Author Post/Giveaway of Birthright.
Author Post/Giveaway by Cheree - space opera!
~~~~~~~~~~
Received Last Weeks:
Review & Review Consideration:
Audio Books Requested for Review:
Purchased/Winnings/Gifts:
Book:
Audio:
Free Ebooks:
(On my Kindle App)
Links to books under title. They may or may not be free at this time.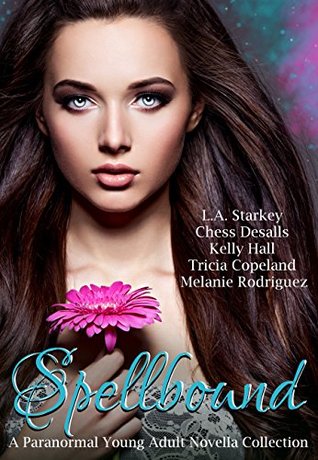 Spellbound
PICK UP AT AMAZON
Goodreads Synopsis:
Five complete never before seen YA novellas to help you find a quick getaway this summer!!
Part of Your World by L.A. Starkey - When two worlds collide at the edge of the sea in a measure of desperation, a prince will bow before a commoner and a lost soul will finally be found. Part of Your World - Where love is waiting just beyond the edge of what you can see.
Glistens by Chess Desalls - Marian Spritz won't gain guardian fairy status if she fails her summer school project. But when she hears a call for help—a song felt only by Glistens—she must choose between not letting her schoolwork and teammates suffer and protecting a ward who faces grave danger.
Tethered by Kelly Hall - Life had been simple for vampire Jayden Blackwell until he met the runaway Emmaline Grey. One taste of her blood revealed that not only is she a fledgling vampire on the cusp of her transition, but she's also his bondmate and the granddaughter of his family's biggest enemy. Will family feuding keep them apart or is it Jayden who compromised Emma's survival?
Drops of Sunshine by Tricia Copeland - Working as lifeguard at a camp for the blind seems like the perfect escape for Nina. But a few perceptive kids can hear her thoughts. Can embracing her truth help her heal and reveal possibilities she never imagined?
Feathers and Fireflies by Melanie Rodriguez - Seventeen year old Rory of Vanora Village dreams of capturing the sacred summer solstice ritual of the animal shapeshifters with her trusty charcoal and parchment. But with only legends and tales to guide her, she cannot even convince her childhood friend, Lucas, that the ritual is real. On the night Rory follows the fireflies, she gets far more than she bargained for.
These fun beach reads have never been published before and were written specifically for this anthology. Hope you enjoy the adventure!!
Ascendance Rise of the Fallen by Bradford Bates
PICK UP AT AMAZON
Goodreads Synopsis:
John Blackthorn is one of the Gifted, and a member of the Ascendancy. Partnered with a werewolf, John prowls the streets of 1920's San Francisco protecting the city from the supernatural. Using the gift of magic, they will face off against a growing threat, the Fallen. Leadership amongst the city's vampires is changing. The Ascendancy must find out what the new regime is planning, and stop it. Together, John and Sarah will find a way to save the city, that they love.
This is the first tale in the Ascendancy Origins Series.
Ascendancy The Arena by Bradford Bates
PICK UP AT AMAZON
Goodreads Synopsis:
Jackson Fairfield was your average kid until he started to see things. What if the things that went bump in the night were real, what if it was your job to stop them? Would you heed that call? Follow Jackson as he starts to discover just what it means to be born as one of the Gifted. Life has a funny way of thwarting your best-laid plans, but sometimes, just sometimes, what you find is more magical than you ever thought possible.
Follow Jackson as he learns about magic, werewolves, the fae, and just what it means to grow up being one of the Gifted.
Origin of Might by Steeven R. Orr
PICK UP AT AMAZON
Goodreads Synopsis:
Most guys who go through a midlife crisis buy a new sports car.
Oliver Jordan gets super powers.
Origin of Might
is the first in a series of stories set in and around Garrison City, home to such heroes (or Mighties) as the Shadow Fox, Power Surge, Lady V, Spitfire, and the legendary Captain Might.
Can Oliver Jordan find the time to work two jobs, provide for his family, attend school functions, spend quality time with the wife and kids, and save the world?
The answer begins here.
(On my Nook)
Free Audio Books/Stories:
~~~~~~~~~~
Soulless
by Skyla Dawn Cameron
The Sentinel
by Chris Lester
The Muse
by Chris Lester
Metamor City: Making the Cut
by Chris Lester
Metamor City: Whispers in the Wood
by Chris Lester
Age of Myth
by Michael J. Sullivan
Lex Talionis
by Starla Huchton
Spark

by Starla Huchton
Heir to Kale
by K.L. Bone
Tales from the Archives Vol 4 #5 - Old Sinner's Bones
The Death of Dulgath
by Michael J. Sullivan
Birthright
by E.J. Stevens
Otherlife Dreams
by William D. Arand