The Sunday Post
is a weekly meme hosted by
Kimba the Caffeinated Book Reviewer
~ It's a chance to share news ~ A post to recap the past week on your blog, showcase books and things we have received and share new about what is coming up on our blog for the week ahead.
I know. I missed another week. This post is two weeks worth. Last weekend was a crazy on the go weekend again. We celebrated kiddo's 16th birthday and he took his written test.

I do believe kiddo's track meets are over and I'll be home in the evenings more. So I can (hopefully) get some exercising done. Hopefully.
Goal: Workout in any form of exercise (or on Wii Fit) 2x's a week. (to feel better and hope to drop a few pants sizes)
How did I do last week... Erm... Life is moving faster than me. *sigh*

We have two weeks to discuss here. For two weeks ago, I didn't get any exercising in. But I did get to push mow the grass, again. So that works for one day.

For the latest week: And I did push mow the grass one day.

I really need to get a second day of exercise in!
What's Happening in Books:
Heir to Kale
by K.L. Bone
Current Podcast Book Listen:
Revolution
by Mercedes Lackey, Cody Martin, Dennis Lee, Veronica Giguere
The Horde
by Patrick Scaffido
House of Grey 6
by Collin Earl
Finished Podcast Book Listen:
7th Son: 7 Days
anthology by J.C. Hutchins
Last Week on the Blog:
Cover Reveals:
(click titles to go to post & learn more)
Click the link to learn more about the books and their series:
Posts:
Writing Update for April
- I also share what I'm planning as a schedule for everything.
Around the Internet...
Reviews:
Tales from the Archives:
&
Mama Bitchstress Reviews:
GIVEAWAYS:
~~~~~~~~~~
This Week to Come on the Blog:
I do have 2 reviews posted for next week! Woot! I'm on a roll. lol. ;D
~~~~~~~~~~
Received Last Weeks:
Review & Review Consideration:
Purchased/Winnings/Gifts:
Won:
Free Ebooks:
(On my Kindle App)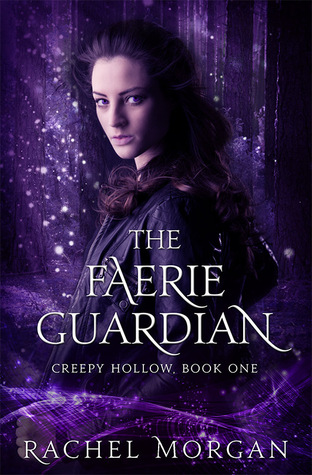 The Faerie Guardian by Rachel Morgan
Goodreads Synopsis:
Enter a hidden world of magic, mystery, danger and romance in this YA fantasy from Amazon bestselling author, Rachel Morgan...
Protecting humans from dangerous magical creatures is all in a day's work for a faerie training to be a guardian. Seventeen-year-old Violet Fairdale knows this better than anyone—she's about to become the best guardian the Guild has seen in years. That is, until a cute human boy who can somehow see through her faerie glamor follows her into the Fae realm. Now she's broken Guild Law, a crime that could lead to her expulsion.
The last thing Vi wants to do is spend any more time with the boy who got her into this mess, but the Guild requires that she return Nate to his home and make him forget everything he's discovered of the Fae realm. Easy, right? Not when you factor in evil faeries, long-lost family members, and inconvenient feelings of the romantic kind. Vi is about to find herself tangled up in a dangerous plot—and it'll take all her training to get out alive.
[This novel was originally published in four separate parts:
Guardian
,
Labyrinth
,
Traitor
and
Masquerade
. It includes bonus scenes at the end that were not published in the individual parts.]
Marcus: Scifi Alien Invasion Romance by Anna Hackett
Goodreads Synopsis:
In the aftermath of a deadly alien invasion, a band of survivors fights on…
In a world gone to hell, Elle Milton—once the darling of the Sydney social scene—has carved a role for herself as the communications officer for the toughest commando team fighting for humanity's survival—Hell Squad. It's her chance to make a difference and make up for horrible past mistakes…despite the fact that its battle-hardened commander never wanted her on his team.
When Hell Squad is tasked with destroying a strategic alien facility, Elle knows they need her skills in the field. But first she must go head to head with Marcus Steele and convince him she won't be a liability.
Marcus Steele is a warrior through and through. He fights to protect the innocent and give the human race a chance to survive. And that includes the beautiful, gutsy Elle who twists him up inside with a single look. The last thing he wants is to take her into a warzone, but soon they are thrown together battling both the alien invaders and their overwhelming attraction. And Marcus will learn just how much he'll sacrifice to keep her safe.
(On my Nook)
Free Audio Books/Stories:
~~~~~~~~~~
The Secret World Chronicle: World Well Lost
by Mercees Lackey,Steve Libby, Cody Martin, & Dennis Lee
Soulless
by Skyla Dawn Cameron
The Sentinel
by Chris Lester
The Muse
by Chris Lester
Metamor City: Making the Cut
by Chris Lester
Metamor City: Whispers in the Wood
by Chris Lester
Master of Myth
by Starla Huchton
Danube Waves
by Katharina Bordet
Rhune
by Michael J. Sullivan
Heartstealer
by K.T. Bryski
Lex Talionis

by Starla Huchton
Tales From the Archives:
Clockwork Portal When Timelines Go Awry
Tales From the Archives:
Foothold
Tales From the Archives:
2014 Christmas Special
Space Casey: Season 2
by Christiana Ellis
House of Grey 4
by Collin Earl
7th Son: Deceit
by J.C. Hutchins
Fury
by Krista D. Ball
7th Son: Destruction
by J.C. Hutchins
House of Grey 5
by Collin Earl
7th Son: 7 Days
anthology by J.C. Hutchins
House of Grey 6
by Collin Earl