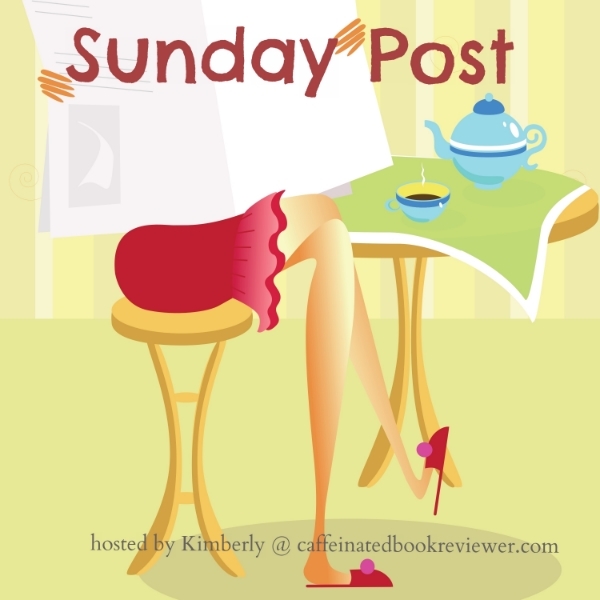 The Sunday Post
is a weekly meme hosted by
Kimba the Caffeinated Book Reviewer
~ It's a chance to share news ~ A post to recap the past week on your blog, showcase books and things we have received and share new about what is coming up on our blog for the week ahead.

We keep hopping around here. It seems I'll be doing Sunday Posts every other week. Or, at least, that's become my normal. The weather has started to turn, and stay turned. So we hope. There is lots of green and many sneezes. Sinuses are starting to act up with the the turn of the weather as well.

I'm trying to do a few things at once. There are photos and re-writes for Camp NaNoWriMo. I have some catching up to do with re-write time, but I'll get there.

How is the weather where you are? Hope it's nice.
~~~~~~~~~~~~~~~
Goal: Workout in any form of exercise (or on Wii Fit) 2x's a week. (to feel better and hope to drop a few pants sizes)
How did I do last week... I got a few walks at lunch in, but not twice a week this week.


What's Happening in Books:
Gunsmoke & Dragonfire
edited by Diane Morrison
Current Audiobook:
Dysasters
by P.C. Cast & Kristin Cast
Current Podcast Book Listen:
Nothing new.
Books:
No reads this week.
Audiobooks :
In an Absent Dream
by Seanan McGuire
Finished Podcast Book Listen:
Nothing new yet.
Last Week on the Blog:
Cover Reveals:
(click titles to go to post & learn more)
Posts:
Around the Internet...
Reviews:
Crystalline Space by A.K. DuBoff
"Crystalline Space offers a fun blend of sci-fi and fantasy adventure with a sleek high-tech skin on traditional magic, perfect for fans of Final Fantasy, Kingdom Hearts, and Xenosaga. Begin reading the complete Dark Stars trilogy today and be transported to a universe where second chances are real."
Agent G: Saboteur by C.T. Phipps
"Friendships and relationships (no matter how strange they seem) are something important to people, even cyborgs. And Agent G starts to see this with those he knows. Even though Agent G is a cyborg with "memories," he's become his own person in thinking. He gives the feel of wanting to have friendships and more with people."
The Tournament of Supervillainy by C.T. Phipps

"Even though I have fun and enjoy the quick quips, jokes, and references, there's a serious side to Gary too. Gary has a lot going on with his family and friends. Gary takes it all in and goes with it as best he can, but his cares for them runs deep in his being. I enjoy seeing him react to the family he's made around him."

Angels and the Bad Man by M.K. Gibson

"Oh snap! Things just got serious. There is sooooo much more in the works that we didn't know about. The "battles" being fought have taken a huge turn here. Revelations are made and they make for a deeper plot than we expected. Niiiiiice!"
Mama Bitchstress Reviews:
GIVEAWAYS:
This Week to Come on the Blog:
I have two reviews scheduled for you this week.
~~~~~~~~~~
Received For the Last Week:
(Note: Links to Amazon are buy links where I could earn commission, in case you are interested.)
For Review Consideration:
Soul Born by Kevin Breaux
PICK UP AT AMAZON
Goodreads Synopsis:
All Opal wanted was to be respected as a wielder of magic, but her teachers passed her over time and time again. When a mysterious warlord embarks on a conquest to destroy the lands of Illyia, Opal seizes the opportunity to step out from the shadows of her instructors and take her rightful place among them. Tala, an alluring young elf, was banished from her tribe, hunted and nearly killed by the beasts of the deep forests, but more than anything else she is a survivor. Joining forces with an ancient elemental power, Tala finds herself in the center of an unrelenting human war. Flesh like leather and bone as strong as steel, Karn, a veteran from the first kingdom to fall, is fueled by vengeance. While pushing headlong into battle Karn begins recalling memories of another life: ghosts that haunt his dreams. Through death of soul, their new world is born.
Audio Books Requested for Review:
Perfect Assassin by K.A. Doore
PICK UP AT AMAZON
Goodreads Synopsis:
A novice assassin is on the hunt for someone killing their own in K. A. Doore's The Perfect Assassin, a breakout high fantasy beginning the Chronicles of Ghadid series.
Divine justice is written in blood.
Or so Amastan has been taught. As a new assassin in the Basbowen family, he's already having second thoughts about taking a life. A scarcity of contracts ends up being just what he needs.
Until, unexpectedly, Amastan finds the body of a very important drum chief. Until, impossibly, Basbowen's finest start showing up dead, with their murderous jaan running wild in the dusty streets of Ghadid. Until, inevitably, Amastan is ordered to solve these murders, before the family gets blamed.
Every life has its price, but when the tables are turned, Amastan must find this perfect assassin or be their next target.
Creation Machine by Andrew Bannister
PICK UP AT AMAZON
Goodreads Synopsis:
It is the aftermath of civil war in the vast pageant of planets and stars known as The Spin. Three years since he crushed the rebellion, Viklun Haas, industrialist and leader of the Hegemony, is eliminating all remnants of the opposition. Starting with his own daughter.
But Fleare Haas, fighter for Society Otherwise has had a long time to plan her next move. Sprung from her remote monastery prison and reuniting with a team of loyal friends, Fleare's journey will take her across The Spin to the cluster of fallen planets known as the The Catastrophe Curve - and from exile, to the very frontiers of war.
Meanwhile, in the brutal and despotic empire of The Fortunate, word is reaching viceroy Alameche of a most unusual piece of plunder from their latest invasion. For hundreds of millions of years, the bizarre planets and stars of The Spin itself have been the only testament to the god-like engineers that created it. Now, buried in the earth of a ruined planet, one of their machines has been found . . .
Reign of the Kingfisher by T.J. Martinson
PICK UP AT AMAZON
Goodreads Synopsis:
Thirty years ago a superhero tried to save Chicago. Now the city is again under siege, in this gritty, suspenseful, and beautifully written novel from award-winning debut author T.J. Martinson.
Somewhere in Chicago, a roomful of people have been taken hostage. The hostages will be killed one by one, the masked gunman says on-screen, unless the police will admit that they faked the death of the legendary black superhero called the Kingfisher and helped him to give up his defense of the city thirty years ago.
Retired reporter Marcus Waters made his name as a journalist covering the enigmatic superhero's five years of cleaning up Chicago's streets. Then the Kingfisher died, Chicago resumed its violent turmoil, and Marcus slid back into obscurity.
But did the Kingfisher really die? And who would take hostages connected to the Kingfisher's past attempts to clean up the streets? With the help of disgraced police officer Lucinda Tillman and a young hacktivist named Wren, Marcus will explore the city's violence, corruption, and chaos to figure out if the vigilante hero died tragically, or gave up hope and abandoned the city—and for the hostages, the clock is ticking.
The Demon Prince by Ann Aguirre
PICK UP AT AMAZON
Goodreads Synopsis:
Charming. Irreverent. Haunted.
Alastor Vega is the sole challenger in a brutal battle for succession. Against all odds, he must stop his power-mad brother, Tycho, before he destroys the Numina. Though he never wanted to rule, he must claim the throne and liberate his people, or the consequences will be calamitous. Yet only the surprising support of a beautiful Animari doctor gives him the fortitude to fight.
Focused. Analytical. Solitary.
Dr. Sheyla Halek has always been more interested in research than personal contact, but family ties—and the needs of her pride—keep her in Ash Valley, deferring her dreams. Brusque and abrasive at the best of times, she never expected to bond with anyone, let alone Golgoth royalty. Strangely, Alastor seems to need her as no one has before, and not only for her medical skills.
Their attraction is forbidden, likely doomed beyond the wildness of wartime, but these fires burn too hot and sweet to be contained…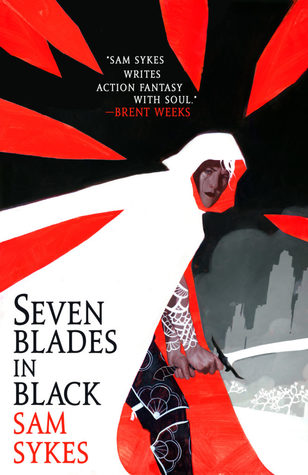 Seven Blades in Black by Sam Sykes
PICK UP AT AMAZON
Goodreads Synopsis:
Sam Sykes returns with a new fantasy that introduces to an unforgettable outcast magician caught between two warring empires.

Among humans, none have power like mages. And among mages, none have will like Sal the Cacophony. Once revered, now vagrant, she walks a wasteland scarred by generations of magical warfare. The Scar, a land torn between powerful empires, is where rogue mages go to disappear, disgraced soldiers go to die and Sal went with a blade, a gun and a list of names she intended to use both on. But vengeance is a flame swift extinguished. Betrayed by those she trusted most, her magic torn from her and awaiting execution, Sal the Cacophony has one last tale to tell before they take her head. All she has left is her name, her story and the weapon she used to carved both.

Vengeance is its own reward.
Relentless Souls by Ryan Kirk
PICK UP AT AMAZON
Goodreads Synopsis:
A new threat has risen.
For years, peace has reigned within the boundaries of the empire. Monks, gifted with extraordinary powers, wander the land, keeping order by any means necessary. Their gifts make them invincible, or so most believe.
A lone warrior disagrees. Guided by a shadowy organization, Fang seeks to break the monasteries. Once left for dead by powerful monks, revenge has driven him to unimaginable strength. Only one obstacle stands in his way.
His name is Lei, and he is no hero. Exiled by the monasteries for an unforgivable crime, he's more comfortable with a drink in his hand than a sword. But he's about to be thrust into a fight he had no part in starting.
As destiny hurtles the two men into inevitable conflict, the fate of the empire hangs in the balance.
Purchased/Winnings/Gifts:
Book:
Audio:
The Leopard King by Ann Aguirre
PICK UP AT AMAZON
Goodreads Synopsis:
Proud. Imperious. Impassioned.

Until three years ago, those words applied to Dominic Asher, the leader of Ash Valley. His family has ruled the feline branch of the Animari for hundreds of years, guiding the pride through perilous times. Unspeakable loss drove him into seclusion, a feral beast nobody can tame. Now he's wrecked, a leopard king in exile, and he wants nothing more than to die.

Fierce. Loyal. Determined.

Fortunately for Dom, those words still apply to Pru Bristow, his dead mate's best friend. She's had her heart broken too, but she never quits. With the conclave approaching, alliances with the Pine Ridge pack and Burnt Amber clans on the verge of collapse, she's prepared to do whatever it takes to drag their leader back, before his second can start a war.

At best theirs seems like a desperate alliance, but when their mate bond turns hot and fierce, there's no end to the questions and the doubts. Neither of them expects to fall in love. But sometimes people don't know what they're looking for until they find it.
Free Ebooks:
(On my Kindle and Nook App)
Links to books under title. They may or may not be free at this time.
Sea of Darkness by Rebecca Hamilton & Isdora Brown
PICK UP AT AMAZON
Goodreads Synopsis:
Working with a supernatural enemy is Kelia's only hope of solving her father's murder. But her investigation puts her own life in danger.
The Society's sole purpose is to protect the general population from vicious Sea Shadows, and Kelia's their top Slayer. But when her father is murdered and her handler insists it's suicide, she starts to question whether The Society really has her best interests at heart.
Now, to solve her father's death, Kelia must work with an unexpected ally: Drew Knight, an infamous Sea Shadow and the most beautiful creature Kelia has ever set eyes upon. A Sea Shadow who, without intending to, just may show her who the real enemy is…and it'll only cost her one unnamed favor to be collected at a future date.
But after her affiliation with Drew Knight is discovered, Kelia is forced to choose between what she's known since the beginning of her existence…or a dark, terrifying truth that puts her life at risk.
Find out who dies and who survives in SEA OF DARKNESS, the first installment of The Vampire Pirate Saga, an exciting new urban fantasy romance readers of Sarah J Maas and Karen Marie Moning are sure to devour!
~~~~~~~~~~
Soulless
by Skyla Dawn Cameron
The Sentinel
by Chris Lester
The Muse
by Chris Lester
Metamor City: Making the Cut
by Chris Lester
Metamor City: Whispers in the Wood
by Chris Lester
Lex Talionis
by Starla Huchton
Spark

by Starla Huchton
Heir to Kale
by K.L. Bone
Tales from the Archives Vol 4 #5 - Old Sinner's Bones
The Death of Dulgath
by Michael J. Sullivan
Danger's Halo
by Amanda Carlson
The Books and Braun Dossier
by Philippa Ballantine & Tee Morris
Solomon Key
by David Wood
In an Absent Dream
by Seanan McGuire