The Sunday Post
is a weekly meme hosted by
Kimba the Caffeinated Book Reviewer
~ It's a chance to share news ~ A post to recap the past week on your blog, showcase books and things we have received and share new about what is coming up on our blog for the week ahead.
First, I want to apologize. It seems December is a lost month to me as well as November for blogging. I could blame it on the holiday stuff, but that's not 100% true. Sure, last weekend I didn't post because we cut down our tree and decorated, but during the week that's not the case.
I'm still working at getting myself reorganized with my evening schedule. As you know, Kiddo had ACL/Meniscus surgery at the beginning of November. He's doing better each day but it's still a long road for him. He's now going to physical therapy, a distance down the road. So that's two evenings shot in the rear end before the week even starts. I've also been working on content editing jobs. I did start back on the treadmill two nights through the week as well! (I had to, see my exercise section below.) So this leaves me fumbling to figure out my schedule of how to do things along with cook and clean up after dinner.
I will get it figured out in order for the new year and I will be visiting then. December is a readjustment month for me. Please work through this with me. I appreciate all the visits I'm still getting, even if I haven't visited in turn yet. You are all true blogging friends. :)
If you'd like to see our tree...
Hope the holidays are treating you all well!
Goal: Workout in any form of exercise (or on Wii Fit) 2x's a week. (to feel better and hope to drop a few pants sizes)
How did I do last week...
I GOT ON THE TREADMILL!! Oh my. The world is going to end! lol.
It's hard to believe. But my back started spasming and I'm so tired with this dark at 5 o'clock crap. I've known for a while I needed to get back to it, but with life and kiddo's surgery... it's just been hard.
Tuesday: 40 mins 2.7 miles
Thursday: 40 mins 2.5 miles
Episode 7, Season 1:
It's a bit ironic that this is the next episode on my list. It's the one where I'm a bit lost in the woods after a mission that went bad. My friend and 'DJ' along with all in Aber don't know if I'm alive or a zombie now. I'm no longer on their radar. But the radio voice keeps talking to me, telling me about his past and how things are going. But I need to get back to Aber before the night is to late and the zombies beat me to the gate and it's closed.
Episode 8, Season 1:
I went for an outing run to the Old Mill. There is a collection of zombies around the mill and... someone on top! A man is trapped on top. I run a distraction to get the zombies away so he can get down. Although things aren't always that easy for everyone. ;)
What's Happening in Books:
Rise of the Northmen
- anthology
AND
Work reads as well.
Current Audiobook:
Knightblade
by Ryan Kirk
Current Podcast Book Listen:
Nothing
Nothing
Audiobooks from Audible:
The Instruments of Control
by Craig Schaefer
Knight of Light
by Dierdra Eden
Finished Podcast Book Listen:
Nothing
Last Week on the Blog:
Cover Reveals:
(click titles to go to post & learn more)
Posts:
Around the Internet...
Reviews:
Mama Bitchstress Reviews:
GIVEAWAYS:
This Week to Come on the Blog:
I have one review scheduled for the week.
~~~~~~~~~~
Received Last Weeks:
Review & Review Consideration:
Trueheart by Mel Sterling
Description:
Loyalty. Desperation. Grief.
Eight months ago a mysterious drug killed Tess Gordon's brother, and now it's spreading through her rehab counseling clients. They all claim they're not addicted, the drug leaves no trace except its drained victims, and the cops aren't interested. Aching with loss, Tess vows to find the source. What she finds instead is Thomas.
Slavery. Duty. Enchantment.
Thomas, the half-fae guardian of the goblin market, has plenty of problems—and just got another one. Pressed into the service of the Unseelie Queen, all he wants is his freedom. But Tess won't go away, and the human girl is in way over her head.
One perilous late-autumn night, the fae and human worlds collide. Tess's and Thomas's separate tasks are inextricably tangled. Now, a half-fae and a human rehab counselor must walk the knife-edge of obligation, love, death and transformation--with the entire Unseelie Court, including the malevolent Wild Hunt, out for their blood.
Welcome to Portland, After Dark...
Audio Books Requested for Review:
At the Heart of the Deep by Carrie L. Wells
PICK UP AT AMAZON
Goodreads Synopsis:
Oceanographer Luke McAllister races to figure out why the ocean depth is changing off Florida's Treasure Coast. But before he and his crew discover what's transforming the deep, he stumbles upon an even greater mystery. Leagues below the waves, he swear he sees…a mermaid?
Anya isn't allowed to get close to humans. But when a golden-haired researcher gets too close to her island, she can't afford to stay away.
Together, this unlikely pair will seek to discover what's causing shifts in ocean floor. While their new alliance is forbidden, Anya will risk everything to save her beloved ocean. The only problem is, she's not sure what's really luring her in, her love of the sea or the tempest Luke has stirred in her heart. Either way, Anya knows that the dangers facing the sea are nothing compared to what will happen to her when her father learns she's broken the merfolks' most sacred law.
Can Anya and Luke discover what lurks at the heart of the deep before it's too late?
*Adult novel. Due to steamy scenes, this novel is best suited for mature readers.
What Remains of Heroes by David Benem
PICK UP AT AMAZON
Goodreads Synopsis:
Lannick deVeers used to be somebody. A hero, even. Then, he ran afoul of the kingdom's most powerful general and the cost he paid was nearly too much to bear. In the years that followed, his grief turned him into a shadow of his former self, and he spent his days drowning his regrets in tankards of ale.

But now an unexpected encounter casts Lannick upon an unlikely path to revenge. If he can just find the strength to overcome the many mistakes of his past, he can seize the chance to become a hero once more.

And with an ancient enemy lurking at the kingdom's doorstep, he'd better…
Purchased/Winnings/Gifts:
Book:
Audio:
Free Ebooks:
(On my Kindle App)
Links to books under title. They may or may not be free at this time.
A Charming Crime by Tonya Kappes
PICK UP AT AMAZON
Goodreads Synopsis:
Bubble... Bubble...
June Heal has nothing to lose when she relocates her homeopathic cure shop, A Dose of Darla, from the flea market booth in her home town, to a quaint shop in the cozy but unusual little town of Whispering Falls, Kentucky. Or so it seems.
Cures and trouble...
Whispering Falls has a lot of secrets. From talking snow globes to whispering animals not to mention a few sprinkles of fairy dust, June realizes Whispering Falls is more magical than she thought. . .literally.
The Grimm Chronicles #3 by Ken Brosky & Isabella Fontaine
PICK UP AT AMAZON
Goodreads Synopsis:
200 years ago, the Brothers Grimm unleashed their stories upon the world. Literally. Now the characters of the Grimms' stories walk among us. With every day that passes, they grow more evil. They are the Corrupted, and only a hero can stop them.
For 18-year-old Alice Goodenough, that means taking precious time off from her summer vacation. In addition to volunteering at the local library, Alice must stop the Corrupted who are now actively hunting her down. With the help of her magic pen and her trusty rabbit friend, the world has suddenly gotten a lot more complex. The Corrupted are everywhere, and only Alice can see them for what they truly are.
This book contains 3 episodes of the critically acclaimed series:
Episode 7: The Giant Slayer
Episode 8: Darkness Rising
Episode 9: Malevolence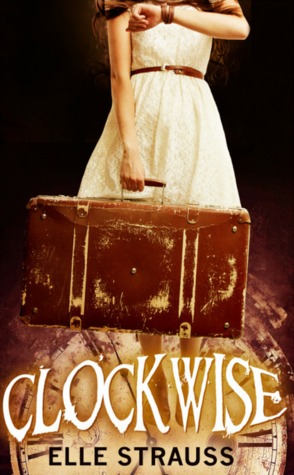 Clockwise by Elle Strauss
PICK UP AT AMAZON
Goodreads Synopsis:
Casey Donovan has issues: hair, height and uncontrollable trips to the 19th century. She accidentally takes Nate Mackenzie, cutest boy in the school, to 1860. Protocol pressures her to dub Nate her brother. Does he spark with romance or protectiveness, when a handsome, rich, unwanted suitor intervenes?
Back in the present, the social ladder is as before: Casey at the bottom rung, Nate at the top. But now her heart is broken, her best friend is mad, her parents are split up, and police escort her younger brother home. The only thing worse would be taking Nate back to the past again.
Which of course, she does.
Reign of Blood by Alexia Purdy
PICK UP AT AMAZON
Goodreads Synopsis:
Never tease anything that wants to eat you.
My name is April Tate and my blood is the new gold. Vampires and hybrids have overrun my world, once vibrant with life, but now a graveyard of death shrouded in shadows. I fight to survive; I fight for my mother and brother. The journey is full of turns that I am quite unprepared for. And I'm just hoping to make it to the next Vegas sunrise..."
In a post-apocalyptic world, a viral epidemic has wiped out most of the earth's population, leaving behind few humans but untold numbers of mutated vampires. April is a seventeen-year-old girl who lives in the remains of Las Vegas one year after the outbreak. She has become a ferocious vampire killer and after her family is abducted, she goes searching for them. What she finds is a new breed of vampire, unlike any she has seen before. Unsure of whom she can trust, she discovers that her view of the world is not as black and white as she once thought, and she's willing to bend the rules to rescue her family. But in trying to save them, she may only succeed in bringing her fragile world crashing down around her.
(On my Nook)
Free Audio Books/Stories:
~~~~~~~~~~
Soulless
by Skyla Dawn Cameron
The Sentinel
by Chris Lester
The Muse
by Chris Lester
Metamor City: Making the Cut
by Chris Lester
Metamor City: Whispers in the Wood
by Chris Lester
Danube Waves
by Katharina Bordet
Age of Myth
by Michael J. Sullivan
Lex Talionis
by Starla Huchton
Spark

by Starla Huchton
House of Grey 6
by Collin Earl
The Secret World Chronicle: World Divided
by Mercedes Lackey, Cody Martin, Dennis Lee, Veronica Giguere
The Secret World Chronicle: Waiting On
by Mercedes Lackey, Cody Martin, Dennis Lee, Veronica Giguere
The Secret World Chronicle:
Revolutions
by Mercedes Lackey, Cody Martin, Dennis Lee, Veronica Giguere
Heir to Kale
by K.L. Bone
Tales from the Archives Vol 4 #5 - Old Sinner's Bones
The Death of Dulgath
by Michael J. Sullivan
Of Flame and Promise
by Cecy Robson